Make fun of the Jonas Brothers all you want.
They're pretty dang good.
Maybe they were the boy band flavor of the year a while back. Maybe they were known more for being on the Disney Channel than for their music. Maybe last time I saw them, the earsplitting screams from fans were more memorable than the actual music.
But whatever impression you have of them from years past, give them another chance if you're at all interested in pop music.
The Jonas Brothers — Nick, Joe and Kevin — showed off their not-inconsiderable talents to a massive audience packed into the CHI Health Center.
Wednesday's sold-out concert focused largely on the trio's "Happiness Begins," the Jonas Brothers' first album in a decade. And it's not Disney Channel kid rock. Or later-era pop rock.
On their latest record, the Jonas Brothers went pure pop. And it works for them.
This time around, they teamed up with pop songwriters like the inimitable Ryan Tedder and focused on their particular talents to great effect.
It was the same thing they did in Omaha: Nick and Joe traded verses while Kevin backed them on piano, guitar and vocals.
And then they'd all harmonize in impressive fashion. (I imagine they've been doing that since they could all talk.)
Sign up for the Go newsletter
This complete guide of local music, movies, dining and entertainment will have you weekend ready.
They're a talented trio, the kind of siblings who probably drive people who knew them crazy. You know the type: kids who all became doctors or athletes or fashion designers.
How can one family be so gifted?
They showed those gifts Wednesday with stuck-in-your-head-all-day "Cool" and the hook-filled, harmonious "Comeback."
They got Christmas-y, donning Santa hats and standing under a fake snow spray, for their latest holiday song, "Like It's Christmas."
They even played material from their Jonas Brothers hiatus such as Nick's "Jealous" and DNCE's "Cake By the Ocean," which was one of the night's biggest songs.
Of course, the Jonas Brothers did make nods to their past material. During a medley toward the end of their 90-minute set songs such as "Paranoid," "Got Me Going Crazy" and "Hold On" bled into each other. And fans went crazy for their popped-up version of "Year 3000."
It was quite a night for pop. Pop star Bebe Rexha burned through a hits-filled set that'd be hard to top for most headliners.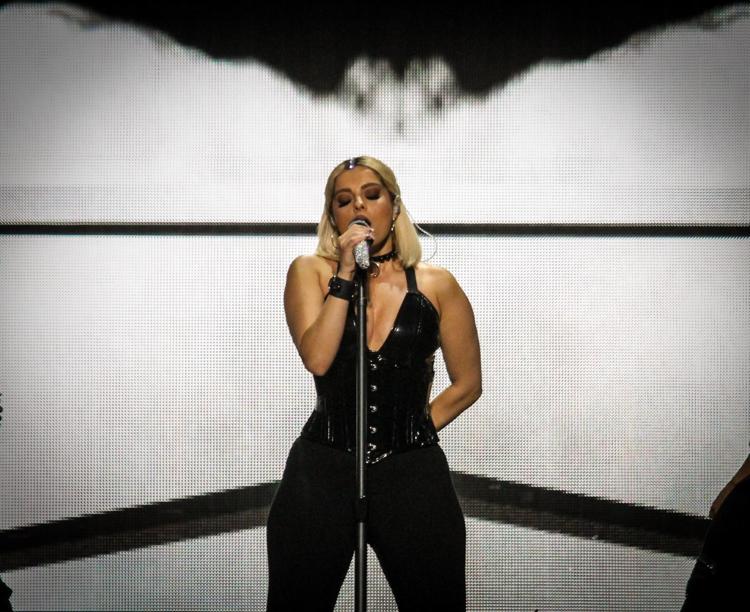 The "Me, Myself & I" singer had fans on their feet for her short set, which was packed with her own hits as well as songs she wrote, including Eminem and Rihanna's "The Monster." She even managed to battle some microphone problems with pure charisma and excitement. You could tell she was having a great time, especially when she invited a frenzied fan to help her sing and dance to "Take Me Home."
I'll be excited for when she can come back to town to do a full set.
Rexha had the crowd hot, and the Jonas Brothers capitalized.
Fans as young as 4 or 5 years old and others who were clearly big fans during the Jonas Brothers' first go-round waited for the trio to emerge, and the arena was filled with — what else? — screams when they finally came onstage, descending from a platform way up in the rafters as sparks and fireworks shot all over the room.
Fans stayed on their feet throughout the show, shouting out the words to "Burnin' Up" as towers of flame shot into the air, and dancing along with "Strangers" and "S.O.S."
It was quite a response. From the stage, Kevin Jonas revealed the band's thought process when they considered reuniting for a new album and tour.
"Would anybody care?" he said. "I can honestly say, Omaha, you care."