If you want to distill '90s country music down to a single artist, his name is Alan Jackson.
Jackson wasn't the most successful in terms of sales (Garth Brooks) or singles (George Strait), but his simultaneous combination of heartfelt lyricism ("Remember When"), memorable music ("Chattahoochee") and commercial appeal ("Mercury Blues," "Don't Rock the Jukebox," "Gone Country" and too many other songs to list at once) means he's the guy.
Jackson's the one who effortlessly walked the line between "real" country music and hit country music without seeming to put forth any effort. That's just the kind of talent he is.
And it was all on display Friday night at the CHI Health Center.
Jackson was finally in Omaha almost a year after his originally scheduled date, which was pushed back because of a family tragedy and then pushed back again when he had allergies.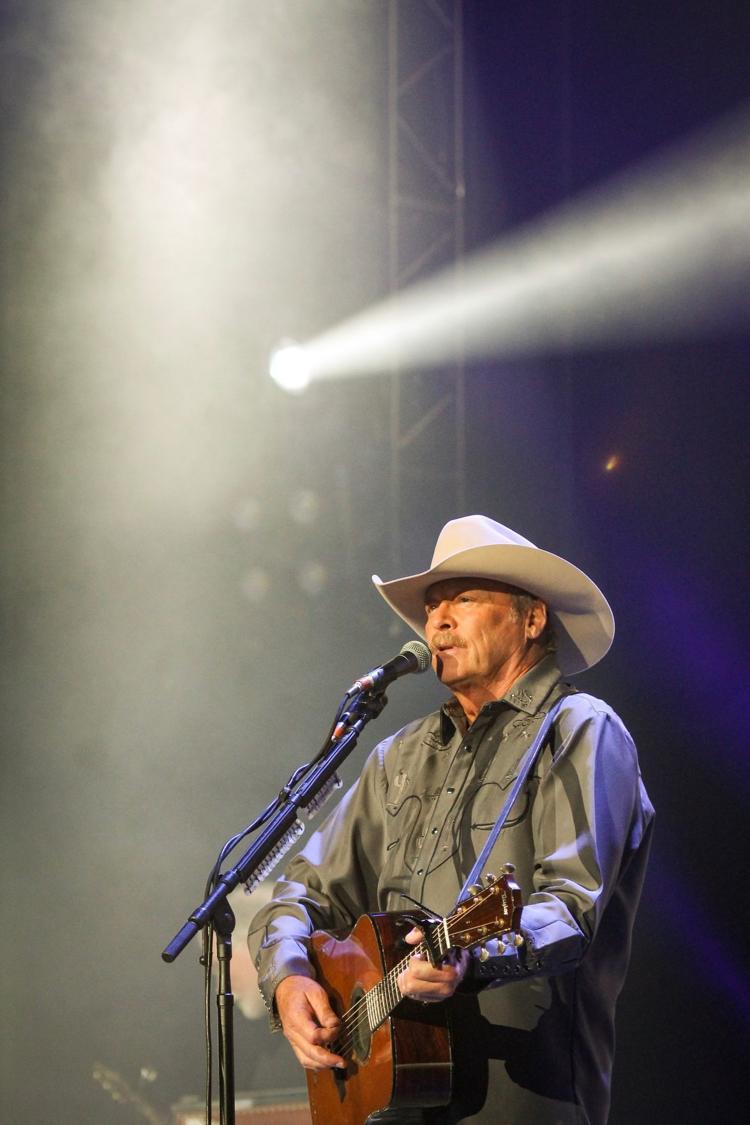 Jackson — with his signature white cowboy hat, an electric smile and the best mustache in country music — made the Omaha audience of more than 11,500 light up.
"Good to see you here," Jackson said. "I'm glad to be back out here in Omaha. It's been a few years. I appreciate you letting us come out here and play some real country music."
Real country music, he said, is about life, love, heartbreak, death, romance, family, good times and hardship, too.
Jackson's songs have enough of the aforementioned authenticity that they can form a part of your identity, especially if you, like me, grew up listening to them over and over again. (Thanks, Dad!)
They're also clever enough that they'll lodge themselves in your ears after a single listen and never, ever come out. I still knew all the words to about three-quarters of Friday's setlist even if I hadn't heard half of them in years.
And you're dang right, I sang along.
So did everyone else. To "Livin' On Love" and "Gone Country" and "Chasin' That Neon Rainbow" and even to "Here in the Real World," a song that came out nearly 30 years ago.
Jackson's island-friendly, Jimmy Buffett duet "It's Five O'Clock Somewhere" turned the whole arena into a party. They shouted every word to "Chattahoochee," even accompanying his "Yahhheeee" cowboy cry.
Couples slow-danced to "Remember When" and fans stood for his 9/11 tribute, "Where Were You (When the World Stopped Turning)."
Largely a greatest hits performance, Jackson's 90-minute show pushed through every era of his lengthy career.
"I've had so many hits, I can't even remember them all," he said. (For the record, Jackson has 26 country No. 1s. Oh, and 51 total top 10 hits. Too many for a single setlist, unfortunately.)
Jackson's stellar band, the eight-member Strayhorns, were quite something, but when you're as big as Jackson you can get the best players in Nashville for your touring band.
Jackson himself was something to behold. Most singers suffer a little bit with age, but not him. His voice may be a little deeper at age 60, but it fits him well. He nailed the vocals on every song, but he especially delivered on ballads such as "Remember When" and "Here in the Real World."