Lost somewhere in the haze of history is Omaha's obsession with jazz.
Once, long ago, the best of the best played at the Dreamland Ballroom, a north Omaha hot spot, while some of the city's homegrown musicians became greats in their own right.
Though that star has long faded, an elegant new jazz club is pulling it all together, injecting a new crop of artists into the city's rich jazz history.
The Jewell, which opened earlier this month in downtown's Capitol District, has given jazz fans a place to experience more live music and provided artists with a plush new place to play.
The new spot has earned the endorsement of at least one accomplished Omaha jazz musician.
"It's a good club," acclaimed drummer and longtime north Omaha resident Curly Martin said. "It's gonna be good for Omaha. It's gonna be good for north Omaha."
From TV and the movies, you might have a vision of a swanky jazz club in your head. That's The Jewell. It feels like something you'd expect to find in a metropolis like New York or Chicago.
Walk in, and you're immediately greeted by floor-to-ceiling photos of Dizzy Gillespie and Count Basie and Nat King Cole and Louis Armstrong. (They all played Omaha during its jazz boom. We'll get to that later.)
With two shows on most nights, The Jewell is showing that the genre still has legs, even if it's not as popular as it once was.
That's the position taken by Brian McKenna, the New York record executive who moved to Omaha and opened The Jewell.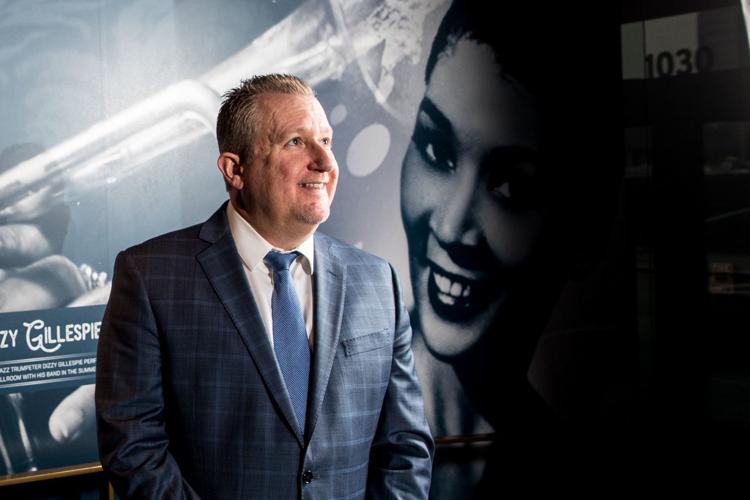 McKenna, The Jewell's CEO and artistic director, has an extended history with jazz. Growing up in Syracuse, New York, he fell in love with jazz at age 10 when his parents took him to a club. Already a drummer, he begged his parents to stay for the whole show, and the band eventually invited him to play.
After earning a master's degree from the prestigious Eastman School of Music in Rochester, New York, McKenna moved his drums to New York City. He gigged around playing jazz and took a day job working in recording studios, where he met his future wife, Mary, a Nebraska native.
McKenna later worked as director of operations at Sony Music Studios, coordinating recording projects at the studio. Mary worked across town at the Sony Music label.
After Sony sold the studio in 2007, McKenna began managing jazz artists, something he continues to do with a roster that includes Dominick Farinacci, Marcus Strickland and others.
They remained in New York, but the couple always had their eyes on Omaha, where they would be closer to her parents in Fremont.
"There's a music community," McKenna said of Omaha as he described watching from afar as Saddle Creek Records, Omaha Performing Arts and others succeeded.
So after moving to Nebraska with his wife and daughter, McKenna set out to open a club.
He drew up a plan to build in the Capitol District. While studying in college, McKenna learned about the touring circuit and how artists would crisscross the Midwest to play Kansas City, Chicago and, yes, Omaha. Knowing the city's jazz history, he sought to tie it into his new club and began contacting north Omaha leaders and musicians.
"You can't do stuff in a city you're not from without tying it into the historical context," McKenna said, noting that greats such as Count Basie, Dizzy Gillespie and many others played here. "They all performed at the Dreamland Ballroom. That's insane."
The Jewell, of course, is not the only jazz place in town.
Love's Jazz & Arts Center is a museum with an event space that hosts occasional shows, and the Omaha Lounge, a bar on Farnam Street, hosts live music most nights. Jazz artists also book dates in the Holland Performing Arts Center's main concert hall and its smaller room, the 1200 Club.
But The Jewell is unlike anything else in town.
Inside, it's simply gorgeous, with a roomy stage and tables, enough to seat 150, arranged in a horseshoe.
Modeled after famed clubs such as Dizzy's Club in New York, Jazz at the Bistro in St. Louis and Dakota in Minneapolis, it's a cozy spot for dinner, drinks and music.
A wooden sculpture sits behind the stage, providing both a distinctive backdrop and — because it's made of walnut, just like the stage — an acoustic thrum.
McKenna's many connections in the music world have helped The Jewell get a running start. The calendar is booked through March. Prominent jazz artists are inquiring about booking dates. McKenna's friends who own other clubs are helping route musicians toward his spot.
The Jewell also opens doors for McKenna's bigger plans for jazz in Omaha, including hosting other shows and educational outreach events with Love's Jazz & Arts Center, Omaha Performing Arts and the School of Music at the University of Nebraska at Omaha.
"In Omaha especially, the Omaha music scene, they weren't playing jazz three or four years ago," Martin, the accomplished jazz drummer, said.
The hope is that The Jewell brings jazz back to greater prominence.
Martin remembers when most of the live music happening in town was being played in north Omaha.
"There was live music five or six nights a week," he said. "And most of it was jazz."
The hub of that jazz history sits only about two miles from McKenna's new club.
The Jewell Building, for which the new club is named, was built in 1923 by James G. Jewell. Home to the Dreamland Ballroom, it still stands at 24th and Grant Streets.
Jewell's son, Jimmie Jewell Jr., was the man responsible for forever linking the Jewell name to Omaha jazz. The promoter for the Dreamland, he helped bring musicians the likes of Duke Ellington, Dizzy Gillespie, Louis Armstrong, Count Basie, Nat King Cole and others to town until the Dreamland closed in 1965. (Because of those it hosted over the years, the building itself was designated as a city landmark and listed among the National Register of Historic Places.)
Sign up for the Go newsletter
This complete guide of local music, movies, dining and entertainment will have you weekend ready.
Because it's situated conveniently between Kansas City, Denver and Chicago, Omaha and the Dreamland became a frequent stop for artists. Musicians needed places to stay, so they often were housed in someone's north Omaha home.
While legendary artists were playing the Dreamland, a number of young musicians were on the rise in Omaha.
Bands such as the Dixie Ramblers and Cotton Club Boys were big regional names that used the Dreamland as home base.
Jazz legend Preston Love — who played with Count Basie and for whom the Love's Jazz & Arts Center is named — and rock drummer Buddy Miles (who played with Jimi Hendrix) grew up in north Omaha. Wynonie Harris, Lomie Washburn and Billy Rich all grew up in Omaha and played the Dreamland. Tennessee-born Anna Mae Winburn moved to Omaha and began singing and playing guitar with Red Perkins and Lloyd Hunter before joining the International Sweethearts of Rhythm.
McKenna intends for his new club to be a little piece of north Omaha music history in north downtown. But why wasn't The Jewell built in north Omaha?
A jazz club might not work in north Omaha, one city leader said.
Would people venture into north Omaha to go to a club? Would they spend enough money to keep it afloat? Would they keep coming back? Those were all questions posed — and answered — by Michael Maroney, president of the Omaha Economic Development Corp., owner of the historic Jewell Building.
"It's sad. But in my opinion, it's a reality," Maroney said of the challenges a new club would face in north Omaha.
On the other hand, the new jazz club might get people who feel comfortable in north downtown to venture a little farther north, he said.
"As people get a better understanding of what Brian's trying to achieve ... it may have a positive aspect on north Omaha and people getting more comfortable for coming to see what's there," Maroney said.
Photos: Jazz is alive at The Jewell