A heartbreaking bruise of a movie, "Lean on Pete" takes the hoary templates of the coming-of-age drama and the boy-and-his-horse adventure and subverts them again and again. What we're left with is something sturdy and hurtful — a modern-day Western that canters along at a deliberate pace while slowly building up to explosions of suspense and violence.
It is, by some good stretch of the track, the best movie I've seen so far this year. It is also the definition of a movie that's not for everyone.
The slow pace will bore some. The gut-punch story switchbacks will enervate others. I can't promise that you'll enjoy yourself. (I wouldn't say that I enjoyed the film.) But if you haven't dismounted by the second act and you're in it for the long haul, "Lean on Pete" is well worth the trip.
The film is set on the fringes of Portland, Oregon, where a quiet, good-hearted teenager named Charley (Charlie Plummer) lives with his loving but absent father (Travis Fimmel). They get by, but just barely. Charley's already found a thousand little survival mechanisms. He puts his cereal in the fridge, he tells his dad's girlfriend (Amy Seimetz), so that the cockroaches won't get into it.
Out of both desperation and boredom, Charley takes a summer job working for a surly horse trainer named Del (Steve Buscemi). Del fell on hard times so long ago he doesn't even remember what good luck looked like. He races his horses on the fair circuit (and in more illegal arenas), wearing them down to nearly nothing before selling them off to be slaughtered.
With Del and a jaded jockey named Bonnie (Chloë Sevigny), Charley hits the race circuit, along the way making friends with Del's quarter horse Lean on Pete (or Pete, for short). Pete's still fast, but in decline. His days on the track (and, by extension, this earth) are numbered.
As it becomes increasingly clear that Pete's life is in danger, Charley makes a decision that sets the boy's and horse's lives down a perilous new track.
The horse is a great horse (of course), and Charley and Pete's relationship will offer plenty of ugly-cry fodder for all you animal lovers out there (Pssst. I'm one of you.) But the movie's not really about the horse.
Andrew Haigh (the brilliant British filmmaker behind "Weekend" and "45 Years") adapted "Lean on Pete" from Willy Vlautin's novel of the same name. Like his previous films, "Lean on Pete" is an exquisitely mounted drama that traffics in moments of emotional brutality and focuses entirely on a single protagonist — in this case, Charley.
Yet this time, Haigh's working on a much bigger canvas. This is Haigh's first theatrical feature to take place in the U.S. — mostly in Oregon but, as you'll see, elsewhere, too. And Haigh didn't come here just for the pretty vistas (shot handsomely here by Danish cinematographer Magnus Nordenhof Jønck). With "Lean on Pete," Haigh aims to say something about his setting, and Charley's place in it.
The people Charley and Pete meet along their journey — a homeless addict (Steve Zahn), a couple of cowboys traumatized by war (Lewis Pullman, Justin Rain) — are each representatives of a larger societal malaise. But Haigh is too smart of a filmmaker to make every character a political talking point. Through the virtue of the writing and the performances, these people feel like real people, with lives that started before Charley met them and lives that will continue long after they exit the frame.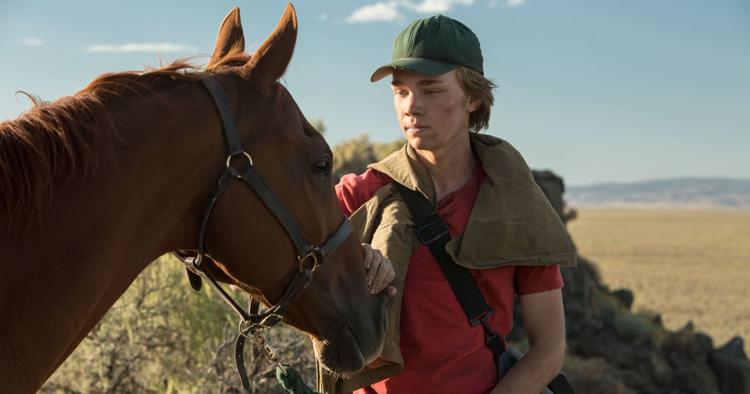 "Lean on Pete" is supremely economic with its characters, allowing performers like Seimetz, Fimmel and Zahn to pop up for just a few scenes and still leave a mark. The two most prominent supporting players (not counting the horse) are Buscemi and Sevigny, who do wonders working against type. As odd as Buscemi's casting seems at first, he's weirdly perfect as the curmudgeonly Del. A lesser movie (and a lesser actor) would have made Del the villain. But there are no villains in "Lean on Pete." Just desperate people, most of whom don't have the luxury of being able to show kindness. They've been boxed in by life. Their empathy has limits.
Charley hasn't been broken yet (though this movie sure seems intent on changing that). Everything he does is an extension of his good nature. (Plummer, in one of the year's great performances, plays Charley like the film plays its story: quiet and guarded, but with a wealth of sadness and fury roiling just beneath the surface.)
"Lean on Pete" is a tough watch. It's about a sweet kid and his horse trying to find a support system across a country that at best could care less about them, and at worst would exploit them for everything they're worth. The stakes couldn't be higher. The question isn't whether Charley will make it to the other end of the movie in one piece. The question is: How damaged will he be by the time he gets there?
At the end of Charley's quest for safety and stability, Haigh ends the movie the only way the movie could end — with Bonnie "Prince" Billy's cover of R. Kelly's "The World's Greatest" playing over a coda equal parts devastating and triumphant.
Movie reviews from Micah Mertes in 2018