Lari Pietrantoni must have had 300 pairs of footwear, her daughter says.
She needed every one of them.
Each weekend for more than 50 years, she put on her dancing shoes and went with husband Lewis to Gorat's Steakhouse, where they waltzed and two-stepped to their favorite songs.
"She loved to dance," said Melanie Pietrantoni, one of the couple's two children. "She told my dad that if he didn't learn to dance, she was going to go without him. He learned — she taught him everything — and they went every Saturday."
After Lari died in 2011, Lou grieved, but eventually kept up the tradition. He found other dance partners and was a regular at the restaurant until he died last year.
"Their lives, as far as Saturday nights went, were based on Gorat's," said owner Gene Dunn. "It was quite a tribute that they kept coming here."
Dunn wanted to pay a tribute of his own. On a recent Thursday night, in a ceremony with the couple's family and friends, he dedicated the dance floor in the Gorat's lounge to the couple. He gave a speech about their long association with the restaurant and read some pertinent quotes about couples.
A plaque now hangs in the lounge: "In fond memory of Lou and Lari Pietrantoni, for many years of patronage, friendship and grace," it says.
A familiar Gorat's band, Lou Bozak and Friends, performed on the night of the dedication. Melanie's husband, Fred Genovesi, plays bass guitar with the group.
People remember the couple as elegant, gracious and delightful, Dunn said. Lou, who was an electrical engineer, frequently bought his wife a new gown for their night out and always got accessories — especially shoes — to match. Lou always dressed in a suit and tie.
"Everyone would talk about him as a true gentleman, in the traditional sense of what a gentleman is," son Frank Pietrantoni said of his father.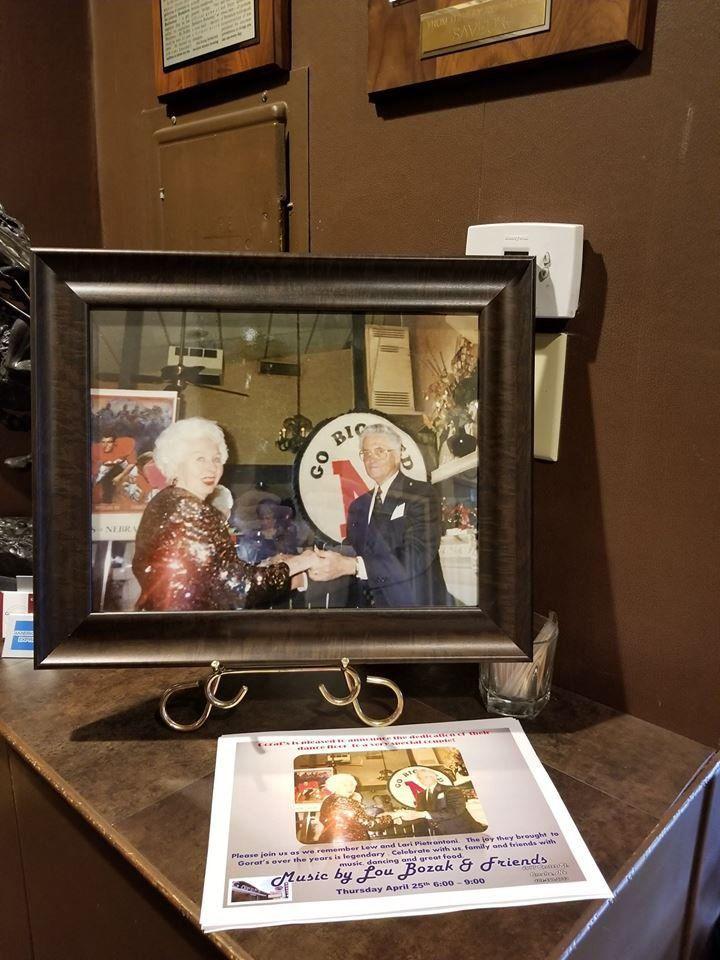 The couple loved songs from the 1930s as well as newer pieces such as "A Wink and a Smile," by Harry Connick Jr., Frank said. Two of their favorites were about dreams: "When I Grow Too Old to Dream" by Sigmund Romberg and "I Had a Dream" by the Mills Brothers, Melanie remembered.
Dunn, who bought Gorat's several years ago, never met Lari. But he became fast friends with Lou.
The restaurateur went out of his way for Lou, Frank said. His dad lived close to Gorat's and Dunn would follow him home to be sure he got there safely.
"One night Dad wasn't feeling well so Gene brought a steak dinner to him," Frank said. "Gene really exemplified how an owner should treat a valued customer. He made them feel more special than (anyone) did the previous 50 years."
Now, after the tribute, a daughter and son feel special as well. They have fond memories of going to Gorat's with their parents, first as teens and then as they grew older.
Frank remembers how solicitous Lou was of Lari near the end of her life, when she was getting weak and losing her stamina. He would hold her up on the dance floor for at least a few turns so she could continue the Saturday night tradition, which by that time was sacrosanct within the family.
"My wife and I couldn't get married on a Saturday night because it was a Gorat's night," Frank said, laughing.
Melanie remembers that people came to Gorat's expressly to watch her parents dance. Her dad tried to teach her, she said, but she couldn't get the hang of it. It didn't matter.
"I liked to dance. I liked it because I went up and danced with him."
Both Pietrantoni offspring were thrilled when Dunn told them about the tribute and grateful that he cared enough to make it an occasion.
"I just thought it was the coolest thing ever," Melanie said.
Photos: Our best shots of 2019 (so far)
Take a spin through the best of our staff photos from 2019. The gallery will be updated throughout our journey through the next year.