Once Omahan Beaufield Berry decided to write a play about the 1919 lynching of black meatpacker Will Brown, she was all in.
She was excited about using her skills to help people know, understand and relate to Brown and his life.
It was something of a cause for Berry, 35, who feels connected to Brown through their shared race and experiences. Her single mom and great-grandfather raised her in north Omaha. Her first job was at a business at 24th and Lake Streets. And she has long been an activist for fairness and equality.
The tragedy and the riots that surrounded the lynching were reported in the papers of the day and have been the subject of historical theses, but Brown still was an enigma. What kind of person was he? What were his likes and dislikes? Who did he hang around with? He didn't leave a diary or any other paper trail behind to answer those questions.
"He was just a headline," Berry said. "I wanted to give him a voice and an identity."
She plunged into research, fitting it in around life with her husband and two kids. Her hard work became "Red Summer," which premieres Thursday at Omaha's Blue Barn Theatre.
Berry studied every historical account she could find, including NAACP documents and journal entries from men and women who, like Brown, worked at the Omaha stockyards in the early 20th century.
With Brown, they had left their homes in the southern United States and relocated to northern cities, looking to find better jobs while escaping oppressive Jim Crow laws and lynchings that never were prosecuted. Brown is believed to have come from Tennessee.
When the Great Migration eased in the 1970s, she learned, about 50% of the nation's black people lived in the North. Before, more than 90% lived in the South.
"I took all the clues I could find," Berry said. "The research was extensive and definitely eye-opening."
One of her references was "The Warmth of Other Suns," a 2010 history of the Great Migration by Isabel Wilkerson that won the National Book Critics Circle Award. Berry was hooked.
"I'd put my babies to sleep and read," Berry said.
(Antonio Duke, the actor who plays Will Brown in Berry's play, was reading the same book when he learned about the role.)
Berry got a nudge from an actor friend, Kelcey Watson, to take on the project. On a visit home from Los Angeles, he wanted to brainstorm things they could do to recognize the 100th anniversary of Brown's tragic death.
Watson had been in "Minstrel Show," a play about the lynching, about a decade before at the Blue Barn. He suggested a new play on the topic at the same venue.
They told Blue Barn Artistic Director Susan Clement-Toberer about their effort, and she said she'd be interested in hearing their ideas. Berry took no chances when she brought the initial script to the theater.
"When Beaufield came with a first draft," Toberer said, "she brought an entire nine-person cast in, which was very wise."
"I knew after that first reading it was a story that needed to be told, and an amazing opportunity for the Blue Barn to support and be part of the process with a gifted local artist like Beaufield," Toberer said.
The script, now on its eighth rewrite, takes place over a three-day period surrounding the lynching. The account of the murder is historically accurate to Brown's life and the politics of the time, said Berry, who counts authors Alex Haley, Alice Walker and Charles Dickens among her influences.
She took artistic license with other aspects of the story, including two characters, Virginia and Jed, who are composites of real people Brown lived with in a housing unit at Second and Cedar Streets, near a brothel run by one of them (and not terribly far from where the Blue Barn is now).
Both Toberer and Berry said they learned a lot from the "fun, emotional and challenging" process of developing the play.
Berry relied on Toberer, assistant director Barry Carman and dramaturg Denise Chapman to help her see the big picture and figure out how to choose which of the most crucial details from her copious research to include in the script.
At times, she said, the material was overwhelming.
"I (researched) lynchings in other states and cities, and fell into a deep depression during that phase," because she found it difficult to remember that the tragedy was a long time ago, she said.
The country's current climate fueled her feelings. She doesn't rule out the possibility of violence now, and she fears for her family.
"It's not hard for me to believe that it (Brown's murder) happened here," she said. "You can go to comment sections (on social media) and see who would be in the lynch mob."
The play also has been emotionally taxing for the performers, especially those who play characters who are racist or whose characters have other traits the actors don't personally share.
"To take that on, and to take it home with them" isn't easy, Berry said, expressing appreciation for the cast's commitment to the material.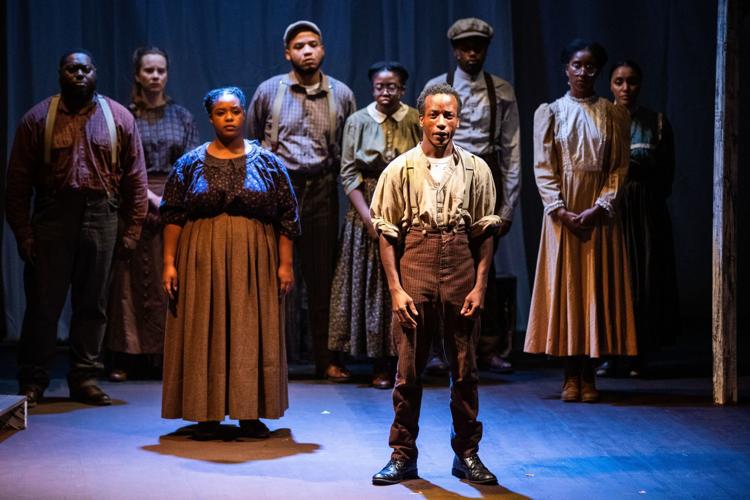 The lynching of Brown, who was accused of raping a white woman but never had a chance to prove his innocence, the mob's attack on a reform-minded mayor and the ensuing race riot all were in news reports nationwide, including stories in the New York Times. Omaha's unrest mirrored that in about 25 U.S. cities, violence that earned the name "Red Summer."
Berry's play, however, is more than just a searing look at a dark period in Omaha's history.
"It's also very joyous as well," said Duke, the Minneapolis actor who portrays Will Brown in the show. "When I read the entire script, I forgot that it was a tragedy because of the beauty and joy within the play. One of the things the play does so beautifully is that it shows blackness not necessarily in relation to whiteness. It shows the promise of what could have been."
Like any playwright, Berry wants to publish the script so others can read it. She'd like to see it go out into the world, but acknowledges how hard it is to secure a second production of a play.
She's philosophical because she has other ongoing projects: She just became the playwright-in-residence at Creighton University and she has done work with the Denver Center for Performing Arts.
"I will move on," she said, though she admits she thinks of "Red Summer" as her baby — its birth, she said, was a preview performance on Friday.
For her part, Toberer is thrilled to be offering a world premiere play — and this one in particular — for her theater's season opener.
"It's super-important to who the Blue Barn is to tell a story that's so tied to Omaha," one that portrays Brown in such a human way, she said.
"That type of story creates an opportunity for audiences to connect directly with him and to realize that we are one."
Theater reviews from Betsie Freeman in 2019
A collection of 2019 theater reviews from The World-Herald's Betsie Freeman.