When Tim Guthrie's wife, Beth Broderick, died in September 2015, she left behind a husband deeply impacted by her loss. As a way to cope, the multimedia artist turned to unconventional art projects to commemorate her life, including digitally manipulated photographs, 3D printing and an award-winning documentary called "Missing Piece."
This weekend, Guthrie's final project debuts in the exhibition "Vale" at the Nebraska Art Council's Fred Simon Gallery.
Although the timing with Valentine's Day is coincidental, the show centers on love — the devotion between spouses, the undying nature of love after one partner dies and what it means to be left behind.
The title is significant. "Vale," pronounced "wah-lay," is Latin for "farewell." In English, it refers to a valley, and as a name can mean "one who lives in a valley." For Guthrie, "Vale" means finally being able to let Beth go.
Unlike his earlier projects, which involved technology, Guthrie returned to a simpler, more traditional process of pencil on paper. The heart of the exhibition consists of graphite drawings depicting Beth from the shoulders up in the act of turning away. They're understated, but powerful, an act of Guthrie's wife looking back, but also moving away from him, a "farewell" to both him and the viewer.
Densely lined, deftly shaded and gorgeously realistic, the subtle, subdued portraits are loving compositions that capture Beth in a peaceful action of soft movement.
The reason for choosing to draw Beth was a sentimental one.
"I wanted to return to simple pencil drawings that I would have done when I first met her," Guthrie said. "Towards the end of her life, she specifically told me how much she missed it when I included her in my art. I guess it's a response to what she missed, bringing it full circle."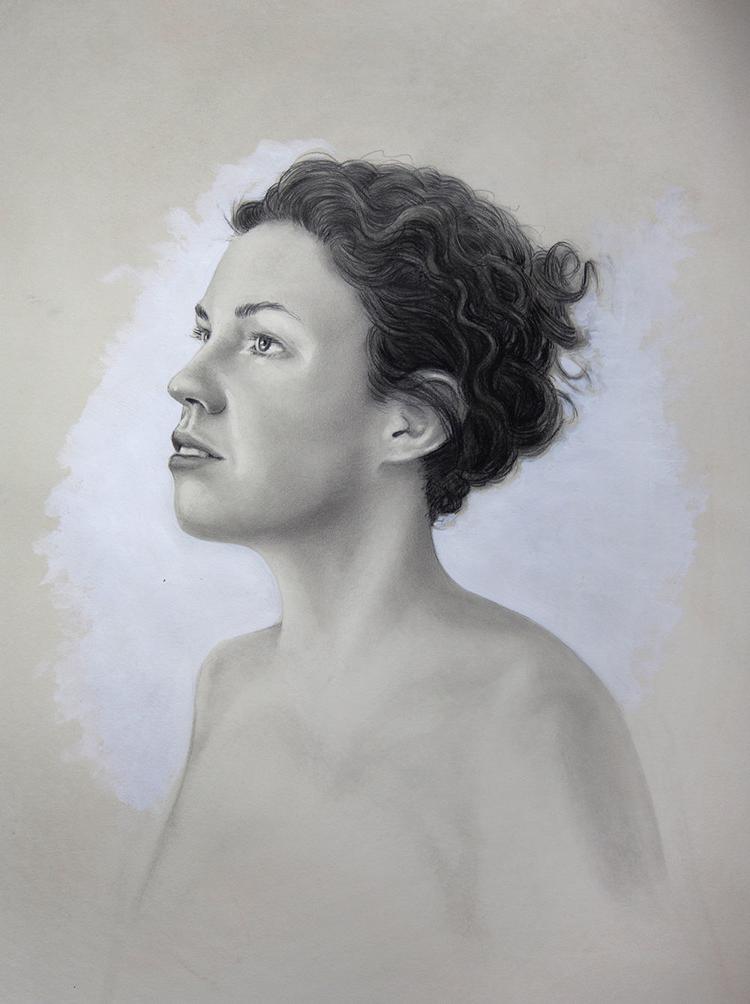 The idea of a circle, or encircling, is important on another level. The drawings surround a column topped with a ceramic vessel, which contains a hidden message. The vessel was broken, and Guthrie repaired it with the help of a significant person in his life by following the Japanese tradition of kintsugi, which involves using gold to fill fractures in porcelain to accentuate and honor the history of an object.
The gold vein symbolizes Guthrie's traumatic history, but also underscores that he is still whole. He was a broken man, but he is still here. And he is still healing.
The gallery's backroom features snippets of Guthrie's "Missing Piece" film, several photos and a book of his Facebook posts that detailed how he experienced and dealt with his grief.
"They're all things I did not consider art when I was doing them," he said. "Friends insisted how profound they found them and how my social media posts helped so many people, so it's undeniably a part of the journey I've been on. I eventually partially accepted them as art, but I tucked them away in the backroom because, for me, that is the past."
While there is obvious sadness in the exhibition, there is also hope. Guthrie is now ready to leave the past behind and move forward with his life.
"This looks like such a simple show, but it's very personal and very complicated," he said. "I feel like now I am at the ending of one chapter and at the beginning of a new one."
Fred Simon Gallery, 1004 Farnam St. "Tim Guthrie: Vale." Opening reception: 5 to 7 p.m. Friday. Through April 3. Gallery hours: 8 a.m. to 5 p.m. Monday-Friday. Admission: free. artscouncil.nebraska.gov or 402-595-2122.
Sign up for the Go newsletter
This complete guide of local music, movies, dining and entertainment will have you weekend ready.
NEW THIS WEEK
Amplify Arts Generator Space, 1804 Vinton St. "Corson Androski: Before Parks." A talk focusing on the history of landscape photography, conservation and colonialism. 7 to 8 p.m. Wednesday. amplifyarts.org or 402-996-1092.
Apollon Art Space, 1801 Vinton St. "BURTONESQUE Tim Burton Tribute Art Show Closing Reception." Features work by 22 local artists inspired by Tim Burton's films, books and artwork. 5 to 8 p.m. Friday. apollonomaha.com or 402-884-0135.
Bemis Center for Contemporary Arts, 724 S. 12th St. "Residency Meet + Eat." Bring a dish to share and join current artists-in-residence and the curator-in-residence for a community potluck. 6 to 8 p.m. Thursday.
Also at Bemis: "Out & About Storytime." Includes stories, creative movement, music and more, geared toward preschoolers. 11 to 11:30 a.m. Saturday. "Birds of a Feather Closing Celebration." The public is invited to share favorite texts, compositions or songs about birds in celebration of the current exhibitions, "Richard Ibghy and Marilou Lemmens: Look, it's daybreak, dear, time to sing" and "Jillian Mayer: TIMESHARE." 11 a.m. to 5 p.m. Saturday. bemiscenter.org or 402-341-7130.
Gallery 1516, 1516 Leavenworth St. "Valentine's Day." Includes a selection of wines and chocolates paired with music from violinist Olga Smola and poetry readings by Nebraska State Poet Matt Mason. 7 to 9 p.m. Friday. $100 per couple ($50 for an individual ticket). gallery1516.org or 402-305-1510.
The HideAway Art Gallery, 5701 Northwest Radial. "Love Sucks: Anti-Valentine's Punk Show." Features local musicians. 7 to 11 p.m. Friday. $10. facebook.com/pg/hideawayartgallery.
Joslyn Art Museum, 2200 Dodge St. "Music & Masterpieces: Women Artists of the Baroque." Inspired by the recent acquisition of the 17th-century Dutch masterpiece "Still Life of Flowers in a Glass Vase" by Maria van Oosterwyck, the evening highlights the work of women painters and composers through a gallery conversation with Joslyn's curator of European Art, Taylor Acosta, and Opera Omaha head of music Sean Kelly, followed by a performance by the Holland Community Opera Fellows. 6:30 to 8 p.m. Thursday. joslyn.org or 402-342-3300.
Project Project, 1818 Vinton St. "First Show: CJ Olson and Justin Grabenschroer." Features photographs by the artists. 6 to 10 p.m. Friday. facebook.com/projectprojectomaha.
Roberta and Bob Rogers Gallery, 1806 Vinton St. "Winter Visual Arts Showcase." A group show featuring visual artists nominated for this year's Omaha Entertainment and Arts Awards. 10 a.m. to 6 p.m. Thursday, Saturday and Wednesday, 5 to 9 p.m. Friday. rbrg.org or 402-496-4797.
Slowdown, 729 N. 14th St. "14th Annual Omaha Entertainment and Arts Awards." A recognition ceremony of artists and entertainers in the Omaha area working in visual arts, performing arts and live music. 5 to 9 p.m. Sunday. $35-$60. oea-awards.org.
UNO Art Gallery, Weber Fine Arts Room 129, 6001 Dodge St. "Willson Lecture: Kim Beck." A talk by the artist who has created events at the Grand Canyon and organized skywriting events in places from New York to Missouri. Noon to 1 p.m. Wednesday. unomaha.edu or 402-554-2796.
---
The best movies, concerts and more coming in February