In "The Woodsman," a burning fire is depicted with nothing more than a glowing light and actors tapping objects and snapping fingers.
Stage lights are bulbs in mason jars, and some spotlights are flashlights. A few branches depict trees, and cleverly stacked wooden boxes become a home and its furnishings.
And nothing but gestures — many of them from puppets — convey a treasure trove of actions, emotions and plot development.
In short, the new play at the Blue Barn is everything theater can be. It doesn't need elaborate or expensive embellishments or more than an hour and change to tell a warm, fully realized and absolutely irresistible story.
James Ortiz, the play's author and co-director, promised in a pre-production interview that it would be magic.
With cast and crew, he delivered on that promise. The production is a joint effort between the Blue Barn and the Strangemen Theatre Company in New York City, where it premiered eight years ago. The theaters had been discussing some sort of collaboration because founders of both were graduates of the Acting Conservatory at the State University of New York-Purchase. Ortiz, of Strangemen, is a SUNY-Purchase grad, as is Blue Barn artistic director Susan Clement Toberer.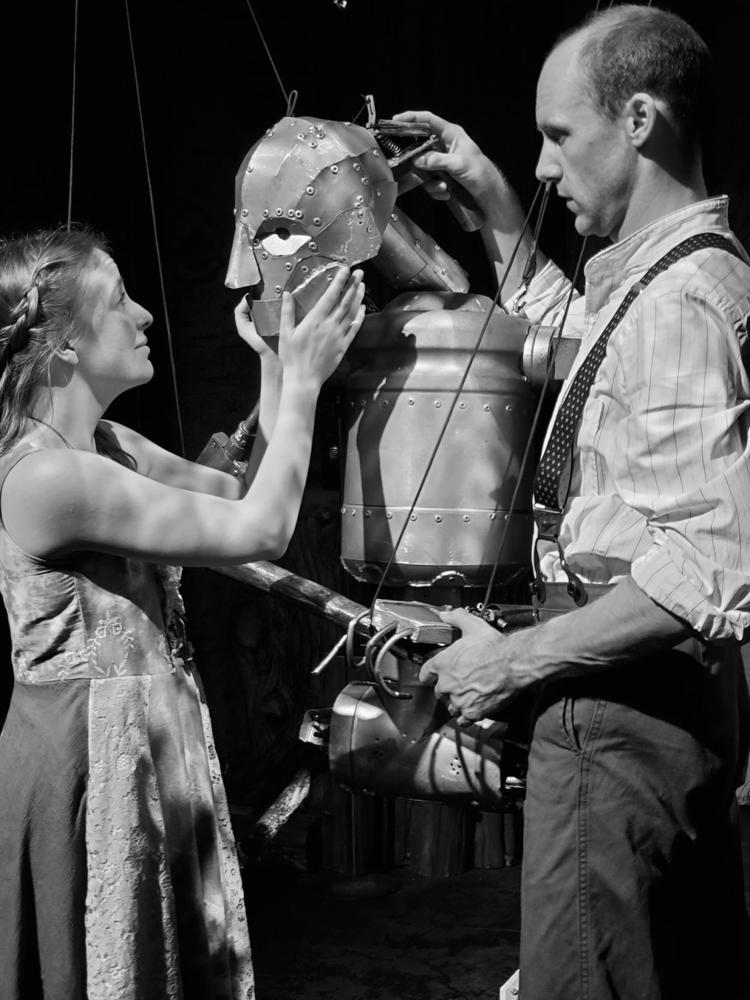 Toberer said she chose the piece because it was the perfect way to cap the Blue Barn's 30th season.
She was right. The Blue Barn has a well-deserved reputation for putting a laser-sharp focus on storytelling, while innovating and taking risks. "The Woodsman" does all that and more.
It has good source material: It imagines the origin story of the Tin Man from L. Frank Baum's "Oz" series of children's books. It all takes place long before Dorothy drops in, though a witch is a pivotal character.
Ortiz, co-director Claire Karpen and other Strangemen company members (including movement director Will Gallacher and puppet master Amanda Lederer) have given it a Midwest sensibility, another reason it was a great choice to close out the Blue Barn's epic season. Jennifer Pool's costumes look like clothes on our rural ancestors, heavy on faded denim, aprons and suspenders. They're perfect.
Save for an opening explanatory monologue, there's no dialogue except screams and other noises. Music by Edward W. Hardy with lyrics by Jen Loring fills in the gap, including a couple of spoken-word songs.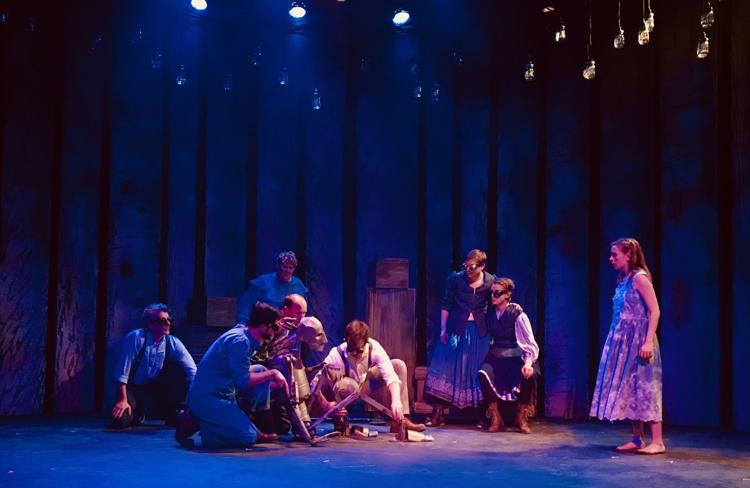 The cast is an ensemble in the true sense of the word: Actors take on various tasks and get energy from each other. For the most part, each plays a supporting role in most scenes. They execute the coordinated movements that tell the story with flawless timing, and I imagine getting it right was what bonded this group in a way I haven't seen in a while.
One man (Matthew Olsen) plays Woodsman Nick Chopper, one woman (Anna Jordan) plays the woman he meets in the forest, another woman (Moira Mangiameli) is the featured singer and there's a violinist (Samantha Perkins). But everyone in the cast has important roles, including puppet work. There's a refreshing equity in this talented ensemble, which also includes Stephanie Jacobson, Barry Carman, Be Louis, Caulene Hudson, Michael P. Burns and Beau James Fisher.
The puppets (and their operators) are just flat-out cool. The crows flap their wings so convincingly that you're sure they're flying toward you. The grizzled witch, with her wispy tufts of gray hair and her old-fashioned dress, is pretty terrifying, but it's amazing how many other emotions the actors help her convey, though she can't change facial expressions; fear, anger and, surprisingly, sorrow and longing are a few. There's also a surprise creature.
Ortiz won an Obie Award (for off-Broadway productions, that's the equivalent of a Tony) for creating the puppets, and boy, did he deserve it.
The entire production is rustic, rough, energetic and beautiful. There probably were opening-night glitches that directors, cast and crew were aware of, but I was too absorbed to look very closely for them. This was the first time in a while that I heard whoops and whistles the minute the show ended. The opening-night audience loved it.
You will love it too, and there's nothing about it that should keep you from inviting anyone you know, including kids (probably 7 and older), your grandma, your next-door neighbor. It's a little bit scary at times, but it's not overwhelming and it never lasts long. And overall, it is a darn sweet story.
For its 30th birthday, the Blue Barn has given Omaha a gift from the heart.
Sign up for the Go newsletter
This complete guide of local music, movies, dining and entertainment will have you weekend ready.