"The Doll-Maker's Gift" takes on a subject that's hard for adults to understand, let alone kids.
The play, a world-premiere that opened Friday at the Rose Theater, looks at the impact of pogroms on Russian Jews in the early 1900s. It has a lot to say about the ways humans can be cruel to other humans, something that's hard for even the most jaded senior citizen to reconcile.
Ultimately, though, it has more to say about kindness and hope, helping adults and children alike believe that the world may just hold more good people than bad.
Sign up for the Go newsletter
This complete guide of local music, movies, dining and entertainment will have you weekend ready.
It was several years in the making, the brainchild of Deborah Denenberg, who worked in New York theater for a time, and Fran Sillau, an Omaha theater director. Denenberg showed Sillau the children's book upon which the play is based, and he contacted author Sashi Fridman in St. Petersburg, Russia, about turning it into a play. Once they obtained the rights to the story, Sillau wrote the script with playwright EllaRose Chary. He also is the play's director.
The story involves a family's heartbreaking choice: Papa (Steve Hydeen) knows he must find a way to move his wife and daughters to America to flee from escalating violence against Jews. He moves first so that he can earn money for their passage.
By the time he sends money home, the price of tickets has gone up and there's only enough for two. Mama (Abby Geerts) and older daughter Rosa (Chloe Irwin) decide they will go ahead to earn funds so the younger daughter can follow. Eight-year-old Nora (Maddie Smith), who loves dolls, stays behind with Zalushka (Patrick Wolfe), the doll-maker, and his wife, Hoda (Sue Gillespie Booton).
The young girl clings to a childish belief that the dolls in Zalushka's shop have the power to save them from pogroms — until it becomes painfully clear to her what a pogrom is.
For me, the show started slowly and seemed a bit flat at first. The music was ethnically evocative and had beautiful, haunting instrumentation, especially in a scene on the Sabbath and when the family had to part. But I was way more impressed with the early instrumentals than songs that seemed to stuff Sammy Buck's lyrics into Brian Feinstein's tunes.
The acting, storytelling and some standout songs won me over, however. "Grow Down," in which Nora implores Rosa to embrace being her playmate again, was clever both musically and lyrically. I also loved "Little Bit a Mitzvah," performed by the doll-maker and his wife. For that matter, all of the songs — regardless of whether I found them a little wordy and hard to decipher at times — conveyed key points in the plot. They were way more than just music.
And for the second time at a Rose show this year (the first was last month's "Return to Niobrara"), I witnessed a phenomenon: The kids, who were crazy loud before the curtain rose, were rapt, riveted and nearly silent during the 75-minute performance.
That's rare when you have a couple hundred (or more) elementary and middle school kids in one place, and it told me that they might just be absorbing the play's many messages: optimism, acceptance of those who are different, the value of freedom, the importance of offering aid to the persecuted and the history of American immigration, to name a few.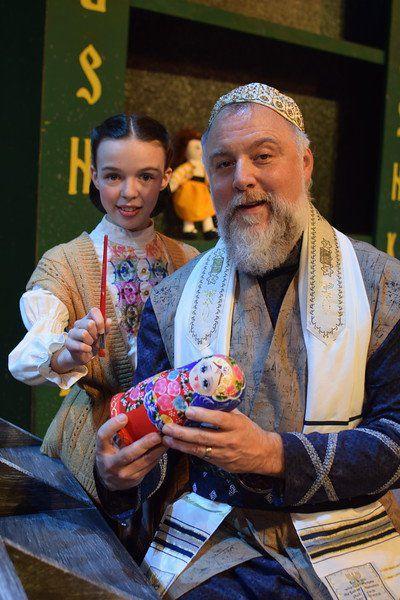 I left feeling as though I knew more about the pogroms and the historic plight of Russian Jews than I had before. Along with the script, credit for that should go to the actors, especially Smith, a Brownell-Talbot seventh-grader, and Irwin, a Gretna High freshman. Both were up to the demands of their roles — Smith, especially, has an impressively strong voice for one so young. Their adult counterparts also gave fine performances.
Scenic designer Jamie Bullins, costume designer Sherri Geerdes and props mistress Devon Denn-Young created a beautiful and believable Russian village with several clever components. I kept thinking of "Fiddler on the Roof."
Zalushka's shop was a special delight — it had shelves of real dolls, even four who were dressed identically to characters onstage. Now that's attention to detail.
By the time the heartwarming and unexpected ending came, I had forgotten my early misgivings and was totally charmed and even a little choked up. Families should flock to this one.