Several actual headlines from 1919 newspapers are part of the set design for "Red Summer," a new play at the Blue Barn Theatre about the lynching of Will Brown.
One was particularly startling: "Negroes planning to kill all whites."
To today's eyes, the headline looks like over-the-top hysteria. But in some ways, misplaced panic and fears remain 100 years later — spread over Facebook and Twitter and aimed at other groups such as immigrants, Muslims and Hispanics.
Playwright Beaufield Berry has seen that kind of discourse on social media and says she worries about violence against her family. She sees reflections of what happened to Brown 100 years ago happening today.
Both lynchings and social media cruelty are possible when you don't see the "other" as a human being with intellect, emotions and feelings. Mistreating others, sometimes to the point of violence, becomes easier to dismiss and perhaps more likely to happen.
That's part of the reason "Red Summer" is one of the most important shows to debut in our city for quite some time.
The stories "Red Summer" tells, and the opportunity to learn from history, are reasons enough to see it. Add the compelling performances and top-notch production values, and you have an evening of theater that's informative, thought-provoking, beautiful, difficult and achingly sad. I had a lump in my throat for more than a few minutes after it was over.
Sign up for the Go newsletter
This complete guide of local music, movies, dining and entertainment will have you weekend ready.
Berry says she set out to give Brown dignity and an identity, and she succeeded. After extensive research, she painted a portrait from known facts and some speculation: In the play, he's a soft-spoken, thoughtful and sometimes introspective man with a limp who likes to socialize over cards and drinks and is attracted to a schoolteacher.
She also gives him a community: hard-working black people who participated in the Great Migration from south to north. All these people, Brown included, were looking for better jobs, more opportunity for advancement and a place to relish the freedom their families earned in the Civil War.
Berry's script illustrates the racism they faced in their new home from whites who didn't have the time or inclination to understand them. It shows how fear kept them from more forcefully demanding their rights. With expressiveness, passion (and well-placed background music), she imparts the dreams, joys and disappointments of her characters.
Scenes between Brown (Antonio Duke) and Hannah, the schoolteacher he wants to court (Brandi Smith), are especially affecting, because of both the words and the actors. With her cousin, Zella (Dara Brown), Hannah has a fascinating backstory that's crucial to the play.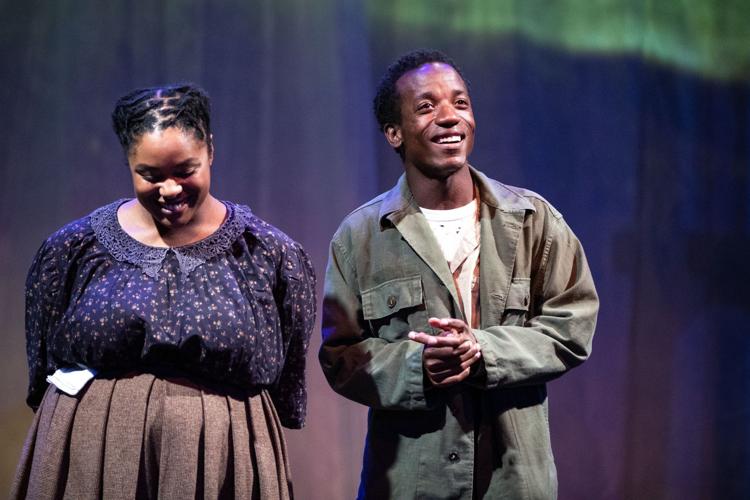 Through the only white character, Virginia Toomey (Haley Haas), Berry also shows the ambivalence and helplessness some longtime Omahans must have felt about what was happening in their community. Haas, who was also brilliant as a woman astronomer in "Silent Sky" at the Blue Barn, expertly plays a much less sympathetic character in Virginia, who ran a house of ill repute.
And the show is unsparing without being graphic when it addresses the cruelty and pathology behind the mob mentality.
The script, a world premiere, wasn't perfect; it could have been tightened for more impact in a few places, most notably a scene in which Zella recites a Brer Rabbit story. It hasn't yet been published, so revisions may happen.
Overall, director Susan Clement Toberer's cast was just right. Other actors included Raydell Cordell III, Devel Crisp, Xena Broaden, Brendan Brown and Regina Palmer.
Martin Marchitto's set did a great job conveying the city in 1919 with no more than a couple of house frames and Amy Reiner's props. The realism came from projections of actual events and headlines at the back of the stage, designed by Bill Kirby.
The theater has been sponsoring a number of events to supplement the show, including art and book displays in the Blue Barn lobby throughout the run. On Fridays (Oct. 4, 11 and 18) it will have postshow talkbacks with special guests, including Berry, so patrons can discuss what they saw and ask questions. I stuck around for it the night I was there, and it added a lot to my experience.
Bottom line: If you see no other show this season, go to "Red Summer." It's important.
Theater reviews from Betsie Freeman in 2019
A collection of 2019 theater reviews from The World-Herald's Betsie Freeman.