"Shrek the Musical" at the Omaha Community Playhouse has nearly as much going on as Memorial Stadium on game day.
Sight gags (the antisocial Shrek using a skunk as deodorant, for example.) Subtle but funny references to other Broadway shows. Dancing that evokes several eras and styles, including one number reminiscent of "All That Jazz."
A lead actor (Steve Krambeck) with an excellent Scottish ogre accent, a great singing voice and the ability to give Shrek personality without having facial expressions to rely on, given that he's wearing a green plastic head. A lead actress (Mackenzie Dehmer) who gives us a Princess Fiona as endearingly goofy as Lucille Ball, but with the pipes to handle the high notes. Innovative staging from director Kimberly Faith Hickman. (Actors are in the audience a lot, even on a bridge at one point, which makes this kind of show lots more fun.)
That's just the beginning, because many in the supporting cast are just as gifted, down to some phenomenal ensemble players who are singled out for solos. A versatile set by Jim Othuse and quirky yet beautiful costumes by Lindsay Pape also stood out.
This is a show you could see more than once and take home something a little different each time. It left me a little breathless.
The plot basically follows the movie: Years after being sent away by his parents, Shrek is living happily alone when Lord Farquaad (J. Isaiah Smith), the ruler of Duloc, banishes a bunch of fairy-tale characters to the ogre's swamp. Shrek decides to visit Farquaad and use whatever means necessary to make him overturn the banishment. He meets the gregarious, fast-talking Donkey (Jordan Smith, J. Isaiah's brother) along the way and takes on a traveling companion.
Farquaad's not intimidated, however, and tells Shrek he will only take back the fairy-tale crowd if the ogre rescues Fiona from the dragon-protected tower she's been locked in since childhood. The diminutive Farquaad wants her to be his bride.
Along the way, Shrek and Fiona discover they have lots in common, putting Farquaad's plans in doubt.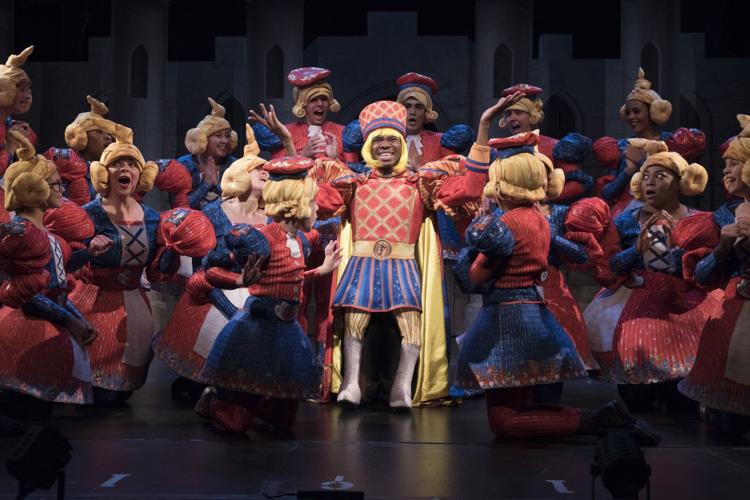 The other standout performances come from the boisterous Smith brothers and Playhouse newcomer Kerri Forrester, a Mississippi Valley State University music, vocal performance and broadcasting/public relations major who made the rafters shake when she sang the Dragon's show-stopper, "Forever." She picked the right course of study.
As the Dragon, Forrester was wearing a sequined magenta-purple gown with a shiny, towering headpiece, an example of Pape's mad costume skills. Pape's husband, Paul, who has a business creating plastic toys, props and other items with a 3-D printer, made Shrek's cool headpiece that would stand up in any future "Shrek the Musical" movie.
Melanie Walters deserves praise for choreography that's interesting and fairly sophisticated while still being accessible to a wide range of abilities. She hit the sweet spot.
And the orchestra assembled by music director Jim Boggess was one of the best I've heard at a musical in a while.
Preview night had some understandable flubs with mics, cues and the like. All are fixable as the show goes on.
If you try to avoid mild profanity and flatulence jokes, this isn't the show for your family. And though it moves fast, it's a full 2 hours and 40 minutes, including intermission, causing some kids to get restless, and clearly soaring past bedtimes. I felt bad for the little girl in front of me, who was enthralled through the entire thing but missed the rocking "I'm a Believer" at the end.
Maybe someone will bring her back on a weekend.