"Miss Saigon" has some absolutely breathtaking music, and cast members of the touring Broadway show have some absolutely breathtaking voices. It also has a small but powerful orchestra, with talented instrumentalists.
That's all good, because the musical, which premiered at the Orpheum Theater on Tuesday, is almost all in song.
It's also bad, however, because more than a few words weren't clear on opening night.
It was a minor, if annoying, problem for me, but it may well have been a bigger issue for someone who wasn't as familiar with the history of the Vietnam War. And if you can't follow the story, you can't figure out why we should care about "Miss Saigon" 30 years after it premiered and 44 years after the real-life events it depicts.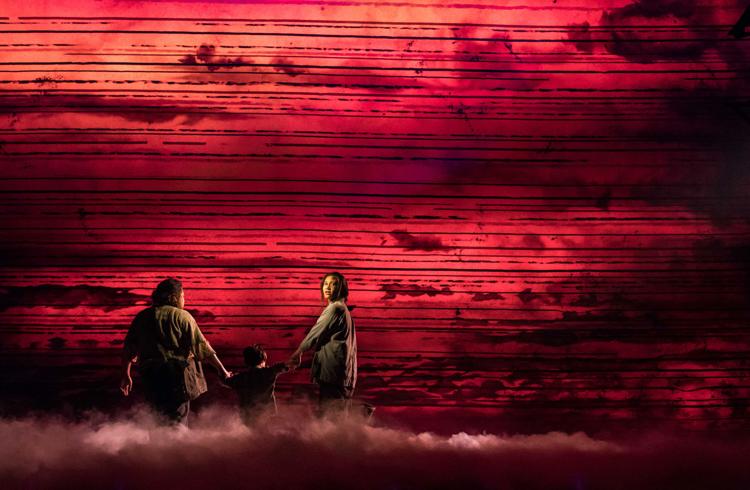 Here's why
» It tells a compelling story about perhaps the most tumultuous time in American history (at least in the top 10).
Kim (a luminous and tuneful Emily Bautista) comes from her poor village to Saigon, where she's soon sucked in to performing (dances and other things) at a super-sleazy bar run by an even sleazier guy, the Engineer (Red Concepcíon). He sells her to U.S. soldier Chris (Anthony Festa, whose commanding voice led the cast) on her first night there. They fall in love, have a marriage "ceremony" and are separated before Chris knows he's a father.
Chris tries to find Kim after evacuating from Saigon right before it falls to the Communists. When he learns about his son, now 3 years old and living in Bangkok, he returns to Asia to meet him and see Kim again, though he's now married to Ellen (Stacie Bono). It's an extremely realistic tale about the ancillary costs of the Vietnam War.
» It points out just how many things haven't changed since that time.
Immigration hasn't stopped being a political football. As the war decimated their country, Vietnamese refugees desperately sought a better life in the U.S., as pointed out so convincingly and caustically by the Engineer in his climactic song, "The American Dream." They were welcomed with varying warmth.
Children are still political casualties. At that time, kids were being abandoned and forgotten by their American fathers after tours of duty were served.
War still is messy, complicated and ambiguous. It remains hard to establish winners and losers and remember why we fight.
» It's an absolutely stunning production, revived and revamped by noted producer Cameron Mackintosh with technology that wasn't available the first time around. Claude-Michel Schönberg's music is sometimes achingly sad, sometimes wickedly bawdy, sometimes light and joyful, but always musically and technically superlative.
The sets remind you of every photo you've seen of Vietnam during that time, enhanced by perfect lighting. And the evacuation scene at the American embassy is startling and unbelievable. My companion said it was like something you'd experience at Disneyland or Universal Studios, all within the confines of a theater in Omaha, Nebraska.
The costumes are also spot-on, especially the Asian clothes and military uniforms.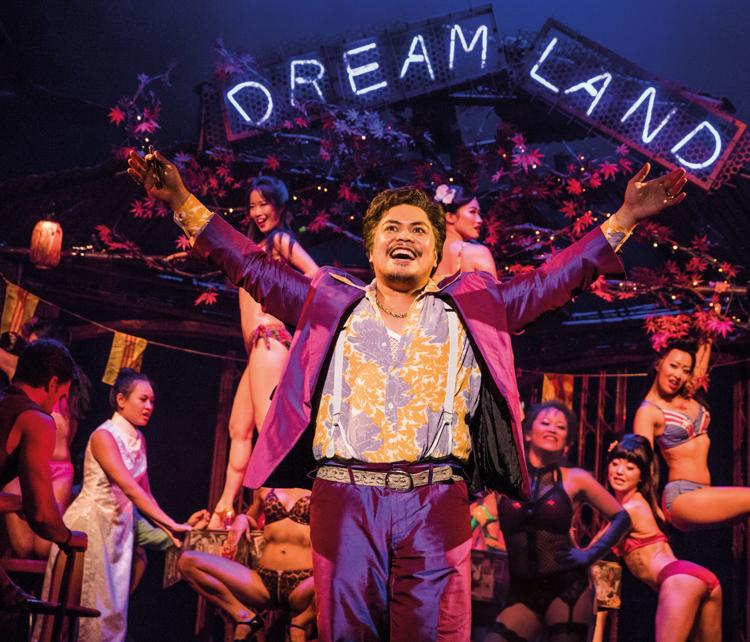 Here's why it might not be for you, however
» All the filth and degradation you'd find in a bar aimed at lonely servicemen and all the profanity those soldiers probably spewed is unsparing in the lyrics by Richard Maltby Jr. and Alain Boublil.
» Likewise, the show's skimpy barmaid costumes and very brief nudity might offend some people, though I was more taken aback by the explicit nature of the dances and sexually charged scenes in the clubs.
» Combined, those things bordered on a little too much realism for me, though they certainly gave you a picture of what Saigon must have been like at that time. It was the polar opposite of sugarcoated. For some in the crowd, it may have crossed the line. There were empty seats after intermission that had been occupied before, including three right behind me.
I wouldn't have been disappointed if it hadn't been quite so graphic, but art, after all, is sometimes messy and disturbing. I'm not sorry I stayed for the duration. For me, the music outweighed everything else.
Sign up for the Go newsletter
This complete guide of local music, movies, dining and entertainment will have you weekend ready.
Our best concert photos of 2019
Relive your favorite local shows with some of our best photos.