Maybe there's something to be said for the notion of a time warp, defined on Wikipedia as "an imaginary spatial distortion that allows time travel in fiction or a hypothetical form of time dilation or contraction."
I say this because I just witnessed a devoted and, yes, cultish crowd pick up right where they left off as willing participants in an unlikely phenomenon that started in the 1970s: "The Rocky Horror Show."
How else but a time warp do you explain the crazy crowd at the Omaha Community Playhouse on Thursday for preview night of Richard O'Brien's classic musical?
It was clear that many, if not most, of the people in the audience had seen it before, either the live theater version that premiered in 1973 or the 1975 movie that added "Picture" to the title. It became an interactive sensation at midnight movies starting in the '70s, and late showings continue to this day, especially during Halloween season. People dress in costumes and bring props, such as toast for a wedding scene (get it?) and flashlights for when two characters are lost in the woods. And lots more.
Wisely (I'm sure they didn't think twice), the folks at the Playhouse are offering the same kind of play-along production, right down to the props bags they pass out at the door. For me, it was like college all over again.
All fantasy aside, there's another explanation for the happy and engaged audience in the Howard Drew Theatre: The show, directed by Kaitlyn McClincy, is authentic to the original and packed full of enthusiastic and talented performers, great song and dance and high-quality production values. It's a keeper (more on that later).
The whole thing rests on the shoulders of whoever is playing Dr. Frank-N-Furter, the gaudy and garish "transvestite from Transylvania" who presides over a spooky house in the middle of nowhere that's populated by a cast of weirdos.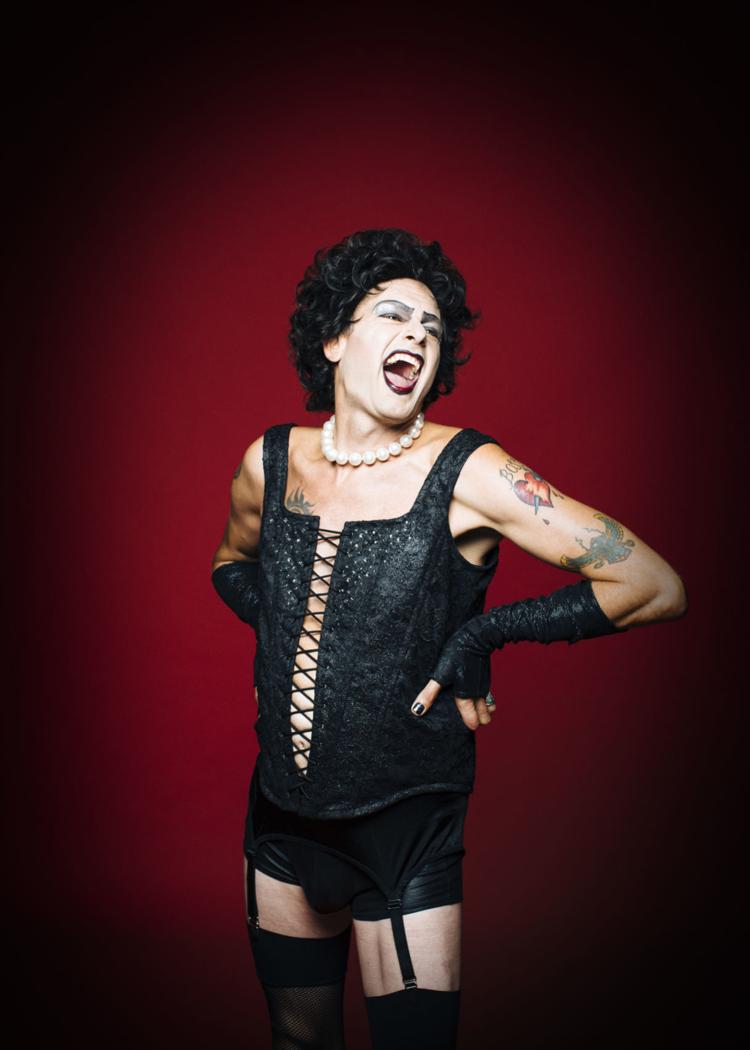 The Playhouse has a fabulous Frank, Benn Sieff, who's absolutely fearless. Wearing skimpy women's underwear, boas, fishnets and platform shoes, he struts around the stage as though he owns it. And he does. He's not as excessively flamboyant as the film's Tim Curry, and that's part of what I liked best, because Curry always was a little too much for me. Sieff is just right and just plain funny.
Others in the cast also must be fearless, especially Brad (Cale Albracht) and Janet (Charlotte Hedican), who spend nearly the entire show in their skivvies after their car stalls and they're forced to seek help at Frank's place, where he quickly gets rid of their clothes. If these actors were self-conscious at all, it didn't show unless it made sense for their characters. They were great.
Theater reviews from Betsie Freeman in 2019
A collection of 2019 theater reviews from The World-Herald's Betsie Freeman.
There are so many great performances, in fact, that I don't know where to start. Kevin Buswell is on his eighth turn as Riff Raff, the butler, and it's apparent why he keeps winning the role at various theaters. Erika Hall-Sieff, having fun performing alongside her husband, does some of the show's best vocal work as Magenta, the maid. Olivia Howard as Columbia; Jason DeLong as the monster, Rocky; veteran actor Rob Baker as the narrator and Bob Gilmore as the ill-fated Eddie also stand out.
Albracht, Buswell and Benn Sieff all are Playhouse newcomers, as are many members of the ensemble, made up mostly of young actors (some are still in high school). Despite their collective youth, they masterfully perform the 1950s-style music and dance. I was glued to each production number featuring Courtney Cairncross' swift-moving choreography. She expected a lot from the ensemble, especially those who were beginners, and they delivered.
Music director Jennifer Novak Haar led a tiny combo that packed a punch. Sound designers Tim Burkhart and John Gibilisco made it even more amazing, with lots of echoes and reverb for both musicians and singers.
The plot is basically a brilliant, if skewed, tribute to old horror and sci-fi movies, but "Rocky Horror" really isn't about the plot. It's about the experience.
That experience was wonderful for the crowd, but it was evident that something may have to change to make it as satisfying for the actors. The very things that made the show a true event also made it somewhat perilous for performers. You can probably guess what happens to the stage in rainy scenes (one of the props is a squirt gun). That, plus playing cards (another prop), made an already slick dance floor even slicker. In the first act, several people slipped and stumbled and a couple actually fell (though they gamely got right back up and made it look like it could have been planned).
Crew members cleaned up before the second act, and there were fewer problems after that, but my guess is that McClincy and others may be rethinking some of the things that made the stage so treacherous. At intermission, everyone around me was expressing concern for those who fell. We were all for modifications, even if it made for a less authentic evening.
Matthew Hamel's very cool set depicts the outside of a movie theater, with a marquee that allows the crew to project instructions to the audience (when to throw stuff, when to yell at the characters). I wasn't paying exquisite attention to everything that was projected, but it seemed like it was off a couple of times.
I said this show was a keeper, and I meant that in a literal sense. When the Playhouse surveys audiences about what they'd like to see in subsequent seasons, "The Rocky Horror Show" always gets the most votes. Overall, it's the most requested show, and it was last performed at the theater in 1998.
I told a colleague about it and, knowing of Sieff's work with his glam-rock band Bennie and the Gents, he said he could see Sieff playing Frank for years to come.
Why not do the show each year, a la "A Christmas Carol," we thought. Perhaps the rights would be too costly, but it's something to consider.
Omaha could have its very own cult classic.
Update: To ensure the safety of actors, Playhouse officials have removed squirt guns and playing cards from prop bags for "The Rocky Horror Show." They're also not allowing patrons to bring in those items, which made the floors slick and dangerous. The two props were among several things people throw at the stage throughout the production. Signs banning the guns and cards have been posted at the entrance to the Howard Drew Theatre, and the Narrator will announce the ban at the beginning of each performance, said Playhouse public relations director Allyson Wagner.