"Come From Away" made me feel the way all of my favorite musicals make me feel:
» Like I learned something. The Tony Award-winning musical is about the extraordinary response of citizens on a remote Canadian island when 38 jets carrying nearly 7,000 passengers were grounded there on Sept. 11, 2001. We've heard over and over about the attacks that day, but this story of grit, resilience and cooperative spirit is a welcome new look at old history.
» Like it was a music-lover's dream. I couldn't get enough of 14 fresh, beautiful songs that fit the time, place and events, both lyrically and melodically.
» Like it was a visual triumph. I was amazed at how several pieces of furniture, some tall, spare "pine trees," a few props and spot-on lighting could evoke so many settings in far-north Gander, Newfoundland: an airport; seats and baggage storage in jetliners; emergency shelters; a bar; and more.
» Like the performances were exquisite. The first thing we noticed was the authenticity of the accents, whether the cast members, who all had several roles, were portraying people from Texas, Canada, Britain, Africa or the Middle East. And it didn't stop there (more later).
It also made me feel something I don't usually feel at the theater: inspired to be a more generous, more caring person.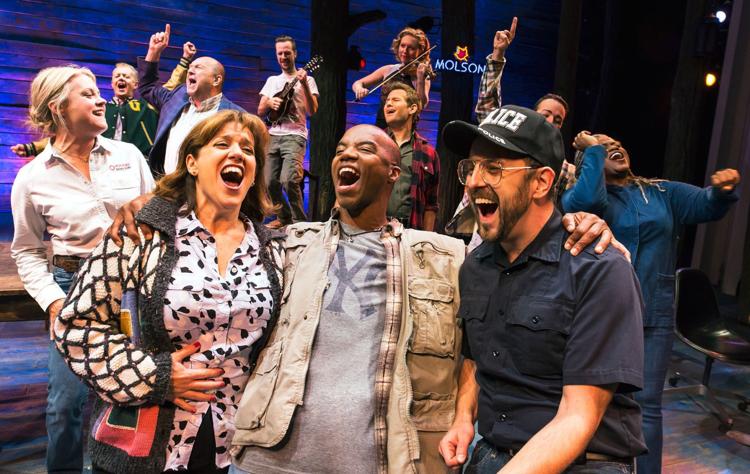 "Come From Away," which opened Wednesday at the Orpheum Theater, is among the most heartfelt and emotional shows I've ever seen, though it never got treacly or manipulative.
I've been looking forward to this show ever since Omaha Performing Arts announced that it was coming here, but I had no idea what to expect from a play about the aftermath of 9/11. Would it be deadly serious, a grim tear-jerker? God knows some might think the material called for that treatment.
Instead, it was funny when appropriate, heart-rending when it needed to be and, best of all, straight-forwardly poignant and, at times, joyful in its portrayal of the grace that can be found amid a devastating, life-changing tragedy. It was a perfect slice of the human experience. It also was a perfect portrait of teamwork and focusing on the other instead of ourselves.
You can't overstate the diversity of the folks who were plucked down on that island for nearly a week. With just a dozen or so actors, the musical told scores of their stories and those of their hosts. There was the gay couple who feared the reaction of their fellow refugees and the townspeople, the New York City mom who desperately tried to learn the fate of her firefighter son, the Muslim chef who was the subject of extra scrutiny and wary avoidance, the Gander woman who was obsessed with saving the pets aboard the planes, the Dallas woman and the London man who fell in love.
This accomplished cast offered anecdotes I'd never heard about the kindnesses extended to those who were stranded, a weary, fearful and sometimes angry crowd.
When dealing with an African couple who didn't understand a word of comfort, for example, one Canadian man turned to the book in the man's hand. It was a Bible. The Canadian pointed his guests to Philippians 4: "Be anxious for nothing." And the light bulb went on.
"That's how we started speaking the same language," he said.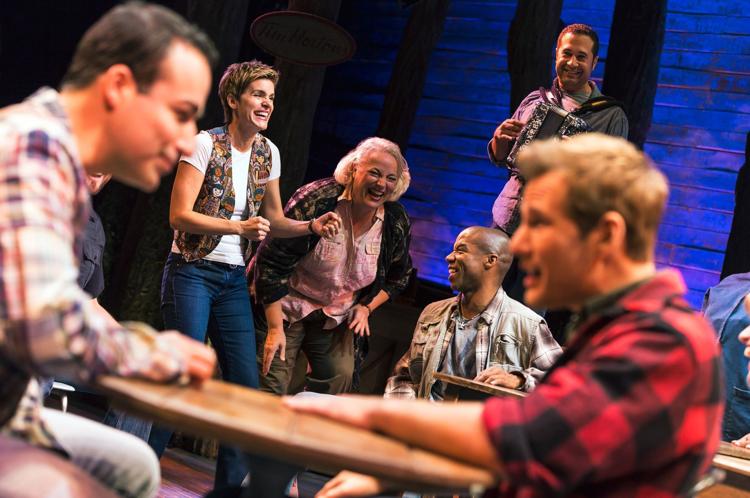 » The stranded team of cardiologists who volunteered to clean the bathroom at a school shelter when no one else would.
» The town's acceptance of the two gay men when they revealed they were a couple: "My sister is gay, my cousin is gay."
» The homeowners' willingness to lend their grills for massive fish-fries, handing them over to the African-American guy who grabbed them from backyards at the behest of his host. "I thought I would be shot," he tells the audience. "Instead, they helped me steal their own barbecues. I get offered tea in every backyard I go to."
» Thousands of meals cooked, dozens of sleep hours lost.
The best scene was a giant party for all the refugees, featuring "Screech In," a raucous Scots-Irish song and dance about initiating outsiders who want to become honorary Newfoundlanders. Audience members were on their feet, cheering wildly, at the end of that piece.
Most of the music was performed by the entire ensemble, but a couple of solos stood out: "Me and the Sky," in which pilot Beverley (Jane Bunting) tells the backstory of her childhood dream — and how it was trampled when the object she loves most was used as a terrorist weapon; and "I Am Here," a mournful and searching ballad from Hannah (Danielle K. Thomas), the firefighter's mom.
The marvelous musicians, including drummer Steve Holloway, brother of Omahan Peggy Holloway, also deserve mention. They were always in the background, and took center stage after the curtain calls for several glorious minutes in the spotlight. The crowd loved it.
Sign up for the Go newsletter
This complete guide of local music, movies, dining and entertainment will have you weekend ready.
The story seemed authentic, and it was: Many of the details I heard from Dr. Rod Markin, an Omaha physician who was one of the stranded passengers, showed up in the show. Markin was at the performance, and afterward, he told me that about 85 percent of it was in line with his experience. The experience of others, he acknowledged, probably was a little different.
It's clear everyone behind the show believes in the material and the message, from the cast, to writers Irene Sankoff and David Hein, to producer Sue Frost, who was in Omaha for the opening-night performance and as a speaker for a Cultural Inclusion Summit in conjunction with the tour stop.
That became even more apparent after the show, when OPA President Joan Squires told people at an after-party that $2 from every ticket sold will go toward flood relief, thanks to the show, OPA and Broadway Across America.
Volunteers also will be at the Orpheum exits taking donations from audience members. All money raised will go to the American Red Cross of Nebraska and Southwest Iowa.
"The show came to us — the producer and company wanted to do something," Squires said. "It's incredibly generous of them, and, really, it's what the show is all about."
It's called empathy, and "Come From Away" has it in abundance. Given our recent bout with disaster, this is a musical you'll want to see.
Photos: Major flooding hit Nebraska and Iowa towns in March 2019