In a world dominated by "Fortnite," there's still room for a gentle, fairly slow-moving play about a crawly creature, a discontented chameleon and a flighty cloud.
That show is "A Very Hungry Caterpillar and Other Eric Carle Favorites," which opened Friday at the Rose Theater. The production is from the Mermaid Theatre in Windsor, Nova Scotia.
This is a kid-pleasing play, especially for kids younger than 10 or so. It had children from various elementary schools and other organizations held rapt for 45 minutes at Friday's preview performance. They were as well-behaved as I've ever seen at the Rose — expressing their appreciation with applause and their surprise with delighted gasps and yelps, but also squirming less than they usually do. There also was way less cacophony than at other shows.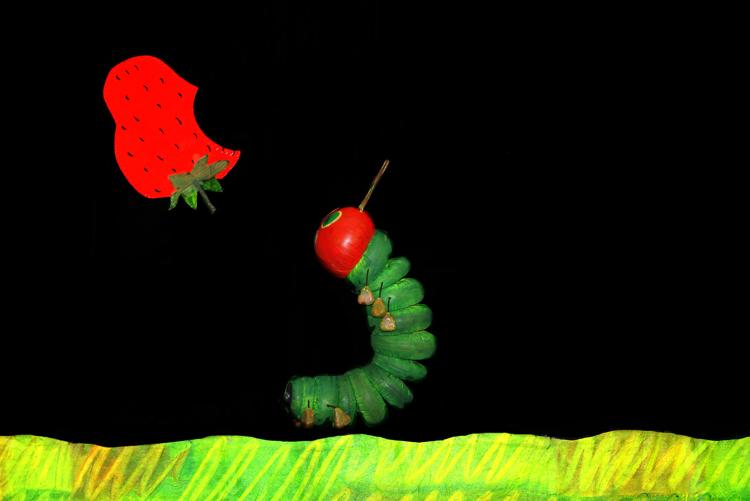 Several things seemed to hold the kids spellbound:
» The set was centered in the middle of the stage, taking up a relatively small space. The bulk of the stage was pitch black, making the colorful action stand out and giving kids little to distract them.
» The story was divided into three parts: the tale of Little Cloud, who loved to create different shapes (an airplane, a rabbit, a clown and a very popular shark); the saga of The Mixed-Up Chameleon, who didn't figure out how to be happy until he changed his life for the worse; and The Very Hungry Caterpillar, who ate everything in sight (include FIVE whole oranges) as he prepared for his eventual metamorphosis. Each vignette was just the right length to build to a finish and satisfy young (and old) attention spans.
» The cast was made up of super-creative and super-colorful puppets (and a couple of guys who operated them). Combined with an inky-black backdrop and cool black-light visuals, the effect was sort of mesmerizing, even for a jaded adult.
» Music was lively at points and always germane to the action. It never was loud or bombastic, elements that tend to make the kids more jumpy.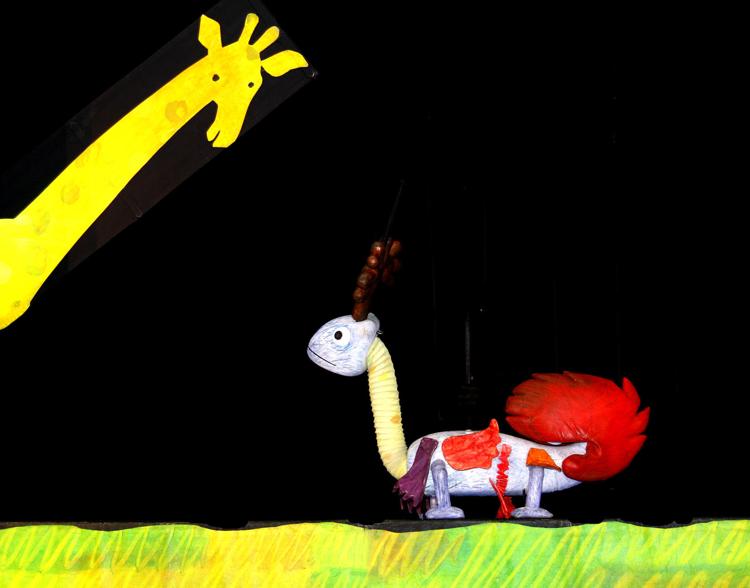 And even though it's based on a kiddie book, with an uncomplicated plot, a few things will interest adults:
» Parents or grandparents, you'll probably be as taken with the puppets, the lights and the bold neon colors as your kids and grandkids are.
» The music, though soothing and appropriate to the action, is far from simple. It included fun little touches only older folks will notice — at one point, it mixed circus tunes with familiar classical riffs.
» It contains subtle and easy-to-grasp messages. Chameleon, for instance, learns that he's happiest when he's just himself. And in the end, Little Cloud creates his best picture when he collaborates on a big, beautiful puff with other clouds.
» And, in my opinion, the most important thing of all: It's a reminder that sometimes, kids have the right idea about what's important and what's not. It's a little hard to obsess about political issues or job worries when you're watching a crowd of children have such an unfettered good time.
One more note: Young and old alike will love the post-show question-and-answer period. Puppet secrets are revealed!