Work on the new Hoff Family Arts and Culture Center in Council Bluffs isn't quite as exciting as it was earlier this year, when crews were finding artifacts in the historic Harvester II building and giving them to local artists to repurpose.
They're down to things like hanging drywall and partitioning off rooms, installing kitchen equipment and finishing wiring and heating and air conditioning work in the brand-new 280-seat theater, said Danna Kehm, CEO of Pottawattamie Arts Culture Entertainment, the nonprofit group that's coordinating the construction.
Kehm said they're still on track to complete construction in December. The four organizations that will share the space — American Midwest Ballet, Chanticleer Community Theatre, Kanesville Symphony and Kitchen Council, for entrepreneur chefs — will relocate there in January. A gala celebration and a public open house will be held in February.
The $27 million project includes renovation of the Harvester II, which once was a hub for farm machinery sales, and construction on an adjoining structure for the theater and other uses. Combined with the Harvester Arts Lofts, with space for 36 artists to have apartments and studios, it will create an arts district in Council Bluffs.
Outside renovation is almost done except for window installation, Kehm said. Only two of the building's more than 60 windows could be restored, so the remainder are being built.
"They're exact replicas," she said. "We're even using the same (wood and glass) materials."
She hopes they will be installed by the end of August.
Work on lights and a sound system for the theater will be done soon, she said, and then theater seats can be installed. Currently, the main floor of the theater is consumed by huge scaffolding so precast acoustical panels can be hung.
The 95,000-square-foot center will include classrooms, rehearsal space, kitchens for the chefs, offices for PACE and the partner organizations, artist studios, storage space for museum collections, scenery and costumes and galleries for art exhibitions.
A mini-museum will be created in an old vault used by the McCormick-Harvester Co., which has an interesting history in the Bluffs, Kehm said. Harvester II, which dates to the late 1800s, was a U.S. distribution center for the company's wheat reapers, second in volume only to Kansas City.
She said she's working with the Pottawattamie County Historical Society, the Council Bluffs Public Library and a museum in Avoca, Iowa, to recount the McCormick-Harvester history in the vault museum.
The historic dock used for farm equipment shipping, which wraps around the building, will become a patio for outdoor activities and eventually could be used as a stage for outdoor concerts, she said.
The City of Council Bluffs is redoing the street between 10th and 12th Streets to improve the appearance of the arts district, Kehm said.
"They have been great to work with and realize how important this project is to the city," she said. "The building will bring tax revenue into the community."
PACE, formed five years ago as an initiative of the Iowa West Foundation, is serving as an umbrella organization for the groups in the Hoff Center and will provide fundraising and marketing support. As move-in day draws closer, Kehm said, she has been working with the four partners to ensure a smooth transition. Each group was an integral part of the design process, but other needs may pop up once construction is done.
"They all have wish lists," she said.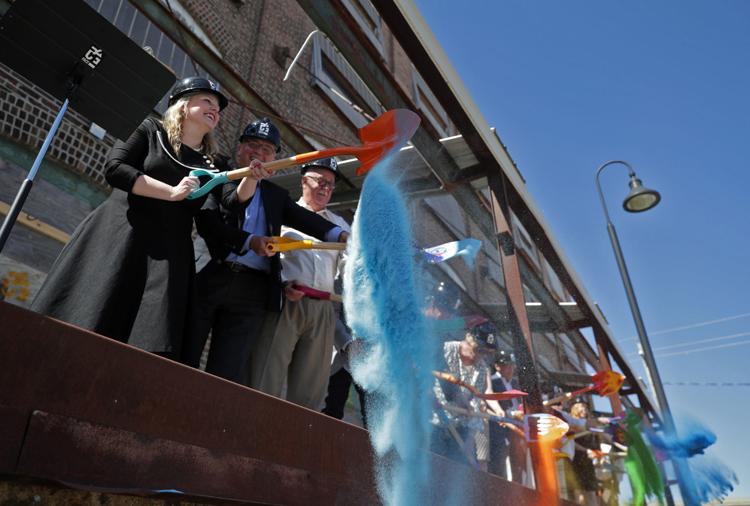 Lofte Theatre announces season
A classic play about a curmudgeonly dad and a lavish musical about a matchmaker are highlights of the coming season at the Lofte Community Theatre in rural Cass County.
Here's the recently revealed lineup for the theater, which is housed in a large, modern, barnlike building in Manley, Nebraska.
April 17-26, 2020: "Office Hours," Norm Foster's play focused on happenings in six offices on a Friday afternoon.
May 29-June 7, 2020: "Life With Father," Howard Lindsay and Russel Crouse's play taken from a series of autobiographical stories by Clarence Day. It premiered on Broadway in 1938.
July 18-Aug. 2, 2020: "Hello, Dolly," with music and lyrics by Jerry Herman. It's the story of a persistent New York matchmaker and her target, a miserly and miserable "half-a-millionaire."
Sept. 4-13, 2020: "Becky's New Car," by Steven Dietz, a farce about a middle-aged woman middle-manager at a car dealership who stumbles into an entirely new life.
Oct. 10-25, 2020: "Do Patent Leather Shoes Really Reflect Up?" A coming-of-age musical about eight Chicago kids in Catholic school in the 1950s. Adapted from a 1975 novel by John R. Powers and written by Powers, Alaric Jans and James Quinn.
Dec. 5-20, 2020: "A Dickens' Christmas Carol," Mark Landon Smith's comic adaptation of the beloved Charles Dickens classic, with a decidedly different take concerning a traveling troupe of actors who have performed the story for 15 years.
North Omaha Art Crawl on its way
Art exhibitions and demonstrations will be in venues along the North 30th Street corridor on Friday for the eighth North Omaha Art Crawl.
The free event, from 6 to 9 p.m., is returning after taking a year off. You can expect to see ethnic folk art, icons, quilts, paintings, drawings, photos and sculpture from both established and emerging north Omaha artists, including immigrants, refugees, Native Americans and African Americans. Each venue will have free refreshments.
The venues and what they're offering:
Charles B. Washington Library, 2868 Ames Ave. Opening reception featuring handmade quilts by an Omaha group, Quilters We Are, from 5:30 to 6:30 p.m.
Metropolitan Community College, 30th and Fort Streets. "Expanding the Circle," an exhibit of art from Native American students and their mentors, in Building 21 (the Mule Barn); exhibition of the college's collection of art from African nations in Building 23.
Church of the Resurrection, 3004 Belvedere Blvd., near 30th and Kansas Streets. Icon artist Jane Tan Creti displays her work and talks about the meaning and making of icons.
Trinity Lutheran Church/Heartland Family Service, 6340 N. 30th St. Contemporary and traditional works by a variety of artists, including people from Omaha refugee communities.
Nelson Mandela School, 6316 N. 30th St. Works by the school's students and adult artists.
North Omaha Summer Arts, a community-based arts organization, is sponsoring the event.
Photos: Our best shots of 2019 (so far)
Take a spin through the best of our staff photos from 2019. The gallery will be updated throughout our journey through the next year.