In "The Hobbit" at the Circle Theatre, some of the goblins are in wheelchairs and some of the elves have Down syndrome.
It's all about focusing on the abilities of the actors, not the disabilities, said Fran Sillau, the theater's executive artistic director.
It's also about an updated vision for the Circle, as expressed in a mission statement adopted in January 2018: "Circle Theatre creates productions for differently abled individuals to view and participate in quality theater within a barrier-free environment."
"The Hobbit," which opened this past Friday in the theater's regular space at Hanscom Park United Methodist Church, is the Circle's first show in which many differently abled actors are performing alongside acting veterans without disabilities. The theater has been leading up to this moment.
"It was always in the back of my mind since I joined the theater in 2016," Sillau said.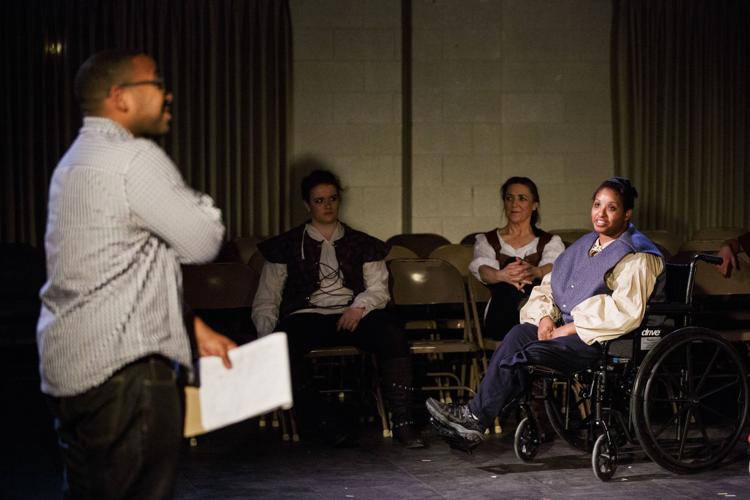 Last year, the Circle staged a production of "A Charlie Brown Christmas" that was entirely interpreted for the hearing-impaired. Before that, the theater did a version of "The Nutcracker" with sign language in some scenes.
There's no other theater exactly like the Circle in the metropolitan area.
"We realized in the last few years that this is a niche that needed to be filled in this community," Sillau said.
When theater leaders talked about what plays they would select, "The Hobbit" kept coming up. Based on J.R.R. Tolkien's novel that sets up the "Lord of the Rings" trilogy, the story is widely known and beloved. And because it's about an alternate world, there are no preconceived notions that characters must look a certain way.
"I like fantasy because we're not so tied to 'I don't look like that,' " Sillau said. "You don't need to be tied in to one look. That's what made it a natural fit."
The Circle isn't changing the text of Patricia Gray's script but will adapt staging to fit the actors.
At 35 actors, the play has a fairly large cast for a small community theater. Actors range in age from 8 to 70-plus, with a little more than half the cast having some sort of disability, either visible or invisible. People aren't asked to disclose their disabilities at auditions.
"If they're visible, we ask if there's anything we can do, anything they need to have a good experience," Sillau said.
Sign up for the Go newsletter
This complete guide of local music, movies, dining and entertainment will have you weekend ready.
The theater sends audition notices to area nonprofits such as Gotta Be Me and Girls Inc. and school programs that help students make the transition from special education to adult living, but other than that, there's no special effort to find differently abled actors.
The goal is that inclusivity just gets folded into the fabric of the theater, Sillau said.
Part of his motivation comes from his own experience.
"I have a visible disability and grew up with a learning disability, though no one could tell that from the outside," he said. "I didn't want to do plays just with other people with disabilities."
He had the opportunity to participate in theater with all sorts of people, and he wanted to create that for others, he said.
In addition to cast members, differently abled people will be behind the scenes for "The Hobbit" as interns in a program that's facilitated by the Kennedy Center in Washington, D.C. They are learning such things as stage-managing and running the light board.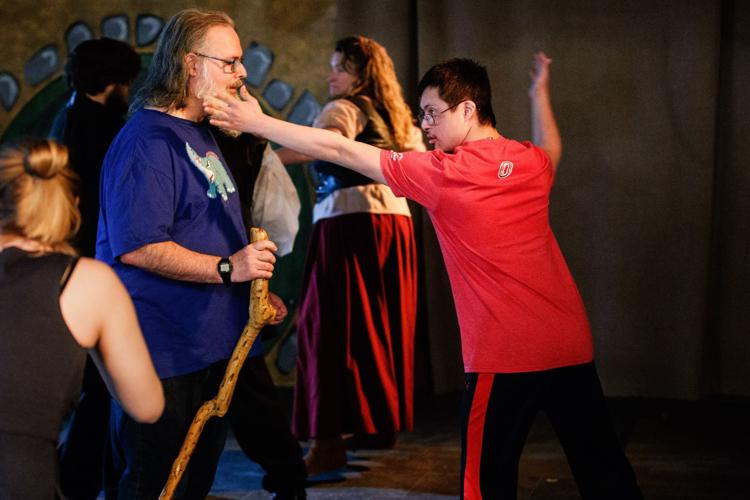 Nidal Sharif, 20, who has Down syndrome, is one of the goblins. His mother, Graciela, said it has been an extremely positive experience. She likes it because he has the same responsibilities as everyone else in the diverse cast.
"They set high expectations for him — you need to be here at this time, you need to be doing this," she said. But at the same time, she said, "they really put forth the effort to make sure he has support, not just left to fail."
Longtime Omaha actor Sue Mouttet, who plays Gandalf the wizard, said that support happens when cast members bond, often becoming like family and looking out for one another. "Hobbit" actors have gone out for coffee together and shared meals at the theater. They've also discussed their parts: "What's the elf experience? What's the dwarf experience?" she said.
"One of the good things about theater is teamwork," she said. "You're not just there to be a star but to help the story get across. Whether it's differently abled people or younger (kids), if they need a little support or direction, you give it to them kindly."
The Circle's approach to "The Hobbit" is inclusive and innovative in more ways than just breaking physical barriers. Gandalf is an iconic character who is usually played by a tall, lanky man, she said. Because directors at the Circle focus on an actor's abilities rather than appearance or tradition, they offered that part to Mouttet, a smaller, 76-year-old woman.
The role, she said, "has been very positive for me."
"I went into it with some trepidation. It took me a couple of days to think about if I could really bring anything to the part. I decided it's not about your size, it's about your wisdom and your ability to influence people. If you look around at your life, people of all ages, colors, et cetera, influence you."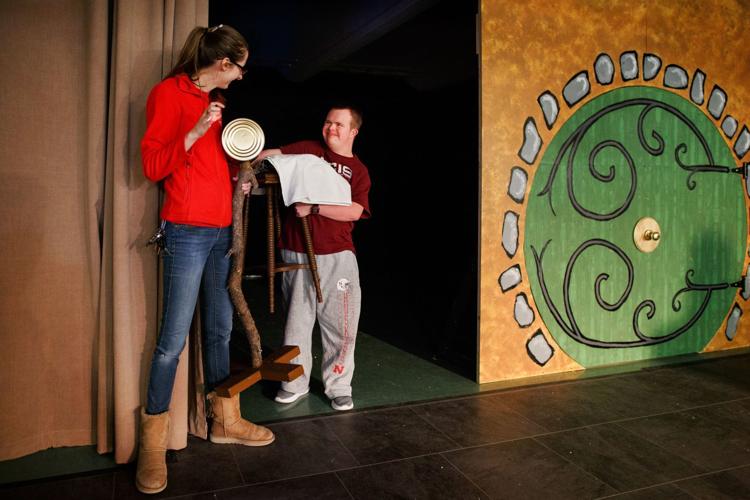 Nidal, for one, has been influenced by his colleagues in "The Hobbit" and those he met in previous plays. When he's done with the Millard Public Schools' young adult special education program, he wants a career in theater.
"He always says he wants to work on Broadway. We don't know if he'll make it to Broadway, but at least we are not giving up," Gabriela Sharif said. "We are starting at the Circle Theatre."
Nidal's participation in "The Hobbit" should help.
Sillau praised director Jarrett Thomas, a newcomer to the Circle, and associate artistic director Angela Dashner for their work on the show, which will be performed with the audience on different sides instead of traditional seating.
Sillau expects a variety of theater fans to buy tickets, not just because they want to see the diverse cast but also to see a favorite story.
"We do the highest-quality production that we can, what our space and resources allow," he said. "Those who know 'The Hobbit' will be pleased, and others will come away with a new appreciation."
Our best photos from January 2019