On Feb. 19, 1999, animator Mike Judge made his first foray into live-action with "Office Space" (Grade: A). It was a bona-fide box office failure that barely made back its production budget, that was met with tepid review and audience indifference, and that went on to become a beloved cult classic — among the most quotable and quoted comedies of all time.
Fox wanted another "There's Something About Mary"-sized hit in "Office Space." But Judge was the wrong guy for the job. He might have seen success on TV right away ("Beavis and Butthead," "King of the Hill"), but most of his movies (namely "Idiocracy") aren't appreciated until years after the fact, when we can see how accurately they predicted the future.
Watching "Office Space" 20 years later, it serves as both a pre-Y2K time capsule and a crystal ball for the soul-sucking indignities of modern life.
"It seems like every city now has these identical office parks with identical adjoining chain restaurants," Judge said upon the film's release. That's what he wanted to look at. The challenge for Fox's marketing department was, How do you sell people's sad lives back to them in the form of sly satire? Of course "Office Space" was a flop.
But as it happens with some great movies, people discovered it on home video and basic cable. It remains an imperfect film, with a third act that still feels rushed. But its examination of corporate culture and workplace misery was just too sharp and relatable for the film to fade into oblivion.
Whom among us hasn't experienced the banal sadism of a Lumbergh? Had our mistakes dissected by several layers of management? Watched the workday's minutes drain away under the oppressive fluorescent light?
Judge's deadpan style and finely observed humor have aged remarkably well, even if the white-collar office job has changed in countless ways. (The Comedy Central series "Corporate," co-created by a former Omahan, has picked up the torch in this department.)
Though I think the secret sauce of "Office Space" is Peter Gibbons (Ron Livingston) himself.
Here was the ultimate fantasy: Not to be rich or famous or a superhero but to do nothing. Absolutely nothing. No work, no productivity, no TPS cover letters. When your awful boss tells you to do something, you say no and walk away to go fishing and hang out with your cool girlfriend, Jennifer Aniston.
"Office Space" is about taking one's identity back from the company agenda. Peter's words now sound like gospel:
"I did absolutely nothing, and it was everything I thought it could be."
"We don't have a lot of time on this Earth. We weren't meant to spend it this way."
The corporate art outside of Initech (the film's tech company setting) is a symbol of Peter's discontent. It's of a square peg shoved into a round hole. This was an intentional metaphor for Peter, or anyone who feels out of place. (Judge was very particular about the film's production design.)
"I don't know why I can't go to work and be happy, like I'm supposed to, like everybody else," Peter laments.
The growing popularity of "Office Space" over the past 20 years reveals that an awful lot of people feel this way. We might not be able to escape into Peter's fantasy of doing nothing — at least not without serious negative consequences. But it still feels wonderful to watch him break out of his mental prison — to show us, however briefly, how good it feels to be a gangsta.
"Office Space" will play at 7 p.m. Tuesday at Alamo Drafthouse Omaha. It is also available to rent online.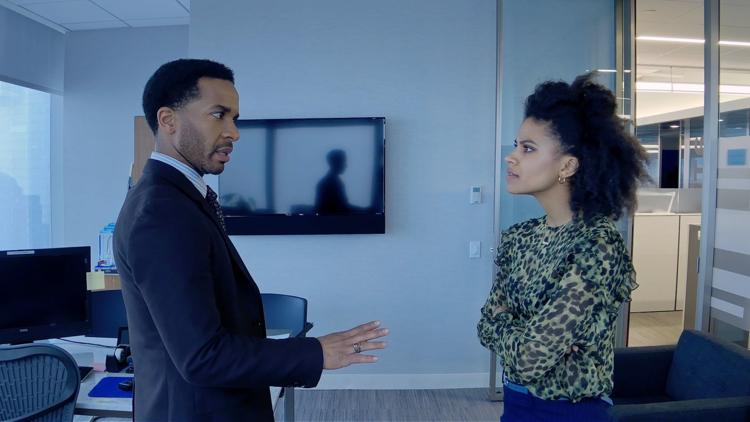 Soderbergh goes to Netflix
Like most great filmmakers, Steven Soderbergh has gone to streaming. His new film, "High Flying Bird" (B), is actually a good fit for Netflix because even for a Soderbergh effort, it's dense, oblique and disinterested in the conventional storytelling or rhythms that mark most movies.
The film, written by "Moonlight" scribe Tarell Alvin McCraney, is about a fast-talking sports agent named Ray (Andre Holland) who hatches a plan during an NBA lockout to change the game. Seeing an opportunity, Ray enlists his rookie client into a vague scheme that seeks to seize power from the owners and put it in the hands of the players.
"High Flying Bird" has a lot of ideas rolling around in its 90 minutes, and many aren't given much time to develop. But it's an interesting film when it focuses on the racial dynamics of money and power in basketball.
The story is certainly told in a way that doesn't hold your hand. The film is really just a series of rapid-fire conversations thick with industry lingo. It can be hard to follow at times, but the overall shape of Ray's plan is always clear.
Soderbergh shot the film on an iPhone 8, and it looks great. His tiny camera is nimble and playful as it follows its characters across the slick surfaces of limos, hotel bars and high-rises offices.
Also: Zazie Beetz is in this movie. As in every movie that Zazie Beetz is in, she's the best part.
Sign up for the Go newsletter
This complete guide of local music, movies, dining and entertainment will have you weekend ready.
One would think a mix of Nazis and superhuman monsters would be about as sure a thing as things are sure. But the WWII horror thriller "Overlord" (C+) fumbles its premise, getting a little too bogged down in its CG monster effects.
After a nifty airdrop sequence, an American paratrooper squad falls behind enemy lines to blow up a radio tower in time for the D-Day invasion. Before long, they run into some obstacles: Nazis, as well as the grotesque results of a few Nazi science experiments.
Here's a thing: Why when a monster gets a hold of our hero do they not just squeeze them to death or rip their head off? Why do they just throw them across the room repeatedly, giving our hero ample time to come up with a plan to defeat them?
Someday a movie will solve that mystery, but it won't be "Overlord."
Available to purchase digitally on iTunes, Amazon and Vudu.
Pitched somewhere between B-movie and lyrical indie drama, "Donnybrook" (C+) packs a powerful punch but a poor aim.
Directed by Tim Sutton, the film follows various deeply damaged or outright psychotic characters living in Opioid Epidemic, USA. Most of them are trying to make it to the Donnybrook, a backwoods bare-knuckle cage brawl with a $100,000 prize. Our hero is an ex-Marine father (Jamie Bell), our villain a crazy drug dealer (Frank Grillo). Margaret Qualley is the dealer's long-suffering sister, and James Badge Dale is a cop chasing all of them.
Even with a strong cast, Sutton can't flesh out these thinly written characters. Whenever things get dull, he just punches up the grotesquerie. ("Donnybrook" shows us a whole new way for a movie character to die.)
The movie has two big problems that are hard to get past.
1. The point of "Donnybrook" is the Donnybrook itself, but we've got to wade through several miles of misery to get there.
2. The movie posits that Jamie Bell could go toe-to-toe against Frank Grillo. That's ridiculous.
"Donnybrook" opens Friday at Alamo.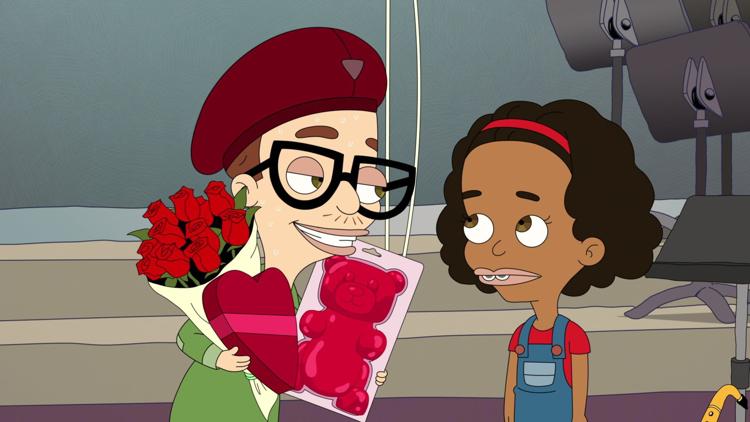 The proliferation of TV series on streaming has allowed for a stranger, niched TV landscape. One of the more surprising subgenres to emerge out of this ether is the extremely frank puberty comedy, the best example of which is Netflix's "Big Mouth."
In the animated series co-created by Nick Kroll, a group of preteens are going through changes, each of them guided by a hormone monster (voiced by Kroll and Maya Rudolph, among others). The show's trick is that it's actually a sweet and empathetic story about about growing up while at the same time being horribly, hilariously gross. The fact that its characters are children makes the humor transgressive. Ahead of releasing Season 3, Netflix sent fans a little Valentine in the form of a TV special. "Big Mouth: My Furry Valentine" (B-) has quite a few good (and, yes, gross) gags. But more than ever, it feels overstuffed.
Using "When Harry Met Sally" as its narrative inspiration, the special can't quite figure out what it wants to focus on. Still, even a weaker episode should hold fans over until the new season drops.
For a live-action version of awkward adolescence, one could head over to Hulu for "PEN15," which has a very good pilot (B+). The show stars its co-creators, Maya Erskine and Anna Konkle, as the seventh-grade versions of themselves in the year 2000. The joke is that Maya and Anna are grown adults playing teenagers, but all their fellow students are played by actual children. Fortunately, the show doesn't lean too hard on the gimmick. Instead, we're treated to an absurd but warm and winning depiction of middle school horrors.
"My Furry Valentine" is streaming on Netflix. "PEN15" is on Hulu.
Pierce Brosnan with a Russian accent
In "Final Score" (C), Dave Bautista stars in what is more or less a remake of "Die Hard 2" and "Sudden Death," but set in a London soccer stadium. Terrorists have taken over the arena, placing C-4 under the stands. Their overwrought plan is to capture a former Russian comrade hiding in the stadium. He's going to be hard to find, since he faked his own death and got plastic surgery that turned him into actor Pierce Brosnan. Still, he couldn't lose his accent.
Russian Brosnan and Bautista team up to ride motorcycles and kill terrorists. The film is stupidly, passively watchable. There's a scene in which Brosnan delivers a long monologue about what he learned from a childhood experience involving his pet chicken.
I watched this movie on my phone while I ran on a treadmill at the gym, and I can't think of a better way to experience it.
Streaming on Amazon Prime.
2019 Oscar-nominated films reviewed by Micah Mertes