When we go to art galleries, we expect to see art.
See being the operative word.
Paintings, prints, photography, sculptures, videos, installations are familiar art forms that we know, for the most part, how to approach and interact with.
The Bemis Center for Contemporary Arts is upending expectations by instead focusing on what visitors can — and can't — hear.
"Inner Ear Vision: Sound As Medium" features nearly 20 artists who explore sound as an artistic medium.
It's the inaugural exhibition for the Bemis' new Sound Art + Experimental Music Program, which launched in May and is geared toward artists working in sound, composition, voice and music of all genres. The center is renovating 25,000 square feet on its lower level to create space for rehearsing, recording and performing. The latter will open to the public in October, with free live shows by local, national and international artists and experimental musicians.
Raven Chacon is the program's first artist-in-residence, and he co-curated "Inner Ear Vision" with Robert Aiki Aubrey Lowe and Maria Elena Buszek. Based in Albuquerque, New Mexico, Chacon is a composer, performer and installation artist.
"I'm here to assess and advise on the residency," he said. "A lot of these programs tend to be on the coast, so it's interesting to see them in places between L.A. and New York. Plus, curating a show like this is a first for me."
It will be a first for many in Omaha, too.
Sound art dates to roughly the early 1980s. Often interdisciplinary, it features sound sculptures and installations and implies a concept or narrative. It can include music, voice, computer, electroacoustic and algorithmic sounds, to name a few.
Or, as is the case of Nikita Gale's "Interceptor," it can be completely silent. Composed of microphones, mic stands and cords, the installation references makeshift barricades created by French Revolution protesters of 1848.
Buszek, an art historian, said Gale's work subverts our expectations.
"We approach in a hushed way because there is a hint of sound," Buszek said. "That lets you think of it as malleable and shapes what you hear. That, in turn, shapes the space and how you feel and engage as you think about it."
Sign up for the Go newsletter
This complete guide of local music, movies, dining and entertainment will have you weekend ready.
Suzanne Kite, an Oglala Lakota composer, performance artist and visual artist, collaborated with producer/performer/digital artist Devin Ronneberg on the installation "Iyá Iyé (Telling Rock)." A new piece commissioned for the Bemis show, it examines the relationships between human and nonhuman entities through the eyes of indigenous North Americans.
Long, twining braids hang from the ceiling and light up and emit sounds in Lakota when touched. The Oglala Lakota view natural materials such as metals, rocks and minerals as capable of emitting sound and "speaking."
C. Spencer Yeh similarly examines vocalization between humans and nonhumans with the two-channel sound piece "Mei-Jia & Ting-Ting & Chih-Fu & Sin-Ji." The piece draws on the ancient Chinese art form Kouji, in which human speech mimics everyday sounds like bird calls and commonplace activities.
For the piece, Yeh features three female computer-generated voices interspersed with his own. The computer voices mimic human speech, while Yeh's human voice in turn imitates the computer voices.
It's a witty take on contemporary sound, inviting listeners to consider what is real in our everyday lives.
Musical instruments, of course, are real, but the Bemis exhibition challenges people to think of them in new ways. Chris Duncan's "Single String Instrument 01 and 02" are simple, triangular sculptures that emit minimal sound and movement via slow, deliberate activations.
Duncan's instruments are themed toward limitations and patience, Lowe said.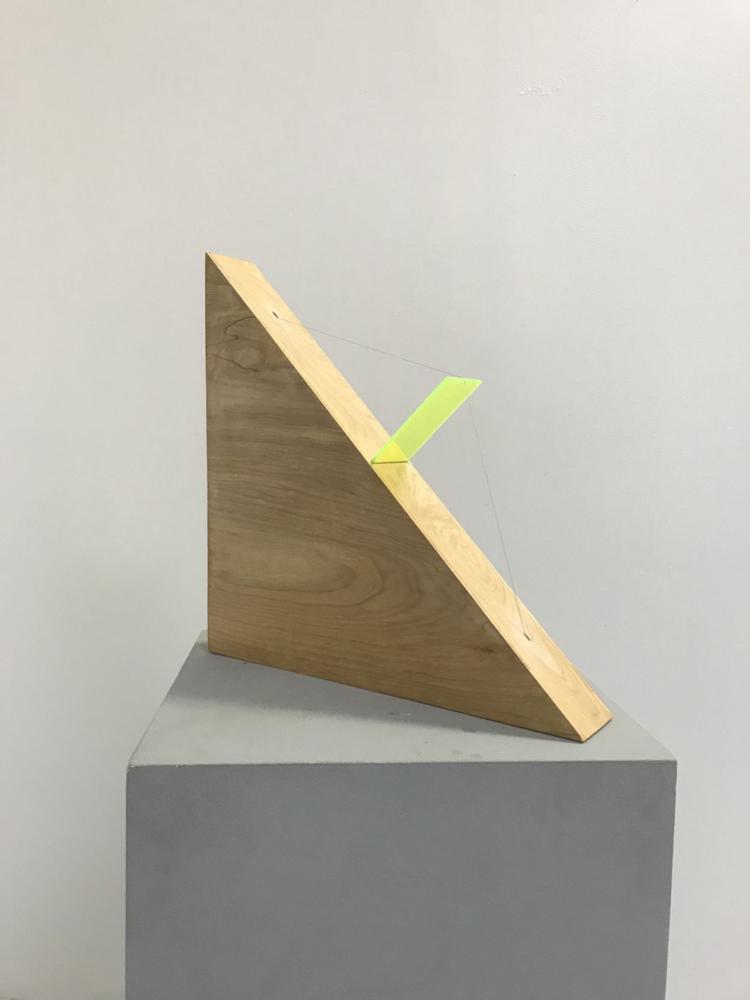 Artist Nadia Botello requires people to touch her art to hear the sound it produces. "Bodies of Water" features a tank filled with Missouri River water that is amplified by a sound recording taken from the bottom of the river bed. A former competitive synchronized swimmer, the artist is interested in how sound passes through water and how we hear it.
"It relies on vibrations and is considered a sound work for people who are hard of hearing," Buszek said. "It's a great example of asking us to think of sound as something physical. This is a way to show that we can use our bodies as conductors of sound."
That idea is explored further in Tarek Atoui's "Sub-Ink," a musical instrument made from a subwoofer connected to a drawing mounted on a music stand. Sound is triggered when fingers trace conductive ink on the drawing. Lowe will play the instrument at an open house this Saturday.
"It's an investigation of deafness and hearing loss," Lowe said. "They shouldn't be viewed as liabilities, but as ways to engage and heighten the senses."
Like so many of the works in "Inner Ear Vision," "Sub-Ink" challenges us to think about how and what we hear.
"Anyone can walk into this exhibition," Buszek said. "You don't have to do any homework. You just have to come."
Photos: Thought-provoking murals enrich Omaha walls and buildings
Omahans sure love their murals. Check out these pieces of art — space aliens, octopuses and vegetables, oh my! — you can find all over the city.