Bellevue Little Theatre started with a group of folks who wanted to stage melodramas.
They didn't have a permanent home. Instead — for eight years — they stored sets, props and costumes in garages. And they performed wherever they could: schools, the old Bellevue Queen restaurant on the Missouri River, Bellevue College (now University).
"It was kind of like those Andy Hardy movies back when," said Toni Menear, a longtime BLT board member. " 'Let's put on a show.' "
The nomadic lifestyle was second nature to some of the theater's organizers, thespians and crew workers. They were members of military families stationed at Offutt Air Force Base who came to Bellevue from posts all over the world.
Joining the effort to create a community theater was a way to get acquainted with local residents and put down roots.
Those roots went deep. With a reception on Saturday night, Bellevue Little Theatre is celebrating its 50th anniversary season.
That's not an insubstantial feat. Many community theaters in the metro area have come and gone over the years: Center Stage, Dundee Dinner Theater, John Beasley Theater and Firehouse Dinner Theater, among others.
Bellevue is one of the oldest in the metropolitan area, behind the Chanticleer in Council Bluffs (founded in 1952), the Rose Theater (which started in 1948 as the Omaha Junior Theater) and the Omaha Community Playhouse, the elder statesman at age 94.
Continuity and dedication probably have something to do with Bellevue's success. A number of people associated with the theater have been involved for at least 30 years, with a couple who have been around nearly the entire time.
Photos: Bellevue Little Theatre through the years
Menear, for instance, joined the board in the early 1970s and currently is the vice president. Originally from the Wichita, Kansas, area, she moved to Bellevue in 1970. The reason she volunteered with the theater might resonate with other military wives.
"I decided I needed to be something besides my husband's wife and a mom," said Menear, who managed the homefront when her husband was sent on yearlong "remotes" to places like Belgium in the days before Skype and cellphones. "I needed to find myself again."
Because she could sew, she was recruited to make costumes.
Cultivating a niche in the area theater landscape probably also contributed to BLT's longevity.
Board president Joey Lorincz said he thinks BLT has a reputation as a family-oriented theater that presents classic shows.
"It's always nice to try new things, but it's just kind of not our vibe," said Lorincz, who at 33 is among the youngest board members. "Good oldies always do well for us."
In 1981, theater leaders made a conscious decision to stage plays with children in the cast, beginning with "The Legend of Sleepy Hollow" directed by Marya Lucca-Thyberg, longtime drama teacher at Bellevue West High School. PTA members sold tickets for a cut of the profits.
The theater followed that with a production of "Oliver," and then "Cheaper by the Dozen," which will be produced again in the coming season in honor of the anniversary.
"Shows with kids always do better," Menear said. "More people will come."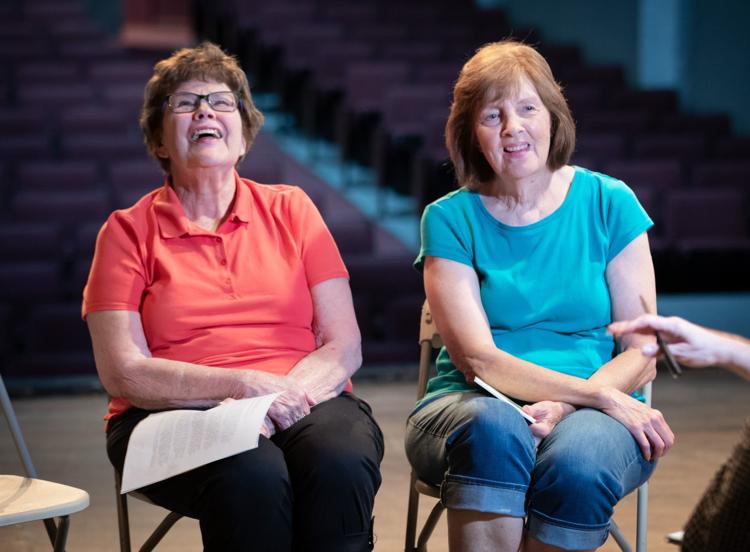 More people volunteer, too. Longtime board member Clara Sue Arnsdorff, the theater's publicity chairman and corresponding secretary, said she originally signed on because her kids wanted to participate.
"They loved it," said Arnsdorff, a military wife who's originally from Waco, Texas. "They were enthusiastic."
The theater settled into its current home in the vintage Roxy Movie Theater on Mission Avenue in 1977. The board was able to burn the mortgage in 1982.
BLT has always relied on volunteers and fundraising to stay afloat. It has no paid staff members, though directors, choreographers and some technicians get modest pay.
Fundraisers have ranged from contribution drives to a sale of fresh gulf shrimp and a celebrity auction.
"I have Father Mulcahy's clerical collar," Menear said, referring to William Christopher's character on "M*A*S*H," obtained at the fundraiser.
The theater also operates the Class Act thrift store next door, with sales averaging about $1,000 a month. Profits cover lights, water and other building costs. Volunteers staff the shop six days a week for six hours a day.
The theater has always had enough funds to ensure its survival, Menear and Arnsdorff said. No season has ever been in doubt.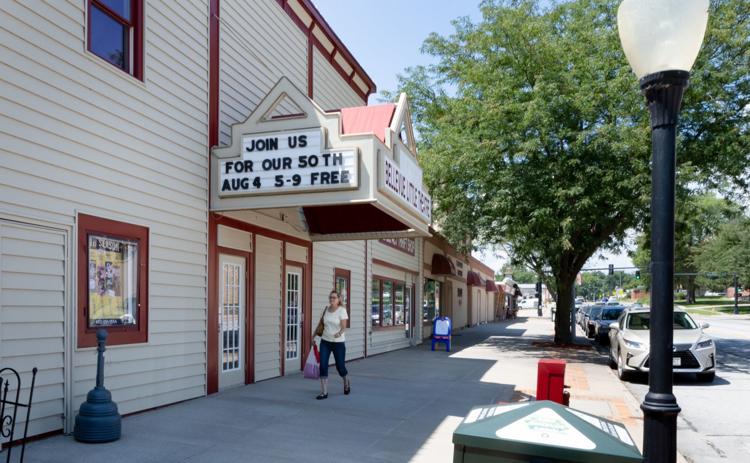 Lorincz, the current board president, is working to keep it that way. He said his main focus is continuing outreach to young people, whether it's introducing kids to the theater or luring college students who haven't gone to shows and are looking for something to do on date nights.
He's also starting a "tech-week trivia" contest on Facebook for ticket giveaways. He'll pose questions about the current show or cast members and award prizes for the correct answers.
"I'm trying to bump up social media a little more," he said, adding that he considers his BLT friends as extended family. "I care about the theater, and I want to see it progress and see another 50 years."
Theater vets Menear and Arnsdorff share that sentiment. Something about the theater world is special, they said.
"There's nothing more welcoming than theater," Menear said. "It doesn't matter what you do or who you are, everyone works together and fits in. That's the best thing about it.
"We've been lucky. It'll be around long after we're gone."
BLT tidbits
Bellevue Little Theatre was founded in 1968 by a group of people who wanted to do melodramas.
Early movers and shakers included Bobby Boughton, Marion Kennedy, Ralph and Evie Beach, Charles Reed, Fran and Willis Regier, Sandra Thompson and Ed and Bette Swanson. Most of them have passed on, but Bette Swanson still is on the board and Thompson is in a memory care facility.
The theater's first show was "Poole's Paradise." The location is unclear. For the first eight years, the troupe staged shows wherever someone said they could: restaurants, schools and other locales.
BLT moved into the old Roxy Theater in Olde Towne in 1977. It still had a projection booth and an organ. It seats 244 people.
It purchased the former Coast to Coast store in 1992 and turned it into the Class Act thrift shop. The purchase also allowed the theater to add dressing rooms, a "Green Room" and other backstage space.
Bellevue Little Theatre now does five shows each season.
It gets support from a number of civic clubs, the Nebraska Arts Council and the Peter Kiewit Foundation.
Musicals are among the theater's most popular shows. "Little Shop of Horrors," "Oklahoma," "Brigadoon," "A Chorus Line" and "Camelot" did particularly well.