We've all done it — used something designed for one task for an entirely new purpose. Think using a coffee can for loose screws, a brick for a doorstop or a hair tie to hold together a bunch of pencils. It's finding a work-around to life's irksome little situations that require quick solutions and just a little ingenuity.
Kaneko is exploring that idea with "Re·Purpose," a summer group exhibition that takes that mundane action and explores how artists and businesses look at recycling, sustainability, repurposed materials and how waste affects our environment.
Items such as used tires, dollar bills, discarded keyboards, old lampshades and so much more become entirely new objects that push viewers to think about the objects around them and how we all can be more conscious of casual consumption.
Kaneko Executive Director Stephan Grot is pleased that the show pushes people to think.
"We want to create a dynamic that is accessible to high art and also fun and easy to play with, so people can say, 'I understand that.' It's a matter of thinking of what art is supposed to be. It makes people realize that creativity lives in everything and helps them explore the creative process."
Created from salvaged materials, the entire work is a giant whimsical musical instrument that plays as you engage. Swings and a slide, tires, mufflers and chains transform from throw-away objects into new kinds of instruments.
Jamie Burmeister expands on this idea in the adjacent gallery space with a circle of literal musical chairs. Eight rocking chairs are affixed with instruments such as guitars, maracas and bells so that each gentle rock produces a cacophony of sound.
Those sounds in turn trigger a wall of lampshades to flicker off and on in bright colors. The more sound, the more frenetic the light show.
"A lot of my work deals with themes of repurposing objects and responding to them, so this exhibition fit really well," Burmeister said. "A lot of what I do is process-driven, and it's fun seeing how people interact."
Sean Suiter similarly works with rocking chairs. He takes humble birch plywood dyed into brilliant rainbow hues and creates uniquely crafted chairs. The backs often resemble human spines while the rockers themselves have futuristic, motion-forward shapes.
"My process is to solve problems," Suiter said. "I'm interested in what it means to reuse things to make something beautiful out of something useful. It elevates the purpose."
Artist Bart Vargas takes items like old keyboards and plastic bottles to create compellingly artful objects that have highly symbolic meanings.
His keyboard maps and globe, for example, provide insightful glimpses into issues such as climate change and colonialism whereas his hanging bottle orbs and larger-than-life pill constructed from plastic bottles speak to consumer waste and the effects of so much plastic on the human body.
If you look closely at Vargas' maps, you'll notice red "panic" keys installed where the polar ice caps should be. You might also catch a colorful word in place of where Washington, D.C., lies.
The artist tackles serious problems in his work, but says he wants it to be approachable.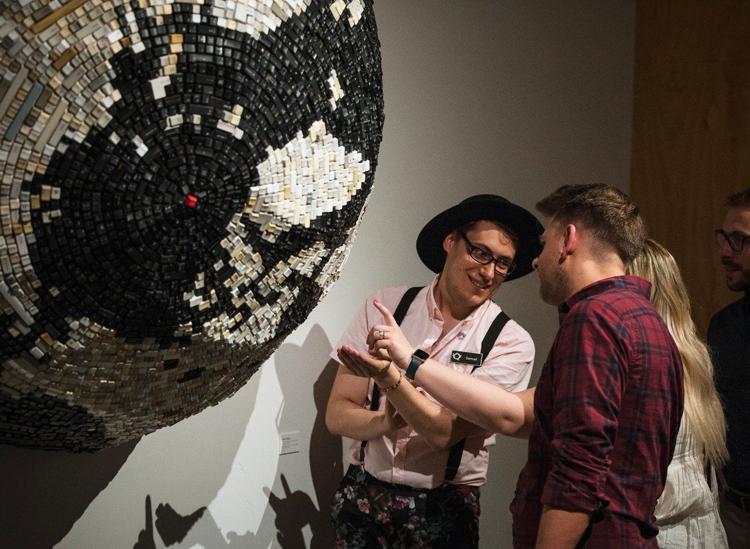 "I attempt to make all my work transcend generations and cultures, but I'm also trying to challenge people's perspectives," he said. "There are a lot of layered meanings in my work."
His hanging "Bottle Balls" are a good example. They demonstrate both the increasing ubiquity of one-use plastic as well as the effect of BPA chemicals on humans.
"The 'Bottle Balls' are globes — we've literally covered the world in plastic. And all that plastic ends up in our bodies. It's polluting the world — and us," Vargas said.
Phil Hansen employs another object that's seemingly part of our every day: money.
"Anthropocene" consists of 10,000 $1 bills wrapped around wooden blocks; together, they form a mosaic image of a nuclear explosion.
Hansen borrowed the money from a bank — he had to make a special request to receive the payment all in ones — and when the work is finished being exhibited, he'll return the loan.
"As an artist I like to dig into random ideas and ask, 'What can I do with that?' " Hansen said. "For 'Anthropocene,' I explored how I could use the most money, but also actually use none of it."
The work, he says, examines the moment the atomic bomb was dropped on Hiroshima.
Sign up for the Go newsletter
This complete guide of local music, movies, dining and entertainment will have you weekend ready.
"It looks at how humanity was affected. The word 'anthropocene' is the start date of the moment the nuclear bomb dropped. If you bring in money, you add an extra level of meaning."
Like Burmeister and Suiter, Hansen also creates chairs, but his focus is on using them for different purposes.
"I researched chairs as anti-social furniture," he said. "Furniture is often used for being with other people. I explore using chairs with the intention of pushing people away."
"Sitting in our Future Alone" features a giant skull-shaped chair made from wood — two-by-fours — that viewers can crawl into and disappear. The work "I shimmer on the inside too" is a large inflatable chair that completely surrounds the sitter, effectively shutting him or her off from the world.
"I admit I came to the show a different way," reflected Hansen. "For these I wasn't repurposing an object. I was repurposing the idea of socialness. We can reuse emotional experiences and completely change them. We can look at not only what it means to reuse things — but also ideas."
30-plus weird, unique places to go and things to do across Nebraska this summer
Looking for something fun and interesting to do this summer? Check out our list of fun destinations across the entire state of Nebraska.