Photography is ubiquitous. Whether via social media, the Internet or advertising, there's no escaping the bombardment of photographs on a daily basis. By some estimates, more than 1 trillion images were taken in 2018 alone, and with every phone also doubling as a camera, it's easy to believe.
What's harder to believe is the truth behind those images. From simple filters on Instagram to more sophisticated editing techniques available through software like Photoshop, most of us know that the majority of photos are altered on some level. "Fact and Fiction in Contemporary Photography," at the Joslyn Art Museum, explores the artifice present in much of today's photography through a group show featuring artists who push the medium to subvert viewers' expectations and challenge their perceptions.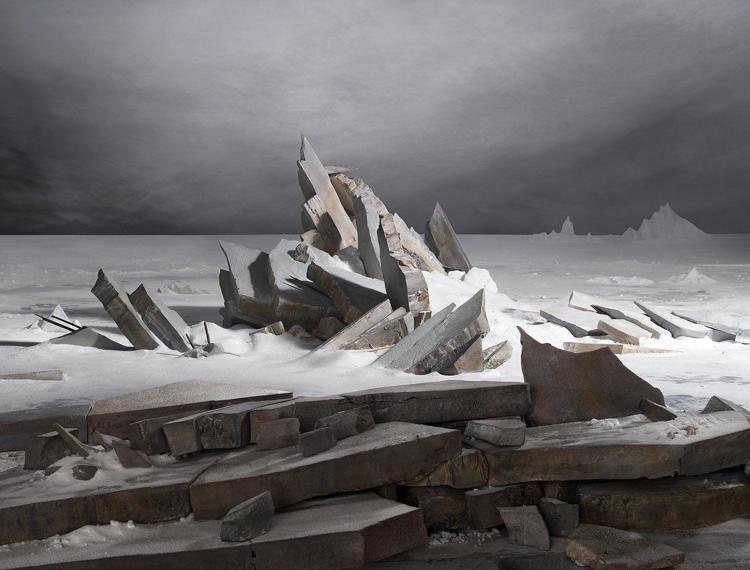 "We're at an inflection point in photography," said Toby Jurovics, Joslyn's chief curator. "While artists have been able to manipulate photography since the 1850s, for the most part, most of the time, we believed we were seeing a factual depiction. Today, there's a crisis of believability. Now, the assumption is that an image has been manipulated. This show looks at how artists are dealing with that shifting language."
The show includes a variety of media, from photograms created without a negative to images exposed on film and printed in the darkroom to compositions constructed entirely by computer. Photographs made in a single exposure stand side by side with those constructed from hundreds of digital captures, both seeming to present a seamless reflection of reality.
John Divola's archival print, "On the Occasion of My 60th Birthday," from 2009, is at first glance a straightforward photo of the artist seated in a lawn chair in his backyard. Closer inspection, though, shows that the image as a whole is off. It's windy in one corner of the frame, but not the other; the sun is shining brightly in one area, but it's shady in the rest of the picture, despite the configuration of the cloud cover.
The viewer is not looking at one photo. They are instead seeing hundreds plotted on a grid.
In contrast, James Casebere's 2017 "Library" is indeed a single photograph, but it, too, is not what it appears. The calm, sun-drenched room, with simple lines and clean angles, is not an interior space at all, but rather an architectural model used to create the illusion of a real room.
Other photographs similarly play with reality, whether through the oversaturated, hypersuburban reality depicted in Julie Blackmon's "New Chair" or the insightful exploration of political borders captured in Richard Misrach's stark "Wall, Near Los Indios, Texas," both created during the last decade.
They are photographs that make you linger and think — and question exactly what you're seeing and what that, in turn, means.
"The show gives you an array of how artists are using photography to engage the shifting world around us," Jurovics said. "These photographs prompt dialogues in a meaningful way."
Joslyn Art Museum, 2200 Dodge St. "Fact and Fiction in Contemporary Photography." Through May 10. "Art Encounters: Fact and Fiction in Contemporary Photography." 10:30 to 11:30 a.m. Thursday; "Exhibition Public Tours," 6:30 to 7:30 p.m. Thursday, 10:30 to 11:30 a.m. Saturday, 1 to 2 p.m. Sunday. Gallery hours: 10 a.m. to 4 p.m. Tuesday, Wednesday, Friday and Saturday, 10 a.m. to 8 p.m. Thursday, 10 a.m. to 4 p.m. Sunday. Admission: members, youth 17 and under, UNMC students with valid ID: free; nonmembers: $10 (Thursday evening pricing, 4 to 8 p.m.: $5); college students with valid ID: $5. For more programming, visit joslyn.org.
Sign up for the Go newsletter
This complete guide of local music, movies, dining and entertainment will have you weekend ready.
NEW THIS WEEK
Apollon Art Space, 1801 Vinton St. "Through Time." Artwork by local artists in a variety of mediums, from painting and photography to Temari balls, glass and more. Opening reception: 6 to 9 p.m. Friday. Through March 6. apollonomaha.com or 402-884-0135.
El Museo Latino, 4701 S. 25th St. "Picasso: Master in Clay." Features more than 55 of Pablo Picasso's highly stylized edition ceramics, created from 1947-71. Also featured are 46 travel paintings and prints by Marcel Mouly, one of Picasso's contemporaries. Opening reception: 6 to 8 p.m. Thursday. Through Aug. 22.
Also at El Museo: "100 Things." An excursion with 100 Things to Do in Omaha to the museum, followed by an authentic Mexican lunch at El Alamo. 11 a.m. to 2 p.m. Friday. elmuseolatino.org or 402-731-1137.
KANEKO, 1111 Jones St. "Unapologetic Me." A celebration of black, queer art. 4 to 7 p.m. Saturday. thekaneko.org or 402-341-3800.
Legend Comics & Coffee, 5207 Leavenworth St. "Art Library Borrow Event." Includes paintings, photographs and sculptures for a free loan period with a valid driver's license or state ID. One item per household. 11 a.m. to 2 p.m. Saturday. facebook.com/OmahaLovesArt.
Roberta and Bob Rogers Gallery, 1806 Vinton St. "Winter Visual Arts Showcase." A group show featuring visual artists nominated for this year's Omaha Entertainment and Arts Awards. 10 a.m. to 6 p.m. Thursday, Friday and Saturday. rbrg.org or 402-496-4797.
Union for Contemporary Art, 2423 N. 24th St. "Gallery Explorations: Franken-Toys." A four-part workshop for youths to take apart old/discarded toys and reimagine them into wonderfully peculiar creatures. 6:30 to 8 p.m. Thursdays, Feb. 20 through March 12. Ages: 8-15. Visit u-ca.org or call 402-933-3161.
Hot Shops Art Center, the first 20 years
It has been 20 years since a group of metropolitan Omaha artists joined forces to forge the Hot Shops Art Center in a former mattress factory north of downtown Omaha.
It took vision and courage. The industrial north downtown was the infancy of its rebirth as an arts and entertainment destination. But artists Tim Barry, Bob and Beth Wilson, Ed Fennell, Les Bruning and Ron and John Loken took a leap and transformed the old Serta Mattress factory into literal hot shops for studios for their own creations, dozens of studios for other artists and gallery and gathering spaces. It took off.
Here's a look back in World-Herald pictures.