With a name like Maddison, a 13-year-old Omaha girl seemed destined to see "Hamilton," the blockbuster Broadway musical that's coming to the Orpheum Theater this fall.
The best grandpa in the world made that happen Wednesday.
Mike Shreves, a resource teacher at St. Thomas More Catholic School, arrived at the Holland Center at 4:41 a.m. to be first in line for the sale of single "Hamilton" tickets. He sacrificed sleep in a cool home to wait in a muggy mass of people until the sale started at 10 a.m. Granddaughter Maddison Mellon, he said, was still in bed.
"She's always been interested in Broadway, and she loves 'Hamilton,' " Shreves said to explain his madness. "She listens to the music. So I told her I'd get tickets for her birthday."
Maddison's love for the show prompted her to learn more about the musical's protagonist, founding father Alexander Hamilton. That makes her educator grandpa happy.
"The great thing about it is she's asking questions about Hamilton and who he was," said Shreves, who taught history at Creighton Prep for many years.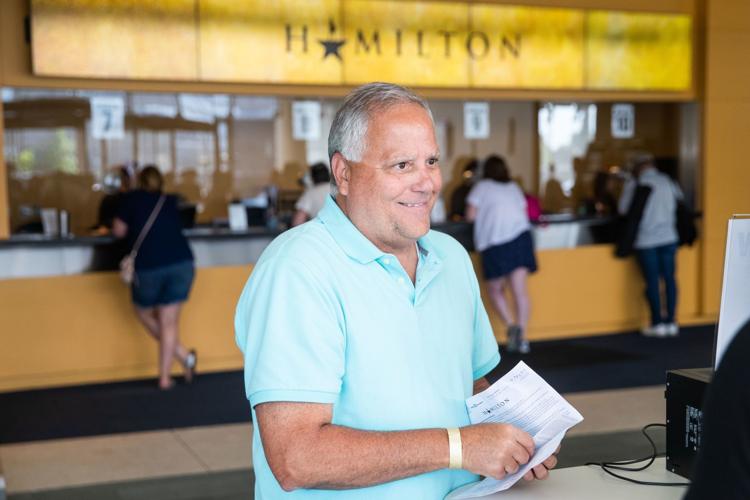 Ticket sales were steady and lasted all day, Omaha Performing Arts officials said. When the Ticket Omaha box office closed at 5 p.m., tickets were still available, though they were very limited for some performances, and some shows may not have tickets at all price levels.
When OPA personnel started handing out numbered wristbands at 7 a.m., about 100 people were in line behind Shreves. By 10 a.m., a few hundred people had congregated at the covered VIP parking area on the east side of the Holland to wait for admittance to the box office.
OPA staffers sorted them in groups such as those you encounter when you're boarding an airplane. They were admitted in segments according to their numbers. Many patrons said it was more orderly than they expected.
A monitor was set up so those in line could see what numbers were currently being served and if any performances were sold out.
Patrons also could buy tickets at ticketomaha.com, where there was a virtual waiting room. At 11:20 a.m., a message posted on the homepage indicated that Price Level 4 inventory was no longer available. But the message did indicate that tickets to all performance dates were still available. Prices range from $75 to $195, with a limited number of $350 VIP tickets available.
In the first hour, about 4,400 users had purchased tickets or yielded their places in the virtual line. Users who logged on shortly after 10 a.m. were being given numbers in the mid-20,000 range. There's no way to tell how much those numbers might have been inflated by users who had logged on with multiple devices.
OPA President Joan Squires said the morning went smoothly. Every Holland Center staffer — along with volunteers — was working, wearing "Hamilton Omaha" T-shirts that will be available at performances.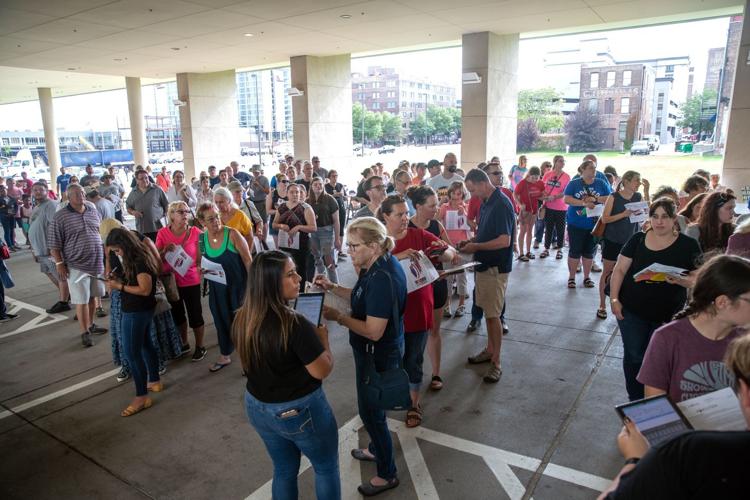 Various activities and amenities distracted patrons from the wait and the heat and humidity. People won "Hamilton" swag, including water bottles, mugs and wearables, in a trivia contest. Tables and chairs were set up so people didn't have to stand, and there was complimentary water and coffee.
"The wait has been fine," Omahan Helen Hoechner said at about 10:30 a.m.. She arrived at about 7, and her group, she said, was likely due up shortly.
"It's been kind of a festive atmosphere," she said. "The games have been awesome."
She also kept busy reading the newspaper and finishing a cross-stitch piece. "Wine a bit. You'll feel better," it said.
Shreves, meanwhile, was done at the Holland by 10:15. He got good seats on the day he wanted, so it was a success. He also has a grateful granddaughter.
"I told her she could take whoever she wants," he said. "Her nice choice, or maybe her smart choice, was to take me."
Sign up for the Go newsletter
This complete guide of local music, movies, dining and entertainment will have you weekend ready.