Walk into Gallery 1516, and it's the eyes that draw you in: big, beautiful, soulful eyes. From the largest bear to the tiniest newt, the 65-plus photographs of endangered animals in "MONA2Omaha: Photo Ark by National Geographic Photographer Joel Sartore" connect with viewers on a very personal, almost visceral, level.
That's what Sartore, who grew up in Ralston, wants.
He initiated the groundbreaking project 13 years ago when his wife was diagnosed with breast cancer. He needed to be home in Lincoln while she received treatment, so the photographer, who had traveled the globe snapping covers for National Geographic Magazine, headed less than a mile from his residence to the Lincoln Children's Zoo, where he took the first photo for the ark — a portrait of a naked mole rat.
Since then, thousands more animals have followed. Sartore estimates that by the end of this year, he will have documented some 10,000 species, which means somewhere between 12,000 to 15,000 animals. The majority of those have been at zoos, including Omaha's Henry Doorly Zoo and Aquarium. He says it will take another 10 to 15 years to photograph all the animals in captivity.
It's a labor of love and devotion. Many of the animals on view are endangered and at risk due to poaching, habitat loss and other threats that make their continued existence precarious — hence the title of the project. Sartore is a modern-day Noah, attempting to do his part to save species from what is currently an unprecedented rate of mass extinction on a global level.
There's an undeniable urgency to what the photographer is doing, so he crafts his images in a way that's designed to resonate on an emotional level. Sartore typically sets his subjects against plain black or white backgrounds. Placing animals outside their habitats puts the viewer into an intimate setting with them, allowing greater space for connection.
It also makes it possible for viewers to look directly into the animal's eyes at a close range. Their sentience becomes obvious. So, too, for lack of a descriptor, does their "humanity."
The eyes, Sartore said, are a key to viewing his work.
"If an animal has eyes, it always looks at me when I'm photographing it, and looks at what I'm doing," he said. "They're very thoughtful."
That's evident throughout Gallery 1516.
A sassy owl adopts a stance full of attitude when facing the camera. A baby gorilla smiles sweetly, almost shyly. A bear seems to be laughing at what's unfolding around him.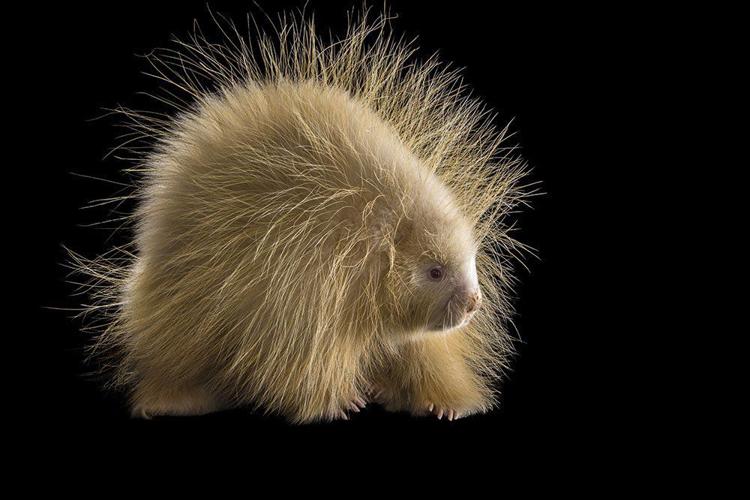 "It always bothers me when some new study comes out saying that birds can talk to each other or that crows can use tools," Sartore said. "Of course they can. That animals have feelings is not a big shock to me."
Does he ever get depressed knowing that some of his subjects no longer exist?
"I can't afford to get down," he said. "I've got a lot of work to do. We can turn it around. People need to remember that there is more to life than sports, celebrities and politics. The fundamental health of the planet is at risk. If we drive animals to extinction, there will be a catastrophic consequence for humans."
Sartore points out that the average person can do small things to make a big impact, such as including pollinator plants in their landscape designs and using fewer toxins in their yards.
"We don't get food from the grocery store," he said. "We get it from farms, and we can't grow food without pollinators. It's not just about saving the Earth; it's about saving ourselves. If we don't, we're dooming ourselves."
While the photographer won't be at Friday's opening — he'll be photographing endangered crayfish in Washington, D.C. — he hopes his work will inspire people to actively combat the challenges facing the planet.
"It's a giant tragedy to have any animal go extinct," Sartore said. "They're all works of art. They're intelligent and graceful and have a right to exist. I hope people can see that in their portraits. It's not hard to connect with them. They are everything we are — just look them in the eye."
Gallery 1516, 1516 Leavenworth St. "MONA2Omaha: Photo Ark by National Geographic Photographer Joel Sartore." Opening reception: 6:30 to 9 p.m. Friday. Through Feb. 2, 2020. Gallery hours: 11 a.m. to 5 p.m. Friday-Sunday or by appointment. gallery1516.org or 402-305-1510.
Sign up for the Go newsletter
This complete guide of local music, movies, dining and entertainment will have you weekend ready.
NEW THIS WEEK
Amplify Arts, 1419 S. 13th St., Suite 103. "The Asiders." This month's Nebraska Shakespeare teen workshop series for students in grades nine through 12 explores the Bard's use of magic. 10 a.m. to 1 p.m. Sunday. amplifyarts.org or 402-996-1092.
Bemis Center for Contemporary Arts, 724 S. 12th St. "Benefit Art Auction + Concert." The annual fundraiser features work by local, regional, national and international artists and a concert by Deerhof in the center's new experimental music venue. 5:30 to 11 p.m. Friday. Auction: $125; concert: $30. bemiscenter.org or 402-341-7130.
DoubleTree by Hilton Omaha, 1616 Dodge St. "Omaha Oddities and Art Expo." Features 50 vendors. 10 a.m. to 6 p.m. Saturday and 10 a.m. to 5 p.m. Sunday. 402-346-7600.
El Alamo Restaurant Art Space, 4917 S. 24th St. "Calacas/Skeletons & Sugar Skulls." Features work by local and national artists and a community ofrenda. 5:30 to 7:30 p.m. Friday and 5 to 8 p.m. Saturday. elalamoomaha.com or 402-731-8969.
El Museo Latino, 4701 S. 25th St. "Saturday Art Fun." Free art activity for all ages. 10:30 a.m. and noon Saturday.
Also at El Museo: "Paint your own Day of the Dead Skull." An art activity in celebration of the holiday. 12:30 p.m. Saturday. $6 per skull. Reserve spaces at elmuseolatino.org or 402-731-1137.
The Flower and Art Project, 14805 West Center Road. "The Homestead: Norma Lausten." Features art inspired by the scenery and animals of Nebraska. 7 to 10 p.m. Friday. theflowerandartproject.com or 402-933-3111.
Hot Shops Art Center, 1301 Nicholas St. "2019 Art in the Bag." The annual fundraising event hosted by the Midwest Lampworkers Guild and community members benefits the Beads of Courage program at Children's Hospital & Medical Center and Nebraska Medicine. 2 to 4 p.m. Sunday. hotshopsartcenter.com or 402-342-6452.
Joslyn Art Museum, 2200 Dodge St. "Encountering The Saint John's Bible: Where Science Meets Scripture." Creighton University faculty members Gintaras Duda and Sherri Brown discuss the scientific elements incorporated into the illuminated Bible. 2 to 3 p.m. Sunday. joslyn.org or 402-342-3300.
Media Corp., 515 N. 33rd St. "Open Hours." An opportunity to visit the print workshop and learn about printmaking processes like block carving, typesetting, letterpressing and cyanotype. 2 to 5 p.m. Sunday. mediacorpgiffordpark.wixsite.com.
Millard North High School, 1010 S. 144th St. "Millard North Craft Show." Features work by local craftspeople. 9 a.m. to 3 p.m. Saturday. mnhs.mpsomaha.org or 402-715-1365.
Split Gallery, 2561 Leavenworth St. "Clay, Ink, Wax, Wood and Rocks." Features work by Mari Dailey, Amy Haney, Judy Haney, Michael Hurley, Heather Kita, Trevor Lare, Todd McCollister and Peter Scherr. 2 to 8 p.m. Friday and noon to 8 p.m. Saturday. split.gallery.
Union for Contemporary Art, 2423 N. 24th St. "Chantal Pavageaux: Art Show." The one-night show features an interactive installation and participatory performance about art practice and process. 6 to 8 p.m. Saturday. u-ca.org or 402-933-3161.