The first face that greets visitors to "30 Americans" at the Joslyn Art Museum is that of Malcolm X, the slain civil rights activist born in Omaha.
Glenn Ligon's powerful portrait of the charismatic leader, rendered in simple lines and intentionally devoid of skin color, is a fitting introduction to the soaring exhibition featuring contemporary African-American artists. Not just because of the hometown tie, but because the show addresses some of the most pressing social, racial and political issues currently facing the U.S., much as Malcolm X did decades ago.
Drawn from the Miami-based Rubell Family Collection, which boasts one of the world's largest privately owned but publicly accessible contemporary art collections, "30 Americans" features paintings, works on paper, sculptures, installations and videos created since the 1970s.
The show title is strategic.
"As the show evolved, we decided to call it '30 Americans.' Americans, rather than African-Americans or Black Americans, because nationality is a statement of fact, while racial identity is a question each artist answers in his or her own way, or not at all," Mera and Donald Rubell said in a statement.
Sign up for the Go newsletter
This complete guide of local music, movies, dining and entertainment will have you weekend ready.
The show highlights the work of 30 artists with unique styles, aesthetics and narrative concerns, said Karin Campbell, curator of contemporary art at Joslyn.
"Some address race directly, some tangentially — and some not at all," Campbell said.
Campbell said the museum has been planning the show for two years, and it's eager to address topics such as racial inequality, stereotyping and the construction of racial, gender and sexual identity.
"We've never done a major exhibition directed toward artists of color," she said. "This was an opportunity we couldn't pass up. This work should be seen."
Seen it is — sometimes to a monumental degree.
The second gallery boasts the mammoth painting "Sleep" by Kehinde Wiley, whose portrait of President Barack Obama hangs in the National Portrait Gallery. "Sleep" spans 25 feet across a single wall and towers 11 feet high. It depicts a naked black man, skin aglow, whose midsection is draped strategically in luminous white cloth. Positioned against a background of vibrant green flowers, his head is tilted back in peaceful repose, his arms relaxed, one placed on his chest, the other hanging loosely at his side.
It's a breathtakingly beautiful work that is simultaneously timeless and very much of the moment. It's inspired by Hans Holbein the Younger's "The Body of the Dead Christ in the Tomb" from the 1520s.
"The subject is at rest, but we're not necessarily supposed to read this as a portrait of a deceased person," Campbell said. "He is saying that black bodies belong in art."
The same could be said for Barkley Hendricks, who died in 2017. His portrait "Noir," of a man in an exactingly realized pinstripe suit, hangs opposite Wiley's.
It's one of Campbell's favorite works in the show.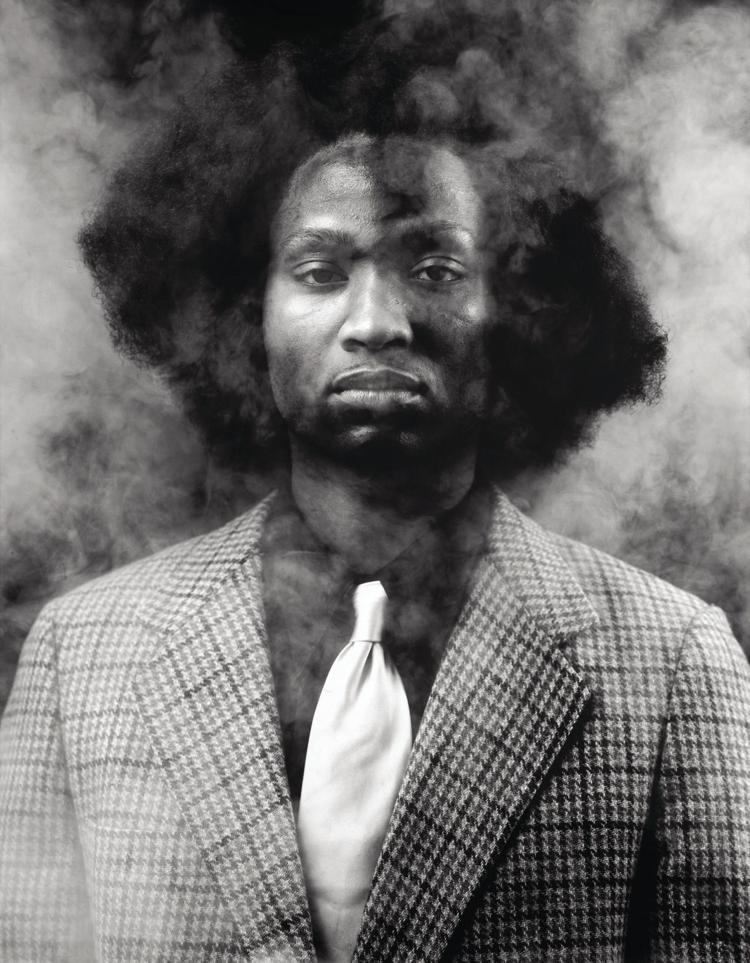 "Until the second half of the 20th century, black subjects were almost entirely absent in art," Campbell said. "Hendricks noticed the glaring omission. He dedicated his career to rectifying the injustice. This is such an iconic image. He gives his subjects so much autonomy."
Lorna Simpson's "Wigs," a series of black-and-white lithographs, addresses issues of beauty that confront African-American women. The images of wigs are printed on sheep's wool, which is highly processed like hair, Campbell said.
"Hair is such a contentious marker of femininity for African-American women," she said.
The vibrantly blingy "Baby I Am Ready Now," by Mickalene Thomas, hangs directly across from Simpson's work. Consisting of acrylic, rhinestone and enamel on panel, materials are, in part, a reference to acrylic nails, Campbell said.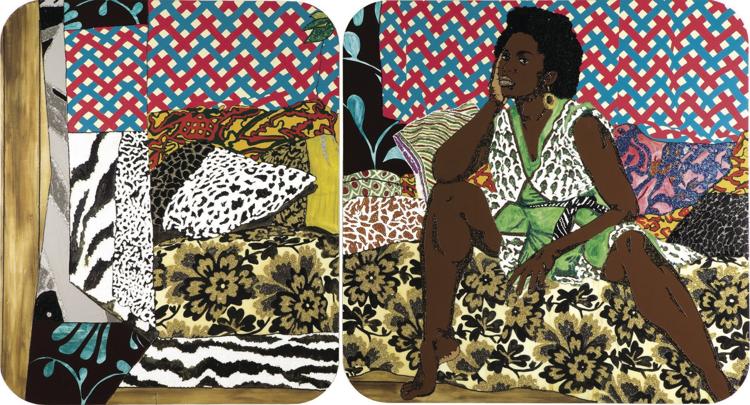 Works by Henry Taylor and Nina Chanel Abney take aim at the relatively inverse rates of incarceration between blacks and whites in America, where blacks are five times more likely to be imprisoned than whites.
At first glance, Taylor's "The Long Jump by Carl Lewis" seems to portray a successful pursuit of the American Dream. The famous Olympic athlete leaps toward a green lawn and white picket fence. Behind him, though, are prison walls, serving as a reminder that sports are sometimes the only way African-American men can escape a life of poverty and crime.
In "Class of 2007," Chanel Abney depicts her white art school classmates as black inmates in orange jumpsuits, with herself as a white prison guard with blonde hair.
"Some people were really shocked and angry when they saw this," Campbell said. "She mines the legacies of Jim Crow, slavery and a lot of current issues."
Installation works are also featured throughout "30 Americans."
Leonardo Drew's "Untitled #25" features a 13-foot-tall minimalist wall made from bales of cotton, a material inextricably linked to slavery and the American South.
"It's meant to be imposing," Campbell said. "The artist said it was a very difficult material to work with — the irony wasn't lost on him."
Perhaps the most jarring work in "30 Americans" is "Duck, Duck, Noose" by Gary Simmons. Nine low, wooden stools are positioned in a circle. On top of each sits a white Ku Klux Klan hood. In the center hangs a noose suspended from the ceiling.
It's a visual punch to the gut that's hard to view and elicits immediate emotions of revulsion, horror and shame. Visitors encounter it without warning as they round a corner from one gallery to the next. The work is in-your-face, confronting you head-on with the history of racism and the violence that too frequently goes with it in the U.S.
It's a potentially controversial installation, so much so that Joslyn staff met with local African-American leaders to determine if the work should be in the show.
"This is a challenging account of racism in America, and we had a lot of conversations about whether to include it," Campbell said. "They said it would be a missed opportunity if we didn't. If we can't have discussions like this in an art setting, where can we have them? We expect some really difficult conversations to happen, and this is a place for them to unfold.
"This is long overdue at Joslyn. We're thrilled to show it and to be part of this moment."