The funniest thing you learn when you first look at a DeLorean DMC-12 — the car used as the time machine in 1985's "Back to the Future" — is that the speedometer only goes up to 85 mph. Not the 88 mph required for time travel.
This marks the first known inaccuracy in an otherwise scientifically sound film.
Still, even the act of laying eyes on a DeLorean offers a kind of time travel. The stainless-steel panels. The gull-wing doors. The filmmakers reportedly chose the DeLorean as the time machine for its resemblance to a flying saucer.
"It's really like the only car that sums up the entire decade of the '80s," said Aaron Gum, an Omaha filmmaker. "It just looks so cool. There's nothing like it."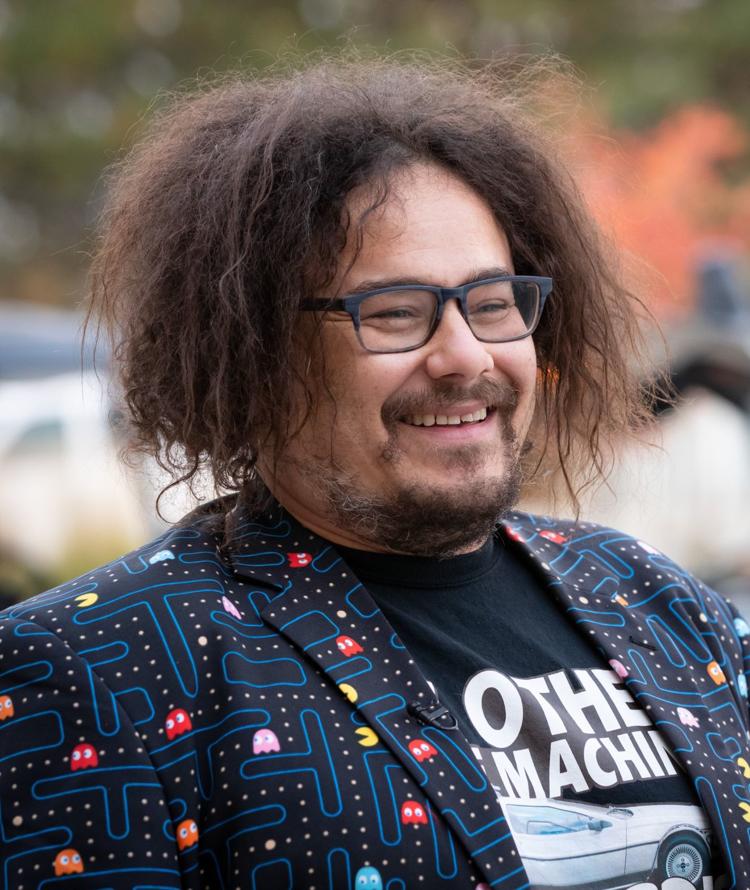 There are an estimated 6,000 DeLorean DMC-12s left, and Gum owns one of them. He got it at Woodhouse about 18 months ago.
His and another 1981 DeLorean — owned by the Anzalone family of Omaha — were parked in the lot of St. Michael Lutheran Church at 132nd and Blondo Streets, where we'd agreed to meet for a photo shoot on a Friday night.
We did not call ahead, and we soon learned that a wedding and a trunk-or-treat event were also going on at the church. The dual DeLoreans got a lot of smiles and weird looks from people passing by. They even got a friendly visit from the church's pastor, Tim Koester, who wanted to get a photo of the cars.
It's not every day you see a DeLorean. Let alone two DeLoreans. Let alone two DeLoreans accompanied by a golf cart designed to look like a DeLorean (this is the Anzalone family's second time machine).
Gum and the Anzalone family will bring their vehicles to a screening of "Back to the Future" at 7 p.m. Friday at the Joslyn Art Museum, 2200 Dodge St. (Tickets, $24, can be purchased at the customer service counters of all Omaha-area Hy-Vee stores.)
This particular Friday night in the church parking lot was the first time the Omaha DeLorean owners had met. They had a lot to talk about. Maintenance and mileage, paint jobs and blind spots. What's the closest place for fixes? Where'd you get yours?
I had a few questions, too:
Have you ever got the speed up to 88 mph?
Gum: "I've probably gone there briefly. You'd get a speeding ticket. But if you were clocked at 88, it would probably be worth it."
Has anyone ever tried to race you at a stoplight?
Gum: "If they've seen the third movie, they would know that doesn't end well."
After all, what is the message of the "Back to the Future" trilogy if not this: You don't have to do stupid things just because someone calls you "chicken."
Neither the Gum nor the Anzalone DeLorean has been converted to look exactly like the time machine, though each has a flux capacitor in the backseat. Gum said a place called Bob's Prop Shop in Houston will do a full "Back to the Future" time machine conversion for $80,000.
(Gum and the Anzalones didn't say how much they paid for their DeLoreans, but they did say the cars run $20,000 to $70,000, depending on the condition.)
Time machine car conversion, like time travel itself, isn't always a great idea, said Richard Anzalone, head of the family and director of Omaha's Sunridge Village retirement community.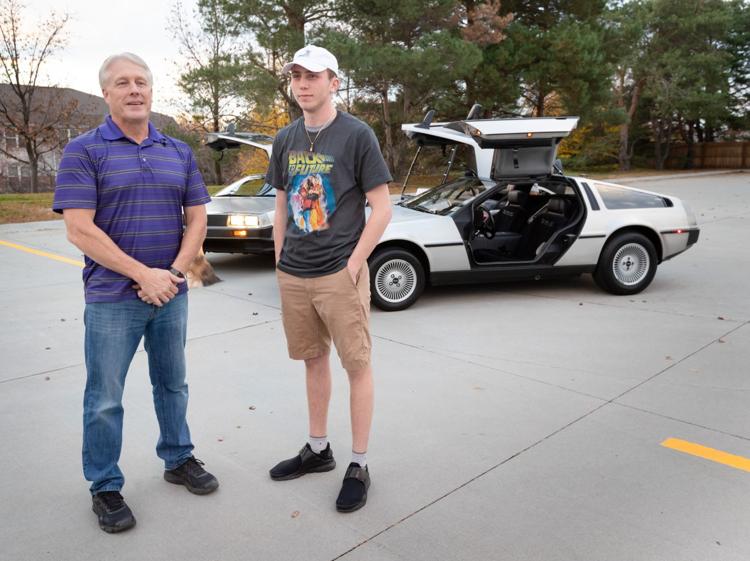 "The DeLorean people that collect them don't really care for the 'Back to the Future' side of it," he said. "We thought early on maybe it would be neat to convert this, but if you convert it, you don't have two bases you can appeal to."
And it's not as though the car needs a lot of help evoking one of the most popular blockbusters of all time.
Gum and the Anzalones brought a few "Back to the Future" props to the church parking lot photo shoot: a hoverboard, a "Grays Sports Almanac: 1950-2000," Doc Brown's "Back to the Future Part II" glasses (which go well with Gum's mad scientist hairdo).
The Anzalones also brought Doc's dog Einstein, a stuffed animal sheepdog they found on eBay.
"It's the closest thing we could find," said Heidi Anzalone, Richard's wife. "It was a white-and-gray sheepdog, and we dyed it and gave it a haircut."
The "Back to the Future" project is a family affair for the Anzalones. They watch the movie all the time, collect memorabilia and signatures, go to conventions and meet cast members. (They said that Thomas F. Wilson, who plays Biff, is actually a great guy and not a butthead.)
The family got its DeLorean this summer from a dealership in Colorado. They got the DeLorean golf cart only a few weeks ago from Texas. The golf cart came with a custom sound board featuring effects, music cues and iconic lines from the movies.
(People around the office joked that the golf cart has to get up to 8.8 mph to travel through time.)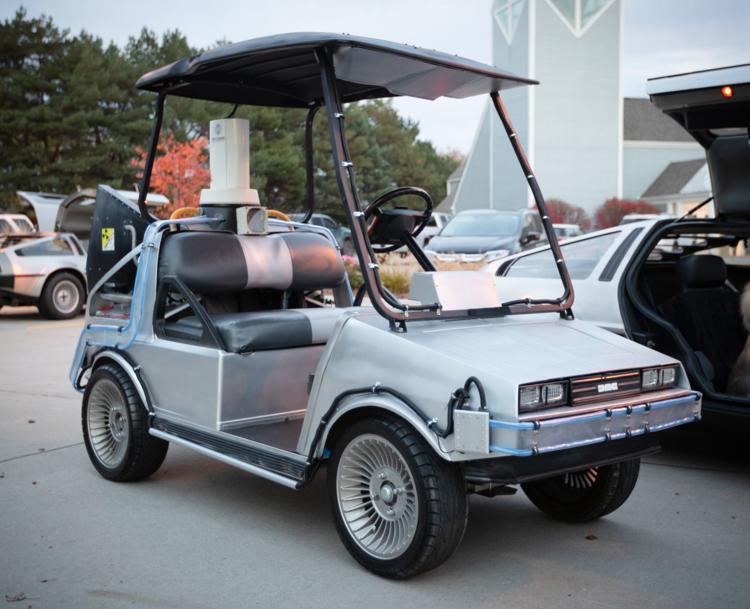 The heart of the Anzalones' "Back to the Future" family fandom is 21-year-old Trent, Heidi and Richard's son. He's got "Back to the Future" shoes, clothing, toys, action figures and license plates. He's the one who'd been looking for a DeLorean for years.
Trent said he'd wanted one ever since he first saw the movie. It just wasn't the right time until recently.
"Timing was everything," said his dad.
Gum said he made the decision to get a DeLorean, "oh, I don't know, 35 years ago. I always kind of joked about having one. 'Gotta have a DeLorean, gotta have a DeLorean.' "
Somewhere along the way, it stopped being a joke.

"The DeLorean kind of triggered something," Gum said. "Now my entire home is basically an arcade."
If any movie could inspire a home remodel and the purchase of a sports car, it's "Back to the Future."
"It absolutely is perfect," Gum said. "It's got love, it's got science fiction, time travel, terrorists. You know, it's just such a cool, cool movie."
It's a movie, he said, that transcends generations. It's timeless.
As if to underline this point, a boy — 8-year-old Gage Wyant of Council Bluffs — walked up from the church with his mom to get a look at the DeLoreans. Gage, whose dad was the best man in that night's wedding, is a big fan of the movie, but an even bigger fan of the car.