Hospitality. We've all been on both ends — as hosts offering warm receptions into our homes and as guests receiving kindnesses offered to us. It's a concept we easily can understand.
We relate to the expectations involved. When we throw a dinner party, we assume a guest will bring a bottle of wine or bouquet of flowers. As a guest, we wouldn't think to show up at someone's door without one or the other.
And when overnight stays are involved, unwritten rules abound on both sides.
The Bemis Center's current two-person exhibition, "I let them in: Conditional Hospitality and The Stranger," uses this familiar concept as a jumping-off point for the global migration crisis.
Conceived by Taraneh Fazeli, the Bemis' 2018 curator-in-residence, the show uses video works by Kader Attia and Candice Breitz to explore the aesthetic, political, socio-psychological and technological systems that shape our understanding of ourselves and our communities.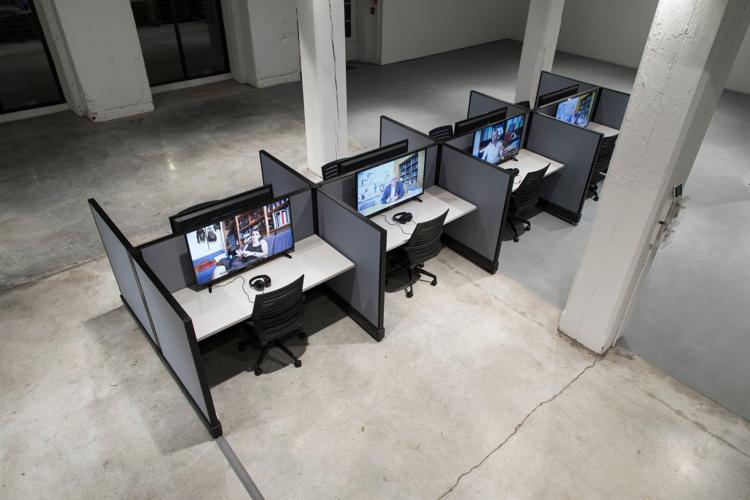 What is demanded of "host" countries? What are they supposed to provide to migrants and refugees? What, in turn, is expected from migrants and refugees? Are there codes for behavior and tacit requirements for assimilation?
"What are the conditions we put on guests?" Fazeli asked. "Who do we let in and why? At this very moment, when the U.S. government is shut down due to disagreement on this very issue, art can help decipher spoken and unspoken codes."
The show was inspired by the current political climate; it was installed as the migrant caravan at the southern border received widespread news coverage. It opened last month, less than two weeks before the ongoing government shutdown fueled by President Donald Trump's demand for border wall funding. But Fazeli also had personal motivation for the show.
Born to an immigrant within a family of Middle Eastern refugees and a white American, she said, "I experienced first-hand how institutions in the U.S. — from the school to the hospital to the museum — were built to welcome some but not others, unless they lost the parts of themselves that did not conform to prevailing social codes, which are built on a presumed neutrality that is in fact whiteness."
Breitz, from South Africa, tackles this issue head-on with her seven-channel video installation "Love Story," which she filmed in Berlin, Cape Town and New York.
Spanning multiple gallery spaces, the installation features lengthy, highly personal interviews with six people who fled oppression in their home countries: Sarah Ezzat Mardini, a competitive swimmer from war-torn Syria; José Maria João, a former child soldier from Angola; Mamy Maloba Langa, a survivor from the Democratic Republic of Congo; Shabeena Francis Saveri, a transgender activist from India; Luis Ernesto Nava Molero, a political dissident from Venezuela; and Farah Abdi Mohamed, an atheist from Somalia.
Juxtaposed against these narratives are reenactments by Alec Baldwin and Julianne Moore. Having two white, blue-eyed celebrities recount refugees' stories — accounts which often involve horrific acts of violence — adds a surreal quality to the experience.
By relying on standard Hollywood tropes such as the intimate "confessional," Breitz creates a comfortable, familiar way for viewers to connect with the six refugees.
"Love Story" asks, "Why do we identify with certain stories? Who do we have empathy for?" Fazeli said. "By using two white, privileged actors to tell the stories of asylum seekers whose experiences might otherwise escape our attention, she illuminates the limits of empathy in relation to migration."
Two works by Attia, a French artist of Algerian descent, introduce another layer of understanding to the migration issue. Attia frequently focuses on colonialism and its effect on non-western societies.
His installation "Reason's Oxymorons" features documentary-style interviews with people such as psychiatrists, musicians and philosophers — experts on psychological trauma caused by displacement and colonization. Viewers watch the interviews in cubicles complete with office chairs and desks, a sterile setting that underscores the impersonal, often unwelcoming nature of the bureaucracy typically involved in the migration process.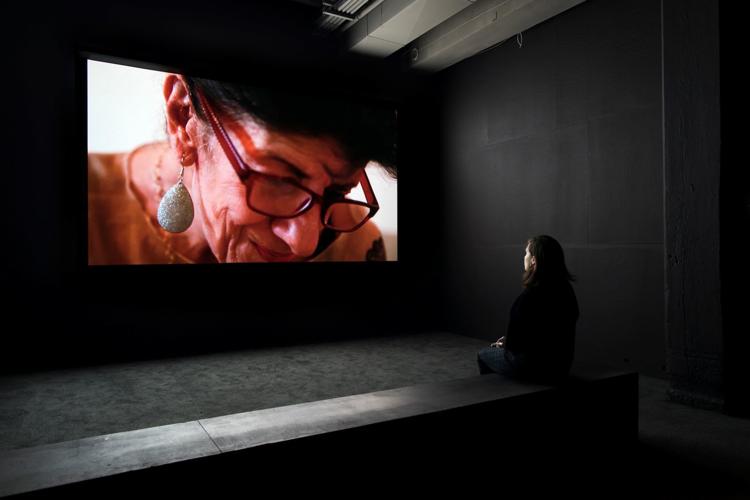 Attia's second work, "Prosody," features three women reading the verses of Moroccan activist-poet Rachida Madani aloud in French. The poems address issues that confront women, such as poverty, corruption, human rights abuses and colonialism, via a reinterpretation of the story of Scheherazade, the character from "One Thousand and One Nights," who prevents a despotic king from murdering her and other women by telling him compelling tales every evening.
"Central to Attia's work is the question of repair," Fazeli said. "When I first saw 'Prosody,' which refers to how one modulates their voice when reading to evoke emotion, I cried. It had been a long time since a work that moved me like that. While I could never fully comprehend the traumas experienced by the women reading, on some level I felt it."
The curator believes the videos featured in "I let them in" are ideally suited to the local audience.
"I organized this show for Bemis when I first learned about the high level of refugee resettlement in Omaha while doing research prior to my arrival," she said.
"Considering the rapid decline in resettlement and public dialogues around migration, I felt it was pressing to do this show."