The cast of "Sweat" performs a ritual of sorts before each show.
Actors gather onstage at the Omaha Community Playhouse and run through the play's fight scene. In fact, they do it twice, once at 50% speed and then as it will be performed in a couple hours.
Stage managers and crew members have a ritual of their own: Before the fight scene starts, they carefully examine the stage for debris, right down to tiny splinters or a nail that's sticking out of the floor.
All of it is part of an ongoing effort to ensure that simulated stage violence is lifelike and safe. The process starts with someone to plan the fight.
Most productions that require stage combat — sword fights, bar brawls, martial arts — employ a fight choreographer (sometimes called a fight director or captain) to plan such scenes with step-by-step precision. More than a handful of shows on Omaha stages each season have fight choreographers, including several over the past year.
Sign up for the Go newsletter
This complete guide of local music, movies, dining and entertainment will have you weekend ready.
The "Sweat" script, about displaced steel mill workers in a Rust Belt city, has a particularly impressive fight scene.
"The goal was to make it as real as possible," said director Susan Baer Collins, and in the small Howard Drew Theatre, where the audience sits in a semicircle around the stage, that's a challenge.
"A faked punch looks good from an angle, but if you go around, you see the space between fist and face," she said.
Collins engaged veteran fight director Kevin Barratt, who directs the drama program at Omaha South High School, to face those challenges.
He may have been destined to be a fight planner.
"I grew up in a family of four brothers, and we all liked all-star wrestling," he said. "When that got channeled into acting, it seemed like a natural."
He worked with fight directors across the country, especially on the works of William Shakespeare, to refine his craft. He has choreographed fights at a number of Omaha theaters and for Opera Omaha and American Midwest Ballet.
For "Sweat," Barratt started where he always starts: He read the script.
"A bunch of times," he said. "Until you get a clear sense of who the characters are, you just read it and read it."
He figured out why the fight is necessary and how it propels the play. Sometimes playwrights give detailed directions for a scuffle, but "Sweat" author Lynn Nottage was looser than that, generally saying the fight should be noisy and untidy.
Because it was a contemporary piece, Barratt examined footage of real fights on YouTube. It turns out there are thousands of them, "as sad as that is," he said.
The goal is to make the fight as authentic as possible while keeping it safe. Barratt assembled the actors — they play two male mill workers who are best friends, their moms, a friend of the moms, a tavern manager and his helper — and began to work out the scene, move by move and piece by piece.
"It was one of the really early things we started (in the rehearsal process)," said Josh Peyton, who plays one of the workers. "We did trust exercises. You do (them) with your partner so they get a feel for working with you and so you are comfortable with each other."
Barratt taught the actors half the scene one night, running it over and over so they could memorize the moves and the timing, and repeated the procedure with the second half the next evening. Some fight directors give performers written directions, but Barratt didn't do that for "Sweat."
Mapping out the fight starts way before sets are built, so adjustments usually are necessary.
"Next thing you know, you're on a set with things you didn't account for, like chairs," Barratt said. "It's a tricky space to work where you have people on all sides. You try to throw in some illusions. There are some techniques you use where you don't make contact and some where you make little contact."
During the remainder of their rehearsals, they fine-tuned the fight to make it as believable as it could be. The fight sounds you hear — the crack of a bat or the more muted noise of a punch — sometimes come from the people participating in the fight and sometimes are created by onlooking actors. The sound and actions all come together to look amazingly realistic.
Peyton said the process is a lot like learning choreography for dance numbers in a musical, though it's ostensibly more risky. But he feels safe. Everyone in the fight wears pads in strategic places — an actor who takes blows to the stomach is wearing layers that will absorb any hits, and others wear elbow and knee pads, for instance.
He's fought onstage before, but Peyton said the "Sweat" scene is his most intricate so far. It's also surprisingly enjoyable.
"It really is fun once you get down with it, to pretend to be in that situation," he said.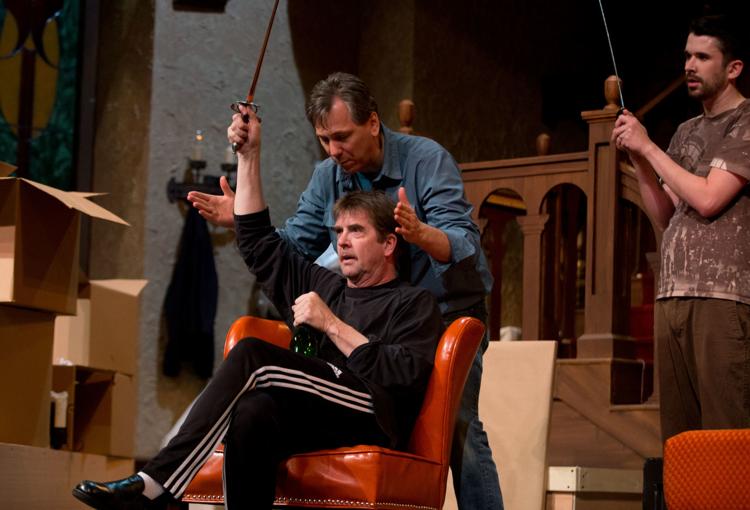 Barratt learned fight choreography from several mentors, including Terry Doughman, who, at age 74, is something of a fight-planning elder statesman in the local theater community.
Doughman created fight scenes for "Assassins" and "Bold Girls" at the Brigit St. Brigit Theatre this season, and his résumé lists dozens and dozens of fights he has choreographed, in addition to workshops he has taught at area schools and universities.
His initial approach is a bit different from the one Barratt employed.
"I do map it out on paper," Doughman said. "I make a drawing with stick figures and who's fighting who."
He also writes out fight directions so actors can study them like they study their scripts.
Doughman's specialty is sword fights, though he has done all sorts of combat scenes. He got his start when he was in his late 20s and had just been discharged from the Navy after a seven-year tour.
"I took a notion to try acting, just for the heck of it," he said.
His second-ever role was in "Romeo and Juliet" at the Chanticleer Theater. He already was a fencer, so he offered to coordinate fight scenes in the iconic Shakespeare play. He jokes that he has spent the rest of his life trying to make up for mistakes he made in that show.
Doughman has studied various old weapons to discern how they move and figure out the rhythms of their movements in actual fights. When you know that, he said, you can more realistically create simulated combat.
He thinks many stage fights look more fake than they have to because the tempo of the action is too even. He calls himself "a little evangelical" about it.
"It's smooth and even with perfect techniques," he said. "That's not the way a real fight looks, or a boxing match. In real fights, there are retreats and (uneven) footwork."
Like Barratt, Doughman studies actual battles. And, he said, "in my rowdy seafaring days, I got to sample real fights."
He has a day job, but fight choreography is his passion. He's not ready to put down his weapons; in fact, he's eager to teach new generations how to handle them. He said he's found that many people now have no clue about that.
"I never outgrew playing pirate," he joked.
He hasn't been to "Sweat," but he said it sounds like he needs to add it to his list.
For her part, Collins is pleased not only with how the scene looks, but also how safe it is for the cast. She said she watched actors in rehearsals and was positive they were hurt, only to see them pop up and say they were fine.
"It was very skilled work from Kevin," she said. "He just blows my mind every time."
Theater reviews from Betsie Freeman in 2019
A collection of 2019 theater reviews from The World-Herald's Betsie Freeman.