Grace: 'Please help us,' Lincoln Kurd says as U.S. troop withdrawal leaves chaos in Syria
Like many of his fellow Kurds, Bashar Karim risked his life in a troubled part of the world to help the U.S.
Like many of his fellow Kurds and fellow Americans, Karim — now a U.S. citizen living in Lincoln — is shocked, confused and worried about President Donald Trump's decision to abruptly pull troops out of northern Syria.
Like the world watching, Karim is experiencing whiplash: fear of a coming slaughter as Turkey began striking northern Syria; relief at Turkey's agreement to a five-day cease-fire to give the Kurds a chance to withdraw; questions about what's next.
"What does this mean?" Karim asked Thursday afternoon about the just-announced cease-fire. He wanted to know if Kurds who had fled to Iraq could return to their homes in northern Syria. He wanted to know who was going to be in charge with the U.S. out and Kurdish fighters expelled. He wanted to know, bottom line, can Kurdish people live in peace?
Everything feels up in the air as the U.S. forces retreat.
"We viewed them as a friend, we viewed them as an ally," Karim said of the U.S. "I'm begging everyone, urging everyone, if you have the power to do anything to help us, please help us."
It's a message Karim and fellow Kurds living in Nebraska are trying to take as far as they can. On Wednesday, Kurds delivered hundreds of letters to the Omaha and Lincoln offices of Reps. Don Bacon and Jeff Fortenberry, pleading for their intervention.
Sign up for The World-Herald's afternoon updates
Receive a summary of the day's popular and trending stories from Omaha.com.
Both Republicans, joined by Rep. Adrian Smith, a Republican who represents western Nebraska, voted with a bipartisan majority in the House on Wednesday to condemn the president's pullout. The resolution, which passed 354-60, is symbolic but puts outrage expressed by foreign policy experts and members of both political parties on the record.
The local Kurds are also planning to demonstrate in front of the State Capitol in Lincoln on Friday from 3 to 6 p.m. Karim said the hope is to raise awareness and build support for this cause. He said it's important to know that Nebraskans include immigrants and refugees and people like him who served the U.S. military abroad.
The Kurds are a persecuted, stateless ethnic group who live in Iraq, Syria and Turkey. They are known for being fierce fighters and loyal U.S. allies and were instrumental partners during the American invasion of Iraq.
Karim, who is from northern Iraq, served as a Kurdish translator in the early years of the U.S. occupation of Iraq. He helped the U.S. Army 101st Airborne Division. His help was so valuable that he was rewarded with a visa that allows people who served the U.S. military in Iraq and Afghanistan to immigrate to the United States. These visas are hard to get and not guaranteed.
Karim brought his wife and two small children to Virginia in 2011 and returned to Iraq, where his life was always at risk, to care for his cancer-stricken father. He returned to the U.S. in 2014. His family has lived in Lincoln, where a number of Iraqi émigrés now live. Karim said the Kurdish community in Nebraska numbers about 100, with most living in Lincoln. Karim likes Lincoln, calling it a quiet city and a nice place to raise a family.
Karim works for Lutheran Family Services as a federally accredited representative for immigration legal services. He and his wife have since had two more children.
We met Wednesday in The Center Mall at 42nd and Center Streets, where Lutheran Family Services has an international center to help refugees and immigrants. The office gave a clear view of the Omaha VA Medical Center to the north.
Karim considered his position as a Kurdish American, a helper to the U.S. military and a beneficiary of an American promise. Then he looked at the latest headlines about Trump, who on Wednesday doubled down on his decision to withdraw from northern Syria. The U.S. had maintained a presence of just over 1,000 troops, a thin but important line of defense for the Kurds against Turkey.
Trump said Wednesday that the conflict between Turkey and the Kurdish people "has nothing to do with us" and that his decision to withdraw troops was "strategically brilliant." He said the Kurds were "not angels."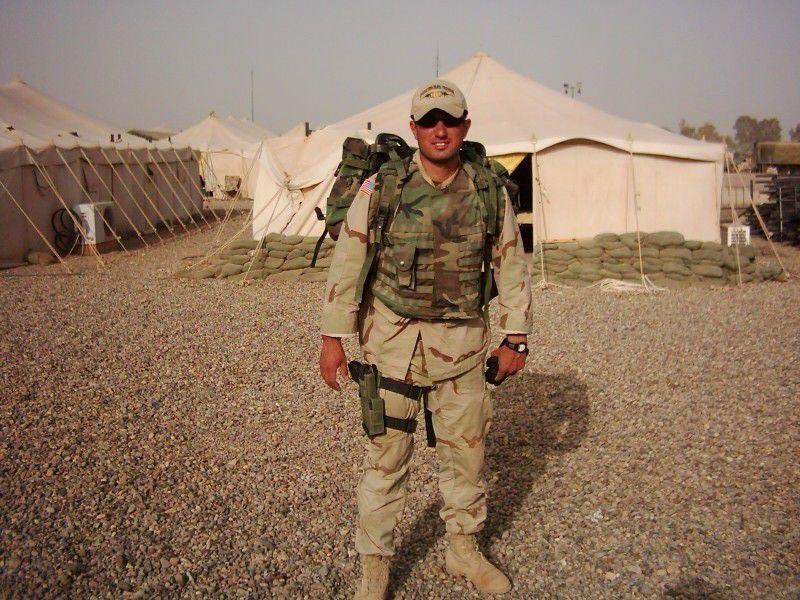 Turkey views the Kurds in northern Syria near the Turkish border as a threat and long wanted an opportunity to have a bigger buffer. Kurds in Turkey have waged war for autonomy.
U.S. government officials and foreign policy experts say the sudden pullout from northern Syria exposes the Kurds, who are vulnerable and overmatched militarily by Turkey to the north and by the Russia-backed, repressive Syrian regime of Bashar Assad to the south. Assad's late father, who also presided over the killing of thousands of his countrymen, let the Kurds establish relative autonomy in northern Syria decades ago.
Trump's move, many foreign policy experts and lawmakers say, creates opportunities for U.S. enemies Iran and Russia and the newly defeated Islamic State. Captured Islamic State fighters are now fleeing from prisons in northern Syria, and the concern is that the chaos will empower and revive the brutal group. The U.S. had barely left one base before the Russians moved in.
Vice President Mike Pence, after meeting with Turkish President Recep Tayyip Erdogan in Turkey's capital city of Ankara, announced Thursday that Turkey had agreed to a cease-fire, the Associated Press reported. The agreement essentially gives the Turks what they had sought: removal of the Kurdish forces from the border "safe zone."
"This is what we get?" Karim asked. "We say, 'The U.S. is our best ally, our best friend.' They leave us. There are big consequences for this decision."
A humanitarian crisis will be among the first. Two days after Trump announced the pullout, Turkey launched an offensive. Civilians started fleeing — as many as 160,000 as of Tuesday. News reports described roadside executions of Kurdish fighters.
"It's devastating. It's sad. It's horrible," Karim said. "We are in shock. We are just normal people that would like to live our lives, raise our families, live in peace."