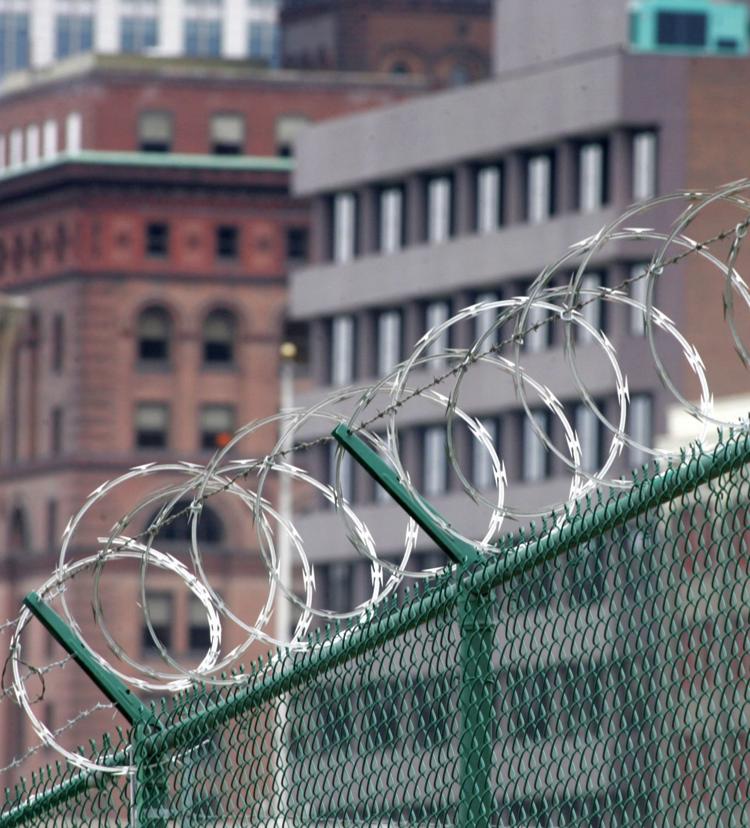 The overcrowded, understaffed Douglas County Jail hit a record-high number of inmates in late July, prompting the corrections director to send other criminal justice agencies a letter asking for help in reducing the number of inmates.
The jail population reached 1,390 in July, Douglas County Corrections Director Michael Myers told the County Board last week. The jail has an official maximum capacity of 1,452. But its actual capacity is closer to 1,300, he said, because of ongoing jail renovations and the need to house some dangerous people by themselves.
By last week, it was slightly better. There were 1,327 people in the jail on Friday, but still 55 inmates were sleeping on plastic bunks on the floor of a jail gym, with access to one bathroom.
Meanwhile, understaffing problems that led to corrections officers packing a County Board meeting 1½ years ago have only gotten worse, despite a pay increase and other steps to increase hiring and improve retention. At the beginning of August, the jail was 55 officers short of its authorized strength of 396.
That has led to massive amounts of overtime; much of it mandatory in order to ensure minimum staffing levels. Combined, officers logged more than 7,000 hours of overtime in July.
"So we're going backwards a little bit?" County Board member Jim Cavanaugh asked Myers last week during a board meeting.
"As frustrating as that is, yes," Myers replied.
It has become a common story in jails and prisons in Nebraska and in many places around the nation. The Nebraska Legislature's inspector general for corrections recently called conditions at the Nebraska State Penitentiary "alarming" and "disturbing." His report cited excessive overtime and overcrowding.
In Sarpy County, chronic overcrowding of the 148-bed jail has the Sarpy County Board preparing to build a new jail, more than twice the size of the current one. There are no such plans in Douglas County, where work is underway on $10 million in jail renovations funded by a 2016 bond issue.
The State Penitentiary's population of about 1,300 puts it at 180% of capacity. About the same number of people are locked up in the Douglas County Jail. The vast majority of people in the County Jail are awaiting trial on felony charges. Some are awaiting trial on misdemeanor charges, or serving sentences for misdemeanors.
The Douglas County Jail has been stretched to capacity for some time. It hit a then-record high of 1,360 people in July 2016, for example. The County Corrections Department, judges, prosecutors and defense attorneys have increased use of diversion programs and supervised pretrial release.
But numbers generally have stayed high, with an increasing number of people locked up who have serious mental illnesses that the jail is not equipped to deal with.
It's unclear what's driving the high populations. Douglas County Attorney Don Kleine and Public Defender Tom Riley both have said their felony caseloads have been climbing every year, despite Omaha Police Department reports of decreasing crime in the city.
Myers told the County Board that the number of people in jail in Omaha for probation violations has climbed dramatically — from about 60 in early 2017, to about 200 currently. He theorized that it was related to LB 605, a 2015 Nebraska Legislature bill aimed largely at reducing the number of people in state prisons.
In July, 1,959 people were booked into the Douglas County Jail, Myers told the County Board.
"We typically run in the 1,500 to 1,700 range, and 1,800 would be a busy month, so this was rather unprecedented for us," Myers said.
And on every shift, there were corrections officers working overtime, typically an extra four or eight hours after their normal eight-hour shift.
It was worrisome enough that Myers sent a letter to local judges, Kleine, Riley, Omaha Police Chief Todd Schmaderer, Douglas County Sheriff Tim Dunning and other criminal justice leaders. The World-Herald obtained a copy of the letter through a public records request.
"We have been forced to house at least 75 people per day on cots on floors for a few weeks," Myers wrote on July 26. "One of our gyms has 55 people sleeping on the floor with one toilet. We have to move them to other units to shower.
"Our staff have been facing large amounts of mandatory overtime in order to staff all posts and there are still times when we are short, and have to lock down units on a rotating basis, creating increased tension and resistance from the inmates in those units."
Due to what he called "extreme circumstances," Myers asked the various agencies to help the Corrections Department in "managing our population."
"I am not asking in any way for consideration of actions which may put a victim or the public at risk," the letter said.
But he asked the letter's recipients to consider several strategies "in cases where an individual does not appear to pose a direct threat to anyone specifically or to the public at large." Those strategies included increasing the use of "cite-and-release" for people suspected of nonviolent offenses instead of taking them to jail, putting more people on supervised pretrial release instead of setting high bail amounts for them and increased use of the county's Offender Work Program "instead of sitting out fines in jail."
Last week, Douglas County's Criminal Justice Systems Management Council voted to form a committee to look for solutions. The council, chaired by Omaha City Prosecutor Matt Kuhse, includes judges and numerous court and law enforcement officials, plus representatives from the Omaha Mayor's Office and Douglas County Board.
The new committee "will look for realistic things that we can do as agencies to alleviate these problems," Kuhse said. "It's not about bail reform, or new sentencing ideas. ... Obviously something needs to be done, and the people on this committee are the best suited to talk about coming up with solutions."
In interviews last week, Myers and Sgt. Patrick Sullivan, president of the Douglas County corrections officers union, said the crowding had increased tensions. But they said it had not appeared to increase the number of fights between inmates or assaults on staff.
But clearly they were concerned.
"When I perceived that we were on the precipice of something serious, that caused me to write that letter to stakeholders," Myers said.
"We're trying to make sure we're not the next State Pen," said Sullivan, who heads the Fraternal Order of Police Lodge 8. "Reaching out to these stakeholders is a positive step."
Sullivan said the excessive overtime has been hard on officers and their home lives. That's one of the reasons people have been leaving the job.
In July, 20 new officers graduated from training and started work at the jail. But 13 other officers left the county. Another class will start in early September.
Sullivan and Myers said the union and county officials are talking about ways to improve the situation.
Kleine said his office and the local courts have increased the use of diversion through such programs as drug court, veterans court and young adult court, as well as pretrial release on GPS or drug and alcohol monitoring.
"We're always listening to these things when it's appropriate," he said.
Even so, Kleine said, "We're not going to change the way we do business." His office will make sure it's prosecuting people with the correct charges, and the county has to do "whatever it takes, whatever they need to do to have the adequate staffing and the adequate space" in the jail.
Riley said he believes some people accused of nonviolent offenses are being held on bail amounts that are too high, and that more people could be released on pretrial supervision. But he said his "biggest frustration" is seeing so many mentally ill people languishing in jail because there's not enough mental health treatment available.
Myers "is doing his best with a very difficult situation," Riley said.