Untold stories of towns hit by catastrophic floods show the lasting impact of a 'true disaster'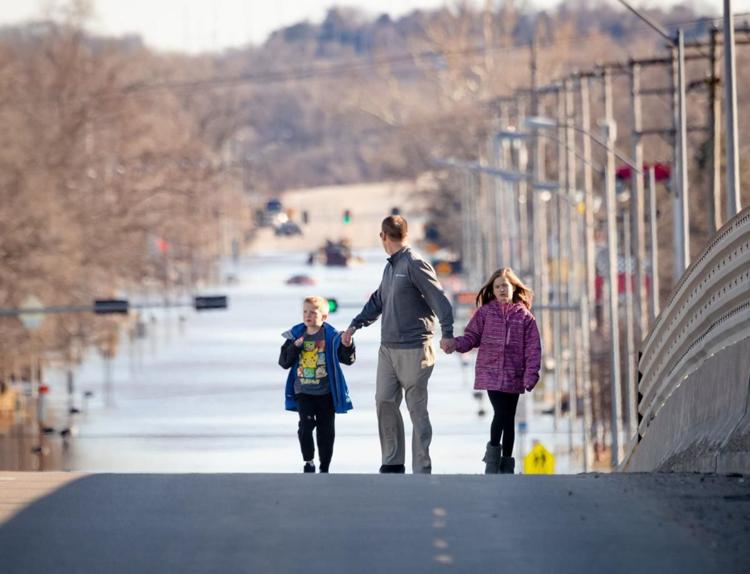 The experts had warned that major flooding was coming, yet local emergency management and safety personnel gathered in Norfolk weren't sure if the dire predictions would actually pan out.
They studied the weather forecasts, looked at river crest predictions, understood that rain might not soak into the frozen ground. But when they checked area fields for runoff from melting snow and rain, the volume of water wasn't that dramatic.
The officials prepared for the expected flooding, but few could begin to fathom what would soon happen in Norfolk and across much of eastern Nebraska and western Iowa.
"It was just kind of a nice spring rain, to be honest with you," said Shane Weidner, the Norfolk public safety director. "We looked at each other … and said, 'We can't imagine this all being underwater in a day or two.' "
Over the next several days, from Wednesday, March 13, through the weekend, the warnings of historic flooding became all too real.
At least 30 flood records in Nebraska alone were broken, a testament to how widespread the damage was and the domino effect of the flooding.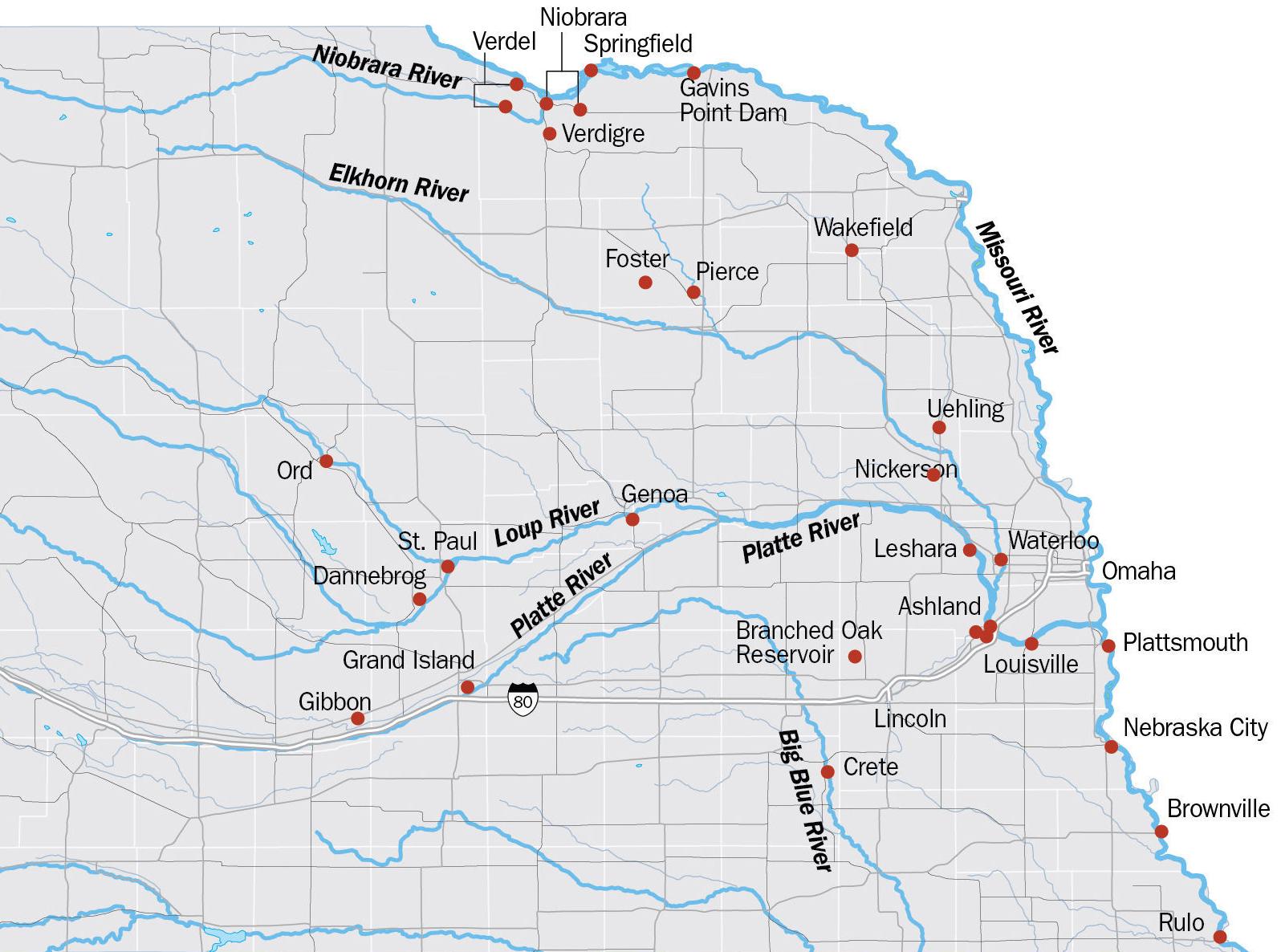 When water and mattress-sized chunks of ice caused the Spencer Dam to collapse, that sent more water and ice hurtling downstream into waters already swollen by rain and snow. The Verdigre Creek in northeast Nebraska hit a record flood stage. So did the Loup River near Genoa, the Wood River at Gibbon, the Platte River at Louisville, the Elkhorn River at Waterloo, the Missouri River at Brownville and more.
Towns and cities in 29 Nebraska counties evacuated, plus more in low-lying areas in Iowa near the Missouri River, like Pacific Junction and Hamburg. Western Nebraska wasn't spared, either: A blizzard hit right in the middle of calving season. Eighty-one of 93 Nebraska counties issued disaster declarations, plus 56 in Iowa.
Five Nebraskans died, including two whose bodies still haven't been found.
During the peak of the disaster, more than 3,300 miles of Nebraska roads were closed, cutting off cities like Norfolk, Fremont, Columbus and Valley. Damage to water pipes and plants in places like Lincoln, Santee, Peru and Plattsmouth in Nebraska, and Glenwood, Iowa, required residents to ration water.
The Army Corps of Engineers counted 50 breaches of its levees, plus more at the local level, leaving the flood protection system along the Missouri River resembling Swiss cheese. The federal agency faced fresh anger from residents over its flood management decisions. Schools canceled classes, some for more than a week, and their buildings were turned into community centers where residents could shower and gulp down a sandwich.
And once the waters receded, locals were left to clean up mud-caked houses, some accessible only by canoe; dispose of drowned cattle and pigs; and circumnavigate roads torn up by water, sand and ice.
Several key elements came together in February and March to trigger the historic flooding: fresh rain on a thick blanket of snow, frozen ground and ice-choked rivers.
But the seeds of flooding had been planted much earlier, said David Pearson, a meteorologist at the National Weather Service. Wet weather in 2018 meant that the region was heading into winter primed for spring flooding. Last summer was Iowa's wettest summer out of 124 years. In Nebraska, it was the 13th wettest. The trend would continue into the fall.
"We were pretty vulnerable," Pearson said.
The 2 to 3 inches of rain that fell that week wasn't all that unusual for spring. But the hard, frozen ground couldn't absorb the rain and melting snow, so it ran into icy rivers, streams and creeks. In turn, waterways spilled their banks, rushed over the top of levees and churned through bridges, farm fields, houses, downtown businesses and, in the Omaha metro area, Offutt Air Force Base.
That created a cascading effect, National Weather Service meteorologist Van DeWald said.
"A bunch of rain upstream in northeast or central Nebraska, hundreds of miles away, how can that affect me?" DeWald said. "Well, all of that runs into the Missouri River at various points, especially south of Nebraska."
Some knew the forecast spelled trouble. Engineers at the Papio-Missouri River Natural Resources District fretted over river forecasts. One week earlier, hydrologists warned that conditions were ripe for flooding. Nebraska Gov. Pete Ricketts made a preemptive emergency declaration on March 12.

"The (National Weather Service) warned that it would be historic," said Ken Dewey, a University of Nebraska-Lincoln climatology professor, in an email. "On my interviews on radio I said it would be catastrophic. I wonder if people were just winter weary and worn out hearing repeated warnings for many weeks. Did Nebraskans think they have seen these situations in the past but didn't connect the dots and thought it would just be a nuisance and not a catastrophe?"
Many were caught off-guard by the sheer force of the storm. Streets were underwater within hours. Many residents in flood zones were given 20 minutes to grab a bag and get out.
"We're used to the ballfields — it usually takes nothing for the ballfields to get flooded," said Osmond, Nebraska, resident Missy Hoppe. "We could have never even been prepared for what happened here. It just came so rapidly."
Even meteorologists who sounded the initial alarm were taken aback by the strength of the storm and the wreckage left behind.
"I don't think even we understood it would be a billion-dollar disaster," DeWald said. (The most recent estimates suggest livestock and crop losses and damage to homes, businesses and infrastructure could total more than $2 billion in Nebraska alone.)
The World-Herald talked to residents, local officials, first responders, emergency managers and more to piece together those first few chaotic days, as the storm and subsequent flooding moved across Nebraska and toward river communities on both sides of the Missouri. There were airboat rescues, hay drops and no shortage of can't-quit community spirit during one of the Midwest's worst natural disasters.
And while the floodwaters have largely receded, the ordeal is far from over. In hard-hit areas, roads remain washed out, crop plantings are delayed and residents are just beginning the process of rebuilding their homes and their lives.
Lynch, Nebraska

When he arrived to work at the Niobrara Valley Hospital on the morning of March 13, a Wednesday, Kelly Kalkowski wasn't too worried about the forecast. But he kept a careful eye on the Ponca Creek, which flows just 150 yards from the hospital in Lynch. They'd had to sandbag in the past when the creek threatened to overflow its banks.
"Midmorning, I told the nurses, 'Let's just make the plans if something comes in,' " he said. "It was needed. By that afternoon, things were looking scary."
As the creek rose higher and higher, a mutual aid call was put out and first responders and volunteers from across a 50-mile radius arrived to start placing sandbags around the 15-bed hospital in Boyd County, near the South Dakota border.
By afternoon, the hospital made the decision to evacuate. One patient was well enough to be sent home with family, and a second was taken by ambulance to Avera St. Anthony's Hospital in O'Neill, nearly an hour away.
Employees went room by room through the hospital, placing computers, patient files and IV poles up off the ground.
By the time they were done, "it was dark and we had to be escorted out of there with a four-wheel-drive tractor and a bucket to make it through the water," Kalkowski said. "It was all around us, surrounding the building."
Forty-eight hours passed before staff could return and fully survey the damage.
Part of the road outside was washed away. Two feet of water had pressed against the outside walls of the hospital, but the windows managed to hold. Water did seep into a hallway and some patient rooms.
In the early hours of March 14, the 92-year-old Spencer Dam collapsed. The ensuing wave of water and ice from the Niobrara River broke the 4,250-foot line that supplies water to most of Boyd County. The hospital had to haul in water for a while and still remains under a boil-water notice.
Photos: Nebraska flooding viewed from above
The morning after the collapse, Kalkowski, a volunteer firefighter, helped rescue families living downstream from the dam.
At the hospital, the cleanup began right away. The next-closest emergency room in northeast Nebraska was more than 50 miles away — Niobrara Valley couldn't stay offline for long.
The hospital reopened quickly on an emergency and outpatient basis but wasn't back to full operational capacity until several weeks later, when water sample tests came back clear. Still, the medical center had to turn away some patients due to the ongoing water problems and risk of infection, including someone with a compromised immune system.
The hospital did not carry flood insurance. Just replacing water-damaged floors will cost $75,000.
Two months later, many Boyd County residents are still dealing with the daily frustrations of closed roads and the lack of a permanent fix for the damaged water line, which could cost upwards of $1.3 million. Water is currently being pumped from three irrigation and stock wells, but Sheriff Chuck Wrede is still sticking to bottled water: what comes out of his pipes is sandy and gritty.
Schedules for road repairs to Nebraska Highway 11 and U.S. Highway 281 seem to keep getting delayed, Wrede said.
"I know Omaha, Lincoln, Columbus, Sioux City has more population than us, but I've had people up here say maybe South Dakota should take us over again," he said. 
Osmond, Nebraska

Half of Osmond sustained damage after Main Street became "a rushing river," according to Missy Hoppe, an Emergency Medical Services captain who's become the town's flood coordinator.
Over 75 homes were affected, and most of the businesses in town. Some apartment complexes had to be evacuated that Wednesday as water from the North Fork of the Elkhorn started filling up basements and covering main floors. Firefighters rescued one family whose car was swept off the road.
"The corn stalks, God, the freaking cornstalks are everywhere," Hoppe said. By late April, there were still chunks of ice in some yards. Roads were weakened. One farmer lost 50 hogs.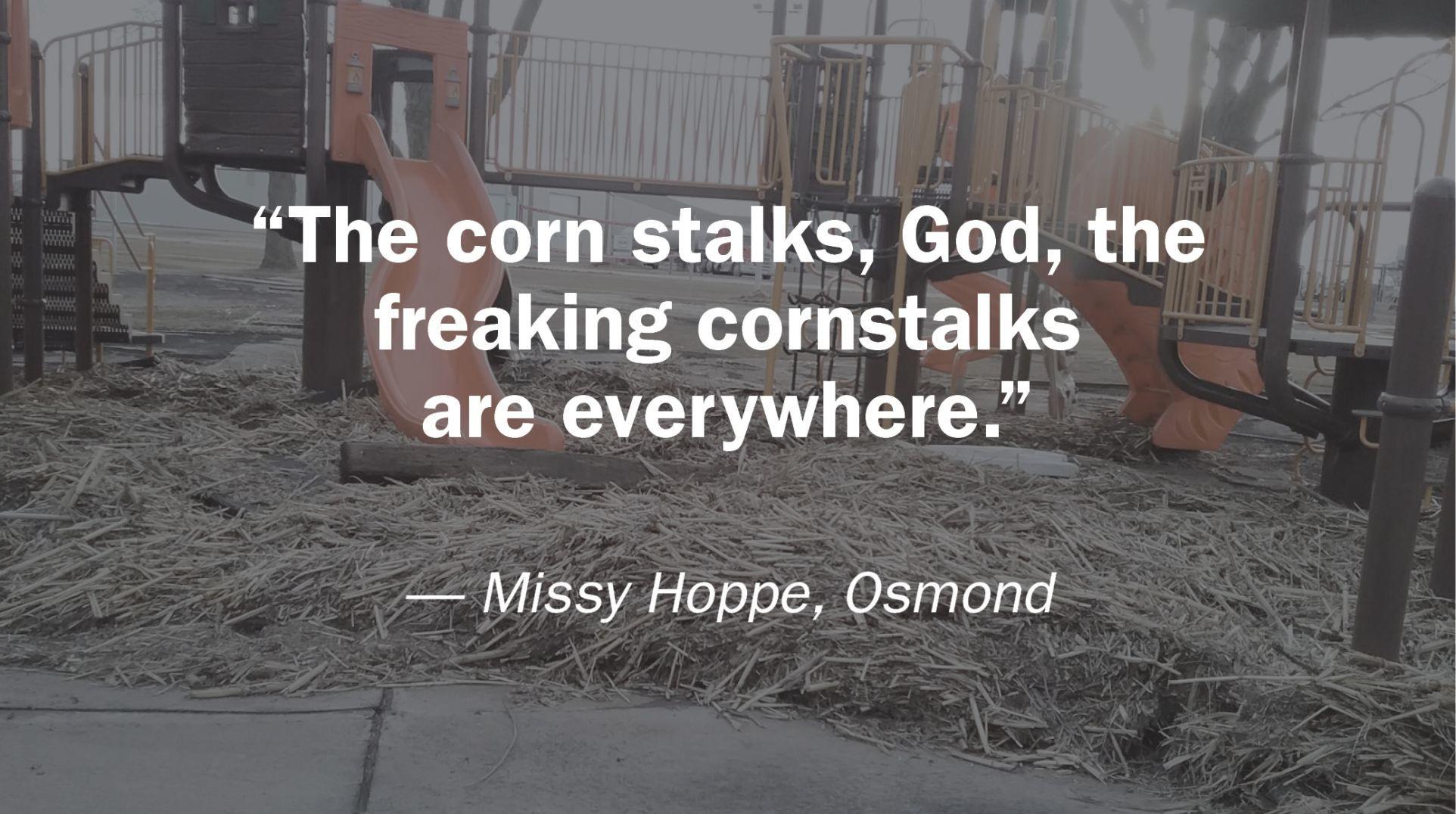 But as fast as the water did, help came pouring in. Volunteers drove to Osmond to clean out muddy basements. Residents served food to those who had been displaced, a scene that would play out in town after town working to get back on its feet.
"There were no strangers left in town, is how I can describe it," Hoppe said. "We've always thought of Osmond as being a very tight-knit community. One gentleman said, 'This even brought us closer together.'"
Norfolk, Nebraska

In Norfolk, the problems added up, little by little.
On Wednesday, a storm sewer had frozen solid for 150 feet. Rain fell and the sewer remained plugged, flooding lift stations in town. That night, a crew of public safety and public works staff patrolled the levee on the east side of the city as water levels on the Elkhorn River and its north fork continued to creep up.
Spotlights lit the levee. A cold sleet was falling.
"It's kinda spooky, because you're on this levee and the water's coming up pretty rapidly," said Shane Weidner, the city safety director.
Weidner tried to grab a little sleep and after 4 a.m. Thursday was awakened by a call: a man, later identified as 30-year-old Scott E. Goodman, had been swept away by floodwaters and was missing.
"That got me out of bed and got me back to the levee," where some public works officials had gathered, too, Weidner said. "We looked at each other around 5 in the morning and said, 'We might have to think about evacuating a portion of this town.' "
Sign up for World-Herald news alerts
Be the first to know when news happens. Get the latest breaking headlines sent straight to your inbox.
City leaders huddled and by around 6:30 a.m. decided to start evacuating what would end up being about one-third of Norfolk — about 5,000 to 7,000 residents in east Norfolk, on both sides of the levee. They feared it would overtop or, worse, buckle and breach, unleashing a torrent of water and ice that would fill up low-lying areas.
Police and firefighters knocked on doors to rouse residents. Weidner and Mayor Josh Moenning announced the evacuation orders over the radio and on social media. Shelters opened at three schools and took in more than 1,000 residents before the evacuation order was rescinded the next day, after 8 a.m. Friday morning.
The levee had held and river levels started to drop. Much of the damage was to areas just outside the city.
"It's uncomfortable for people, and the community lost revenue," Weidner said. "But absolutely, we made the right call in my mind. We didn't have too many armchair quarterbacks on that. If there would be a breach, we would have been in deep, deep trouble."
St. Edward, Nebraska

By Wednesday night, the roads and bridges outside St. Edward were largely impassable.
"We all knew we couldn't leave here to go home because we couldn't get out of town," said Eydie Schrad, the director of nursing for Cloverlodge Care Center, a nursing home and rehabilitation facility.
"We were kind of like an island," said Cindy Sorensen, Cloverlodge's social services director.
The small city with a population of about 800 sits northwest of Columbus and was settled alongside Beaver Creek, which rose rapidly that Wednesday. Cloverlodge is on the east side of St. Edward, farther from the creek, and wasn't in the flood zone.
So the nursing home, which at the time had 34 residents, became a makeshift shelter for eight displaced town residents. Staff, some of whom lived in nearby Albion or Fullerton and ended up being stuck for several days, raided the supply closets and set out pillows, mats and mattresses on the floor. Administrator Theresa Naber felt powerless — she was stuck in Omaha, attending a conference.
"We opened it up to whoever needed to come up," Schrad said — by that point, the fire hall and Catholic church were filling up. People "were soaking wet. We offered them some warm towels and took their clothes and threw them in the dryer."
At least one-third of St. Edward was underwater, according to Region 44 emergency manager Denise Ziembe. Thirty-one businesses and 101 houses were damaged.
When one Cloverlodge nurse came in for her Wednesday night shift, from 6 p.m. to 6 a.m., the water was already pooling in her living room, six inches deep.
"There was nothing she could do, no way to stop it," Schrad said. "So she came to work."
When Schrad left work that same night to sleep at Sorensen's house in town, she said it was eerie. There was no noise from cars, trains or residents, no wind. Just the sound and sight of water lapping buildings downtown.
Schuyler, Nebraska

On Thursday morning, Matthew Prochaska, the volunteer assistant fire chief for Schuyler Fire and Rescue, made a wise decision: he sent one of his firefighters to Columbus to buy nine pairs of neoprene chest waders.
Just in case.
"If we used 'em, we used 'em, if we didn't, we didn't," Prochaska said. "We ended up using them."
Still, little prepared his crew for the bite of the icy-cold waters they waded through to help rescue 65 people in Schuyler, neighboring Rogers and southern Colfax County over the course of roughly 24 hours on Thursday and Friday. The crew numbered about 18, many of whom worked 36-hours straight.
"My team worked their butts off, the entire time," he said. "That water was rough. ... There were a lot of trees floating, corn stalks.
"In the fire service, you can train for a lot of scenarios, be pretty well-prepared for a lot of things, but a true disaster is something you just can't really train for."
Schuyler is no stranger to flooding. Bone Creek, Lost Creek and the Platte River flow to the south. Shell Creek wraps around the north and east side of the city. There are several small lakes in and around town. A dike built to ward off Shell Creek held, and much of the city wasn't damaged, but ice jams from the Platte sent water spewing around the outskirts of Schuyler.
"We've been through a few floods in the last 10 years," Prochaska said. "We thought we had a pretty good idea of what was coming, and then it changed pretty dramatically. In the blink of an eye, we had ourselves quite a mess."
The Fire Department got the first rescue call around 11:15 a.m. Thursday to evacuate residents near the Platte. By the time volunteers responded from home or work, roads were already underwater and most of those residents couldn't be reached by vehicles.
"For the most part, everybody wanted out," Prochaska said. "We brought ... the boat. We told them, this is kind of your chance out, we don't know what conditions are going to get like in the night."
The calls kept coming: Now more people were trapped on Highway 15 on the south side of town. People were stranded in houses and in cars.
So they called in reinforcements.
Locals Mark Horejsi and Marty Ernst had airboats they use to cruise around on the Platte in the summer. Could they loan their boats to the rescue effort?
"I knew the river had flooded, but I hadn't been out to check it out," said Ernst, a feed salesman at the Schuyler Co-op whose family lost their vacation cabin on the Platte. "The next I know, I'm driving down Highway 15 in my airboat."
The rescue team ping-ponged between Schuyler, Rogers and parts of the county, until it got too dark, too windy and the water too deep. Meanwhile, the town pulled together to start sandbagging.
All the while, they were fielding phone calls from first responders in Columbus, to the west, warning them of what was coming, and North Bend, to the east, who wanted a heads-up of what to expect.
Highway 15 to the south was chewed up on both sides of the bridge over the Platte and remains closed two months later. The river dumped sand all over farm fields, and businesses are hurting from the lack of traffic.
Prochaska's wife's commute to David City used to take 20 minutes. Now it's an hour.
"The long-term effects of the flood are settling in," Prochaska said. "It's going to be like this for some time."
Winslow, Nebraska

The knock at the door early Thursday morning kicked off a chain of events that would send Chelie Benson's life into a tailspin and threaten the future of an entire town.
The volunteer firefighter told Benson and her fiancé that they had roughly 20 minutes to grab what they could and leave Winslow, about 12 miles north of Fremont. The Elkhorn River was pouring in over the levee that wrapped around the village with a population that hovers right around 100. The couple had moved into a rental there just two months before.
They were told they might be able to return later that afternoon, so they left their pets — three cats and two dogs — behind.
"I grabbed a bag of clothes and figured we could stay with a friend in Arlington for a day or two," Benson said.
Benson drives a big SUV, a GMC Yukon. But even sitting that high up, she white-knuckled the steering wheel as she and her fiancé, in his pickup truck, forded the heavily flooded U.S. Highway 77 to the next town over, Hooper. The SUV swayed as water sloshed against it.
"I was crying, going, 'Oh my God, oh my God, please,' " Benson said. "I've been through blizzards, I've been through hailstorms, I've been through windstorms, but I've never been through a flood."
They ended up staying three days at a shelter set up at the Hooper Volunteer Fire Department. They came back to find a town in disarray.
Nearly two months later, Winslow Volunteer Fire Department Chief and Village Trustee Zachary Klein counted aloud.
"One, two, three, four," he muttered.
Six. Just six families in the tiny Dodge County village were back in their homes by the beginning of May. Every single building in Winslow — all 48 or so — was damaged to some degree by floodwaters.
Now Winslow is caught in the middle of a much larger fight over flood control, one that could make or break the rural community.
For structures with substantial damage, a handful of local, state and federal agencies will weigh in and determine whether residents seeking to rebuild have to elevate their homes — an expensive and unpopular endeavor — or take other measures to protect against future flooding.
"We're kind of in a standstill," Klein said. "The conversation is very polarized right now." A high percentage of residents have said they will stay in Winslow if they don't have to elevate their structure, Klein said. "The same amount of people have said they won't rebuild if they have to elevate."
Can tiny Winslow hang on if it loses more people?
"Many of the flood-impacted communities already had a decreasing tax base with out-migration to urban areas," said Dewey, the UNL climatology professor. "These small communities, even with federal assistance, will not be able to rebuild all of their small businesses.
"I anticipate even more out-migration from these small communities impacted by the flooding. I anticipate some farmers walking away and shutting down some family farms."
After her brief stay in Winslow, Benson, for one, is done. She's emotionally and physically exhausted after sorting through the wreckage of her belongings and fighting for the return of her security deposit.
"They said they can't build a levee big enough in the Winslow area to stop something like this from happening again," she said. "Do I want to put myself in that situation or that predicament again? I don't."
Their rental took on at least three to four feet of water on the main floor. She lost all the baby books for her four kids, the brand-new bedroom set the couple had bought only two months earlier. They found a neighbor's refrigerator in their backyard.
She and her fiancé have bounced around, from the temporary shelter to her father's place to a donated hotel room. They spent their last $400 to buy a 1995 Prowler camper that they parked at Christensen Field in Fremont. By the end of April, they were finally planning to move into a Fremont rental.
"I would love to sleep in a bed," Benson said.
Valley and Waterloo, Nebraska

A former high-ranking U.S. Army Corps of Engineer official once told Marlin Petermann there are two kinds of levees: ones that have overtopped — been left underwater — and ones that will.
Levees, dams and other flood management measures built to shield towns and infrastructure were sorely tested during the worst of the March flooding — some held fast against rushing water, while others were left battered and broken, leaving places like Pacific Junction, Valley, Offutt Air Force Base and other parts of Bellevue with little protection from the fury of Mother Nature.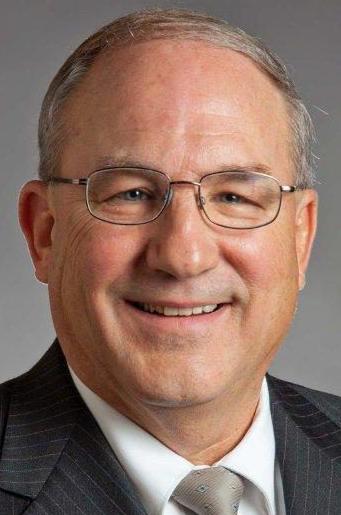 So what forces combine to create a levee failure?
Petermann, an engineer and the assistant general manager of the Papio-Missouri River Natural Resources District, walked through what happened at the Union Dike on the Platte River, where a roughly 300-foot section of the levee was breached sometime early Friday morning, just north of the Dodge-Douglas County line.
That hole allowed the Platte to come roaring in and flow down to Valley and Waterloo, where local officials went back-and-forth Friday morning on whether to order evacuations. The National Weather Service issued an alert at 10:18 a.m. and warned people to leave the Valley area immediately, saying flash flooding was imminent.
Water swamped roads and eventually cut off access to the area, so the Union Pacific Railroad sent high-rail vehicles to evacuate residents in both areas Saturday.

The Union Dike — most people use the terms levee and dike interchangeably — was built in the early 1900s by what was then called a drainage district. The last time it breached was 1978, Petermann said.
"We had a nice run of 40 years," he said.
The breach likely occurred over the span of several hours. The ice-choked Platte ran over the top of the Union Dike, eating away at portions of the earthen levee, which stands about 10 feet tall. That caused portions of the levee to wash out, leaving craters behind.
The water was unrelenting, attacking the levee in multiple spots and weakening it gradually. Finally, it succeeded in bursting through, creating the 300-foot-wide gap.
"When you get to critical failure mode ... you just have a little left and it will blow it out and collapse," Petermann said.
The water was flowing fast, probably 20 or 30 miles per hour, and carrying lots of silt and sediment. It continued to dig around and under the base of the levee, scouring a 35-foot-deep hole underneath that had to be filled with sand and rock.
The Union Dike was repaired quickly, by the end of the March, at a cost of roughly $950,000.
To the east, along the Missouri River and near the Papio Creek, the R-616 and R-613 levees overtopped, but didn't breach, except for a small area on R-613. But the overtopping of both severely damaged the City of Omaha's Papillion Creek Wastewater Treatment Plant, the runway at Offutt and 137 structures on base.
"It was like a big lake," Petermann said. "You couldn't tell where the levees were."
The problem was magnified when river levels dropped and water remained trapped behind the levees. At one point, Papio-Missouri NRD engineers huddled with Offutt and Bellevue leaders, scribbling calculations on a whiteboard as they debated whether to intentionally punch a hole in the levees to let the water drain out.
Officials ultimately decided that tearing up the levee wouldn't speed up the drainage much, and another broken levee could spell trouble if more spring or summer flooding occurred.
Pacific Junction and Hamburg, Iowa

Farm equipment dealer AgriVision Equipment had two locations, one each in Pacific Junction and Hamburg, Iowa — two small towns along the Missouri River that were among the hardest hit when levees failed.
In both areas, several feet of water gushed in and took weeks to recede, leaving some residents and business owners unable to even return to their properties for a month or more. Those displaced are now living in guest rooms, hotels, temporary rentals or campgrounds.
Only six of Hamburg's 32 businesses have reopened, the Associated Press reported. The Federal Emergency Management Agency estimates that nearly 40% of small businesses fold after a flood.
In the days before the flood, AgriVision officials were told that a little bit of water might make its way in to its Pacific Junction store off I-29. Employees moved some inventory and files off the floor.
Then the warnings started ratcheting up: 8 to 12 inches of water could flow in. If the levees overtopped, inches could turn to feet.
"We literally drove millions of dollars of equipment out of Pacific Junction and started dispersing it to higher ground," said Mark Ford, AgriVision's director of organizational development. "There was a parade of tractors and combines and sprayers on the highway."
It turned out the Pacific Junction location had 8 to 9 feet of water inside. The Hamburg store took on 6 to 8 feet.
"It was far beyond what anyone even imagined," Ford said. "Then to watch helplessly on the sideline for a week-and-a-half, two weeks, as the water just sat there and sat there."
The business lost inventory — you can't sell tractor parts that sat in water for weeks. Ford estimates that AgriVision has spent hundreds of thousands of dollars on cleanup, plus more to rent temporary facilities in Louisville, Nebraska. Neither location has reopened yet.
Roughly 70 AgriVision employees are now working out of Louisville in Nebraska, or Red Oak or Macedonia in Iowa.

Ford said the company's next steps depend on several factors, including enhanced flood protection. The U.S. Army Corps of Engineers has awarded $19.5 million in contracts just to repair seven breaches on the Hamburg levee along the Missouri — but that doesn't include building the levees higher, Ford said. He's encouraged that the governors of Iowa, Nebraska and Missouri are lobbying for more say in how the Missouri River is managed.
"We're not going to invest millions of dollars in those places again if we're not sure we can count on the levee system," he said. "There's too many what-ifs at this point."
Peru, Nebraska

A farmer moving equipment to higher ground was the first to sound the alarm Saturday morning that water along a levee outside Peru was rising quickly. A Missouri River levee had breached in two places, said Renee Critser, Nemaha County's emergency management director.
Smaller flooded tributaries upstream, like the Elkhorn, Platte and Loup Rivers, emptied into the Missouri, which swelled along towns south of Omaha like Nebraska City, Peru and Brownville.
"We knew it was coming, we just unfortunately had to sit and wait," Critser said. "It's coming whether we like it or not."
Peru had several feet of water on the north end of town and farms on the outskirts were flooded, too, with standing water remaining in some fields well into May.
Full coverage: floods devastated Nebraska, Iowa in March 2019
About 13 homes were affected, including two in Nemaha County and six or seven in Peru that are considered total losses.
Peru's water treatment plant absorbed a crippling blow — at least 10 to 12 feet of water inundated it, cutting off water to Peru and surrounding areas.
So since the flood, water has been trucked in from Auburn via milk tanks from a Fairbury company.
It's not a fast or easy process. The tankers drive to Auburn and sanitized connections are hooked up to the fire hydrant system there. The water is driven back to Peru and pumped into the water tower. Though the water has been tested, a water-boil advisory remains in place because outside water is entering Peru's water system.
Each tanker holds about 7,500 gallons of water. Daily water usage can require as much as 10 or 12 loads of water being ferried by two trucks between Peru and Auburn.
Residents, businesses and Peru State College have done a phenomenal job of conserving water, Critser said. The college might opt to use porta-potties for events on campus, instead of regular toilets.
A portable plant is in the process of being installed, but a more permanent fix is still months away.
Pierce, Nebraska

For four long days, Vickie DeJong worried that pieces of Pierce's history would be lost forever.
"I couldn't stop crying because I didn't know what to expect," DeJong said.
Until the water receded a bit, by Sunday, volunteers with the Pierce Historical Society Museum braced themselves. What would be left of the small-town attraction that offers a glimpse into Pierce's pioneer past? The town, north of Norfolk and named after President Franklin Pierce, was officially settled in 1871.
The free museum, near Pierce's downtown, houses nearly 3,000 artifacts. There's an old railroad depot, a school, a blacksmith shop and farm machinery. It's open only in the summer and attracts several hundred visitors each year whose kids can churn butter and travel back in time for a few hours.
The main building had 18 inches of water inside, but volunteers were relieved to find most antiques, documents and photographs had been spared. A few display cabinets were water-logged and some old advertisements and reference books were lost.
The Lower Elkhorn Natural Resources District credited the Willow Creek dam and a levee for preventing worse damage in Pierce — much of the flooding that did occur was due to drainage problems.
Around 1 p.m. Sunday, the fire chief called DeJong and said he had 40 volunteers who showed up wanting to help. Could she put them to work?
In just four hours, they picked up, wiped down and packed up everything they could, moving artifacts into storage until the museum can be fully rehabbed. Later, more helpers cut soggy sheet rock and ran fans to prevent mold and mildew.
The museum's collection includes newspaper clippings, scrapbooks, county record books, old fire equipment and photos of every high school graduating class since 1893 — a big draw for visitors delighted to spot their grandparents in the class of 1932.
Recovered among the debris: the plan for the Pierce Flood Protection Project, dated July 1963, that shows the levee built to protect Pierce from Willow Creek and the North Fork of the Elkhorn.
» World-Herald staff writer Nancy Gaarder contributed to this report.