'Why didn't I do that?': OPS principal cursed himself for not removing molester from classroom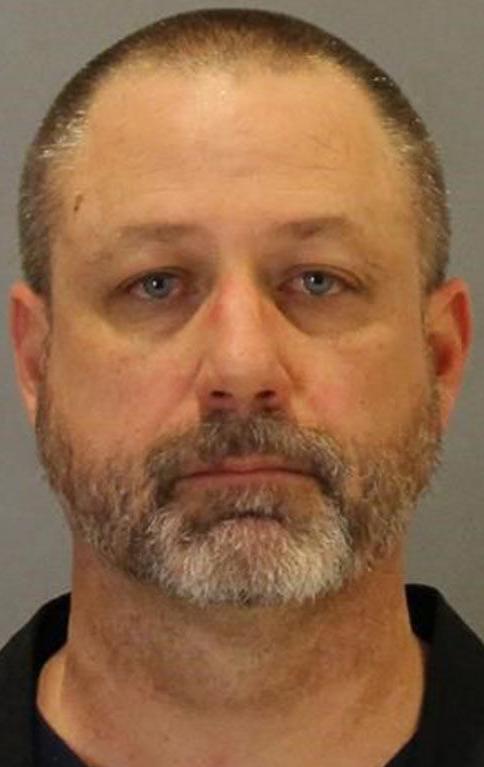 A sex crimes investigator had laid out the allegations against former Omaha elementary school teacher Greg Sedlacek.
Explaining Sedlacek's crimes to former Fontenelle Elementary Principal Eric Nelson, the detective noted that Sedlacek was molesting girls on the playground, running his hands up their skirts, touching their legs and their private parts.
The Omaha police detective, Jeff Shelbourn, said he couldn't figure out one thing: Why didn't Nelson, as principal, remove Sedlacek from the classroom right after he heard reports of that kind of behavior? Or, at a minimum, place someone in Sedlacek's classroom so he couldn't be alone with the first graders?
The detective then exited the room, letting the question linger.
Left alone in the small conference room, Nelson's reaction was caught on camera: He pounded his fists on the table and cursed himself.
"Goddamn it," he said. "Why didn't I do that?"
Nelson's defense team asked a judge to not allow prosecutors to refer to that outburst in Nelson's felony child abuse trial, arguing that the comments were uttered while Nelson was alone and that it could cause jurors to have a bias against him.
But in a late-December ruling, Judge Thomas Otepka refused, saying prosecutors have the right to present that evidence, should Nelson go to trial.
Nelson, 49, is awaiting trial in a rare case in which prosecutors charged not just the sex offender but the authority figure who, they say, failed to report the sex offender.
Douglas County Attorney Don Kleine's office has charged Nelson with felony child abuse/neglect on allegations that he failed to follow state law requiring people to contact Child Protective Services or police when they suspect child abuse. The trial has been tentatively set for February.
Sedlacek, a 31-year-old with a history of inappropriate behavior around children, is serving 40 to 65 years in prison after he admitted to police that he sexually assaulted six girls, ages 6 and 7, at the school in the fall of 2018. The girls told police that Sedlacek routinely had them sit on his lap while he digitally penetrated them, sometimes in his classroom, sometimes on the playground.
According to police reports and court records:
Other teachers became concerned about Sedlacek's behavior around the girls and reported what they saw to Nelson. One student teacher said she looked out a school window overlooking the playground and saw Sedlacek rubbing a girl's legs and his hands disappearing under her skirt. That happened about 10:35 a.m. Nov. 19.
The student teacher notified the classroom teacher, who took photos of Sedlacek on the playground.
The first grade teacher then called Nelson to her classroom and showed him the photos she had taken and told him of the behavior she had witnessed.
Nelson has said he notified the school district's human resources department on Nov. 19, 2018, the same day that those teachers alerted him.
Nelson's attorney, Matt Burns, also said he has Omaha Public Schools documents that indicate that Nelson notified human resources Nov. 19, after Nelson viewed security video of the alleged abuse.
But in an affidavit, Omaha police said they could find no phone records indicating that Nelson called the human resources department on Nov. 19, and human resources officials said they were not informed about the situation until the next day by Fontenelle's assistant principal, Cheryl Prine.
Police allege that Nelson's delay in reporting allowed Sedlacek "continued access to his victims and all children" attending the school. The morning after witnessing the abuse on the playground, teachers found Sedlacek in the classroom tutoring students.
Nelson had an appointment and didn't arrive at the school that day until 10 a.m. When he arrived, he learned that Prine had collected the other teacher's statement and sent it to human resources. Human resources then informed Sedlacek that he was being placed on administrative leave.
According to Prine, Nelson ordered her into his office when he arrived. She said Nelson was upset and angry and told her that it wasn't her school and that "a man's career was on the line."
Nelson was placed on leave after the incident and resigned his principal's position in June.
During the police interview in the immediate aftermath of Sedlacek's crimes, Shelbourn asked Nelson why he didn't remove Sedlacek from the classroom.
Once Shelbourn left the room, Nelson pounded his fists on the table and, exasperated, asked himself the same question.
Judge Otepka rejected arguments that the statement would jeopardize Nelson's right to a fair trial. The U.S. Supreme Court has held that "when the evidence is sufficient to justify an inference that the defendant acted with consciousness of guilt, the fact finder can consider such evidence even if the conduct could be explained in another way."
"It is possible that when Nelson said 'why didn't I do that,' he was simply displaying remorse for the fact that he had lost his job over the incident and was now facing felony child-abuse charges," Otepka wrote. "Of course, anyone in that situation would wish they had done something differently. But the statement could also be interpreted as an acknowledgment of guilt by Nelson."
Nelson's attorney, Steve Lefler, said Nelson's "why didn't I" comment could have been a lament that he should have asked for an attorney to be present during the police interview.
Lefler said that Nelson didn't observe any behavior and that he followed OPS policy in place at the time for reporting of such incidents. Nelson made sure that Sedlacek's behavior was reported within 24 hours. He said he found it strange that prosecutors are "crucifying" Nelson when other OPS administrators hired Sedlacek, despite the fact that he previously was fired from a South Dakota school district for inappropriate behavior.
"Besides Sedlacek, I don't want anyone charged in this case," Lefler said. "I don't understand why they're zeroing in on my client."