Turnout suffers in flood-ravaged Mills County, Iowa; many don't 'have the energy' to caucus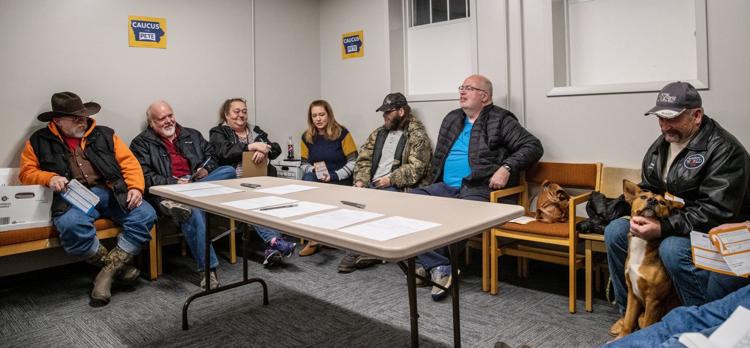 PACIFIC JUNCTION, Iowa — Mills County Democrats worried all month whether many of the 470 former residents of this flooded town would attend a caucus Monday.
Last March, the Missouri River inundated all 210 homes and businesses here, and a caucus day drive through town showed the extent of damage 10 months later. Most local homes, storefronts and gathering spaces remain boarded up. Only about 20 households have moved back so far, officials say, and the only evidence of the presidential race was a single campaign sign in front of the rebuilt home of Rick and Cherry Parham.
The Parhams were the only flooded folks from Pacific Junction who attended the Democratic caucus at Glenwood Public Library. They were joined by 10 people from nearby Lyons and Platteville townships, as well as some rural areas. Four years ago, the same precinct caucus drew about 50 people to a Pacific Junction location.
Rick, 57, and Cherry, 51, moved home in October after living for months in a camper. The Parhams support former South Bend, Indiana, Mayor Pete Buttigieg, and on Monday, at their caucus site, they got their man.
Buttigieg grabbed and held the lead in both rounds of caucusing at their precinct, securing six of the 12 caucus-goers. Sen. Bernie Sanders of Vermont and former Vice President Joe Biden finished with three apiece.
Rick Parham, who said he had served in the Iowa and Nebraska National Guard, said it was time to let the younger generation do what the older generation had not: address the country's big challenges, including a changing climate, college debt and sensible gun control.
"We'll go with the younger one to see if he can pull it off," he said. Cherry agreed.
At their precinct, the 12 Iowa Democrats agreed on two things: dislike of President Donald Trump and the health care system.
None knew how close they came to not having a precinct site organizer to greet them. Glenwood librarian Tara Painter, 48, was why they saw more than an unmanned box and instructions from the Iowa Democratic Party.
Mills County Democratic Party Chairwoman Donna Crum said she hadn't been able to find a local precinct resident to run the caucus site. One potential helper had moved elsewhere. Another had to work. A third had surgery this week. Finally, Painter agreed at about 1 p.m. Monday, read up on the process and worried that few would show up.
"I talked to a woman tonight who is in Platteville township," Painter said. "With all the flooding they had to deal with … she's living in a one-bedroom apartment while her house is going through the FEMA process … she just didn't have the energy to do this, too."

Mills County is home to 1,916 active registered Democrats and 5,032 Republicans and 2,997 independents, according to the Iowa Secretary of State's Office. That's down slightly for Democrats and independents and up slightly for Republicans since February 2016.
Glenwood hosted four other Democratic caucus precincts Monday at the Glenwood Community Middle School, while Republicans caucused at the Glenwood Community High School.
The library crowd was just 11 when the doors were locked at 7 p.m. But the group decided to let Jennifer Williams in after they heard her knocking on the window a few minutes late. She had driven to the library with her son, Riley, 9, but said people hadn't heard her outside.
The evening's biggest surprise came when folks counted the first alignment of voters into camps for each candidate. They hadn't realized the state party had changed its rules to lock any viable candidate, including undecideds, into their first choice if they reached 15% of the site's caucus-goers. With so few people voting, any group with at least two people would have been locked into their choice.
That first huddle had five people for Buttigieg, four undecided, two for Biden and one for billionaire hedge fund manager Tom Steyer. But the Democrats agreed to redo that first alignment, once everyone understood the new rules.
The redone tally had Buttigieg at six, Sanders at three, Biden at two and Steyer at one. That meant only Steyer voter Kent Rounds, 64, could change his choice. It took only a single speech from a Biden supporter to have him join their ranks.
Rounds' reason for picking Biden: He wants to beat Trump.
"We can't make the same mistake we did in 2016," he said.
Normally, his act of relocating would've ended the presidential part of the evening. But these Democrats kept talking to one another while Sanders campaign volunteer Linda Anderson of Lincoln worked with Painter to calculate the precinct's final delegate math.
The group discussed family members who'd been laid low financially after getting sick. One man in a cowboy hat said hospital stays had depleted the finances of people he cared about. Then Cherry Parham piped up.
"Why do they get filthy rich while so many of us die?" she asked, and others agreed.
Then talk turned to the environment, how fast the climate is changing, including more floods, and how afraid they were of some Trump administration rollbacks of environmental protections for water and air. On this, supporters in all three camps agreed.
Anderson, who helped lead the precinct after Painter started, walked back into the room at 7:53 p.m. She told caucus-goers that Iowa's odd delegate math meant that each of their favored candidates, Buttigieg, Biden and Sanders, would get a single delegate apiece.
The man in the cowboy hat said, "Everybody gets a trophy." People laughed. Soon folks started heading for the exits, shortly after 8 p.m. Some shook hands. Others said their goodbyes. And Painter locked up.
---
Top Democratic presidential candidates