In the old days, a substitute teacher might find a tack on her seat.
Nowadays, she could find a goodie bag.
And a little something extra in her paycheck.
Some Omaha metro area schools are offering gifts, prizes, bonuses and higher pay to woo substitute teachers amid a shortage in Nebraska.
School officials attribute the shortage to the good economy, an overall shortage of teachers and retired teachers forgoing subbing to take full-time jobs.
Sign up for The World-Herald's afternoon updates
Receive a summary of the day's popular and trending stories from Omaha.com.
The shortage has been growing steadily statewide for at least a decade, reflecting a national trend.
It's been hitting rural areas hard, but some metro area districts didn't feel the pinch until last year.
Subs have gone from competing for jobs to taking their pick.
"There are so many that I could easily work every single day for the whole year," said Shayla Sheets, who subs part time in several metro area districts.
Omaha Public Schools officials report that on any given day, 30% of sub requests can go unfilled.
Council Bluffs reports up to 15%, and Ralston up to 17%.
Mondays and Fridays are the hardest days to fill, officials said. Districts report trouble finding both last-minute and long-term subs. The high-demand subjects include special education, math, science, world languages, music, physical education, industrial technology, and family and consumer science.
While parents worry about snow days disrupting school, a lack of subs can also disrupt learning.
Without a sub, schools make do. Administrators, counselors and librarians fill in. Other teachers cover the classroom when they would otherwise be planning lessons. In some cases, classes of students are combined under one teacher, or a certified paraprofessional takes the class.
Most metro area districts raised the daily pay rate this year.
Most now pay $150 a day for a short-term sub. OPS pays $175, up from $150 last year.
Subs, generally, get no benefits like health or dental insurance. That's one reason, officials say, that teachers may be foregoing subbing to take jobs with benefits.
To be a regular sub in Nebraska requires certification. There is also a Local Substitute Teaching Permit, which allows someone with 60 hours of college and a course in professional education to work in a district at the request of the superintendent.
In the Westside Community Schools, subs can earn a "Sub for a Sub" from Jimmy Johns if they work in qualified positions for a certain number of days.
The Millard Public Schools have been holding prize drawings for subs who work Mondays and Fridays, giving out T-shirts and Apple AirPods.
On Martin Luther King Jr. Day, the district held an appreciation breakfast for subs.
The same day, Papillion-La Vista Community Schools held an appreciation day for subs, providing lunch and a half day's pay for subs who showed up and attended training sessions.
During the lunch, several principals made pitches for the subs to work at their schools.
"There was a time, five or six years ago, when we may have taken subs for granted," Andrew Bell, the principal at Anderson Grove Elementary School, told the gathering. "They were always there. And I think the shortage of subs woke a lot of people up."
In December, Papillion-La Vista awarded prizes for subs who worked, calling it "the 12 days of Giveaways."
Kati Settles, the district's assistant superintendent for human resources, said her district started to notice the shortage about five years ago, but it got worse in the last couple of years.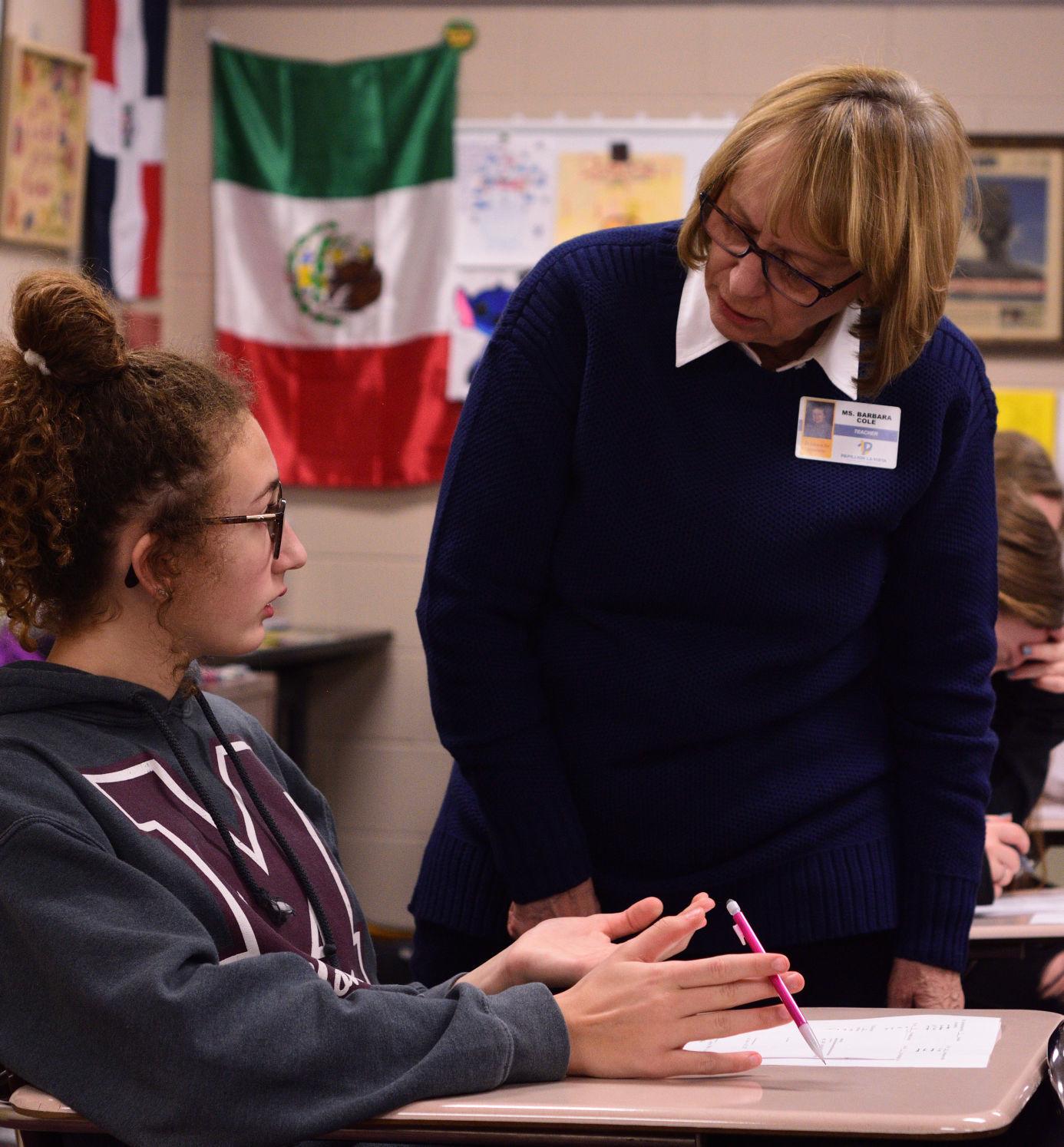 Instead of seeing a handful of unfilled positions a day, lately they've seen as many as 13, she said.
In her district, the typical sub works six to eight days a month, she said. If those subs could be encouraged to work an extra day or two a month, that could cover the shortfall, she said.
To that end, the district plans to offer a cash bonus this spring for subs who work a certain number of days in March, April and May.
But, of course, all the local districts are vying for the same subs.
Sheets has been subbing in Papillion-La Vista, Bellevue, Westside and Millard. She recently applied to sub in Omaha, too.
She graduated from the University of Nebraska-Lincoln in May 2000 with a bachelor of science degree in middle level education.
Right out of college, she taught full-time eighth grade English at Logan Middle School in Bellevue for five years.
After her kids were born, she decided to stay at home, subbing occasionally. Back then, she had to hustle to get sub jobs.
"I remember calling down to the district office and being like, 'I need sub jobs, can you put in a good word in the schools for me, that I would love to come in,' " she said.
"It's never hard now."
She loves subbing.
"It's like one day I can be teaching high school PE, and the next I'm teaching elementary art," she said. "So every day is fun, something different."
The flexible hours are a plus, she said. She works about three days a week.
The pay is "decent," she said, working out to about $20 an hour.
As a sub, she can work with students but without the responsibility of a full-time teacher to create all the lesson plans, grade assignments and email parents, she said.
Kids do sometimes make life difficult on subs, but she said good classroom management and setting expectations can reduce the likelihood of that happening.
She usually doesn't have problems.
"Nine out of 10 times I have a great day with the kids. I have gone in some classrooms where it's chaos, the kids are naughty for the sub. And I've gone down and talked to the administrator after that. And I let them know 'This is how these kids treated me, and I am a guest in this classroom. And I probably won't come back.' "
That shouldn't happen, she said, if the regular teacher sets classroom expectations for when there's a sub, and the consequences are clear for mistreating subs.
She said subbing isn't for everyone.
"You have to go in and run that classroom. And you're coming in on the fly. You've got to be confident enough to get up there in front of those kids and make their day as normal as possible."
Otherwise, she said, they lose out on a day of learning.
She said the incentives are nice, but she lines up her schedule three weeks ahead.
Monica Sheridan, 22, has been subbing as much as possible since graduating in December from the University of Nebraska at Omaha.
She is certified to teach Pre-K-12 art.
Districts are hiring teachers now, but she wouldn't start teaching until next fall. So, in the meantime, she's taking sub jobs.
"Subbing gives me a chance to get into a bunch of different classrooms, have a hand at teaching a bunch of different kids, and kind of work on my professional development, so that when I do go to those jobs, I can be like 'Yeah, I haven't taught yet, but I've subbed here, here and here, and this is what I've learned, how I've grown through that."
She was a student teacher in Elkhorn in December. She finished student teaching Dec. 9 and started subbing in the district on Dec. 12 with a Local Substitute Teaching Permit.
Officials at Papillion-La Vista reached out to her because they needed a long-term high school art sub in March, she said. She took the job and will cover for a teacher who is going on maternity leave.
There is currently a limit on the number of days local subs can work in a year. Some school officials suggest that allowing them to work beyond the 90-day limit could help. Also, when teachers retire, they have to wait 180 days until they can sub if they are participating in a teacher retirement plan.
Eliminating or shortening that window would help, districts say, if it could be done without running afoul of federal law.
Officials said the long-term solution lies in boosting the numbers of new teachers, as baby boomers retire.Omaha-area high schools ranked by 2019 ACT scores