Grace: Every toppled headstone at Jewish cemetery in Omaha represents a life story to be told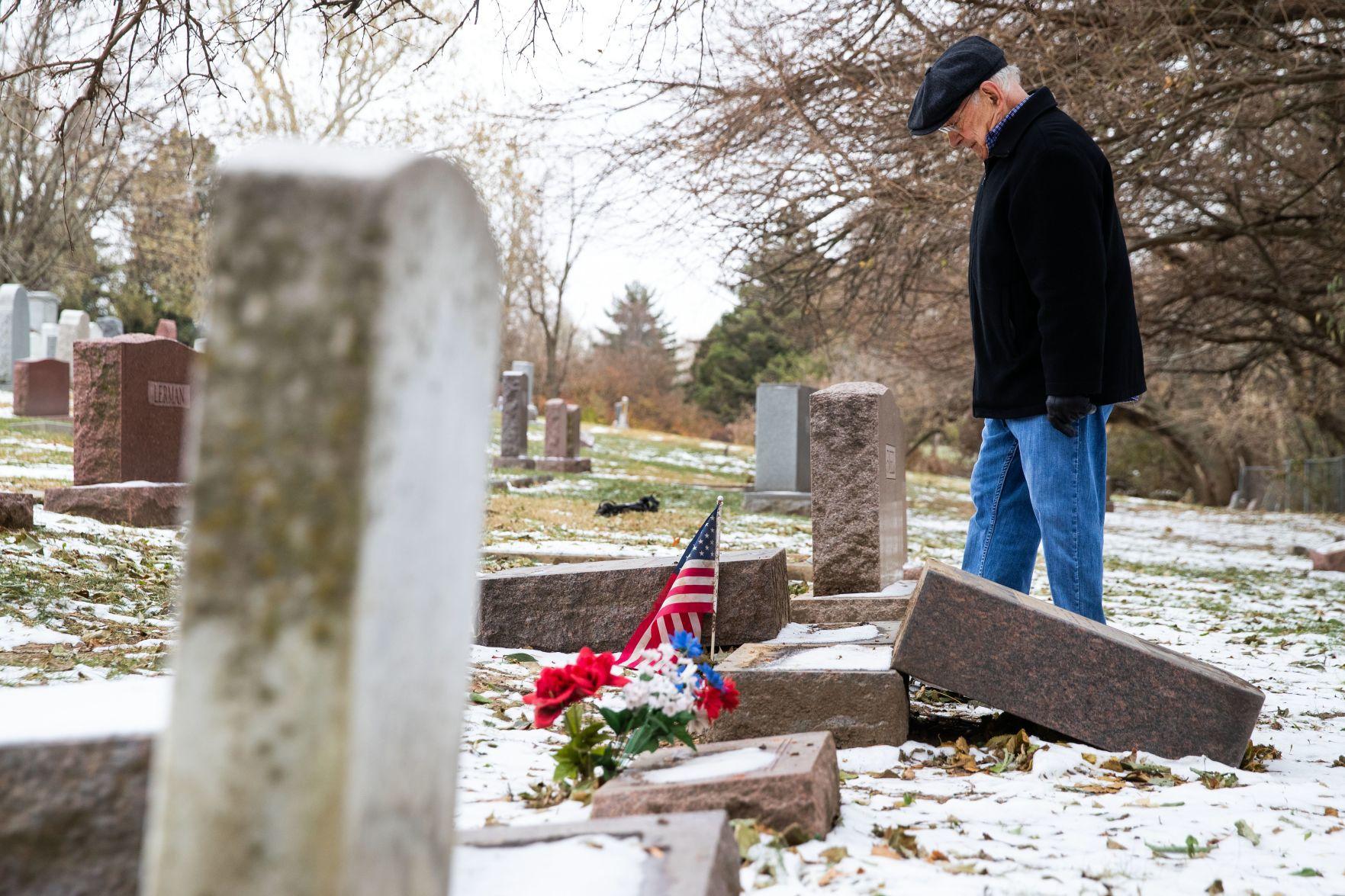 Kenneth Freed walks through the open gates of one of the oldest Jewish cemeteries in Nebraska. He has come to show the damage — the largest desecration to a Jewish cemetery, or any cemetery for that matter — in Omaha in recent memory.
In a place where 2,325 people are buried, gravestones have been overturned. Eighty-five of them is the most recent count.
These once-vertical markers have been pushed over, knocked off their stone pedestals, and some have broken. They lay face up or face down, a fresh crust of snow on this freezing November day obscuring the engraved names and dates and Stars of David and Hebrew words.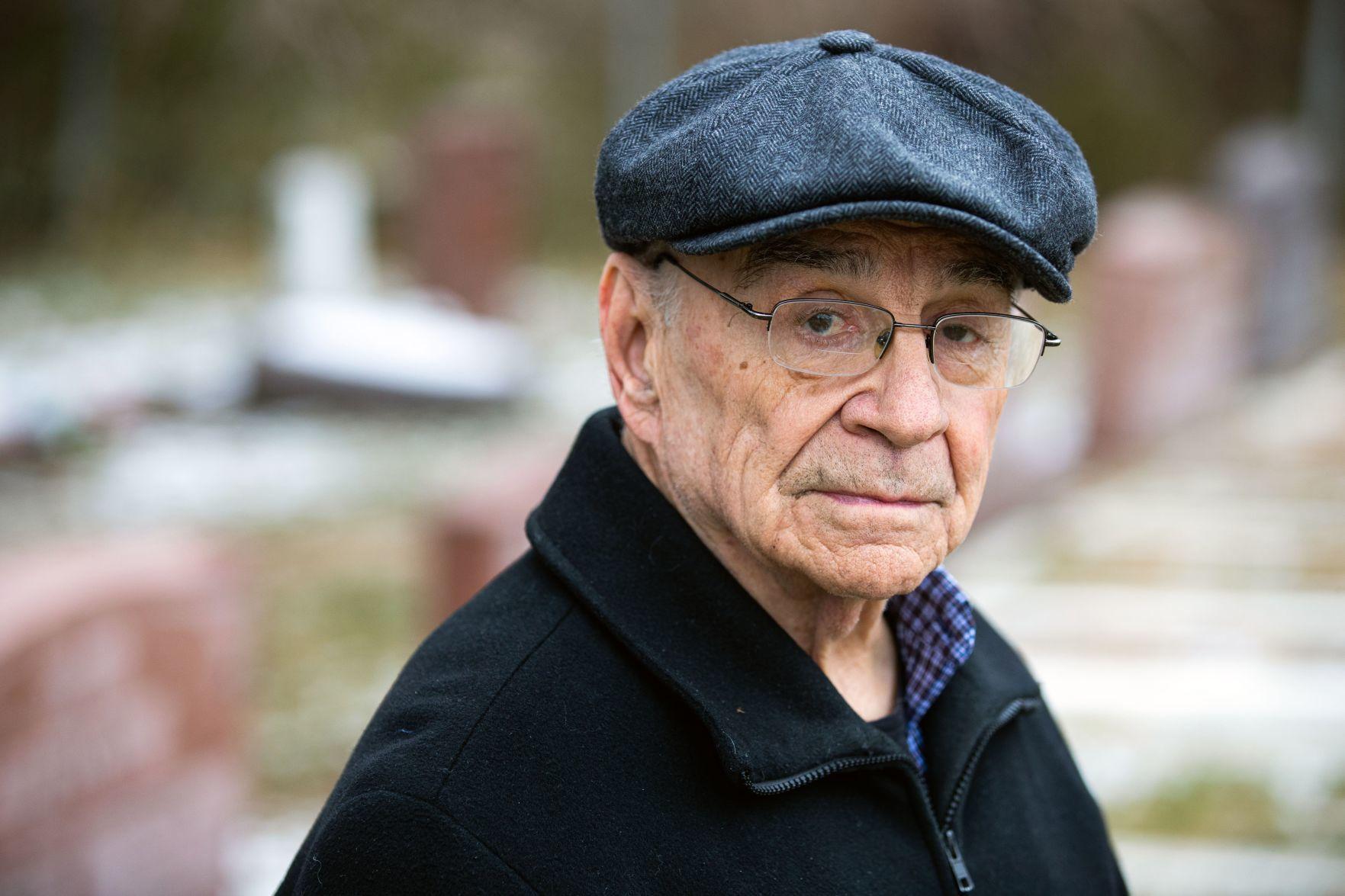 The snow covers the stories, adding further insult here to this 82-year-old son of a Russian Jewish immigrant. Freed spent a career as a reporter, including at The World-Herald, unearthing stories. The Jewish faith teaches that each life contains a whole world. Beyond that, Freed takes this cemetery violation very personally. He has 10 family members here in this piece of earth west of the B'nai Jacob cemetery gate at 42nd Street and Newport Avenue. He and his wife, Sandra, plan to be buried here.
Freed leads me past upright monuments and markers pushed over like dominoes until we get to the cemetery's far corner. Here, two stone tablets lie face up and snow-covered. Freed reaches into his pocket for a glove but doesn't bother putting it on. Instead, the old reporter scrubs the glove at the crusted snow until the first words of a story appear: Beloved Father. Schoal K. Freed.
* * *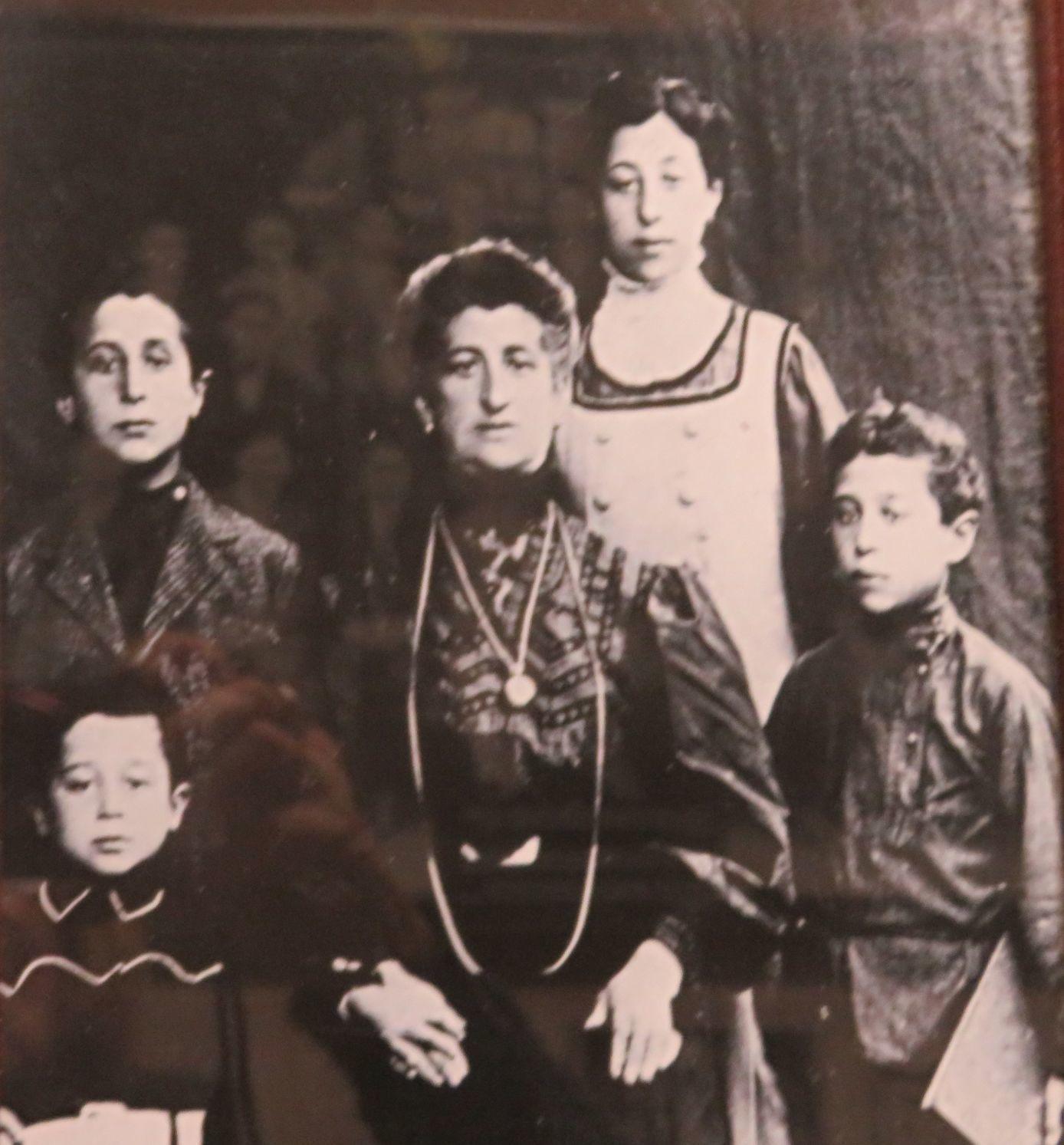 Omaha's Jewish history is long and rich.
This history involves various nationalities, styles of worship and waves of immigration, reflecting what was happening in the 1800s and 1900s as Jews around the world fled religious persecution for the promise of religious freedom in America.
Jewish newcomers settled in Omaha, built lives and businesses and communities. Because the Jewish faith dictates certain burial practices and rituals regarding remembering the dead, the first order of business was typically establishing a cemetery.
That's exactly what happened in Omaha. First came the Jewish cemetery in 1871, then the synagogue in 1884.
A charitable organization, the B'nai Israel Society, bought those first 5 acres of land along what is now North 42nd Street and gave the property to the Congregation of Israel, now called Temple Israel. Temple Israel's first synagogue was downtown.
The congregation was able to help secondary waves of Jewish immigrants who came from Russia and Eastern Europe, often with nothing. One of the first ways of helping was providing some of its cemetery property to two orthodox congregations: Anshe Sholom and B'nai Jacob.
The Freed family was among these Russian Jewish newcomers. Kenneth Freed's grandfather, Jacob, and an uncle, Joe, came to Omaha by way of Galveston, Texas, in 1910. They were among the Jewish immigrants brought to America through Texas in an effort to move the newcomers away from crowded East Coast cities.
In 1912, Jacob's wife, Miriam, arrived with four more children, including Kenneth's father, Schoal. Schoal was 11. The family lived on the second floor of a house on Lake Street, between 15th and 16th Streets.
Miriam died of cancer within two years of her arrival. Schoal was raised by his older sister. His sister's husband opened a grocery store in north Omaha, and Schoal, after all of eight months of grade school education, worked there.
Joe Freed, who was six years older than Schoal, enlisted and served in France during World War I.
Schoal drifted toward gambling, becoming a bookie, a side hustle he held for the next 30 years. His legitimate work history included vending and slot machine work and, during World War II, repairing bombers at the old Martin Bomber plant, which became Offutt Air Force Base.
Schoal married at age 36 to an Omaha woman who was Christian, half his age and wanted to convert but never did. Kenneth was born that year, 1937. Two sisters would follow. The children were raised Jewish.
They attended services at high holidays and special events. Schoal belonged to three synagogues, including B'Nai Jacob.
Kenneth went to Hebrew school in Omaha, attended Friday night services and later in college joined a Jewish fraternity.
Schoal wasn't formally educated but was a smart man who could speak Yiddish, some Russian and some German, enough to translate Adolf Hitler's radio broadcasts.
He stood only 5-foot-1 but weighed about 175 pounds and was to his son, "the toughest man I ever knew."
Kenneth doesn't remember his father having an accent, though all his friends swore that he did and even Kenneth remembers that his dad couldn't say his name. "Kennet," is how Schoal pronounced it.
The family later lived in the Country Club neighborhood on a street where every house but one was owned by a Jewish family. Synagogues then were clustered in Dundee.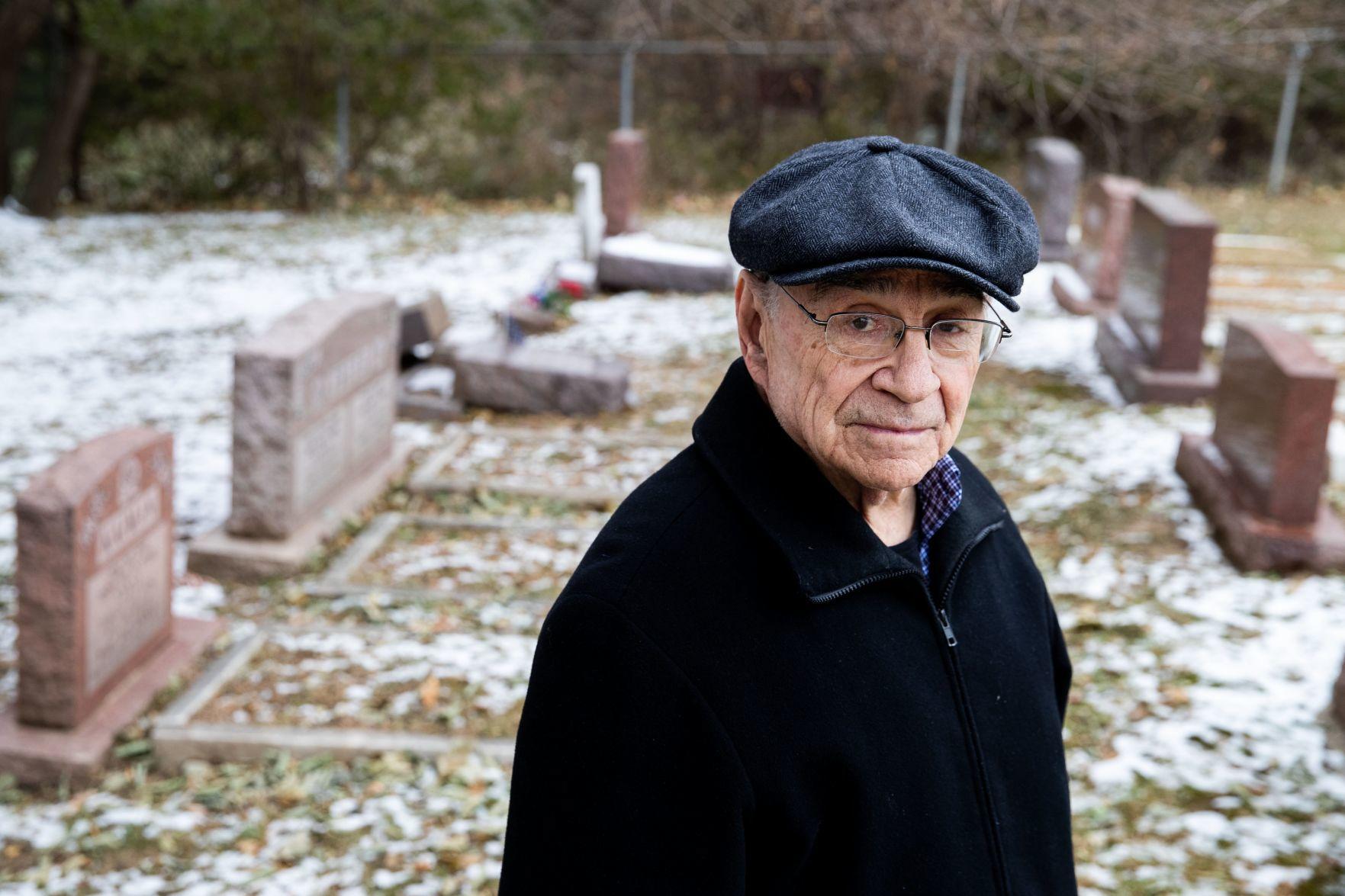 Being Jewish was an important part of their identity and certainly the reason they had come. Persecution was a part of their Jewish DNA, though Schoal had escaped it and Kenneth didn't really live it in Omaha.
The Jewish community in Omaha was more cohesive then. More than one-third of Kenneth's 1955 Central High graduating class was Jewish.
Religious prejudice then would have kept Jewish Omahans out of some circles, like country clubs. But it didn't keep Kenneth from getting an education: undergraduate and law degrees from the University of Nebraska-Lincoln and a master's from the University of Oklahoma.
Kenneth went on to a prestigious journalism career that included the Associated Press and the Los Angeles Times, where he worked for almost 20 years at foreign bureaus around the world: Tehran, Iran; Buenos Aires, Argentina; and El Salvador, to name a few. Freed worked at The World-Herald for less than two years, starting in 1996; I started in 1998. Freed then got a fellowship in Beirut, taught at Ohio University and lived in Baltimore. He moved back to Omaha three years ago.
Though Freed married a Jewish woman who kept kosher for 40 years and they raised their children Jewish, he doesn't consider himself religious. He doesn't belong to a particular synagogue and attends services sporadically. He calls himself an atheist.
Schoal didn't live to see any of this. He died of a heart attack in 1955. He was 54. He was buried at B'nai Jacob. The Star of David was inscribed above his name. The words in Hebrew beneath say, "May his soul be bound up in the bond of eternal life."
* * *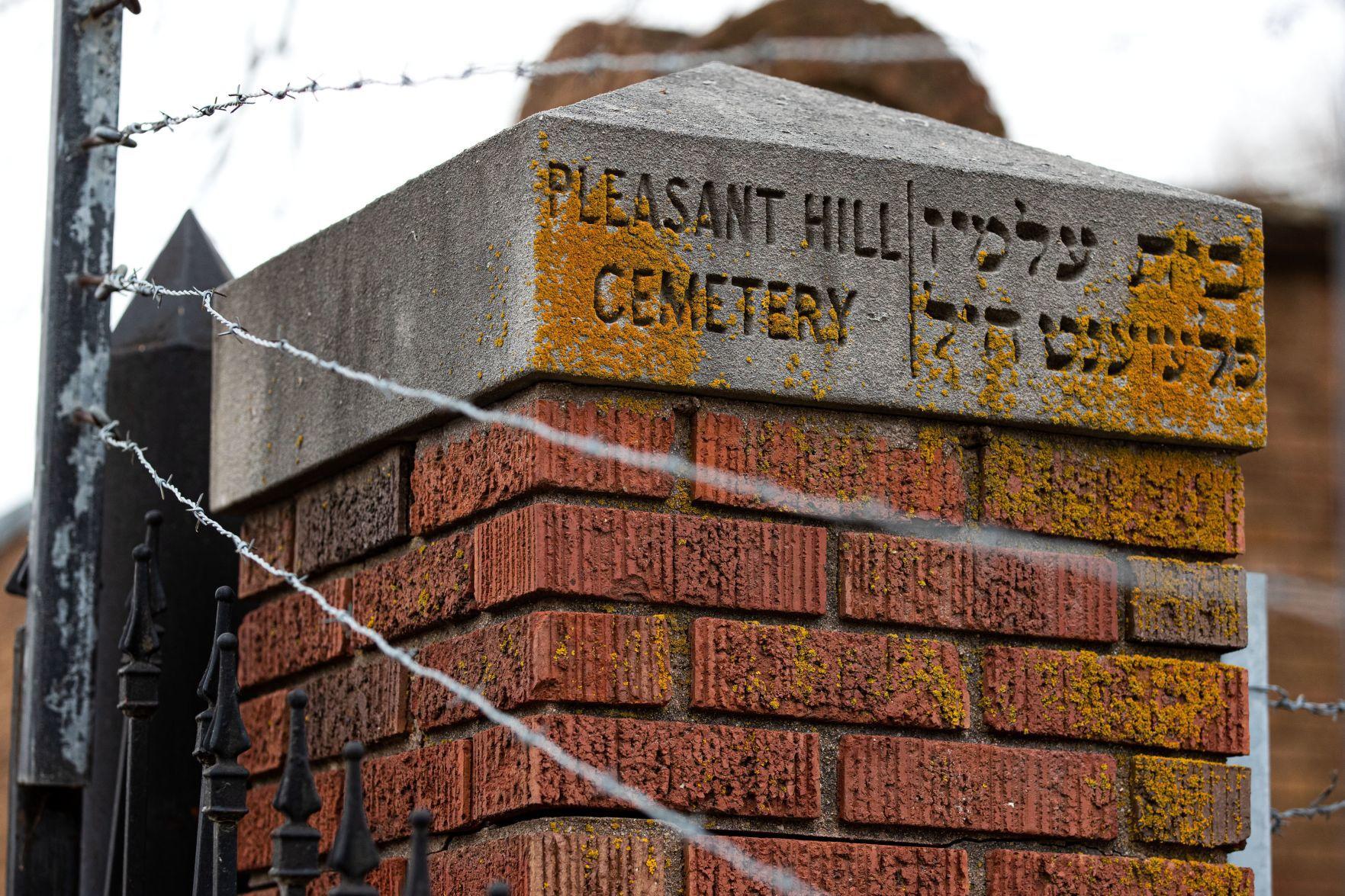 The history of Judaism has a parallel history of persecution, most notoriously the Holocaust, in which Hilter's Nazi regime killed some 6 million Jewish people.
That event, perhaps more than any other, put the world — Jews in particular — on alert for signs of anti-Semitism that might start with vandalism and morph into something far more dangerous.
Jews and Jewish institutions are most often the targets of religious-based hate crimes, according to the FBI's report on 2018 hate crimes. Released Tuesday, the report shows that hate crimes in general edged down after being on the increase. The Anti-Defamation League, a group that tracks incidences of anti-Semitism, said the FBI's measures are incomplete. It said the statistics are based on voluntary law enforcement reporting and showed that fewer agencies reported in 2018.
But the hate crime data that was collected showed that hate crimes based on race are the most often reported and that hate crimes against Latinos and LGBTQ people went up. And it included the highest number of hate crime murders since the FBI began measuring hate crimes in 1991. Twenty-four people were killed in hate crimes, including the 11 slaughtered at a Pittsburgh synagogue in a mass shooting. The shooter, who was injured along with six others, had targeted Jewish people.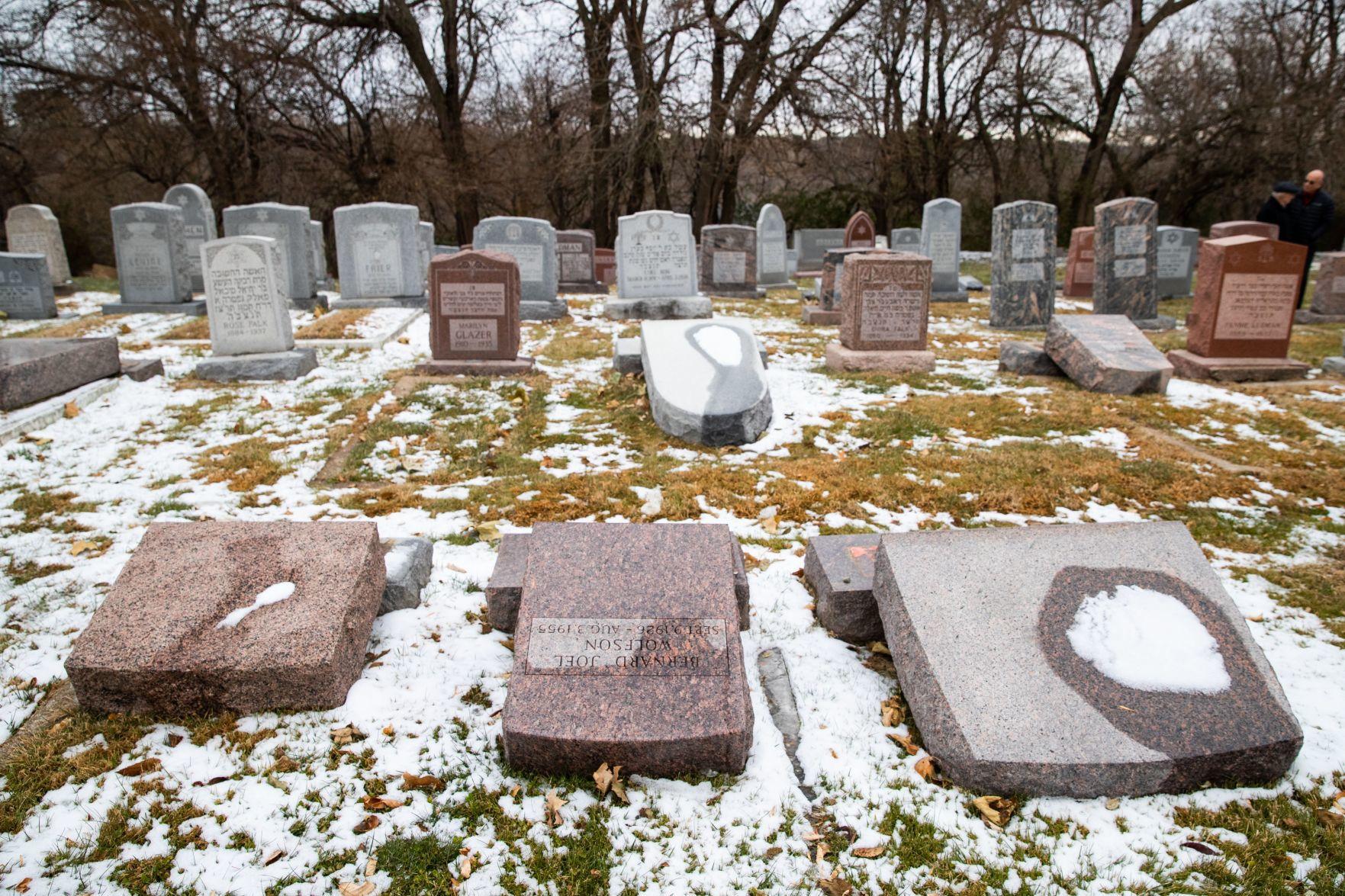 What happened in Omaha? At last count, 85 headstones at Temple Israel's cemetery property at 6412 N. 42nd St. were turned over or damaged between Nov. 1 and Nov. 5. Police, so far, are coming up empty: There are no apparent witnesses, no surveillance cameras and no leads. There is also no swastika or explicit anti-Jewish graffiti, leading to some difference in opinion about how to interpret the act of vandalism.
Leaders of Temple Israel, which has posted the names on affected headstones on its website and is collecting funds for repair, say it would be irresponsible to call this anti-Semitism when that cannot be proven.
"At this point, we don't have any indication of motivation," said Rabbi Brian Stoller of Temple Israel. "Absent such evidence, we do not feel it's responsible to claim or imply (anti-Semitism)."
Others say the absence of specific anti-Semitic calling cards does not negate the fact that it was Jewish tombstones at a Jewish cemetery that were targeted when tombstone damage at cemeteries in general is not well-reported or, anecdotally, something that seems to happen much and certainly not on that scale.
"This is anti-Semitism," said Rabbi Steven Abraham of Beth El Synagogue. "Vandalism can happen to anybody. Anti-Semitism can't. Let's use the right language. Being Jewish for 5,000 years has had consequences."
A spot check at other cemeteries and World-Herald records did not turn up much on cemetery damage in general. The Prospect Hill Cemetery in northeast Omaha has long had vandalized tombstones that need repair. An Archdiocese of Omaha spokesman said vandalism isn't a problem at Catholic cemeteries, something that was echoed by staffers at several other cemeteries around town. A check through the past 20 years of World-Herald archives revealed just one story on widespread damage. In 2001, vandals damaged or stole vases from 50 burial plots at Voss Mohr Cemetery near 138th and Harrison Streets.
Regardless of the vandals' motives, Jewish leaders agree on this: It hurts.
"It creates incredible insecurity within the community, strikes fear within the community and obviously is perceived as an attack on the Jewish community," said David Barkey, national religious freedom counsel for the Anti-Defamation League.
Jeanette Gabriel, director of the Schwalb Center for Israel and Jewish Studies at the University of Nebraska at Omaha, said whoever pushed over the gravestones had to have known that they were desecrating a holy place. How to perceive that?
"I don't know if it's an act of hatred," she said. "But it's happening in the context of the atmosphere of rising hatred."
* * *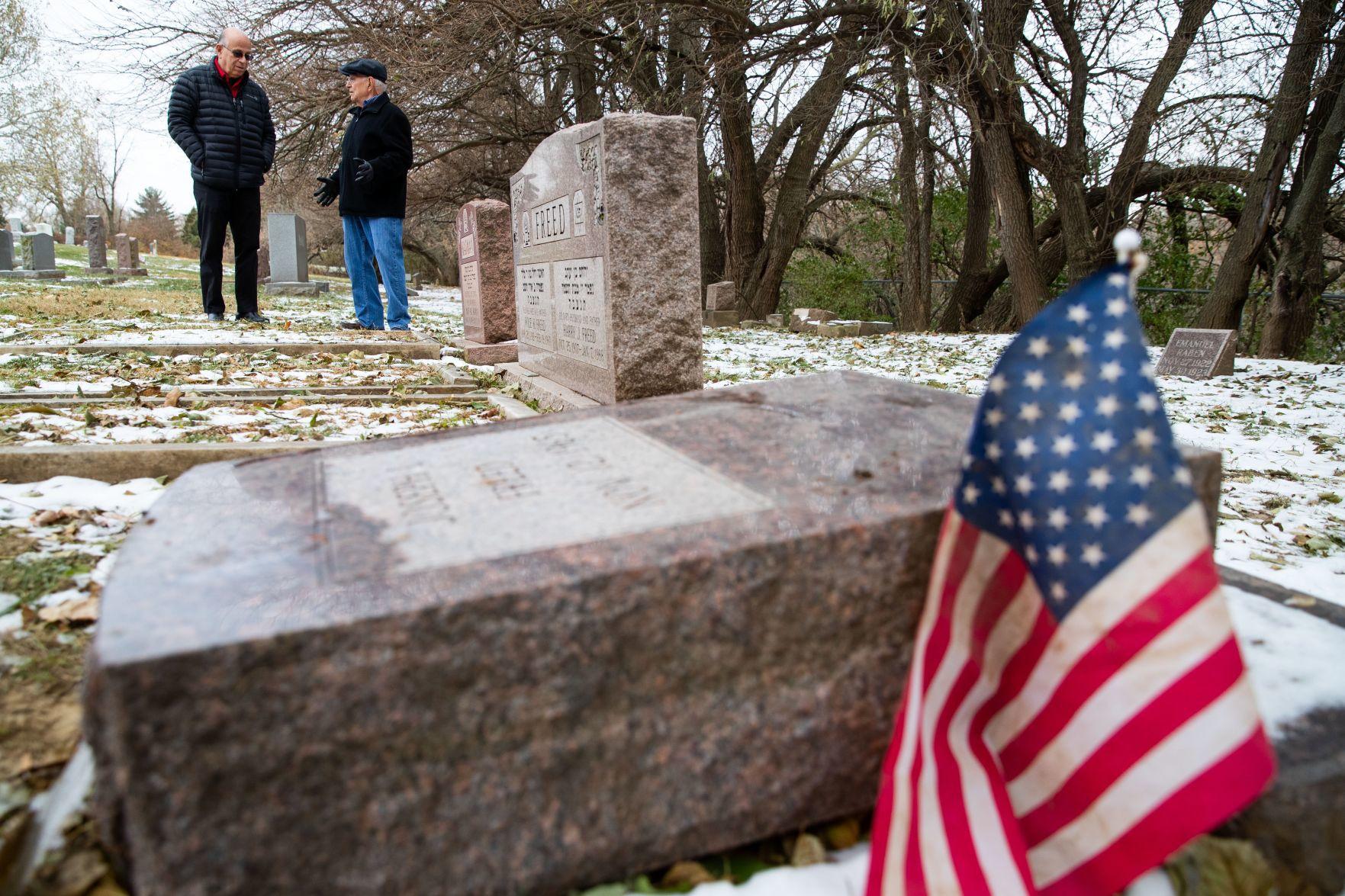 Omaha has made headlines far and wide for being the one place on earth where Christians, Muslims and Jews can worship together on a shared campus.
The Tri-Faith Initiative has been taking shape for the past decade on land at 132nd and Pacific Streets where, ironically, there was once a Jewish country club created in a response to anti-Semitism. (Long ago, Omaha Jews weren't allowed into other country clubs).
This seems to perfectly sum up both the hope of a city that is trying to move forward and a past that was not immune from religious bigotry.
It is a similar push-pull when one considers the horror of the anti-Semitic-motivated slaughter at Tree of Life Synagogue in Pittsburgh last year and the response in Omaha.
"There were as many non-Jews as Jews there," Temple Israel Executive Director Dennis DePorte said about a packed memorial service held at Beth El Synagogue after the shooting.
DePorte characterized Omaha as "a very accepting place."
Stoller, the Temple Israel rabbi, said Omaha has "fertile ground" for experiments like Tri-Faith because of "a general ethos of acceptance, welcoming and pluralism."
* * *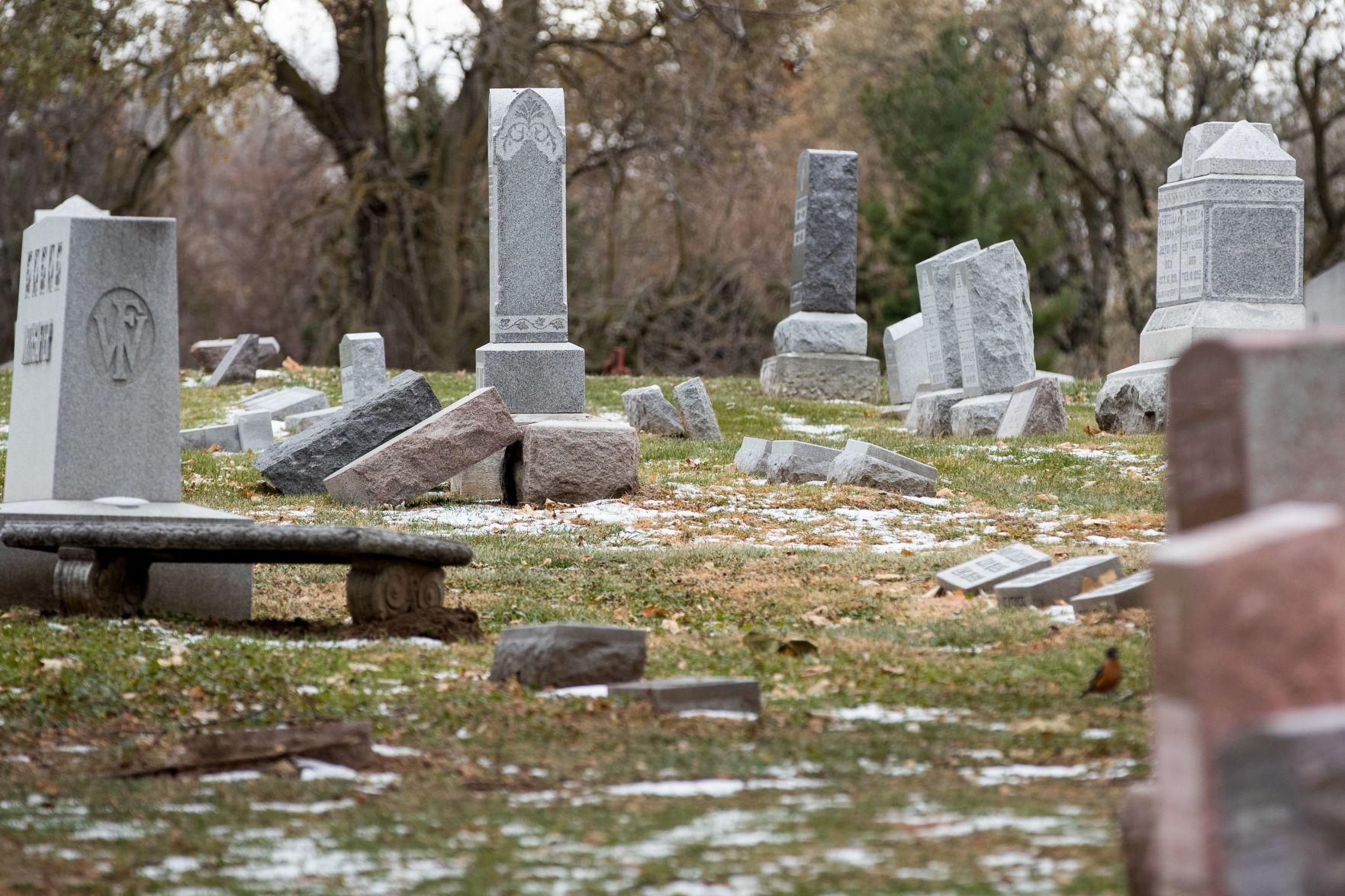 How to explain vandalism on such scale?
The damage is estimated at $40,000. Temple Israel is organizing a response that includes a list of the names on the tombstones and a collection for restoration funds.
Some speculate that the vandalism was post-Halloween youth high jinks, facilitated by the cemeteries' out-of-the-way location.
Temple Israel owns and cares for its own cemetery (1,370 graves) and the adjacent cemeteries: B'nai Jacob (642 graves) and Anshe Sholom, also called B'nai Shalom, (313 graves). Together, they span an area almost three blocks long and a block deep, running along 42nd Street from Vernon to Newport Avenues.
It's a neighborhood that changes by the block.
On 42nd Street, where Temple Israel's modern gate and B'nai Jacob's old one offer the only entrance in, the houses are neat, and neighbors say the street is quiet. No roving bands of troublemakers. Just families, longtime residents and young children. These neighbors say they see very little traffic in and out of the cemetery and use it themselves as a place to stroll or walk the dog. Not all were aware that the cemetery was Jewish. One neighbor complained about overgrowth.
Two sides of the cemetery are overgrown and hard to reach. On the north, 42nd Street almost dead-ends, with "No Trespassing" and "No Outlet" signs in front of a giant gate and concrete barricades leading north of the cemetery. Trees and brush obscure the north fence line, and I was startled by a giant deer on the other side. The cemetery's west side gate is locked, but the fence is broken. Along 44th Street, there are a few houses and one barn.
The area south of the cemetery is populated by many small houses, and a man laughed when I told him that neighbors up the street had characterized the area as quiet. He asked not to be identified but said he saw police send a police dog into the cemetery after a suspect who had run in there to hide. The dog flushed the suspect out. He also described seeing a deer get caught in the cemetery fence.
All said that they didn't know about the overturned headstones or that they didn't know who would have done something like that.
"Don't see nobody," said Cameron Lyons, a second-shift meatpacker who walks his dog through the cemetery regularly before he leaves for his 2 p.m. shift.
Charlotte Michalski, who has lived in a house facing the cemetery almost all her 55 years, said she doesn't see much traffic there but acknowledged that it would be hard to say for sure because of all the overgrowth.
"So much brush," she said.
She said her daughter learned to ride her bike on the cemetery drive and called it "really nice, real peaceful."
Patricia Haynes, who has lived next door to the cemetery for 45 years, was unaware of the vandalism. News of the damage upset her.
"So disrespectful," she said. "It's terrible."
* * *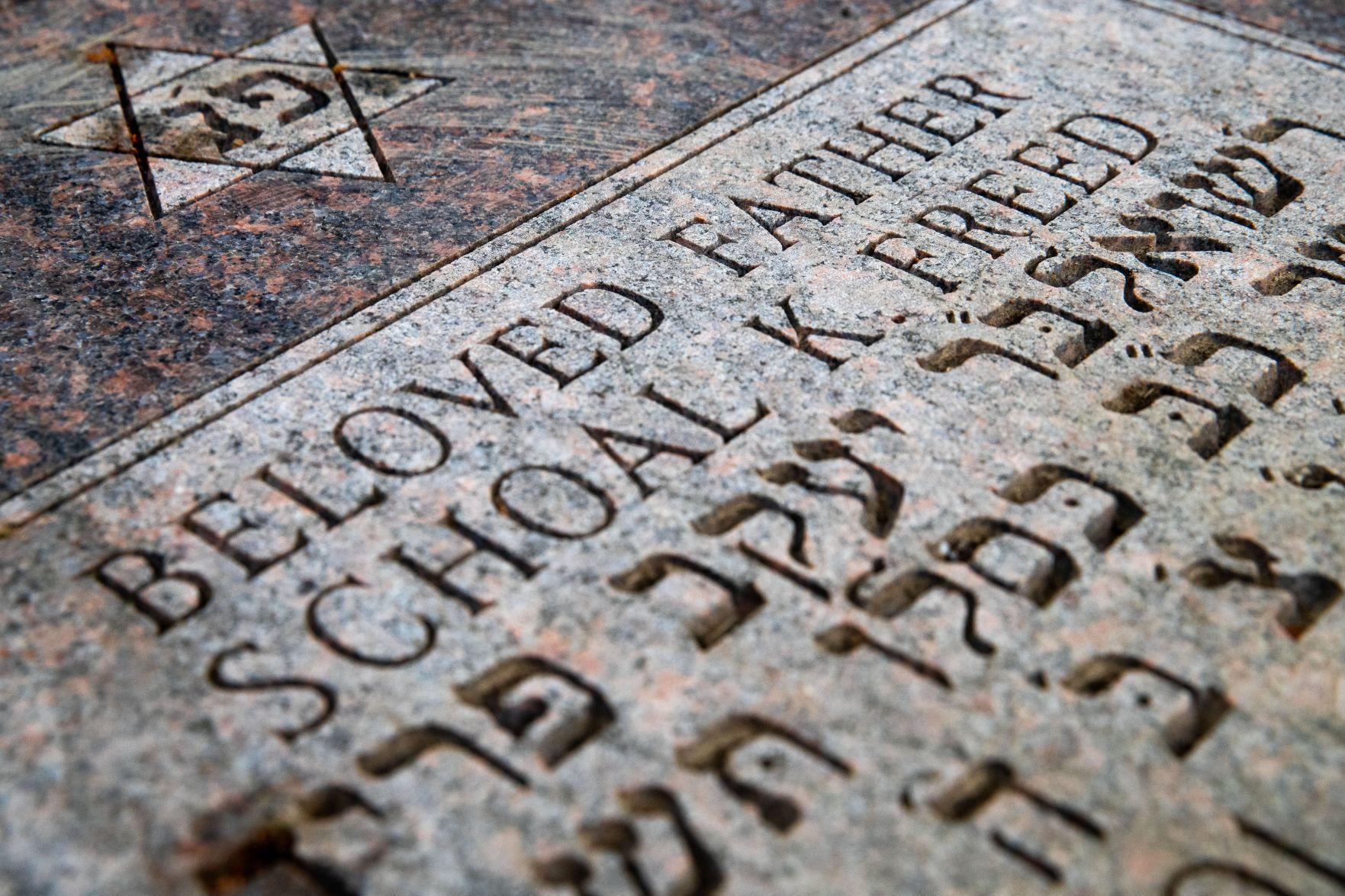 Kenneth Freed is not a softie.
He prides himself somewhat on his hard edges, his lived experiences of being a war correspondent, the way he's fearless about rattling cages, his remove.
Then he saw the tipped-over gravestones of Uncle Joe and his dad. He was stunned.
"It takes a little bit out of you," he said.
Particularly crushing to him was how vandals just tossed the American flag he had planted at his uncle's grave. An American Jewish War Veterans Association plaque Freed had placed at his uncle's grave was smashed under the fallen stone.
"It's an affront. You feel like you've been attacked in some way," he said. "And you feel a little bit hopeless. And then, like everybody else, you decide: Let's fix this. We're going to get it fixed."
* * *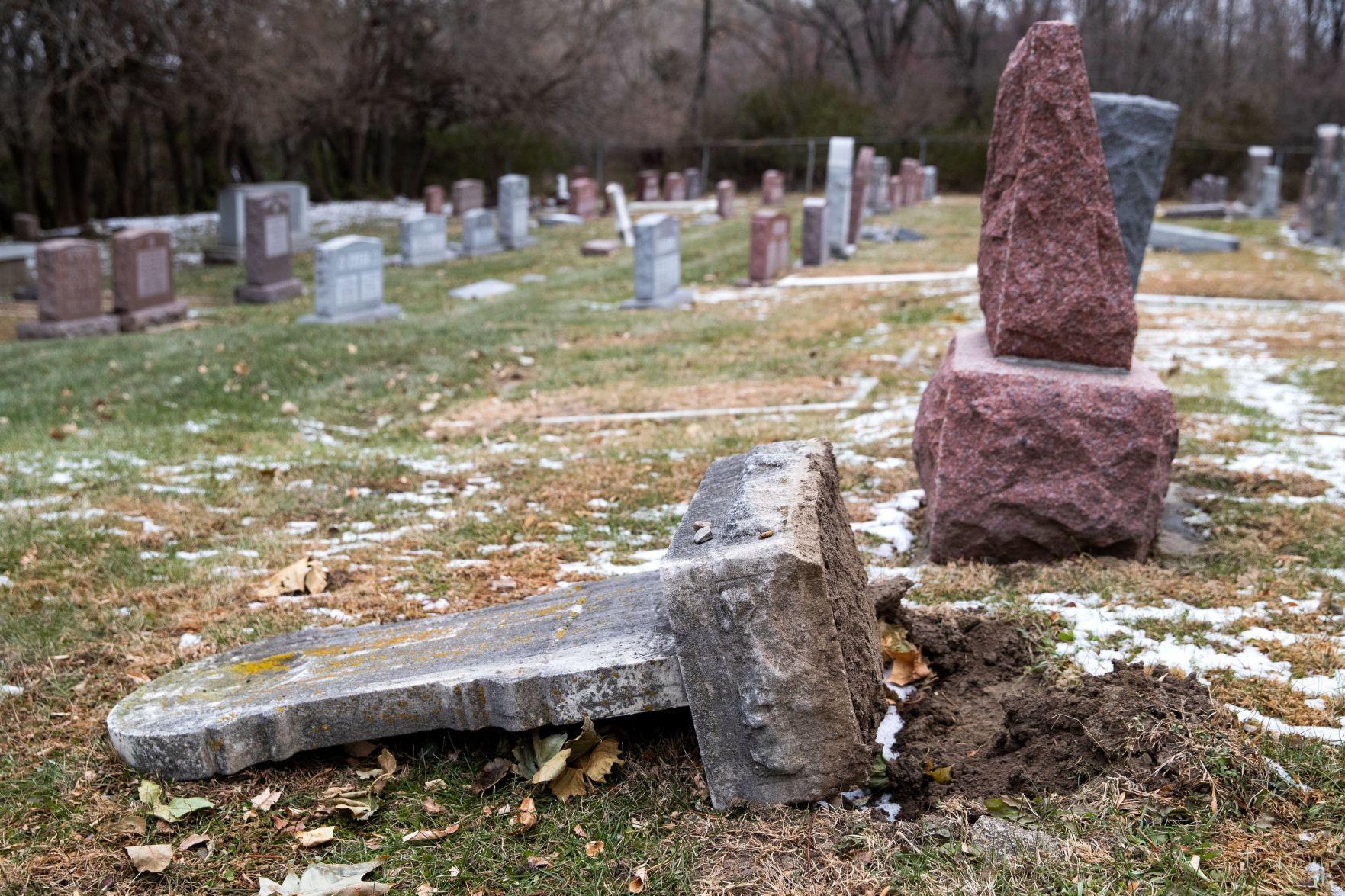 Temple Israel has started a fund. The headstones will be set upright again.
And the synagogue is trying to come up with a bigger plan for cemetery upkeep in general. The cemeteries, after all, play a central role in the Jewish community. They are places that honor memory.
"A key principle of Judaism is kavod ha-met, which means honoring those who have died," Rabbi Stoller wrote me in an email. "Every person buried in our cemetery has made his or her impact on the world in a uniquely profound way. Everyone buried there has a story."
That story is holy, the rabbi said. Meaningful, he said.
And those stories will get told again.
World-Herald photographer Brendan Sullivan and researcher Sheritha Jones contributed to this report.