A stitch in time: Omaha woman picks up tablecloth project, finishes for Christmas
Kelly Metcalfe finally received her grandmother's Christmas gift.
It took 21 years to arrive. It took multiple tries. It took extraordinary effort.
In the end, this gift needed the careful eye, focused hand and big heart of an Omaha woman who, after 400-some hours this year, finally completed what Kelly's late grandmother had intended.
Kelly got this gift after Thanksgiving. It drapes over her dining room table today.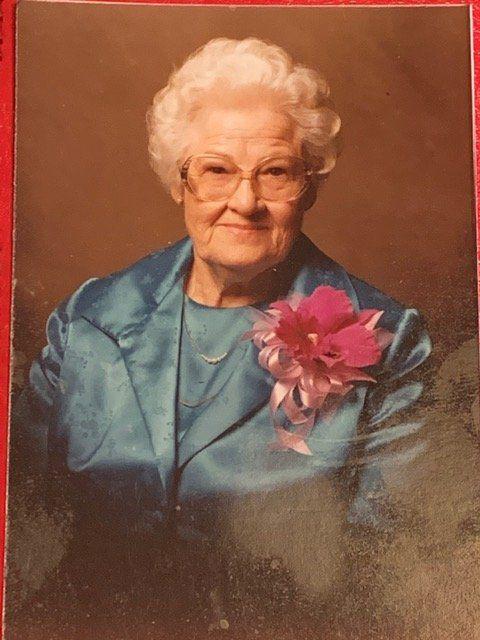 And when the 47-year-old looks at it, she remembers her sweet, soft-spoken seamstress Grandma Doris, who died in 1998. She thinks of her mother, Mary Ellen, who might have tossed the gift but kept it for years in hopes she could find a way of giving her daughter what her own mother had started. And Kelly, of course, thinks of Sarah, who said "yes" to the project back in April and then spent every spare minute on it so Kelly could finally have it in time for the holidays.
"It's breathtaking. It's absolutely breathtaking," said Kelly, who lives in the Denver area. "Just to know the amount of work that was put into it. And the amount of love."
Christmas gifts come in all shapes and sizes. They can be practical, things we need. They can be extravagant, things we want. Christmas gifts, whether machine- or handmade, are supposed to reflect the human desire to give and to receive, and gifts aren't always things. Christmas gifts can capture that which you can't wrap, like time or love or dedication.
Kelly's Christmas gift is all of that.
It is a thing — a tablecloth, a Christmas tablecloth. It is a rectangle of white cotton fabric measuring 52 by 70 inches and decorated with embroidered poinsettias. It is a decoration that Kelly, the youngest of Doris Tritsch's five grandchildren, finally gets to have for her Christmas table. Doris hand-stitched four Christmas tablecloths for her older grandchildren, but died in 1998 before she could get to Kelly's.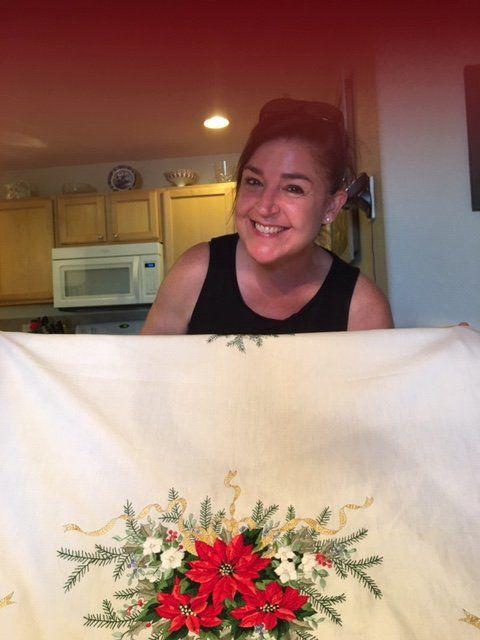 Doris was a beloved grandma with a soft-spoken, kind nature and an inner strength. She raised five daughters, including one with special needs, after her husband died when he was in his young 50s. She endured the loss of a child; daughter Nancy Ahmed, who started Souq Ltd. in the Old Market, died in a car crash. Doris loved her grandchildren and used her ability to sew and create, always with someone else in mind.
Doris made all the curtains and drapes in the old Lutheran Hospital in Omaha. She made quilts and dish towels, teaching mentally challenged daughter Carol how to hold a needle and do it, too. For all her grandchildren, she made Christmas tablecloths. She bought kits and did painstaking, careful embroidery work for all but Kelly's tablecloth. Doris died of aggressive lung cancer when she was 85 before she could get to it.
The tablecloth also represents an almost lost art form. And it requires incredible patience, to embroider 15 colors of thread — four reds alone for the petals — and five kinds of stitches.
Kelly's Aunt Phyllis took the tablecloth for a few years and completed one corner, handing it back to Mary Ellen saying she wasn't going to get this done in her lifetime.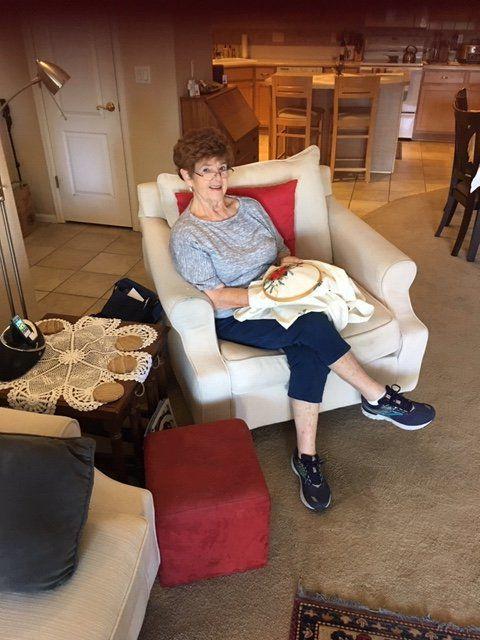 Mary Ellen called a friend in an embroidery guild, took down careful instructions and gave it an hour, completing an area "less than the size of a dime" before calling it quits. After pricing what it would cost to hire out the work, she stuck the tablecloth in the closet.
But it nagged at her. Now 80, Mary Ellen saw her late mother's project as her responsibility. But what to do?
This past spring, when back in Omaha for a funeral, Mary Ellen told family members about it. One of them, the 34-year-old wife of her great-nephew, piped up. Sarah Wynn happened to be a two-time Nebraska State Fair embroidery first-place ribbon holder.
"Wait a minute. You embroider?" Mary Ellen said.
Oh, Sarah embroiders. And knits. And crochets. And cross-stitches. And macramés. And takes photographs and draws. Sarah's mind is a creative one, and when it comes to thread or yarn, "something clicks in my brain," she said.
Needlework is meditative for Sarah. It focuses her mind. It gives her deep satisfaction at being busy and productive. Plus, she can indulge in true-crime podcasts, guilt-free. When her toddler naps or after bedtime, Sarah pops in earbuds and gets to work.
So she said "yes" to this, but, after flipping through "basically a novel of instructions," wondered what she'd gotten herself into.
"In my mind, it was going to be an easy little thing, you know," she said. "Then I told (Mary Ellen) I will do my best. We'll see how far I get."
Like any project that seems daunting, the tablecloth was involved but not impossible. Sarah spent about four to five hours a day on it and finished the tablecloth in a couple of months.
It was the biggest project she had taken on. She found herself both eager to finish it and panicked at the thought of what to do after it was done. Embroidery requires such focus that "I can't think about all my problems," she said.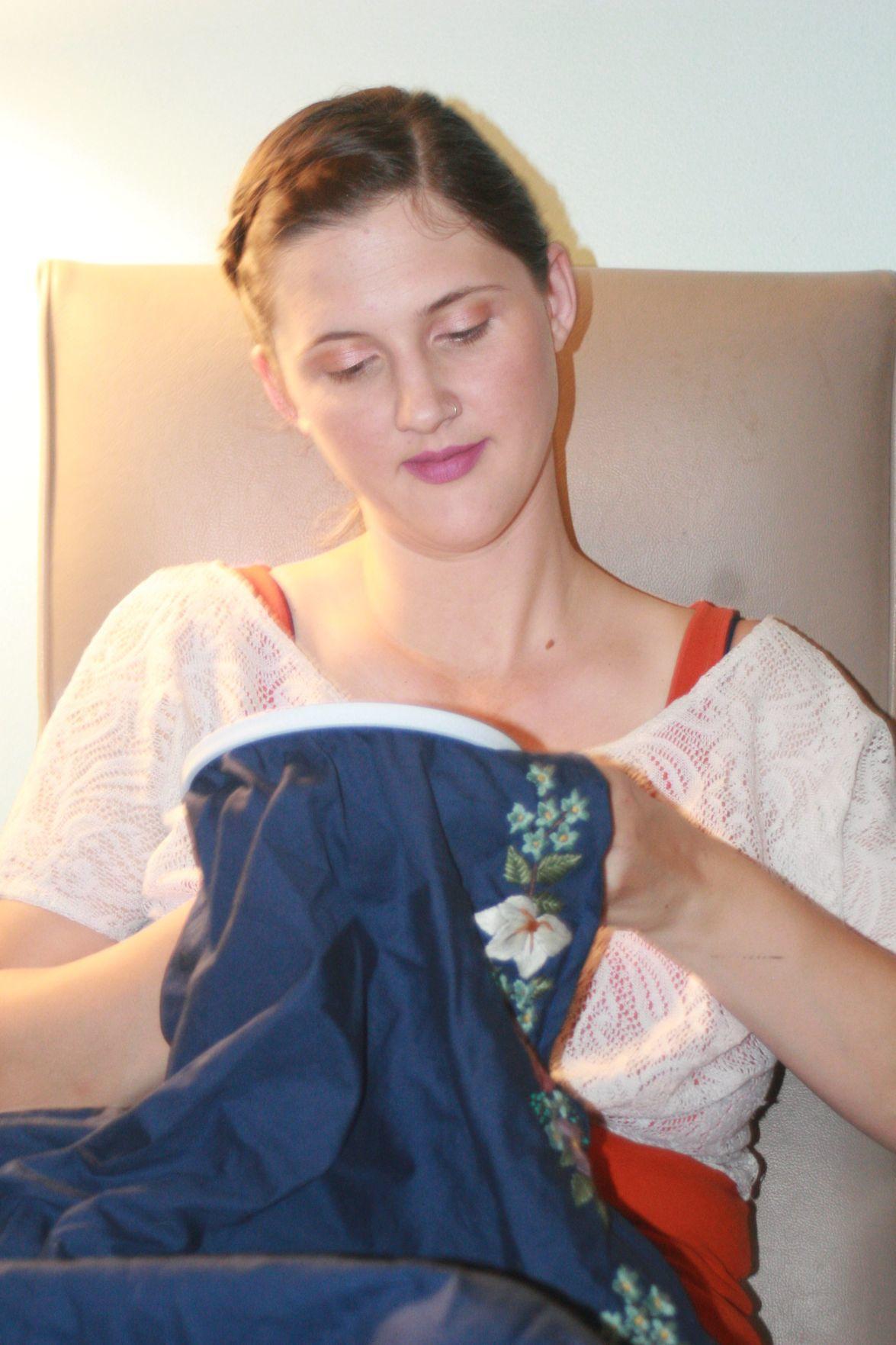 Embroidering this tablecloth also put her in touch with her husband's late "Grammie." Doris was great-grandmother to Matt Wynn, a former World-Herald reporter.
"Matt always talks so fondly of his Grammie, has all these beautiful stories about her," Sarah said. "I never met her. When I did that tablecloth, as I was doing it, I felt like I got to know her a little bit. I felt close to her."
She said that while stitching, Matt sometimes chuckled and said he saw his Grammie in Sarah, which was touching for her.
So the process of this incredible labor involved a lot of love. Love of a woman she never met. Love of her husband. Love of her husband's great-aunt.
"I was just really happy to make her happy," Sarah said. "It brought me joy to give her joy."
Sarah figured she clocked 400 hours on the project, and when it was done, she said she felt lost.
"I kept going to pick it up to work on, but it wasn't there," she said. "It was like losing a dear friend. That was the most work I'd ever put into any one project, ever."
She gave the tablecloth to Mary Ellen in August. Mary Ellen gave the tablecloth to Kelly over Thanksgiving.
Kelly was born and raised in Omaha. She graduated from Westside High School and Nebraska Wesleyan University in Lincoln. She worked at First Data, then moved to Chicago and now works in Denver, where her sister and parents now live. She has that tablecloth on her dining room table for decoration and display; she won't dare serve food on it.
This Christmas gift might have arrived late, but it came.
It came because of patience. It came because of skill. It came, most of all, because of love.
And someday, Kelly will give this gift back to Sarah for her children so that they can be connected, as she is, to family.
---
Photos: Durham Museum's Christmas at Union Station over the years