Woven into Kyle Korver's Creighton University commencement speech Saturday: encouragement, humor and a lesson on privilege.
The Creighton alumnus and longtime NBA player said last week that he was surprised when Athletic Director Bruce Rasmussen asked him to replace Bob Kerrey as commencement speaker.
After congratulating graduates, Korver joked about discussing the speech with the Rev. Daniel Hendrickson, Creighton's president, despite the date potentially conflicting with the NBA's Western Conference finals.
"You know what he said?" Korver said. " 'Yeah, you know, we looked at that. Um, it appears you have Houston for the first round.' ... Then he said, 'I'm OK with penciling you in if you're OK with it.' "
Korver's team, the Utah Jazz, was eliminated by the Houston Rockets four games to one in the first round of the playoffs.
Sign up for World-Herald news alerts
Be the first to know when news happens. Get the latest breaking headlines sent straight to your inbox.
Korver later referenced his own time at Creighton and noted that former Creighton star and current Indiana Pacers player Doug McDermott had surpassed Korver's school records.
"Nothing stays the same," Korver said. "Some guy named Doug McDermott swooped in and wiped them out. But don't worry, I'm over it, I swear. Except for the next time I guard you, Doug."
In a recent interview with The World-Herald, Korver was asked whether an article he wrote last month on white privilege and racism had anything to do with the invitation to speak. Korver said there "might have been a connection."
That connection became more evident when, after receiving an honorary doctor of humane letters degree, Korver was introduced by Eileen C. Burke-Sullivan, Creighton's vice provost for university mission and ministry. She said Korver is a professional athlete who uses his position to "speak out on issues of social justice."
"I don't want to just talk about basketball today, because basketball is what I do for a living, but it's not how I define my life," Korver said in his speech. "I reject the idea that athletes should 'stick to sports,' or 'stay in their lane,' or 'shut up and dribble.' "
Korver spoke about a time early in his career when he realized there was something "missing from the dream he was chasing."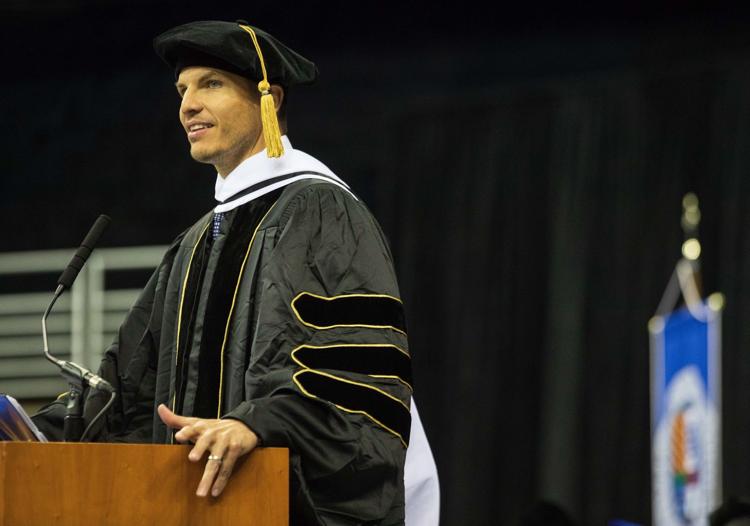 He referenced a quote from historian Howard Zinn: "You can't be neutral on a moving train."
"Here's what I think he meant: Like a train, life is happening, history is happening right now, whether we choose to take part in it or not," Korver said. "There is a world out there that is changing for good or for bad right now, whether we take part in it or not."
Korver, who addressed a second group of grads in an afternoon ceremony, also spoke about the challenges of trying to be neutral in the face of inequality.
"In the real world, there is no neutral," Korver said. "Saying, 'I don't know where I stand,' or 'That doesn't really affect me' ... that isn't being neutral, that's a privilege."
The NBA star ended the Creighton University commencement speech with this:
"Class of 2019, my hope for you is that you can find purpose in your work, in your relationships, in your adventures in life, but I also hope that you can find meaning in how to engage with the world outside of yourself. We're all on the train, and we can decide where it goes. ...
"Lastly, remember, don't shoot it to shoot it, shoot it to make it."
Sign up for World-Herald news alerts
Be the first to know when news happens. Get the latest breaking headlines sent straight to your inbox.