Former Creighton forward Martin Krampelj can't pick just one experience to label as the best highlight of his first true introduction to professional basketball.
Maybe it was the trip to the Los Angeles Lakers' practice facility, where you can stand on the court and look up at the franchise's NBA championship trophies lining the ledge of a window positioned right above you. Or perhaps it was working out for the Indiana Pacers — he drilled a jumper right in front of Larry Bird. There was the time when Krampelj got to chat about hoops with Jerry West for 30 minutes.
What was most memorable? Krampelj's not sure. But he knows this: He's had a blast.
But now he has to figure out what's next.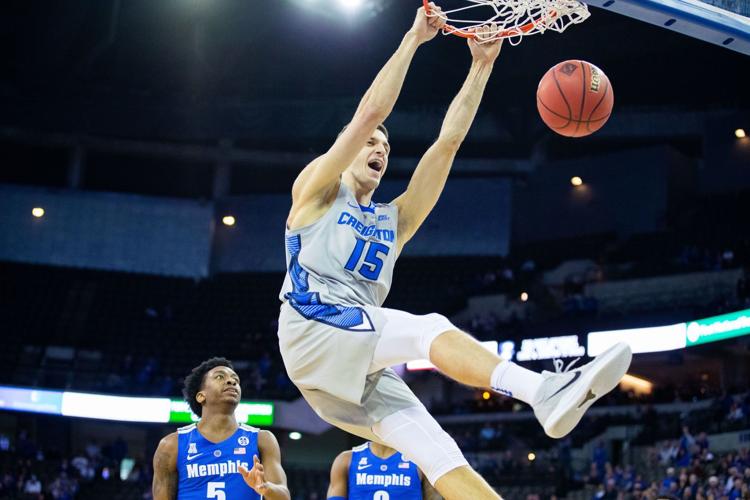 Krampelj, as expected, was not one of the 60 NBA draft picks Thursday night. He decided in May to remain in the draft and forgo his senior season — and he made the decision with the realistic expectation that he likely wouldn't get selected. So he's not discouraged.
But the 6-foot-9 forward would like to now earn a roster spot on an NBA franchise's summer league team. That'll be the primary objective over the next several days.
After that, who knows? He's not thinking too far ahead. He'll train at a facility in Arizona for now.
He's ready to see what new experience awaits him.
"I'll keep grinding, keep proving myself," Krampelj said. "I've fallen a couple times with all those injuries. It's just a matter of getting back up, getting better and just doing what I do."
Krampelj chatted with local reporters Friday about the whole pre-draft process. Here are a few of his thoughts:
Sign up for World-Herald daily sports updates
Get the headlines from Creighton, Nebraska, UNO, high schools and other area teams.
Q: What was watching this year's NBA draft like?
A: "It was interesting. I've always watched it. This time, it was just a little different, because my name was in the draft, too. No really big surprises. I wasn't really projected anywhere, so I'm just going to have to keep proving myself."
Q: Were you in contact with your agent about summer league or two-way deals?
A: "I don't think they were talking about that in particular (Thursday) night. He told me before the Pelicans traded their pick — 57 — then that little chance I had went away. But it was all good."
Q: How do you feel about what's next?
A: "I saw the picture of Goga Bitadze (at the draft) — the guy who was sitting next to Zion (Williamson). Draymond (Green) said put that on a frame, put it on a wall and grind it out. So that's what I've got to do, too."
Q: You worked out with six NBA teams these last four weeks. What did you show them?
A: "A lot of teams were surprised at my capability of shooting. I shot really well at those workouts. Creighton prepared me really well."
Q: How much interaction did you have with team executives? Did you get a chance to share your story?
A: "From the time you walk into the gym, they already know everything about you. It's kind of amazing. They even called my coach from back home (in Slovenia) that coached me before Creighton. He coached me for six years. They gave him a call and asked him about my family, about my attitude back then. They basically know everything about you before you get in, which is kind of amazing. They go through all your social media. They know everything."
Photos: Creighton vs. Memphis NIT basketball
Creighton Bluejays and the Memphis Tigers compete in the second round of the NIT basketball tournament at the CHI Health Center Omaha in Omaha, Nebraska, Friday, March 22, 2019.