During the first few moments of an easygoing pickup game Saturday, Doug McDermott sized up his defender about 25 feet from the hoop.
Suddenly, he rose up with a hand in his face, swished the 3-pointer and smiled.
Then McDermott let the guys know that he thought his arm got smacked on the way up.
Just a friendly reminder to the defense from the most prolific scorer in Creighton history: If he has space to elevate for a jumper, well, there isn't much you can do to keep the basketball from dropping through the net.
Not that anyone in the gym needed any refresher.
McDermott is an enduring presence in the Bluejays' practice facility — his name is on the players lounge, he's got a larger-than-life poster hanging on one wall and he's huddled with his 2013-14 teammates in a photo painted on another wall. And his induction into the school's Hall of Fame — along with Anthony Tolliver — was the reason all these current and former Jays laced up their sneakers Saturday morning.
To McDermott, it was just like old times.
He drove baseline and rattled the rim with a slam. He caught an offensive board and dunked with one hand. He buried catch-and-shoot triples. He touched his thumb and index finger together while raising the three other fingers on his right hand.
"It's just good to see everyone," he said. "I can't believe it's been six years."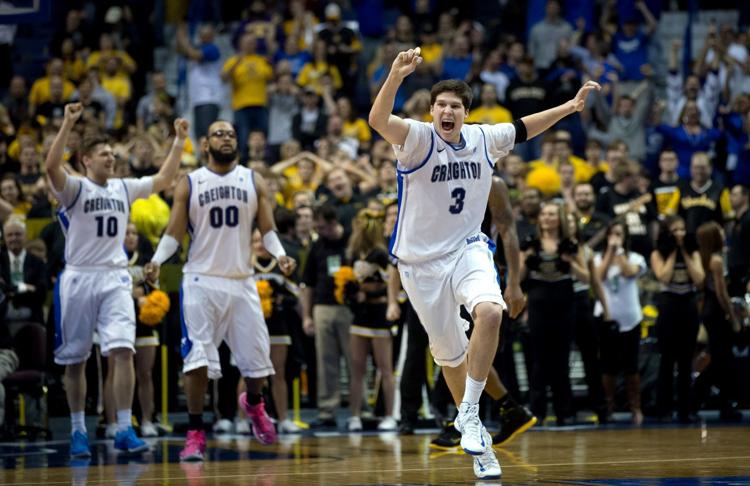 He can't believe it because one casual walk through campus can trigger a flood of memories, so many of them seemingly as vivid as events of the past few weeks.
He talked Saturday about the car ride from the hotel to campus back in 2010, when his dad, Greg, was about to be introduced as CU's coach. There were all those practices at the old gym. Epic games. Legendary shots.
"Creighton gave me and my family so much, and I really appreciate everything everyone's done here for me," McDermott told reporters Saturday as his dad listened from the other side of the room. "It's just good to be back."
The weekend culminated Saturday night, when McDermott and Tolliver were officially honored during a dinner in a downtown hotel's ballroom.
But McDermott and Tolliver were cherishing the nostalgia well before that.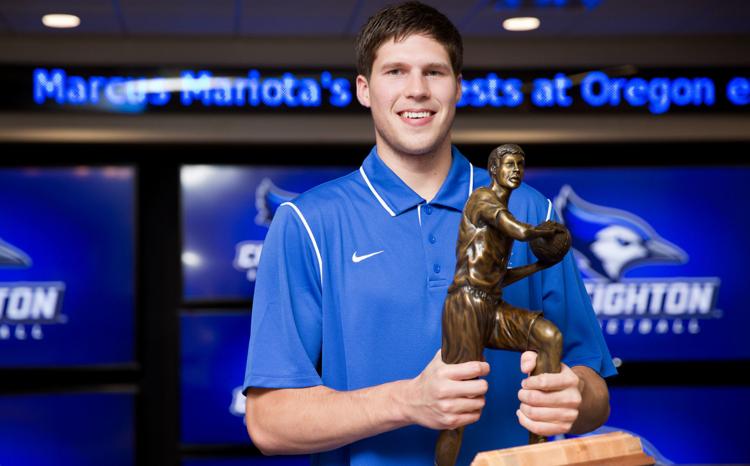 Tolliver said he brought his whole family into town to celebrate. His old college coach, Dana Altman (who's now at Oregon), flew in for the event. McDermott got together with former teammates Friday night. The athletic department hosted a luncheon for the entire group Saturday.
And, of course, there was the pickup game.
Fittingly, Tolliver had mentioned a few minutes before suiting up that he used to watch Creighton games on TV during McDermott's career, and wonder what it'd be like to play with the guy who now sits sixth all-time in career points in NCAA history.
"I would have got a lot more open shots," said Tolliver, whose CU career ended in 2007. "It's special to see someone just absolutely dominate."
Tolliver buried a clean look Saturday, thanks to a McDermott screen. McDermott shouted with approval.
He did that often Saturday, appearing to truly relish an experience that briefly transported him back in time. Wearing a black T-shirt with a Bluejay logo, McDermott hollered as former teammate Taylor Stormberg got hot from distance, and as ex-Jays point guard Ryan Sears tried to stealthily intercept inbounds passes, and as current CU playmaker Ty-Shon Alexander began unveiling his full scoring arsenal.
For a few stretches, McDermott sat back on the sideline and soaked it all in.
He'll soon be back in Indiana, working out with the Pacers as they prepare for another NBA campaign. He's entering his sixth season in a professional career that he admitted has seemed to zoom by even more swiftly than his college days did. But that's the job.
As Tolliver said, what you experience in college simply is different, and it sticks with you.
Sign up for World-Herald daily sports updates
Get the headlines from Creighton, Nebraska, UNO, high schools and other area teams.
"So many things that happened here in four years that literally changed the trajectory of my life," Tolliver said.
McDermott can relate. Which is why the weekend meant so much to him.
"Just the way this community's embraced me and my family," he said. "The relationships we've made with so many people across the community, and how well everyone treats us. It's an unbelievable community. … This will always be home."
Photos: Leading scorers for Creighton men's basketball since 2000
Who has paced the Creighton offense over the last several years? Find out in our gallery of the Jays' top scorers since 2000.