CORVALLIS, Ore. — Creighton, feeding off the momentum of its comeback a night earlier, built a 4-1 lead against Michigan in the NCAA Corvallis Regional final on Monday night.
But it didn't last as the Wolverines rallied by scoring five times in the fourth, four runs in the sixth and six more in the seventh for a 17-6 victory, denying the Jays their first regional title since 1991.
"It's not what we envisioned would happen today, but congratulations to Michigan," CU coach Ed Servais said. "They played very well and kept us off balance. It's hard to imagine that we actually had a 4-1 lead at one time."
Senior Jack Strunc homered twice and knocked in three runs and Will Robertson also homered, but it wasn't enough to overcome the seven combined hits, seven runs and five RBI by Michigan's Jesse Franklin and Jordan Brewer.
"It felt good (to hit the homers), but at the end of the day it doesn't mean anything," Strunc said. "When your team is down a bunch of runs, I was trying to do anything I could to help the team. I had a defensive mistake in the field that cost us a few runs so that's what I'll probably think of most."
The Bluejays scuffled to find an effective pitcher, even though Mitch Ragan started well on two days' rest. In all, the Jays employed eight pitchers and many of them struggled to consistently throw strikes. They combined for eight walks and two hit batsmen.
"I was pretty pleased with how we played initially, but I knew that eventually our pitching would probably wear down, and that's what happened," Servais said.
Creighton (41-13) competed in its first regional final since 2012 and compiled the fourth-most victories in a season in program history. Michigan advanced to the super regionals to play national No. 1 seed UCLA.
"We did a lot of great things this year and I know they aren't going to think about that too much today," Servais said. "Hopefully, in a couple days when the players settle down they'll realize they accomplished a lot of good things this year."
The Bluejays used the launching pad in right field to trigger the scoring. In the second inning, Robertson took his turn depositing a home run over the right-field fence 330 feet away. Brewer, making his first start in right field since the middle of the Big Ten Tournament, tried to deke Robertson into thinking it was playable, but it soared beyond the bleachers to give CU a 1-0 lead.
Creighton's fourth homer in three games came off freshman left-hander Walker Cleveland, making his third start of the season.
The Bluejays kept the pressure on in the third inning as Parker Upton launched a triple to right-center field, scoring Isaac Collins for a 2-0 lead. But the Bluejays left Upton on third as sophomore reliever Blake Beers came in to take care of inning's final two outs.
Ragan was the losing pitcher in CU's 6-0 regional-opening loss to the Wolverines on Friday but assumed the starting role on Monday.
Following the defeat on Friday, Ragan was visibly upset with himself for giving up three homers to the Wolverines and for allowing them to sit on his fastball.
He was in a groove until two outs in the third when catcher David Vilches couldn't come up with a third strike to Brewer, putting runners on first and second. Thereafter, Ragan couldn't find the strike zone, walking the next two batter to bring in the Wolverines' first run.
That short spate of wildness ended Ragan's outing. Evan Johnson, who defeated Oregon State on Saturday, was called upon to halt the rally. That he did, striking out Christan Bullock after trailing in the count 3-1 at one point.
Creighton restored its two-run lead, 3-1, when Strunc homered to left to open the fourth. The rally continued with Jordan Hovey doubling to center and scoring for a 4-1 edge on Vilches' base hit to center.
Johnson, however, only lasted two hitters into the fourth, walking Jack Blomgren and Joe Donovan. Lockdown reliever John Sakowski, who pitched 3 2/3 scoreless innings on Saturday, took his turn on the mound next. After a fielder's choice, Sakowski hit Jordan Nwogu and gave up a two-run double to Franklin, pulling the Wolverines within 4-3.
Brewer, who didn't start the first three games of the regional because of a turf-toe injury, put the Wolverines on top with a two-RBI base hit to left. A groundout by Blake Nelson brought in Michigan's fifth run of the inning.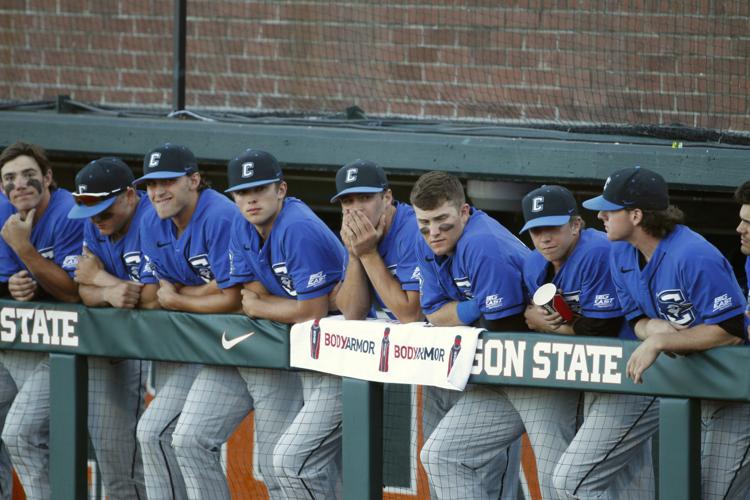 It looked as if Creighton would retake the lead in the fifth when relievers Blake Beers and Angelo Smith flailed with the strike zone. They filled the bases for Isaiah Paige, who gave the Wolverines a huge lift by escaping the jam without allowing a run.
Donovan, who pounded out a pair of doubles on Sunday, crushed a Sakowski pitch to left to increase Michigan's lead to 7-4 in the fifth.
Michigan's lead swelled to 9-4 in the sixth when regional MVP Jimmy Kerr stroked a single to right that scored Franklin and Brewer. The Wolverines scored two runs on a Blomgren bunt to cap that inning and plated six more runs in the seventh on just three hits.
"I've never been more proud of our team and how we fought and how we took a punch last night that many teams wouldn't have recovered from," said Michigan coach Erik Bakich. "Our kids are tough. They never stopped believing. They never stopped fighting. We were going to do whatever it took today to come out on top. They showed that with just an offensive outburst all game long, scoring in different ways."
But the Jays kept battling, just like they did on Sunday night.
"It's tough, but I was just encouraging our younger teammates to keep fighting and respect the game," said Strunc, who knocked in the regional's final run with a base hit in the eighth. "That's definitely how I will remember this team, always in the fight no matter what. We're a really close team and we're thankful to be here."