CORVALLIS, Ore. — It was an opportunity to showcase the Creighton baseball program to the rest of the country and not let one performance against Michigan determine college baseball's perception of the Bluejays.
Using the defending national champion Oregon State Beavers and their home field at Goss Stadium as the catapult to greater fame and notoriety, the Bluejays seized that opportunity Saturday, eliminating Oregon State 4-1 in the NCAA tournament.
"This was an opportunity to play the defending national champions on their field with a lot of eyeballs on it. We don't get that kind of chance very often," Creighton coach Ed Servais said. "Congratulations to our players for coming back from a tough situation on Friday. They were able to bounce back."
Creighton (39-12) handed the Beavers their second loss in as many days to stay alive in the double-elimination tournament. The Bluejays need three more victories to win the regional and advance to super regionals. They will meet either Michigan or Cincinnati at 2 p.m. Sunday.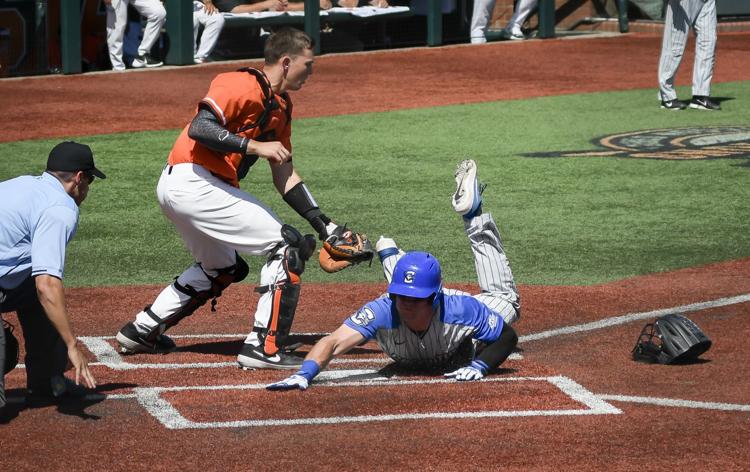 "I'm really impressed with how our team responded. They came out and showed how we played a majority of the season," Servais said.
Evan Johnson (9-2) couldn't have asked for a bigger assignment near the end of his senior year at Creighton. With the Bluejays' season on the line, the right-hander provided the Bluejays with a crucial performance and the victory.
Johnson limited the desperate Beavers to one run into the sixth inning, and junior John Sakowski and his sidearm delivery took care of the rest. Sakowski worked 32⁄3 scoreless innings as the Bluejays earned their first win against Oregon State in four tries.
"We thought the most important thing was whoever came in after Evan had to throw strikes," Servais said. "I thought they would need some walks or an error and didn't think they would bunch hits together against John. He's hot right now. He's had a lot of really effective games of late. He was going to throw strikes and it was going to take a lot of hits to get back in the game."
Sakowski negotiated what could have been a tumultuous ninth inning when Creighton committed its first error on a potential game-ending double play. But with the tying run at the plate, Creighton's middle infield, given a second chance, turned the double play to end the game.
Isaac Collins sparked the offense with a homer in the third, ending the team's 11-inning tournament scoring drought. That triggered a three-run rally, which included an RBI single by Jack Strunc.
"We just wanted to go out there and play hard one through nine," Collins said. "Everyone put their best on the line today, and that's what we needed."
Creighton benefited from three Oregon State errors, leading to two of its runs.
Sign up for World-Herald daily sports updates
Get the headlines from Creighton, Nebraska, UNO, high schools and other area teams.
"Shoot, that's usually not the way we play defense," Oregon State senior first baseman Zac Taylor said. "There were some miscues and misread balls that we usually catch."
Johnson faced an early test when projected No. 1 draft pick Adley Rutschman came up with a runner aboard in the first inning. Johnson struck out Rutschman and induced a pop-up with two runners on base, keeping the Beavers off the board.
That momentum led to 1-2-3 innings for Johnson in the second and third. But the fourth and fifth innings were anything but smooth for the 5-foot-11 Johnson.
The Beavers loaded the bases with one out in the fourth, but Johnson limited the damage to a sacrifice fly by Andy Armstrong.
Johnson kept the score at 3-1 in the fifth when the Beavers rallied with two outs. Following Alex McGarry's single and an intentional walk to Rutschman, Will Robertson made a leaping grab of Beau Philip's drive to the right-field fence.
In the sixth, Johnson was pulled after walking Taylor and recording the first out on George Mendazona's sacrifice bunt. Sakowski took over and ended that threat, but not without a spectacular grab at the fence by left fielder Parker Upton that took away extra bases from Joe Casey.
Like they did in their loss to Michigan on Friday, the Bluejays put runners on base consistently but couldn't deliver the key hit to score multiple runs. There were runners on first and second in the first when Oregon State starter Grant Gambrell retired Strunc on a pop-up to short. Then in the second, Jason Allbery stroked a two-out single to left but was stranded when Will Hanafan grounded out to first.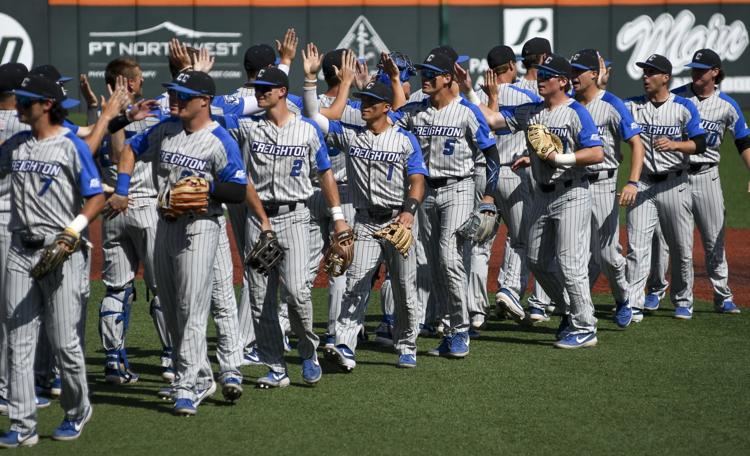 The Bluejays finally scored in the third when Collins deposited a Gambrell pitch over the right-field fence for a 1-0 lead. The long-awaited run brought the Bluejays' offense to life. With one out, Jake Holton singled to left and Robertson was hit by a pitch.
Rutschman then made a rare error by throwing his pickoff attempt into right field. Holton took third on the miscue and scored on Strunc's single to center. Robertson also came around to score when Beavers center fielder Tyler McMahan couldn't come up with a shallow fly ball on the bounce.
"That was huge. Yesterday we just had a hard time scoring runs," Collins said. "We just needed something to be on the board, and it was huge that we got two runs afterward, too, getting out to a 3-0 lead at this place."
Gambrell escaped further trouble as the Bluejays stranded two runners, bringing their total to five through three innings. They finished with nine.
Collins, Strunc and Upton led the Bluejays' nine-hit attack with two hits apiece.
Oregon State, which had qualified for the College World Series the past two years, finishes its season at 36-20-1.
Corvallis Regional
Sunday: Creighton (39-12) vs. UM-Cinncinnati loser, 2 p.m. Championship: UM-Cinncinnati winner vs. TBD, 8 p.m.
Second championship, if needed, 9 p.m. Monday