I finally found a pothole that I want to hit.
The best April Fools' jokes are the ones that last until April 24.
It was about a month ago when the marketing team with the Omaha Storm Chasers was kicking around ideas on how to punk the world on social media on April 1. Social media allow the wacky and colorful side of Triple-A baseball to flow freely, and few do it better than the Chasers.
Last year the Chasers were the Omaha Runzas for one game. For five games this season, Omaha's minor league team will become the Omaha Sizzle, with a grilled-steak logo.
Why not also be the Omaha Potholes — as an April Fools' prank?
"We ran it by Martie (Cordaro, Chasers president and general manager)," said Andrew Green, director of media operations. "He said, 'That's pretty funny. Let's do it.'"
That is, send it out on Twitter. Tell the world the team will be the Potholes and show images of a ball cap and a shirt with a car falling into a giant pothole. Great gag, right?
Sign up for World-Herald daily sports updates
Get the headlines from Creighton, Nebraska, UNO, high schools and other area teams.
Most of the world got it. But then national sports business writer Darren Rovell retweeted to his followers that this was actually going to happen.
A good joke just became great. Green said Rovell buying in to it helped circulate the Omaha Potholes tweet to where it got "2 million impressions" on Twitter and more than 100,000 on Facebook.
There was only one thing left to do.
"You know, it's been a tough winter, so let's have some fun," Green said. "It was just a joke. Then the response came and we got together and said, should we do this? Can we do this?"
They should. They can. And they will. On April 24, an April Fools' joke will come to life, as the Chasers will play as the Potholes. Green says it's too soon for the team to wear the actual hats or uniforms. But fans will be able to buy hats or shirts with the giant pothole on front. Never has a pothole been so popular.
"We're close to 500 sold," Green said. "It's awesome."
Absolutely awesome. Twenty percent of the proceeds will go to repairing baseball and softball fields in the area damaged by recent flooding.
This hat will sit proudly next to the hat with the Runza and the hat with the steak on front. The Storm Chasers were national champs on the field a few years ago. Today they sit atop the baseball world in social media and fun ideas.
"Martie has talked about how last year we were focused on the anniversary and baseball," Green said. "So this is kind of a counter to that, to the other side of that, which is the wacky side of minor league baseball."
Baseball's back tonight at Werner Park, along with all the trimmings. Hallelujah. It truly has been a long winter.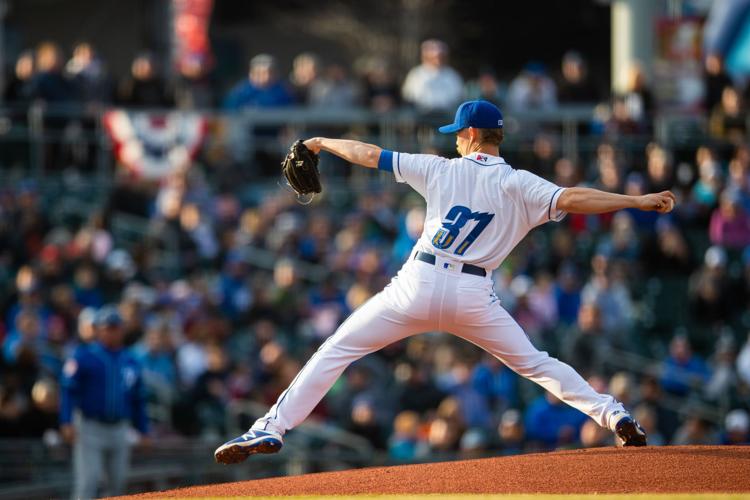 » Omaha will have to do with one less attraction tonight: Clayton Kershaw will throw his second minor league outing in Double-A Tulsa rather than with Oklahoma City in Omaha. Now that would have been some sizzle.
» The Nebraska running back position remains an unsettled place this final week of spring practice. Maurice Washington's status for Saturday's spring game won't be known until later this week, perhaps after Washington's scheduled court date in California on Wednesday afternoon. Meanwhile, walk-on Moses Bryant is moving from defensive back to running back, the position where he excelled at Elkhorn South High. Bryant could be a good fit in Scott Frost's offense.
» Frost's staff continues to blaze trails. On Monday, running back coach Ryan Held did his post-game interviews while holding his 5-month-old son, Jacob. That's a first for me, and certainly no complaints. The little guy held up like a champ and didn't make a peep, despite the constant bright camera lights shining on him.
Sign up for Big Red Today news alerts
Get a daily Husker news roundup, recruiting updates and breaking news in your inbox.
» Sometimes a spring game is more than just an opportunity to watch football in April. It's also a way to help. At Saturday's Red-White game, members of the Red Cross, Nebraska Athletics, N Club and student-athletes will be around Memorial Stadium collecting donations toward Nebraska/Iowa flood relief. So 90,000 at a spring game can be a whole new definition of Nebraska strong.
» One of the more intriguing things about Bill Moos is how a guy who came from Washington State is changing Nebraska. Wazzu is a place low on facilities and money and tradition, a place where you hire quirky coaches to try to get attention. Placing Moos in a place like Nebraska, where there are piles of tradition and expectations and cash, is almost like the movie "Trading Places."
"I came from places that were challenged in terms of resources and any sort of tradition and legacy and all that," Moos said. "You come here and it's here. You just got to realize it. It takes someone who has had to do all of those things to appreciate what you have here."
» Kyle Korver, I thought I knew you. He's still classy and thoughtful but the former Creighton star showed an incredible depth in his op-ed piece in The Players Tribune entitled "Privileged." It's recommended reading on the evolution of a small-town kid's take on race relations and sports and where we all fit in. I won't provide any spoilers here. Please read.
» How quickly can Fred Hoiberg flip the Nebraska basketball roster? How many transfers will be eligible to play next season? It's going to be interesting off-season in Lincoln.
» One more and I'm outta here: Tiger Woods beats Rory McIlroy and Justin Rose in a playoff at a Masters for the ages.
Photos: Every Nebraska football spring game since 2000
Check out photos from every Nebraska football spring game since 2000.