IOWA CITY — The image that will trudge into the cold winter ahead, spend early mornings in the weight room and last into the spring and summer started with a kick in the rain.
It will include an army of black Iowa jerseys storming the field and running to both end zones, a rush of adrenaline and celebration as Miguel Recinos' 41-yard field goal was good at the buzzer.
And a prideful group in white and red, standing, stunned.
One more heartbreak, for the road.
Sign up for Big Red Today news alerts
Get a daily Husker news roundup, recruiting updates and breaking news in your inbox.
No pain, no gain. But Scott Frost's first season will be remembered for plenty of both. In some ways a 4-8 year came full circle, beginning in the rain and ending there, on a cold, damp, near-perfect day for football. A near-perfect ending for Nebraska.
The perfect walkoff, of course, would have been the Huskers pulling victory through the rain at Kinnick Stadium. That would have meant a 5-1 finish and all sorts of good vibes to offset a no-bowl month.
But this could be more useful to the Big Red — if they use it.
They were on the verge of getting run out of the stadium and stood their ground. They made some plays. They took a gamble. Came back from down 15 to tie.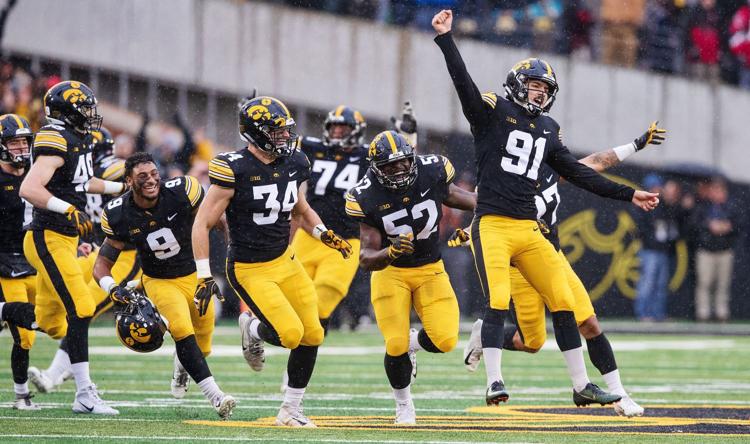 They were a play or two short. Again. But they proved their point: Nebraska is nobody's pushover anymore.
That seemed to be the theme this season. But that won't be good enough in 2019.
The good news was, it didn't look like there was any satisfaction walking out of the Nebraska locker room on a rainy Black Friday.
They should be upset. They had every chance to take this one.
Iowa coach Kirk Ferentz could have stomped on them in the third quarter. Instead, he let Nebraska back in. Gave the Huskers a reprieve.
The Hawkeyes had their way most of the day with Nebraska's defensive front line. They had begun the second half with an eight-play, 56-yard touchdown drive to extend their lead to 28-13. They used running back Mekhi Sargent as a sledgehammer, following his line's big push, and slamming into the Huskers like ocean waves.
Poor field position and a punt set the Hawkeyes up at the Huskers' 41, and Iowa was pounding on the door again, this time at the NU 3, and looking to break the thing open.
Then, curiously, on third-and-2, Iowa attempted a pass. Incomplete.
On fourth-and-2, things got curiouser. Iowa faked a field goal that would have made it 31-13. Linebacker Luke Gifford stopped the play short.
The call made sense on this level: Iowa coach Kirk Ferentz was looking to drop the hammer. He's buried the Huskers the last two years. Might as well show Frost the same sheriff runs this town.
"We came in thinking aggressive," Ferentz said. "Maybe we got greedy, but we were playing to win."
Ferentz was playing to demoralize. But then it almost backfired.
Four plays later, Frost threw his own caution to the wind, ordering a fake punt on his own 3-yard line. The way Frost figured it, the way Iowa was rolling on offense, a punt and a short field for the Hawkeyes would have meant "ballgame."
These kinds of calls and gambles add to a series like this, give it flavor and history. Then freshman quarterback Adrian Martinez added his special ingredients.
The Kid directed two of the biggest drives of the season — touchdown marches of 98 and 80 yards. The latter one included a 2-point conversion in which the play broke down and Martinez scrambled and did Martinez things — threading a pass to Kade Warner in the back of the end zone.
By that time, the Kinnick crowd knew there would be no boat race this time. They saw firsthand the strides that Frost's Huskers had made this season.
Here's what Nebraska did: That offense motivated the conservative Ferentz to go for a fourth-and-8 on the NU 37 rather than punt and play for overtime at home — or give Martinez a shot to go down and beat him, even with less than 30 seconds left.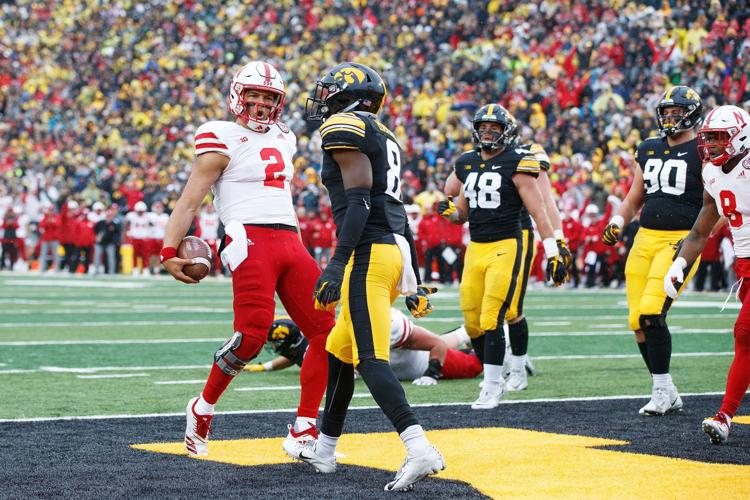 There's a lot to take away from this season for Nebraska, intangible stuff you can't put in a trophy case. Fans of both schools walked out of here breathless, having witnessed a riveting college football game. And in many ways, these are the games that Husker fans hunger to be part of again.
But what the Big Red didn't take away Friday was a victory. Maybe at some point earlier this season, that effort would have been good enough. It seemed good enough when they pushed Ohio State to the brink.
It's not good enough anymore.
"Our locker room is disappointed but very prideful," Frost said. "I have some fighters in there and we need fighters. They're getting towards the point where they expect to win and hate to lose."
This was the final — and most painful — lesson of 2018. How much they learned, we'll find out next season.
Photos: Nebraska closes 2018 season against Iowa
Scott Frost and Nebraska travel to Iowa to face the Hawkeyes.