This is the third in a three-part series analyzing what this single non-fatal shooting — an event that happened 100 times last year in Omaha — says about larger issues confronting the city. For more on why we're writing, read the story behind the story, here.
* * *
Fifteen adolescents crowd around a gurney inside the Nebraska Medical Center ER.
The trauma surgeon holds up a picture of the deceased.
"This is Roberto Gonzalez. He grew up a lot like you guys," Dr. Charity Evans tells them, and the youths crane their necks to see the framed photograph of Roberto. They don't know this man who died at age 20, after being shot on a street corner in South Omaha. Two men, ages 19 and 20, were convicted in his murder.
But there is something about the tilt of his Chicago Bulls ball cap, the casual way he's looking at his iPhone that makes Roberto so familiar, an Everyman in the sad tale of Omaha shootings.
Dr. Evans then seeks a volunteer to lie on the gurney as she tells more of Roberto's story — like how he liked dinosaurs, how he went to South High and how he went down the wrong road.
She introduces the group to terms like "Trauma Bay 3" and tools like a rib-spreader, an F-shaped piece of metal that was used in an unsuccessful attempt to save Roberto's life. She holds up a 1-liter bottle and says Roberto "lost four of these," almost his entire blood volume.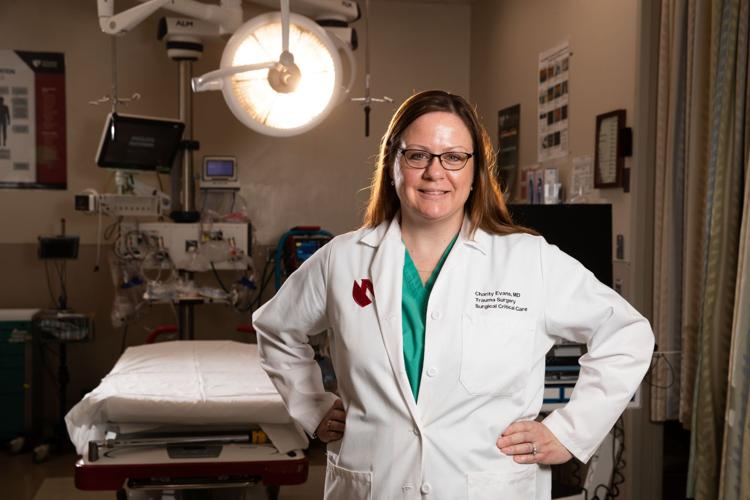 She walks them through the waste of human life: Roberto on a street corner. A bullet to the heart. An ambulance ride to the med center. A pronouncement of death after 11 minutes. A devastated mother and sister.
"We did all we could do to save his life," she tells them. "He died with no one around. Just us."
Welcome to Dusk to Dawn. It's a 2½-hour anti-violence program that's one part scare-'em-straight, one part Anger Management 101 and one part parental plea. The presentation winds up with Roberto's own mother describing what it's like to lose a son to gun violence.
"You guys are here. You guys are alive," Raquel Salinas tells this group from north Omaha's Hope Center. Their ages range from 11 to 15. They are practically children, but Raquel, the mother, and Charity, the doctor, know that the clock begins ticking long before youths reach Roberto's age.
"The choice," Raquel says to them, "is yours to make."
* * *
How does a city stop the bullets?
It's a question that has vexed Omaha policymakers, community leaders and those most in proximity to gun violence.
A dozen years ago, Nebraska had one of the highest black homicide rates in the nation, driven largely by violence in Omaha. Last year, the city's homicide rate fell dramatically to a nearly 30-year low. That seems to indicate that efforts to tackle the issue have found some success.
This year appears on track to be even better: Five gun-related homicides through May compared to nine during the same period last year. Nonfatal shooting victims total 24 through May. The same period last year there were 42.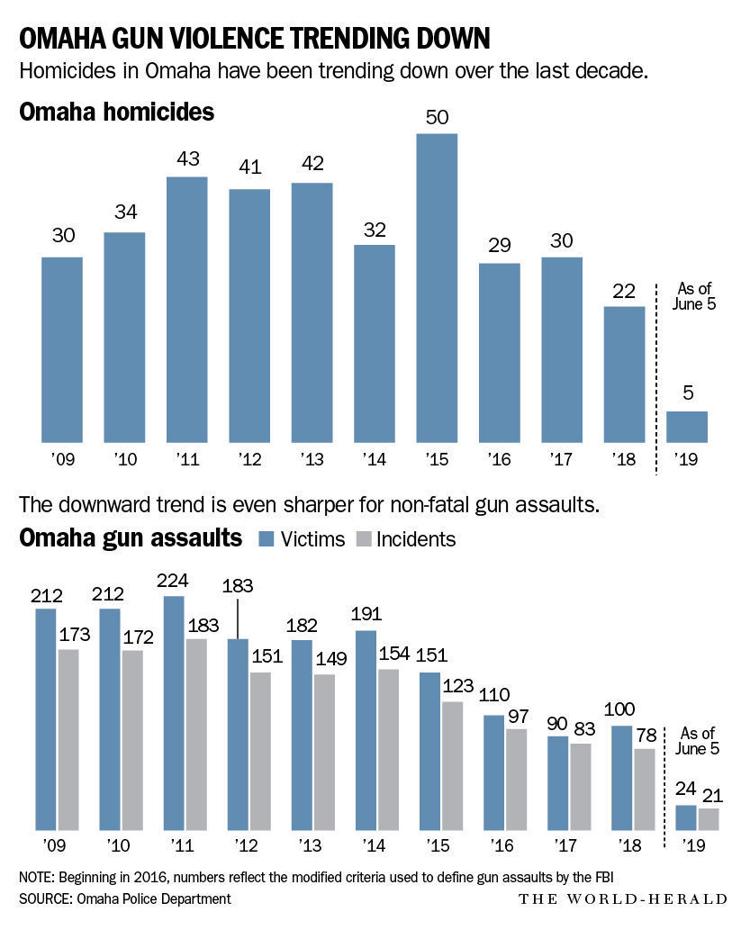 Even though the numbers are down, people are still being killed or injured in shootings, and each of those events has a ripple effect through families, neighborhoods and communities.
Just being in proximity to violence places one at risk. There is psychological trauma that results from being close to gunfire. And direct experiences with violence can make one more prone to being a victim or a perpetrator of it. Shootings are costly, a tab often picked up by the public for unpaid medical care and the extra work by police work and justice system.
Whether a shooting kills someone, like Roberto Gonzalez, who died in 2015, or injures someone, like 13-year-old R.J. Eckhardt in March, it's worth considering what has worked to stem violence. R.J. was shot in the arm in what police are calling a case of mistaken identity involving rival gangs. Five teens were arrested in connection with the shooting. The story of R.J.'s shooting has been told in The World-Herald over the past three days.
It raises questions about how a community can reduce the chances of that happening. Here's what Omaha has been trying:
» A beefed-up Omaha police gang unit with officers acting almost like social workers at times, trying to line up troubled youths with supports and even moving one family outside Omaha. There's also an effort to improve communication between the gang unit and juvenile probation. Omaha Police Sgt. Aaron Hanson says structure and consistency are the best ways to keep youths out of trouble.
» A beefed-up summer jobs program that in its 12th year will put up to 900 teens and young adults in job training and paid employment. The Step-Up program run by the Empowerment Network, a community revitalization organization, has waiting lists for spots. This summer, Step-Up is planning to serve more young people than ever — thanks, in part, to the City of Omaha's $1 million in support and a new grant from the Obama Foundation. Step-Up targets 14- to 21-year-olds from low-income households. Participants receive job training and summer jobs. That and a healthier economy has had results: Unemployment for black Omahans age 20 to 24 has fallen over the past decade, from 27.5 percent to 12.5 percent.
» Better police-community relations, as evidenced in weekly information-sharing sessions through Omaha 360, an anti-violence group that aims to give a snapshot of what's happening in some of the city's toughest parts of town. This is an Empowerment Network effort, now almost a decade old. The collaboration is focused on reducing gun and gang violence and says it has seen results. The one-hour meetings include updates from police brass and neighborhood and nonprofit leaders.
» An array of youth-focused organizations offer structure, sports, college prep and job training.
This is not new; groups like the Boys and Girls Clubs of Omaha and Girls Inc. have existed in some form for decades, providing a safe place to go with wholesome things to do. Girls Inc. just added a housing component for young women.
The Omaha Police Athletics for Community Engagement program, which started in 2005, now has 1,500 youths in soccer in north and South Omaha, 300-plus in baseball and several dozen in flag football. Police officers serve as volunteer coaches, and the organization has added tutoring and other programs.
NorthStar is an outreach program for minority boys, in grades three through 12. The group is expanding its building near 50th Street and Ames Avenue. It offers free ACT prep, as well as outdoor activities and lacrosse.
Anti-gang groups Metro Area Youth Services and YouTurn offer a range of programming. Metro Area Youth Services also provides day and evening reporting services for offenders, gang intervention and family support. And every summer, the group takes rival gang members to Colorado together for a camping trip.
YouTurn focuses on 12- to 24-year-olds under a model that treats violence like a disease. YouTurn focuses on detection, intervention and treating the highest-risk cases first through neighborhood and school-level collaborations. YouTurn also offers referrals for behavioral health, health care, mentoring, employment and job placement classes.
Mary Visek, chief probation officer for Douglas County Juvenile Probation, says the next step is to start "farther upstream" than the juvenile justice system.
Visek says she has no silver-bullet remedy but rattled off some ways she thinks the system could better serve at-risk youths: More home-based services with quality therapists who can help alleviate family stress and address root issues, more "therapeutic foster homes" with specially trained foster parents, inpatient mental health facilities that won't reject aggressive youths as some currently do.
She says her approach is: What would I want for my kid?
* * *
Omaha's efforts now include targeting the problem as a public health issue, and Evans is a leader on that front. She launched Dusk to Dawn in 2017. The program, held at the Nebraska Medical Center, has served 400 youths so far. Evans does the initial teaching in the ER and then turns the lesson over to Stewart Giddings of YouTurn.
Evans says it's important to have a "credible messenger" for an anti-violence message to resonate. The trauma surgeon can walk youths through the medical steps taken once the ambulance leaves the curb. But the words of someone like Giddings, who has life experiences that might be familiar to the youths, have a higher chance of resonating.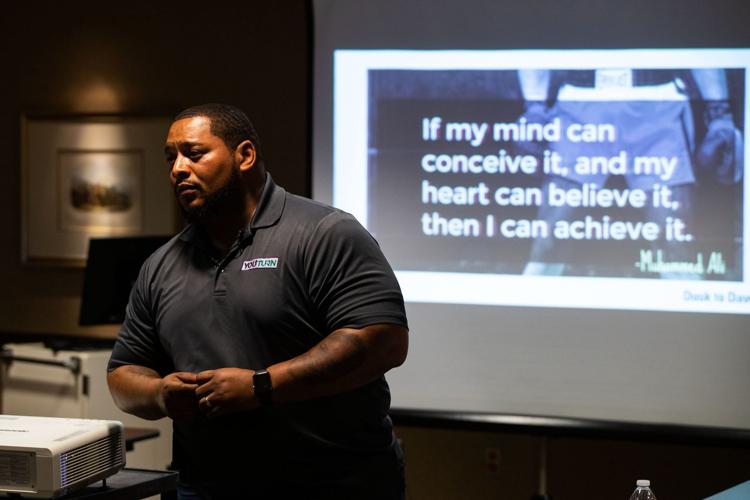 The "credible messenger" is so important that the role is a vital part of a new anti-violence program Evans hopes to launch this summer at the Nebraska Medical Center. The program would aim to provide an array of social services to victims of violence treated there.
Last year, the Nebraska Medical Center ER served 275 victims of violence. Evans is anticipating a $350,000 grant to provide 100 victims six months of mental health, substance abuse and material services such as housing, food assistance or job help.
She will focus on victims who are at highest risk of being hurt again. These would include victims with a previous history of being injured from violence and victims with a history of incarceration or gang ties.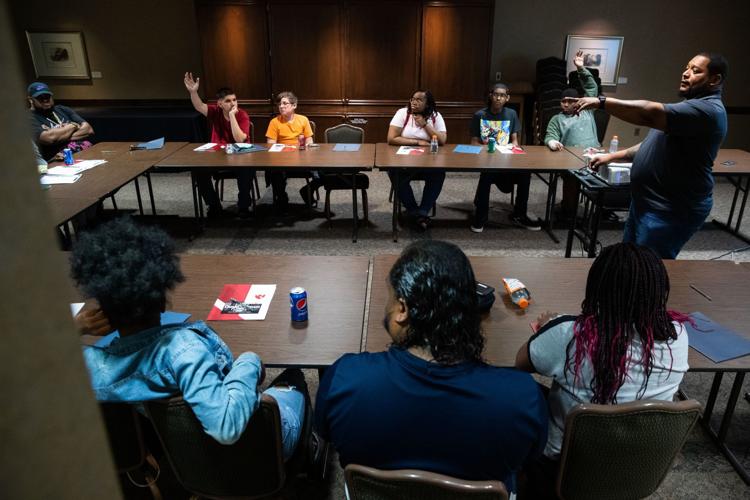 Evans says it's important to understand gun violence as a disease and tackle it the way society has with diabetes, cancer and other chronic illnesses by focusing on cause and effect. She says gun violence prevention works the same: Spending upfront on activities or supports is a lot cheaper than letting circumstances play out.
"In my mind, there is no argument. The cost of injury far exceeds the cost of prevention or intervention," she says. "Violence is stigmatized as a separate disorder when, in actuality ... there are reasons why violence occurs and there are (ways) we can prevent it."
* * *
The Dusk to Dawn action might begin in the dramatic ER, but the real action happens in a boring conference room upstairs.
The 15 youths, accompanied on this occasion by adults including Hope Center staff, Omaha police gang interventionists and Deputy Police Chief Ken Kanger, grab chips and pop and take their spots around a large table.
First, youths fill out a survey about how much or little they agree with statements like: It makes you feel big and tough when you push someone around, or carrying a gun or knife makes people feel powerful and strong.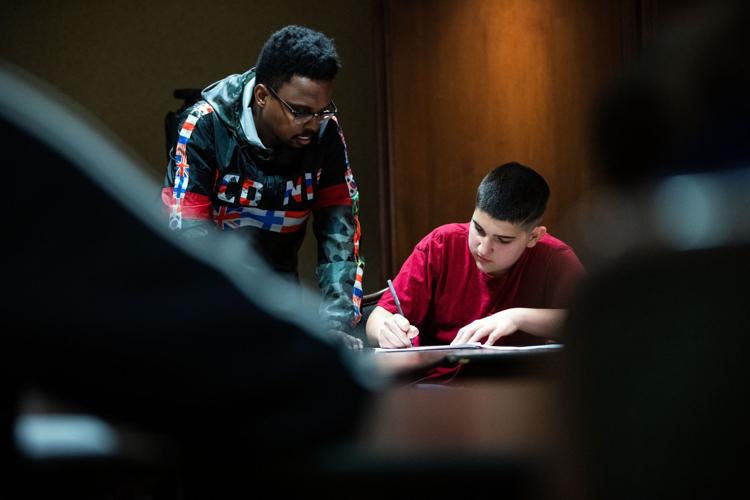 They fill out another survey asking about race, education, their living situation, gang affiliation, arrest history, drug use and other risky behaviors. They are asked to list three "safe and caring adults in your life" and three "safe places you can go if you need to be away from a high-risk place or situation."
Then, they hear from Giddings, a New York City native who saw his friend shot and killed in front of him. Giddings ran through a dramatic biography: Born in New York City. Dabbled in drugs at age 12. Joined a gang at age 14. Engaged in fights, "I'm talking shootings, I'm talking stabbings." Then he watched his friend and fellow corner dope-slinger shot and killed. Right in front of him.
Sign up for World-Herald news alerts
Be the first to know when news happens. Get the latest breaking headlines sent straight to your inbox.
Giddings wound up on the right path, and that's part of the lesson: You can escape your circumstances. One bad choice does not have to determine your future.
But as compelling as Giddings' story is, he keeps the focus on the youths in the room. What do they dream about? What do they value? How can they lose that?
He walks them through emotional triggers: What makes you angry? What do you do when someone insults you? Would your family expect you to fight back?
He explains emotions, especially anger. Then he has the youths share what they could do about their anger, instead of popping off.
Sleep, says one youth. Eat, says another. Break a glass, says a third.
A fourth shared what she does: "Cry myself to sleep."
No one in the room is older than 15. One girl brags about being tougher than the boys in her gang. One girl can't think of any dreams.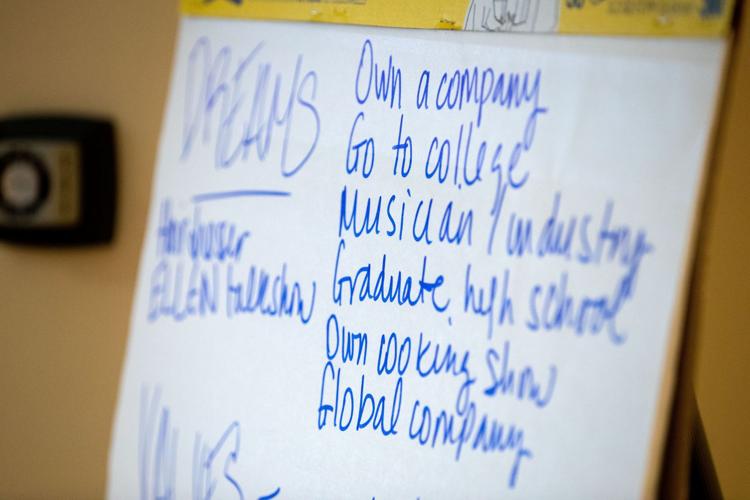 Some try to shrug off the sadness of what they have just revealed by goofing off and laughing.
Then it is Raquel Salinas' turn. Quietly, the mother of the late Roberto Gonzalez tells the youths her son's birthday is coming up in a week.
"That's the hardest time," she says, and her eyes widen. The room goes silent. "He should have been celebrating his birthday."
The hope, of course, is that the 15 youths in the room will have many more birthdays ahead of them.
But there's no way to ensure that. Complex problems don't have easy answers. One 2½-hour class won't be the magic elixir to solving gun violence in Omaha.
Sitting in the hospital conference room, Edward King III, a 35-year-old program director at the Hope Center, considers what he's learned about gun violence. Friends of his have been murdered. Friends have gone to jail. Generational poverty can be a curse. Society might be tempted to throw up our collective hands and to say, it's too big and too hard.
"It's so easy to complain about the problem," he says. "But I feel, 'What are we doing to be part of the solution?' "
His answer to reducing gun violence is pretty simple, a strategy boiled down into just two words: Show up.
Show up for your family, your neighborhood, your community. Be present in the lives of youngsters. Show that you care.