Leaning over the bench, the judge told the 16-year-old girl seated before him that she held a winning lottery ticket in her hands. But it was up to her to cash it in, and not toss it away. The girl, however, might not have felt very lucky. She was wearing an electronic monitor around her right ankle, indicating home arrest.
She had spent six weeks at the Douglas County Youth Center, the detention center at 42nd Street and Poppleton Avenue, which became, for many, a symbol of what's wrong with the juvenile justice system.
Plus the girl had lost the last two months of her junior year at North High School. And four friends, alleged accomplices in the shooting of a 13-year-old boy, face prison time.
The bars on the windows of Juvenile Courtroom 1, which had at one time been an adult jail, underscored the gravity of her situation.
"I see young people like you dying in droves," he said. "I don't think they get the danger they're in."
Second, by virtue of her age and an attorney who successfully advocated for her, her felony case got moved from adult criminal court to juvenile court, which, Johnson told her, is "the court of second chances."
The girl told police that she drove the silver Nissan Maxima that ferried her alleged accomplices, including the suspected shooter, to the scene of the crime. Those accomplices, three men and a woman, are 18 and 19 years old. If convicted, the alleged shooter could get 15 years in prison and the others face a minimum of five.
Did the girl understand the seriousness of her situation, the judge asked. Did she get that if she's caught with a gun before age 25, under Nebraska law, it could be game over for her chances of staying out of jail? Did she know about adolescent brain development? That the gray matter between her ears was still forming and that she needed to be wary of impulsive decisions and the people she chose to hang out with who might make them?
Dressed in a pink long-sleeved jumper and white sandals with her hair pulled up in a tidy bun, the girl looked right at the judge. Yes, she knew she was lucky and this was serious. No, she'd never heard of adolescent brain development.
Did the girl's mother, who was seated next to her at the defense table, understand? The girl's mother nodded.
"This is your opportunity," Johnson told them. "I can't stress it enough."
But this court of second chances works only if young offenders and the people guiding them let it.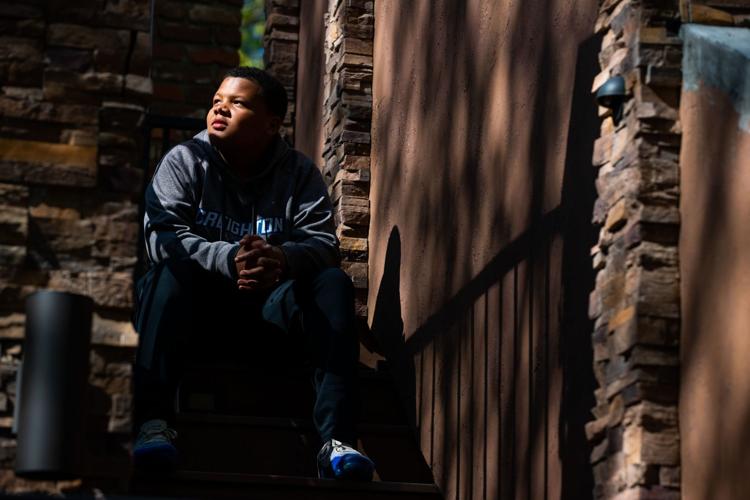 Police say the March 29 shooting of R.J. Eckhardt was a case of mistaken identity. R.J., a Westside Middle School student, was shot in the arm and is recovering at home. He was not the intended target. I wrote about the case in a series of stories that looked at why the shooting occurred and how Omaha is trying to prevent future violence. Last year, shootings killed 22 people and wounded 100 more in Omaha.
The girl and the other young woman in the car, an 18-year-old honor student with college prospects, had no criminal records in Nebraska.
But the three young men who were there that night did. Their juvenile case files, Omaha police criminal histories and interviews with police showed involvement with gangs, guns and trouble. They had been through this court of second chances and had, in two of their cases, gotten a third chance, a fourth chance and more until finally their luck ran out. Their ages, and the seriousness of the charges, put them in adult court.
So what's ahead for this 16-year-old girl? The head of juvenile probation says eight out of 10 youths who mess up straighten out. And if they do that, the juvenile court record is supposed to go away. It gets sealed, under Nebraska law.
Judge Johnson gave the teen a lecture on how. First, read, read, read, he said. Books, not the Internet, he added. Ditch her bad-influence friends, and, he said, "say goodbye to some people." Heed the advice of the adults in Courtroom 1 who, he said, were there to help. Finish her education. Look into college. Dream about the future. The court wants her to do that in her home and not in an institution.
But if she were to throw that lottery ticket in the air, Judge Johnson sighed and told her, it could mean Boys Town. Or Uta Halee. Or the placement of last resort, he said, Geneva. As in the state's youth rehabilitation facility for girls in Geneva, Nebraska.
The girl, who we are not naming for this column, declined to comment. Her mother said the family wants to stay out of the limelight. Her grandmother, however, added this explanation: "She made a bad choice. She made a real bad choice."
Since then, her attorney Kevin Ryan said, the girl has been trying to stay on the right side of the law. She admitted to the charge. She's been following the rules of her home arrest. She wants to work and is eager to be rid of the electronic monitor.
And she's been given a court-ordered to-do list that includes: Cooperate fully, get a part-time job, open a savings account and put half of her earnings into it, get a library card and use it for "an age-appropriate book in the American Literature section," participate and complete a gang intervention program and enroll in a separate violence prevention class offered by the Nebraska Medical Center called Dusk to Dawn.
Also? She has to show up to her next court hearing, scheduled for July 19.
The girl has her lottery ticket. She now has to decide whether to toss it. Or claim the prize — her future.