Skip Stern loves to drive big, sleek, 54-seat motor coaches that ferry rock stars, sports fans, tour groups and, best of all each June, college baseball players. Skip loves baseball.
So every year, when that gilded road to Omaha brings the best of college ball to town, you can bet that Skip, who has been driving with Arrow Stage Lines the better part of 25 years, is in heaven.
He gets his team assignment — this year, the University of North Carolina. He sheds his blue uniform oxford and striped silver tie for the team colors — white and Carolina blue. He lets the team know he's firmly in their camp, UNC cap on his head, UNC polo shirt, UNC sticker in the window. On the season's maiden voyage from Eppley Airfield to their downtown hotel, he puts in a quick plug for their success.
Skip says he'll be their driver for two weeks, which translates into: You're gonna go all the way and win this thing, I know it!
Skip then is at their beck and call, tooling from hotel to ball practice to stadium to dinner, getting a rare ear to the ground at the greatest show on dirt. Skip loves what happens on the field — he can remember team and year and result. But the best part of being a College World Series bus driver, for Skip, is what happens off the field.
"It's the relationship," he says. You get to know people. They get to know you.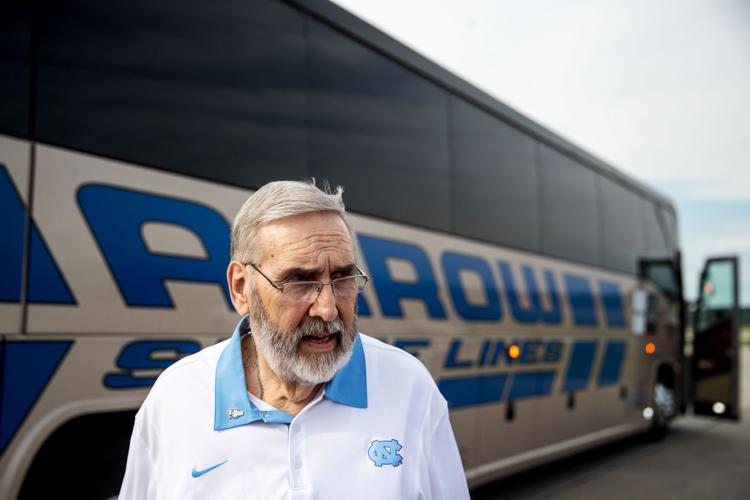 What follows are text messages and Facebook thumbs-up and letters and hugs. And a bucket of Twizzlers that Skip bought for Carolina coach Mike Fox, who is in Omaha for the seventh time as head coach of the Tar Heels. Skip has driven Fox and the team around before, and Fox requested him again. (Texas Tech requested Skip, too, but the driver had to say that dance was already taken.)
Superstition is a reason coaches request drivers, but so are relationships. And Fox, whose phone lit up with Omahans saying congrats after the Heels won their latest CWS bid, had friends waiting for him at Eppley.
In addition to Skip were a pair of I-80 Cosmopolitan Club members whose service organization had hosted the Heels back in 2006. And a 25-year-old Omahan named JR Anton, whose rare genetic disorder brought him to UNC's door more than a dozen years ago for treatment. Since then, JR has adopted the Tar Heels as his team and each year flies to Chapel Hill to spend time with players, sleeping in their homes, attending their practices, FaceTiming them and becoming so close that they made him an honorary team member.
At the Heels' first practice in Omaha on Thursday, here was Skip the Bus Driver sitting in the dugout. Here was JR, batting helmet on, joshing with the players by home plate.
"That's what it's all about. Win or lose. That's gonna last as long as your memory on the field."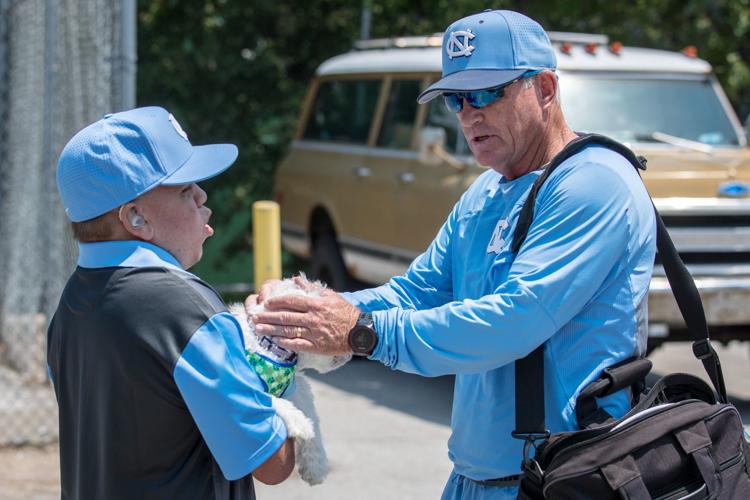 Both bus driver and coach speak to a truth about life that is particularly evident this time of year in Omaha. Old teams, like UNC, return. New teams get introduced. And family members, friends, fans and many of us, baseball lovers or not, nevertheless get swept into the spirit of this two-week ritual.
What lasts isn't the scoreboard or the stats but the bonds people form whether they're sweating in the bleachers or getting to know one another like the bus drivers and coaches do.
When Fox stepped off the plane Wednesday, he gave Skip a big hug.
Skip prides himself on being a rule follower, which is a very important quality for someone who drives a bus. After all, you don't exactly want the person piloting a 45-foot-long, 12-foot-high motor coach on highways to be a nonconformist. He is also, like his late father — who once ran a bowling alley and later a ballroom at 40th and Dodge Streets — a people person.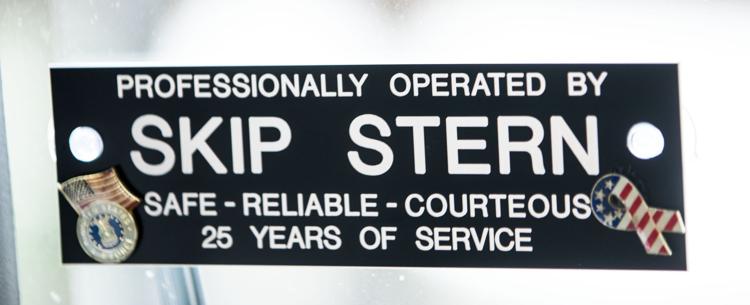 Skip prides himself on being as comfortable talking to mechanics at Busco Inc., the Omaha- and Norfolk-based firm that runs Arrow Stage Lines motor coaches, as he does the executives, the fourth-generation members of a Norfolk, Nebraska, family that started Arrow 90 years ago with a Buick, a mail route and a request to hop in.
Skip didn't set out to be a bus driver. He says he got "downsized into it" after losing his regional sales manager position with a New York-based company. He wasn't sure what to do but knew he couldn't work a desk job. "I'd go nuts," he said.
So he got his commercial driver's license, began driving school buses and then got on with Arrow, which runs motor coaches elsewhere in Nebraska and in other states. Skip left to drive for another carrier and then returned. It's "a good company to work for," he says, because "people treat you right."
This is a very big thing for Skip. The most important rule anyone can follow, he believes, is the golden one.
"I want to be treated like a human being. Like I am."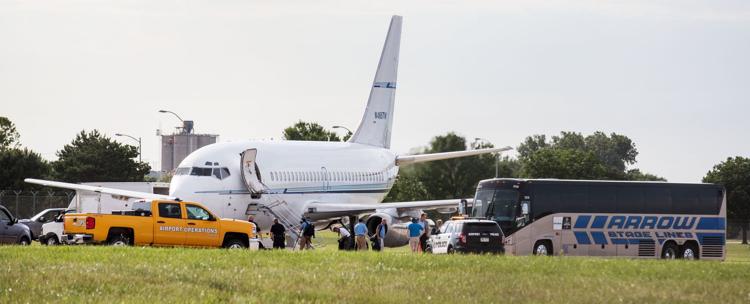 Bus drivers can be invisible, especially to celebrity entertainers — including one huge pop star who had a curtain blocking her Arrow driver from view so the two wouldn't cross paths. (They did anyway in a hotel elevator, said Arrow's Alex Busskohl, who runs corporate operations and marketing for the company his great-grandpa started.)
Coaches can be standoffish, too. But the CWS coaches he has ferried, Skip says, have all been "real gentlemen."
"Like Pat Casey," he said of the Oregon State coach, whose team lost to the Heels in the series opener Saturday. "I drove him one year. Every time he sees me, he comes up and gives me a big hug."
At home, he's got proof that most coaches treat him right.
"I have a whole closet full of team shirts," he said. "I have Miami, North Carolina, Texas Tech, Purdue basketball, Indiana basketball. Lotta UNO stuff."
Driving for the College World Series is his favorite gig.
"I live from June to June," he said.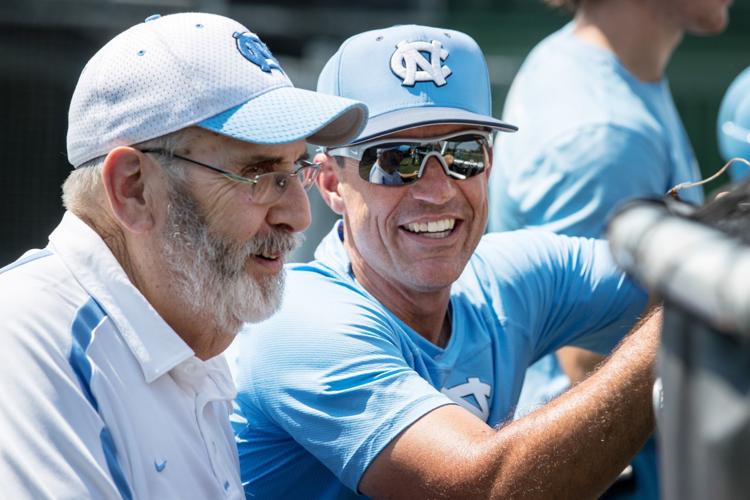 Skip goes to dinner with the teams. He gets invited to sit in the dugout during games, though he prefers his season tickets with Shelley, his wife of more than 50 years. He doesn't mind being at the team's beck and call. He pays attention. He follows their seasons and careers. He cares.
And he notices when they notice him.
The relationships, for Skip the Bus Driver, extend beyond the series.
To Andy Lopez, a retired coach whose University of Arizona Wildcats won the series in 2012. The two are in touch.
To Jon Jay, a former University of Miami center-fielder in the major leagues who currently plays for the Arizona Diamondbacks. Jay hooked Skip's son David up with four free Cubs tickets when Jay played for Chicago.
To Jim Morris, former head coach of the University of Miami whose Hurricanes won the CWS championship in 1999 and 2001. Morris was so grateful for Skip's hospitality in Miami-allergic Omaha (Skip says Husker fans carried their anti-Miami feelings into baseball) that he gave Skip a championship ring. It's big and has STERN, Skip's last name engraved on the side.
Skip drove the Hurricanes during a dozen CWS bids.
On Thursday, Skip steered the bus to the entrance of Creighton University's practice field and slowly climbed out to open the storage below and help players get their gear. He parked, walked to an empty dugout and watched them hit and catch. Then before they were done, Skip walked out and started the bus so it would be cool.
One by one, hot, sweaty players climbed aboard.
Skip held out his hand for his first friendly fist-bump.