Peace this week between former sworn enemies drew joy in East Africa, and an Omaha native witnessed history close-up.
Natalie Brown, chief of mission at the U.S. Embassy in Eritrea, said the peace agreement between Eritrea and Ethiopia will change the lives of millions and serve as an example to other countries.
"All of Eritrea must be running on adrenaline right now — myself included," she emailed Friday from the capital, Asmara. "It's hard to sleep because no one wants to miss anything."
Eritrea sits on the Red Sea in the Horn of Africa, and landlocked Ethiopia is just to the south. A 1998-2000 war killed at least 70,000, and tensions have persisted — a closed border, no flights between the two countries and no telecommunication.
Peace resulted after Abiy Ahmed, 42, became prime minister of U.S. ally Ethiopia this spring and called for an end to the conflict. He flew in to meet Eritrean President Isaias Afwerki, 72, and on Monday signed the peace agreement.
People soon made across-border phone calls to long-separated relatives.
Brown, an Omaha Central High and Georgetown University graduate, is a 28-year career diplomat who became U.S. chief of mission in 2016. Her mother is Betty Ann Brown of Omaha, a retired Western Electric/Avaya supervisor, and her late father, Eugene Brown, was an Omaha police officer.
The United States had long advocated for peace, and in recent months received Eritrean officials in Washington, D.C. The U.S. also sent a delegation to Eritrea.
As an American official, Natalie said, she was honored by the warm comments she received from Eritreans awaiting the young Ethiopian prime minister. On arrival, he received a great ovation.
"I don't think I will ever forget the excitement and energy I felt," she said. "It was a privilege to watch history unfold."
Rosie the Gorilla, formerly of Henry Doorly Zoo, dies
Rosie the Gorilla, mother of the only test-tube western lowland gorilla and a longtime fixture in Omaha, has died at the North Carolina Zoo.
From 2002 to 2015, Rosie was a popular primate at the Henry Doorly Zoo & Aquarium, where she often made the news. She recently was diagnosed with cancer and was euthanized last month at 43.
Born at the Cincinnati Zoo, she was living there in 1995 when semen from Mosuba in Omaha was frozen and shipped to Ohio, where it was thawed and used to fertilize eggs taken from Rosie.
Some of the resulting embryos were implanted, and Rosie gave birth to Timu. In 2002, with the opening of Hubbard Gorilla Valley, both came to Omaha.
Western lowland gorillas are critically endangered, and the population has declined more than 60 percent in the past quarter-century. The Omaha zoo is home to 11 gorillas.
Sometimes cantankerous, Rosie was nevertheless known as a great surrogate mother for some who didn't bond with their gorilla moms.
Workers 'ready for a cold shower' after laboring in the heat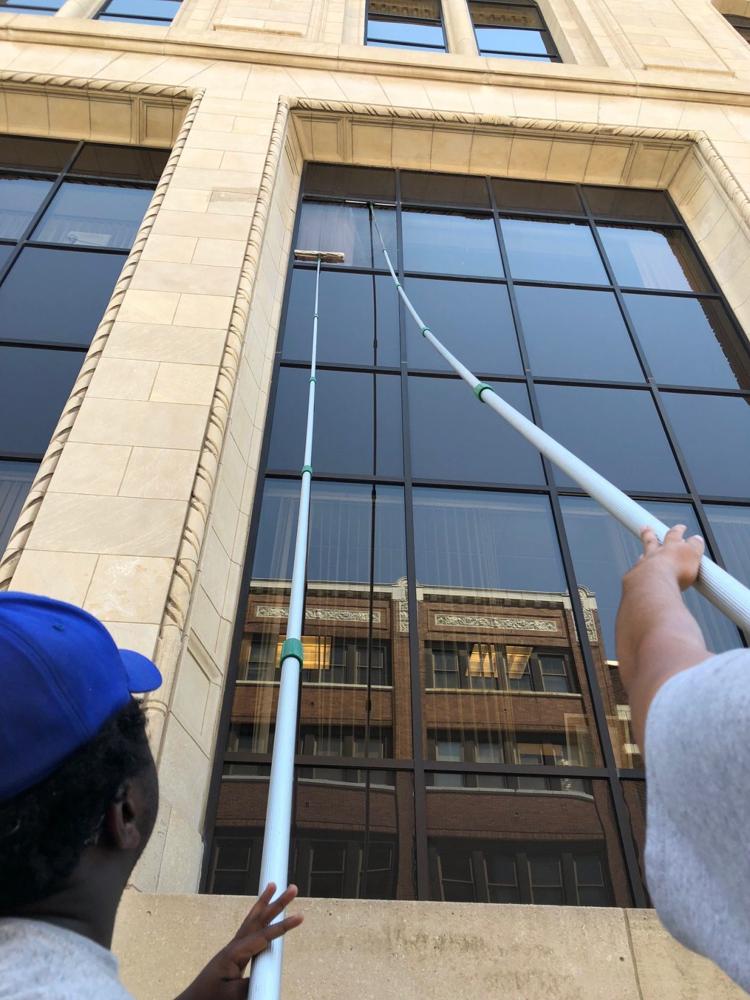 The hottest days of summer are tough on folks who work outdoors — including the young window washers downtown this week with 30-foot aluminum extension poles.
Edgar Valle, 21, and Carter Calvert, 19, of Fischer Building Services were cleaning tall windows on the west side of the Metropolitan Utilities District building at 18th and Harney Streets.
Carefully extending the "long poles," as they call them, they mop the glass, then squeegee. The poles are heavy and they bend, and the guys say at first it takes a while to get a knack for handling them.
After a work day from 7:30 a.m. to 4 p.m., the fellas are plenty hot and tired.
Said Carter, a University of Nebraska-Lincoln student: "You're definitely ready for a cold shower."
Late Luigi Waites' jazz band will celebrate 40th anniversary
Luigi Inc. might sound like the name of a company, but those three letters at the end don't stand for "incorporated."
Rather, they mean "including" or "inclusive," because the late Luigi Waites knew his band wasn't just about himself.
"That was his approach, that anybody can be a part of it," said trumpeter Doyle Tipler. "He was big on being inclusive."
Current and former band members Saturday night will mark the 40th anniversary of the band's founding — and of continuous weekly play at Mister Toad's bar at 10th and Howard Streets in the Old Market.
Luigi, a drummer, vibraphonist and an iconic Omaha figure, died at 82 in 2010. Doyle joined the band 24 years ago, and says he always has liked the small venue at Toad's.
"Even before I played there," he said, "I thought it was one of the few places I could go and listen by myself but never feel alone. It has that cozy, comfortable feel."
It's hard to imagine, he said, that a jazz band anywhere else has played weekly for 40 straight years — more than 2,000 gigs.
Musicians will jam in Luigi's memory from 7 to 10 p.m. Saturday. Late Sunday morning, some will visit his grave at Forest Lawn — and then the current band will be back at Toad's for the regular Sunday gig from 9 to midnight.
Tri-Faith Initiative launches membership program
The Tri-Faith Initiative, with its $65 million Omaha campus for a synagogue, a mosque and a church, has launched a membership program for all.
The Rev. Bud Heckman, executive director, said the initiative "seeks to be a model for the world of how people of different beliefs and backgrounds can live, work and even pray side by side once we move beyond fear and into understanding and respect."
To join, go to trifaith.org/join-us. First-year individual memberships are free with the discount code FAITH18.
Omaha skywatcher invites you to watch 'parade of planets'
Speaking of the heavens, Omaha skywatcher Walt Bures refers to the next few evenings as "the parade of planets."
He is setting up his telescope on the west side of Beveridge Middle School, 120th and Shirley Streets, by 9 p.m. nightly, Saturday through Monday, and possibly on Tuesday.
He invites folks to "stop by for an up-close look at Mercury, Venus, Jupiter and Saturn, weather permitting."
And, he says, "we can get a glimpse of Mars if you want to stick around until 10:30 or so."