As the Jewish Community Center in Omaha embarks on a $32 million renovation, a study called "A Portrait of Jewish Omaha" provides surprises — including a much higher population.
The Jewish Federation of Omaha commissioned the $160,000 study, which estimates that the Jewish population of Omaha (actually, Douglas and Sarpy Counties), is not the previously thought 5,500 to 6,500 but rather 8,800.
Deep in the report by demographer Ira Sheskin of the University of Miami lies an intriguing line — an estimated 47 percent of Jewish households in the Omaha area at least sometimes put up Christmas trees. That's the highest percentage in a comparison of Jewish communities in 40 cities.
A Jewish household was defined as having at least one Jew, and Federation CEO Alan Potash of Omaha noted that marriages between Jews and non-Jews have become more common.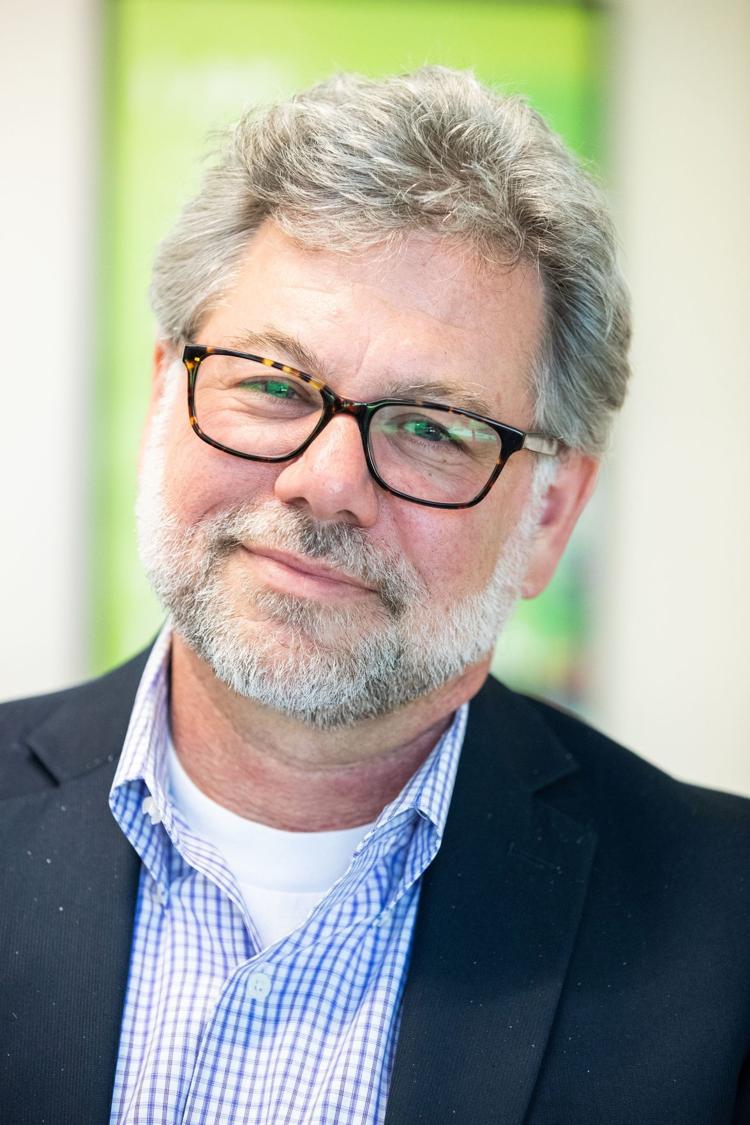 "We know there is a high level of intermarriage," he said, "and there is much greater acceptance of blended families."
The Christmas tree percentage isn't the most important part of the study, but it's surely one of the most surprising.
The study wasn't a house-by-house census. It made estimates based on 552 telephone interviews, using random-digit dialing of landlines and cellphones. It included calls to people on the Jewish Federation's mailing list and to households with "distinctive Jewish names."
The community portrait will help the federation paint a future that includes a transformation of the Jewish Community Center, 330 S. 132nd St.
Though Potash says the $32 million estimate is flexible and "a moving target," a businessman who inspired the effort said he believes it's accurate and that the work will be completed.
Michael Staenberg, a St. Louis real estate developer and a 1972 graduate of Omaha's Westside High School, attended a 2014 "Jewish reunion" in his hometown and decided that the 44-year-old JCC needed to be refreshed.
"I really enjoyed growing up in Omaha," he said, "and I thought it was time for me to give back to Omaha."
Staenberg, who has helped renovate Jewish Community Centers in several other cities, soon enlisted Omaha developers Tom Fellman and Howard Kooper.
Those three, along with Donald Goldstein of Omaha, became the lead donors in a drive that already has raised $20 million. Several other benefactors have committed to the project.
The most visible outward sign of newness is a colorful piece of metallic artwork on the community center's front wall, 29 feet wide and 25 feet high, called "Converging Ripples."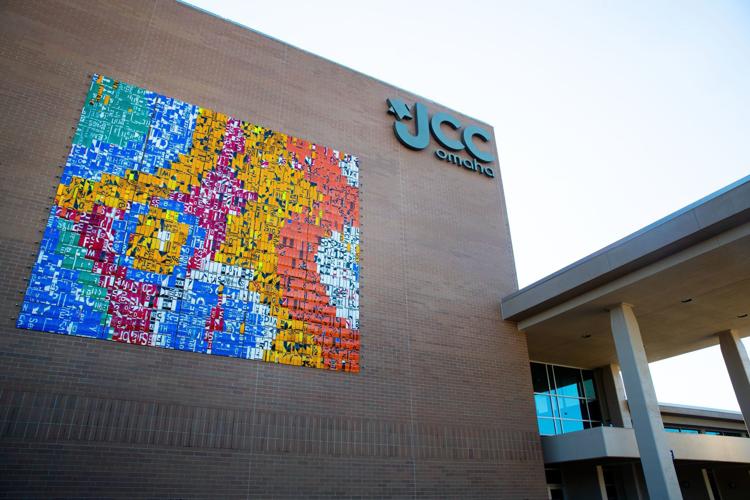 Made of 1,848 tiles created from recycled traffic signs, the abstract artwork commissioned by Staenberg shimmers in the wind and catches light from the afternoon and evening sun. It suggests diverse people and personalities coming together as a community.
The Jewish Federation, meanwhile, emphasizes that the Jewish Community Center isn't just for the Jewish community. All are welcome.
About three-fourths of its fitness center members (74 percent) are non-Jewish, and so are 91 percent of the 500 employees on the 28-acre campus.
Plans for an update had been discussed for years, but the 2014 reunion got things moving.
"When Staenberg came to town, he woke us all up," said Fellman, a partner with Kooper in Broadmoor Development. "He has been our quarterback, moving us into the 21st century."
Some major projects are already completed.
The fitness center has all-new equipment, lighting and color design ($1.5 million). Replacing old tennis courts and a leaky outdoor pool is the Goldstein Family Aquatics Center ($5 million), which opened over Memorial Day weekend.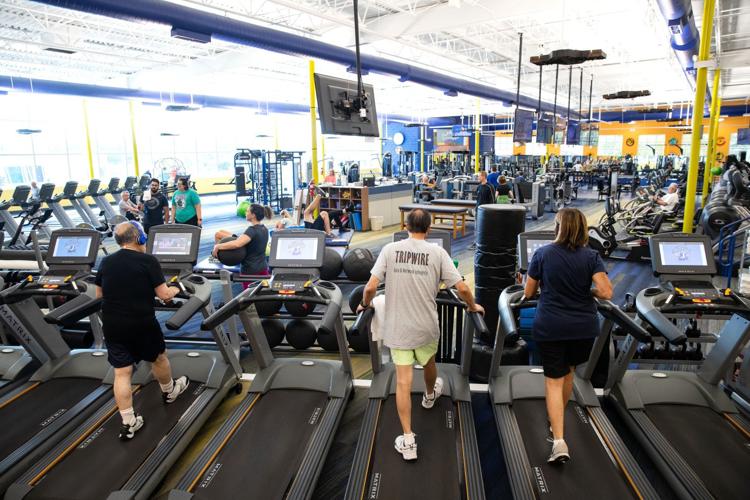 Much more is to come, including a top-to-bottom renovation of the 330-seat theater. A general fundraising campaign hasn't been announced.
Though the Jewish Community Center welcomes everyone, one reason for the community study is a concern for "Jewish continuity." Results of the study are intended to help leaders provide compelling reasons for Jews to maintain their Jewish identity.
Updating the Jewish Community Center is seen as one way to do that. And while leaders say the plans are generally well-received, not everyone agrees.
"There is a sense from some folks in the community," said Steve Levinger, the federation's chief development officer, "that investing in bricks and mortar is not necessarily the path we should take — that we should invest in programs, services and education. But we are doing that as well."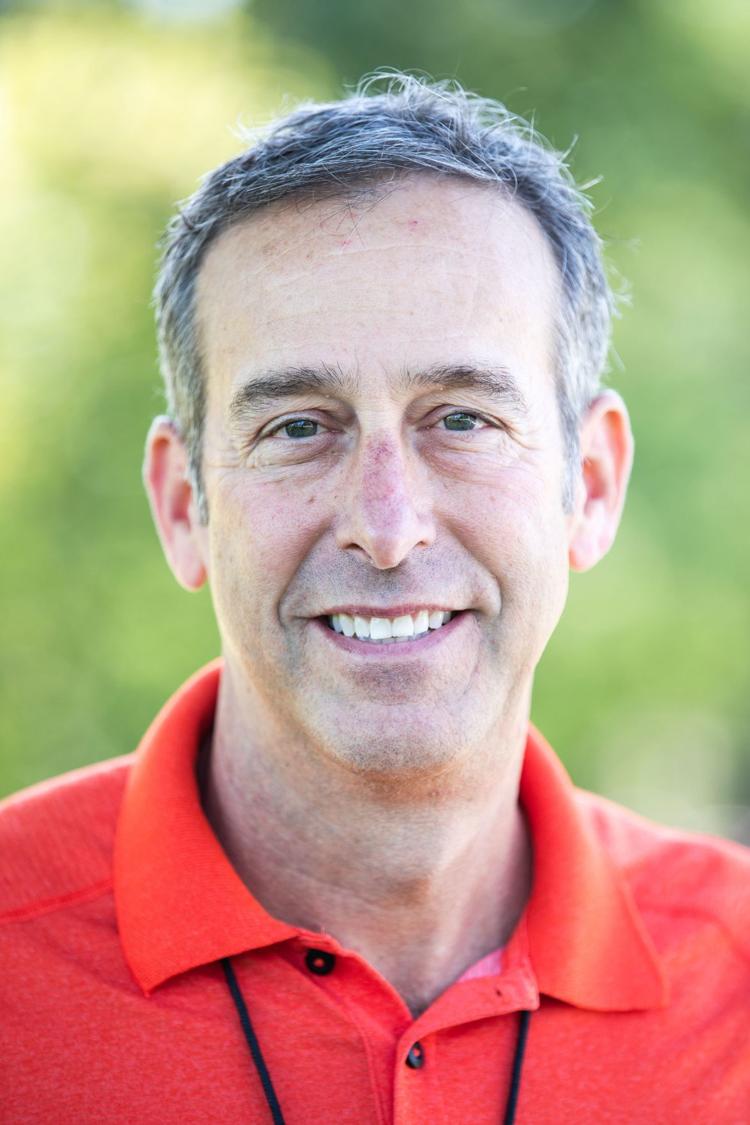 Just as Omaha's population has moved westward, so has that of Jewish Omaha. And the JCC led the way, moving from downtown to a former farm in 1974.
The campus, which now includes the Rose Blumkin Jewish Home, the Pennie Z. Davis Child Development Center, the Friedel Jewish Academy, the Jewish Press newspaper and others, sits just to the east of Boys Town.
All three Omaha synagogues previously surrounded the Dundee-Memorial Park area, east of 72nd Street, an area that Jews and others informally called "Bagel." But then came a gradual migration:
» Beth El moved from 49th and Farnam Streets to 144th and West Dodge Road in 1991.
» Beth Israel relocated from 1501 N. 52nd St. to 12604 Pacific St. in 2004.
» Temple Israel left 7023 Cass St. and opened on the Tri-Faith campus south of 132nd and Pacific Streets in 2013.
The Chabad House, of the Hasidic movement, is on 120th Street, south of Pacific. That means the four Jewish houses of worship surround the Jewish Community Center within a mile or so.
Levinger, the Jewish Federation's chief fundraiser, said some people may drive past the JCC and not realize all that's there — like free "backyard concerts" at 5 p.m. on Sundays in August — and that everyone is welcome. To make it more visible, he said, a digital sign recently was erected out front.
When traveling, CEO Potash said with a smile, he hears puzzled people ask, "Are there really Jews in Nebraska?"
Yes, really. The first Jewish settlers arrived in 1854, the year Omaha was founded, and Jews have made an impact beyond their numbers.
Among businesses founded by Jews are Omaha Steaks, Nebraska Furniture Mart, Borsheims Fine Jewelry, Baker's grocery stores, the Film Streams cinemas and many more. Prominent elected officials have included Mayors Johnny Rosenblatt and Edward Zorinsky, later a U.S. senator.
"We feel like we've been one of the best-kept secrets of Omaha," Potash said, "though we've been around for 160-some years."