So why does a silver "Cornhusker bell" sit on an elected official's desk in the state capitol of Alabama?
Well, it's because the 'Bama state treasurer, Young Boozer, a lifelong fan of the Crimson Tide, retains a bit of Nebraska in his bloodline. His mother, Phyllis Chamberlain Boozer, was born in Clarks, Nebraska, raised in Nelson and graduated from the University of Nebraska.
His step-grandfather, Rufus M. Howard, served as speaker of the Nebraska Legislature. He used the bell — the handle depicts an ear of corn — to summon legislative pages.
Boozer is friends with Don Stenberg, the Nebraska state treasurer. They both leave office in January because of term limits.
Their friendship has turned into a professional collaboration. Alabama contracts with Nebraska to offer residents an Enable Savings Plan, a tax-advantaged savings program for people with disabilities.
The Alabama state treasurer's distinctive name — on "The Tonight Show," Jay Leno once poked fun at his Young Boozer campaign sign — comes from the combination of surnames Young and Boozer.
His father, Young J. Boozer Jr., played football in the 1930s for Alabama and was a roommate of future legendary coach Paul "Bear" Bryant.
The Alabama treasurer said his Cornhusker bell symbolizes a common philosophy of public service. He and Stenberg, a former NU track letterman, also talk football.
"My mother was a Cornhusker," said Young Boozer III. "Roll Tide and Go Big Red!"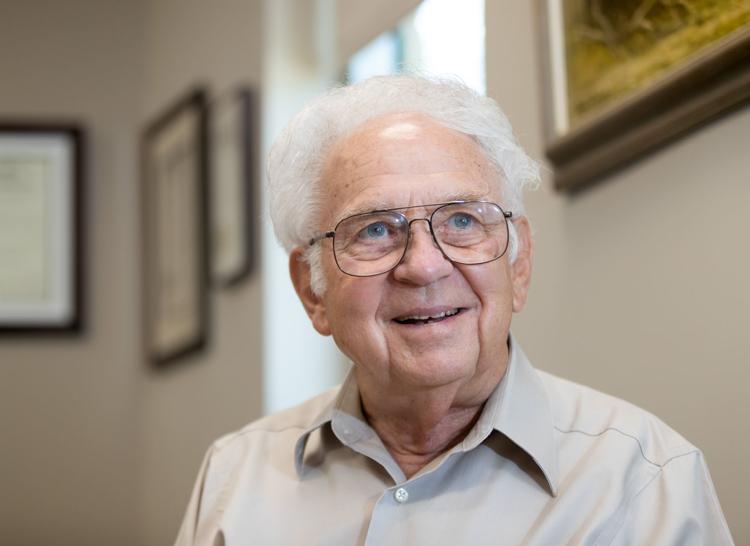 Zoo Foundation head spots big cats, wild dogs on safari
On a recent safari to Africa led by Lee Simmons, it didn't rain cats and dogs — but as the Omaha zoo website says, "cats and dogs reigned."
Doc, former director of the Henry Doorly Zoo & Aquarium and now head of the Omaha Zoo Foundation, has led safaris for 35 years. This summer's trip went to the Luangwa Valley and Lower Zambezi, both in the southern part of the continent.
Besides seeing plenty of elephants, zebras and giraffes, the safari group followed a pack of wild dogs and saw a hyena trying to steal a leopard's lunch — an impala. They ended up sharing it, Simmons said, "until they were both stuffed full."
The trip leader, who recently published the book, "Doc: Zoo Memories and Animal Stories," reports that on this year's safari, the group was fortunate to see 17 leopards.
Joining in the wordplay, he said he always tells travelers "how difficult it is to spot a leopard."
One Douglas County building has a storied past
Historical footnote: One of the buildings to be razed for construction of a Douglas County juvenile justice center once served as a boiler room for Boys Town's national fundraising.
It was revealed in the old Sun Newspapers' 1972 investigation of Boys Town's wealth, which won a Pulitzer Prize.
"In downtown Omaha," one story began, "there is a thoroughly unremarkable old five-story building located at 408 S. 18th St."
The article described "four huge floors" where "rows of women hammer rows of typewriters" in "one of the most successful fundraising machines in history."
Today the building is owned by Douglas County and houses a computer center. It sits between the Omaha Housing Authority headquarters and the building owned by architect Bob Perrin, which the County Board has voted to take by eminent domain.
Wiebe once planned Eastroads Mall in 1970s
We all know Omaha shopping center names Crossroads, Westroads and Southroads, but did you know there once was a plan for an Eastroads?
The late real estate developer and philanthropist John Wiebe, best known for the Center shopping center and Westroads Mall, tentatively planned in the 1970s to build an Eastroads Mall east of Council Bluffs at Interstate 80 and U.S. Highway 6.
Bluffs leaders instead supported a downtown mall, and there was never an Eastroads.
Wiebe eventually donated 105 acres to Iowa Western Community College, which is now selling up to 13 acres to Black Hills Energy. The company plans to build a training facility for people in the utility industry, which could be home for up to 150 employees.
Wiebe, who died in 2009, flew his own plane and lived on now-developed land near 168th Street and West Center Road. He once told me that at the end of a travel day, he would buzz the house — to let wife Harriet know to turn on the lights to his landing strip.
Omaha named second-most affordable city for single dwellers
The SmartAsset financial advice website ranks Omaha as the second-most affordable city in America for people living alone, and Lincoln fourth.
"What puts Omaha in second is its economic climate," the site says. "Jobs are relatively plentiful here." Lincoln's cost of living is so low "it may be a great place for a single person to buy a home."
Billy McGuigan returns to Omaha Community Playhouse
The first time I wrote about musician Billy McGuigan, in 2002, the Omaha Community Playhouse had found him singing in a Benson-neighborhood biker bar and gave him the lead in "Buddy," the Buddy Holly story.
He has enjoyed a busy career ever since, locally and on tour. After working this month in Knoxville, Tennessee, and Alaska, Billy will be back at the Playhouse for his Aug. 1-12 "Rock Twist" show.
Billy, 43, and the 13-piece Steve Gomez Band will perform a variety of songs ranging from Frank Sinatra and Duke Ellington to Billy Joel, The Doors and Wilson Pickett.
Each Christmas season, Billy and his brothers perform a Beatles show at the Playhouse. This summer show, he says, is about the music of other artists who have influenced him — but performed with fresh arrangements and a rock twist.