Six decades of satire and spoofs have now gone poof — the irreverent Omaha Press Club Show is no more.
Always going for laughs in song parodies and emcee wisecracks, it poked fun and mild insults at public figures and institutions, occasionally grilling sacred cows.
Organizers hoped to mount a downsized version of the show after what turned out to be the final curtain in 2016, but it didn't work out. So after a long run, the sponsoring Omaha Press Club Foundation has decided that, for various reasons, the show had run its course.
Ah, but what a run.
"Who's Gonna Get It This Year?" read a World-Herald headline in advance of one show. After another: "No One Left Unscathed in Press Ball."
Sometimes, though, the show reveled in the city's and the state's successes. After the Nebraska Cornhuskers won the 1970 national championship, coach Bob Devaney — the Big Red football messiah — was honored with a robed Press Club chorus singing in four-part harmony:
"Bob Devaney! Bob Devaney! Hallelujah, hallelujah! ... And he shall win forever and eh-eh-ver!"
Though most of the performers through the years were from the news media, advertising or public relations, widely known faces from other fields often appeared.
Omaha billionaires Warren Buffett, Walter Scott and Joe Ricketts took part in a skit in a sendup of a popular TV quiz show, with the Press Club's version titled "Who Wants to be a Jillionaire?"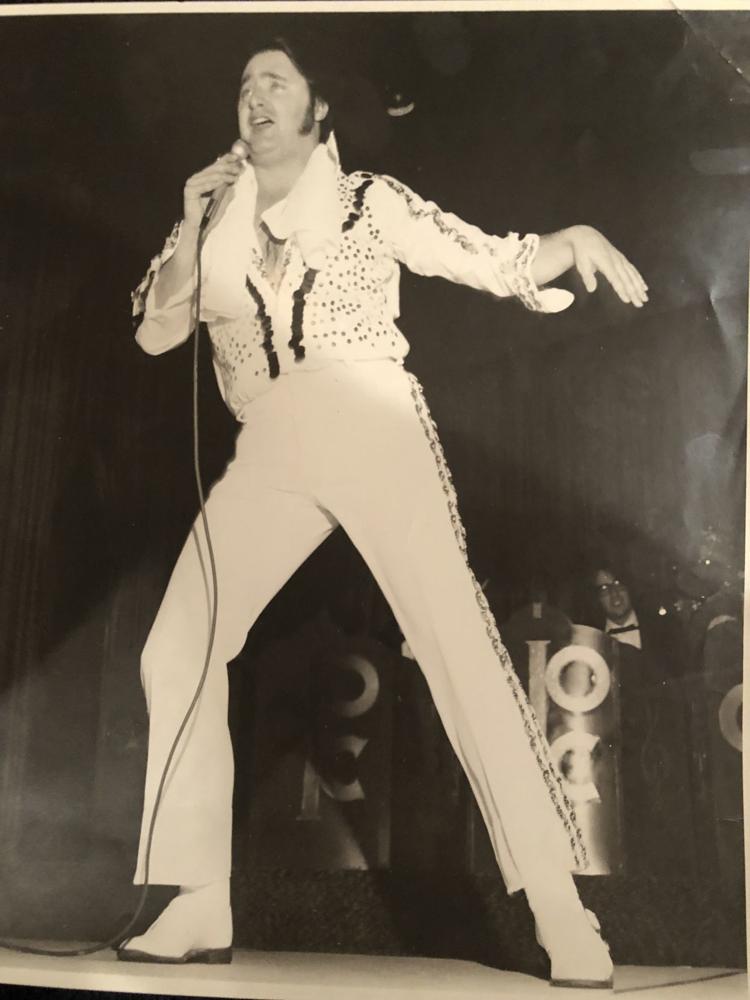 Politicians, too, would take the stage, and few seemed to enjoy the give and take — and the laughter — more than former Omaha Mayor Edward Zorinsky. After he was elected U.S. senator, he was lampooned in 1978 by a sequined "Elvis Zorinsky" impersonator. (OK, me.)
In 1986, the real Zorinsky danced onstage with nationally syndicated advice columnist Ann Landers. But in 1987, after he did a song-and-dance number at the old Peony Park ballroom in front of 1,600 people, he walked offstage to applause — and collapsed.
In the saddest and most shocking event in the show's history, the popular senator died of a heart attack at 58.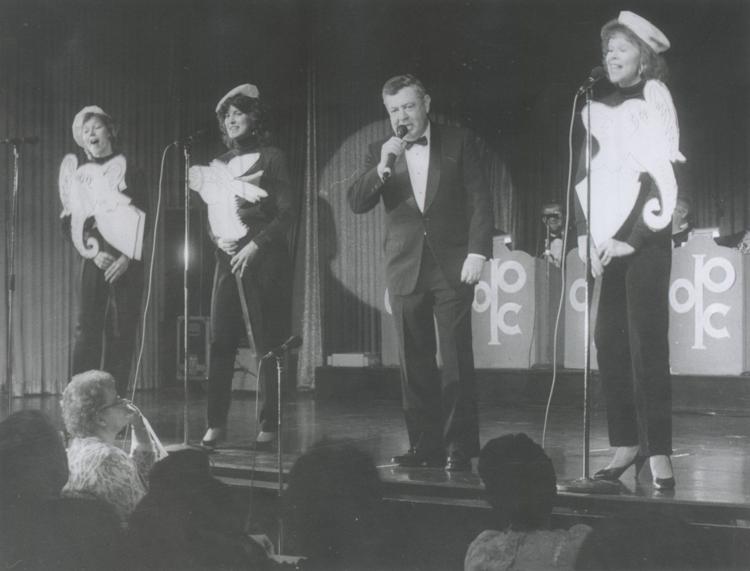 Shows must go on, and the Press Club event, a fundraiser for journalism scholarships, remained a staple. In 2016, a Star Trek-themed show, in the aftermath of ConAgra's decision to move its headquarters to Chicago, was titled "The Wrath of Khan-Agra."
The stage at the Holland Center's Scott Recital Hall was transformed into the bridge of the Enterprise. Omahans were "beamed up," and others appeared on a large screen.
About 300 people attended, and it was a fun and clever show. But it turned out to be the last.
"We didn't know it would be the last show when we did it," said Chris Christen, executive producer for 22 years. "It was a heck of a show. But you always look at the bottom line."
For generations in Omaha, it was more than a fundraiser.
"The show has been a community builder for sure," Christen said. "It's been a marvelous event to bring people together in good-natured fun. We wanted biting humor, but not malicious or mean-spirited jabs."
The Press Club restaurant itself remains on the 22nd floor of the First National Tower, 1620 Dodge St. It still attracts crowds for lunches, dinners, receptions and humorous events such as unveilings of the latest "Face on the Barroom Floor."
No announcement was made that the Press Club Show had ended, but it wasn't staged the past two years and — well, it deserves an obituary.
It started in 1957 at the Birchwood Club in the Minne Lusa neighborhood, moved to the Fontenelle Hotel in the '60s and then reached its attendance peak of 1,600 in the 1970s and '80s at the Peony Park ballroom.
All three of those venues are gone, but the show continued at other places, including the Rose Theater, the Mid-America Center in Council Bluffs and recently the Holland Center in Omaha.
One person attended all 59 shows — now-retired stockbroker Bruce Haney, 83. The first show included funny outtakes from local TV news film.
After that, skits and song parodies were added, and crowds grew. "It was all local humor," Haney said. "And it was great entertainment."
A gala Press Club Ball scheduled for Nov. 23, 1963, was canceled because of the assassination of President John F. Kennedy. The club moved the show to February 1964, and from then on it usually was held in the winter or early spring.
For a number of years, it was called the Press Club Ball, which included a show followed by dancing to an orchestra. But that ended, and it became the Press Club Show.
Local and state politicians were said to be disappointed if the show didn't mention them. It often included references to our neighboring state, whether to Council Bluffs, Carter Lake or long-serving Iowa Gov. Terry Branstad.
In a parody of the "American Bandstand" theme music, this American Branstad was feted by Press Clubbers as "the best Iowegian in the whole darn region — he's BRAN-stad!"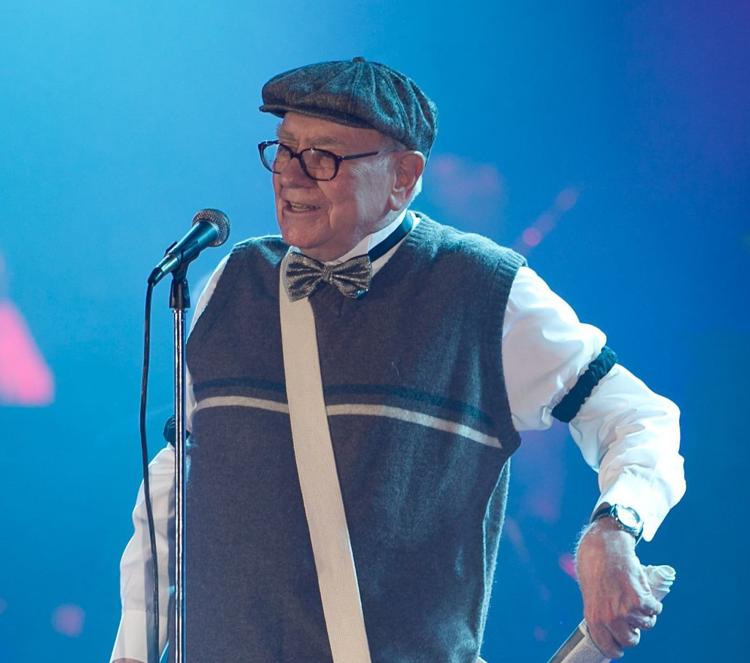 My colleague Chris Christen, editor of special sections and magazines at The World-Herald, said the "Jillionaire" skit in 2000 was her all-time favorite.
She had flown to New York to arrange a videotaping by Regis Philbin, then the host of "Who Wants to Be a Millionaire?" She also had worked with Microsoft on a taping by Bill Gates, who became a "lifeline" for Warren Buffett in the skit.
The next year's show featured a taping by Tim Russert, host of NBC's "Meet the Press" (arranged by his production assistant and later producer, Omaha native Erin Fogarty Owen).
On the night of the 2000 Bush-Gore presidential election, Russert memorably held up an erase board and said the result would come down to "Florida! Florida! Florida!"
Four months later in the Press Club Show, Russert (who died in 2008) appeared onscreen amid the dramatic music and graphics of his national Sunday morning program. From his Washington, D.C., studio on Nebraska Avenue, he intoned:
"All eyes are on Omaha as the great city chooses a new mayor. Already election analysts agree that this contest boils down to one place."
He held up his famous little board: "Dundee! Dundee! Dundee!"
I got to perform in about 30 Press Club Shows and emceed seven of them, so I bid it a fond farewell. Chris, a wonderful performer who produced the show as a volunteer, said lots of factors contributed to its closure.
Among them, she said, were the increasing number of charity galas as well as the instant satire available on the Internet.
Besides funding scholarships, the show's proceeds built up over the years into an endowment managed by the club's foundation. Combined with an annual fund drive, the earnings from the endowment this year funded $50,000 in scholarships — and will continue.
The Press Club Show was a lot of fun for a lot of years. But it was more than for laughs.
Bill Kelly of Nebraska Public Television, a former Press Club president as well as a scriptwriter and comic performer, once wrote in the program that those of us in the working press take our country's freedoms very seriously.
"It's important to remember, " he noted, "that this silly spectacle, performed in some other countries, would land us in jail or result in our death. No joke."